---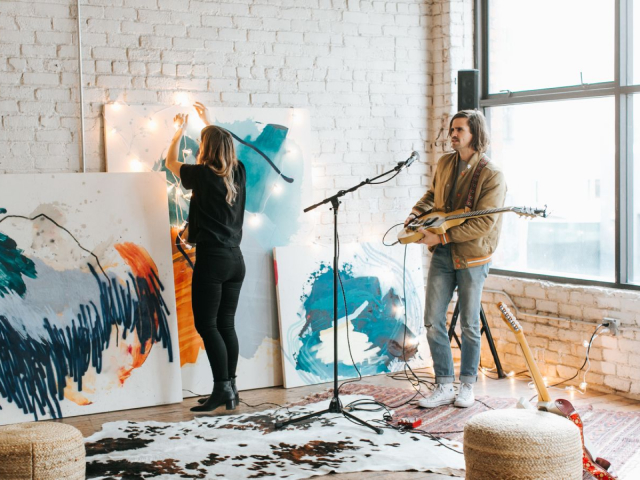 How dance studios work on Peerspace
Peerspace is the easiest way to book unique spaces for meetings, events, film, and photo shoots.
The most locations
Every day we uncover new, creative spaces — from local galleries to hidden rooftops, and beyond.
Honest pricing
Our spaces are priced to fit your budget. Pay by the hour without worrying about hidden fees.
Smooth bookings
No more messy contracts. We build the tools to make booking a space as easy as the click of a button.
Discover Spaces
---
Popular dance studios
---
Find dance studios near me
---
Affordable 1,350 Sq Ft Dance Studio
It was an Amazing dance studio , with a great environment. the host was very generous and made sure i was satisfied
Brand New & Exclusive Flatiron Dance Studio Near Major Subway Lines
Rented space for a private party. But if you are renting for dance or yoga, specifically, the floors and mirrors are perfec
t for this. The staff was so kind and helpful. Pictures are true to actual space. Studio is clean and smells great. Will absolutely be a repeat customer
...
New York style warehouse loft with Central A/c And Roof Access
We had rented this amazing space for a dance video shoot. Well, the studio was clean and ready for the shoot. All th
e necessary instructions about parking, keys, freight elevator, internet, and etc. was provided and easy to follow. Thank you Tristan for such great service
...
Spacious Downtown Sun Drenched 50s Retro Neon Diner Restaurant Cafe Studio with New York Style City View DTLA
Second time booking one of debbies studios ! Super responsive again ! Space appeared even better in person ! We did a
dance concept video with a group of 4 dancers
...
Lincoln Park Peaceful & Quiet Yoga / Photo / Dance Studio
Dance studio was good. Nice and spacious
Sun-filled Movement Arts Studio and Event Space
This is a very spacious studio great for hosting dance classes. The host is very friendly and very responsive. The
studio also has a good sound system. We really enjoyed ourselves! Shir
...
Luxury Event Venue - Single Studio Rental
Silvia and her team are stellar. Brionne is a Gem to work with and made everything transition so smoothly. I highly recommend Silv
ia's Dance Studio to hold great events. Thank you for a wonderful evening
...
Dance and Yoga Studio, Silverlake Independent Community Center
Good communication, nice staff and great space for our needs of private dance studio. Will book again
Art + Mindfulness Space
issue from neighbor and host corrected it immediately. Would definitely use again. The only point I would make is that this is a
burlesque dance studio when not being rented out. If you are doing a corporate event, make sure that's ok with you—we found it tasteful and
...