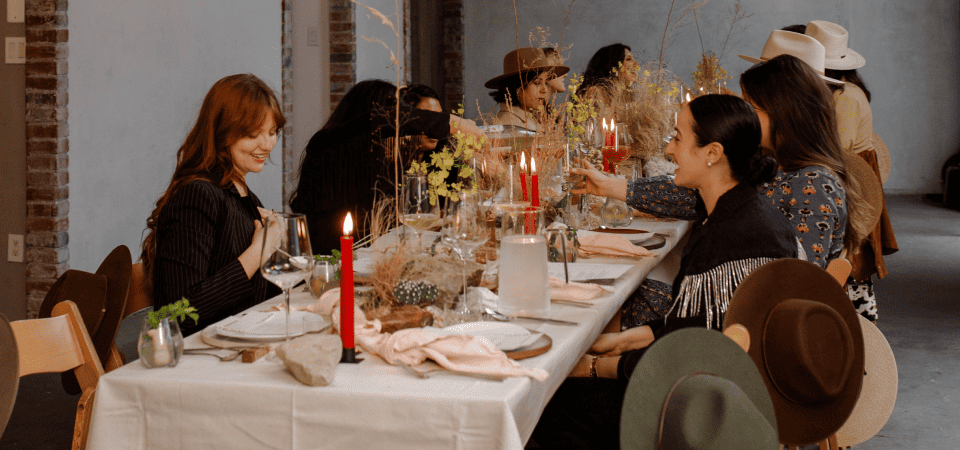 by Kate Pauley, Founder of Create Dinners
You've Got to Start Somewhere
When you're planning a dinner party, I recommend defining your dinner party's purpose as a starting point. If you don't have a reason for hosting, that's likely going to show in the planning and details. The best dinner parties I've been to and hosted all had a clear mission.
For example: an End of Summer Garden Party to celebrate the end of the season. How did this translate into the event? Serving summer's best offerings, like peaches and strawberries, burning tomato candles to create an ambiance and playing a light and fun summer playlist. They also gave everyone a vase and materials to create a seasonal floral arrangement to take home with them, and went around the table inviting everyone to reflect on their summer and share a highlight.
With dinner parties, it's all about honing in on how you want your guests to feel and cultivating that experience from the moment they walk in, to the moment they leave.
Trends You'll Want to Latch Onto
In the dinner parties I've planned recently, I'm seeing lots of beautiful and inspiring trends that are unique to 2023.
Heard of Tomato Girl Summer? It has made its way from TikTok to the dinner table. This summer, tomatoes have been the shining star in decor aesthetic, in theme, color, and more.
Gold had its moment, but silver is back! From floor to ceiling, guests are more and more leaning into silver as a complement to the look of their dinner party. From candelabras, to coupe glasses, to flatware.
There's zero proof that you need alcohol to have a good time. Increasingly, non-alcoholic beverages are something a lot of hosts and guests are interested in. In my work, we have started to prioritize this offering at our events, making sure everyone feels included and has something fun to drink.
Take it to the max! It's been fun to see how hosts achieve the blend of maximalism and minimalism into their events. Tinned fish. Extravagant cakes, and desserts with bows. Neutrals, neutrals, neutrals. As people, we contain multitudes, and this year's events are embracing that.
No Space? No Problem.
It can be a new approach to move outside of your home, but I personally love hosting in a new space. In fact, most Create Dinners events are in new spaces – Peerspace is a great resource for finding one. For us, they're like blank canvases. Event spaces allow us to curate a feeling and design a specific experience for those in the room.
One of the best ways to get comfortable with anything is to ask questions. The more you know, the more you can prepare and the more likely your event will run smoothly. When looking into or considering a new space, ask:
Tell me about the space. What is it typically used for?
Is there a kitchen?
What other offerings or amenities do you have on site?
What's your space's capacity?
Do you have Wi-Fi and speakers for sound?
Where does trash go at the end of the event?
What time can we arrive, and when do we need to be out by?
What is the parking situation like?
Are the lights dimmable?
Is there an open flame policy?
Do any vendors need a Certificate of Insurance (COI)?
Looking to Level Up?
There are a lot of ways that you can upgrade your dinner party, and oftentimes the expense for them can feel out of reach. I recommend identifying one or two things to invest in, something that you can use over and over again. These few things should bring you joy, and make you feel just a little bit fancy.
For example, a nice bottle of olive oil like Fat Gold or Brightland, a cool water pitcher or Aesop hand soap in the bathroom. On the table, linen napkins or a pair of eye-catching candlestick holders that help you achieve a warm glowy light in the room. I also love a printed menu and name cards on the table. They say, "I was expecting you!"
Make the Memories
At all our events, our clients say the best or most memorable part of their dinner party centered around the conversation and connection with their guests.
Sometimes we emphasize this in the form of a printed card at everyone's place setting that we stick under guests' plates with fun prompts. Other times, it's a question that we ask the room, then have everyone share their name and their answer.
Doing this reinforces connection for everyone from the get-go. It's so easy to dip in-and-out of an event without really talking to anyone, and our thinking is, "What's the point of going to a community event if you're not going to get to know the people there?"
We are most definitely in the era of dinner parties, even more so than pre-pandemic. The communality of dinner parties, undertone of connection and enjoying time spent together are having a moment – we hope it stays this way.
In the last 7+ years of running Create Dinners, I've witnessed how powerful the act of gathering with strangers and friends alike can be. It's inspiring to see so many people – many of whom were intimidated by the idea of hosting – open their doors and welcome the idea of gathering in a more intentional way.
We're all craving connection more than we even realized and sharing a meal or creative experience is an excellent way to satisfy that desire.