Guest Spotlight: Jawaria Khalid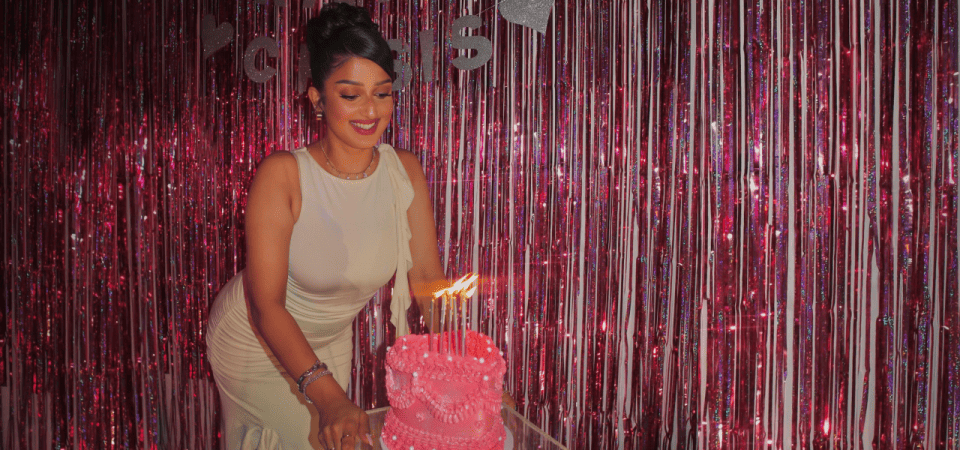 Meet Jawaria. The Toronto-based content creator recently hosted her Quarter Life Crisis themed 25th birthday party. The real crisis? Finding a space for the event. Jawaria had a vision for her birthday – she wanted a party that was glam, fun, and for the girls – but couldn't find the space to match it. A sit down dinner at a restaurant felt too rushed and formal, and traditional event venues were either booked or outside of the event budget. When Jawaria came across Peerspace, she narrowed in on this incredible space in downtown Toronto that ticked all the boxes.
"It was a great location, the views were amazing, the host was responsive, and booking was super easy," Jawaria said. "The space I chose had views of the CN Tower, and it was close enough that all my guests could arrive easily. The whole experience was so unbelievably easy."
Jawaria worked with decor and rental company Four Leaf Events to create a social, interactive event experience for her guests and making sure her different friend groups could mix and mingle.
"I wanted it to be like, you come in and it's social and you're interacting with people. It's not just a "sit and eat" kind of vibe. There's music playing, you can dance, and you can take pictures. I wanted my guests to take as many pictures as possible."
The space offers a variety of tables, chairs, and backdrops as add-ons, and Four Leaf Events took the space and brought Jawaria's vision to life.
"My vision board was a lot of pink, a lot of disco balls, a lot of classy, girly vibes, and I sent her one picture with quarter life crisis. When I sent her my vision board, I was not expecting it to turn out this good. The space looked unreal on the night of."
"The highlight was celebrating with my girls and seeing them have a good time – it was all just a comfortable, beautiful 25th birthday party."
Jawaria's Quarter Life Crisis party has also opened the door for more celebrations in the future.
"This was my first time ever throwing an event like this and I feel so comfortable with the process. I loved Peerspace for the convenience, and I definitely will be planning more parties because of how successful this one was."
So what's the next big event for Jawaria? "It might be my husband's birthday. There's always a reason to celebrate so I'm sure we'll find something!"