---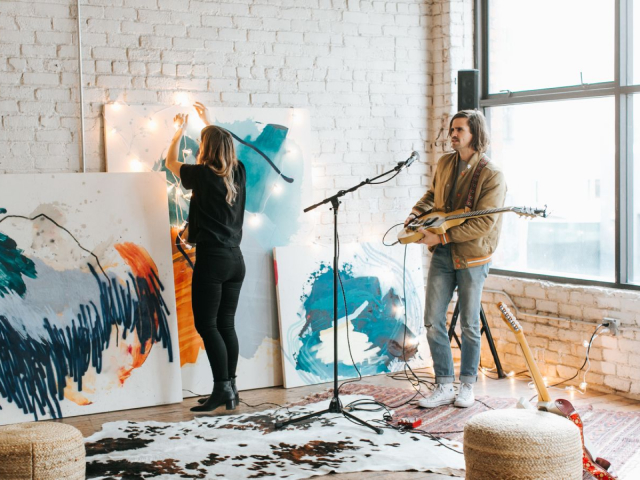 How graduation party venues work on Peerspace
Peerspace is the easiest way to book unique spaces for meetings, events, film, and photo shoots.
The most locations
Every day we uncover new, creative spaces — from neighborhood galleries to hidden rooftops, and beyond.
Honest pricing
Our spaces are priced to fit your budget. Pay by the hour without worrying about hidden fees.
Smooth bookings
No more messy contracts. We build the tools to make booking a space as easy as the click of a button.
Discover Spaces
---
Popular graduation party venues
---
Find graduation party venues near me
---
Eagle Rock Event and Production Space
accommodate our needs for a large grad party. Thanks to Lee and the amazing studio space, we were able to give our son the grad
uation party of his dreams
...
Stunning Chicago Classic in Lakeview
Great venue, great hosts! We used Bill's space for a graduate student event, and everyone complimented our team on the cho
ice of venue. Bill and his team were super accommodating and worked with us on a crunched timeline. They also setup the space exactly how we needed, and were
...
West Loop Loft Space with Skyline View and Roof Top Farm
space where I felt completely sold the minute I opened the door. I knew it was the one :) I had my Master's Degree graduation<
/b> party/reception here and it just worked out great. Shout out to Fernando for being accommodating through the night and was really responsive to the needs
...
Sun-Filled Corner Victorian House
had a small graduation party here and everything was wonderful. Maria provided us with everything we needed even though sh
e wasn't there at the time of my event and she was very accommodating to make sure my event was what I wanted. I highly recommend this place
...
Blue House with the Green Door - Pool/Hot Tub/Outdoor Projector
had my family graduation party here and the space went beyond my expectations! The pictures do not do this place justice. N
ot only was the space amazing but the host Chris was just fantastic; he was friendly, attentive, and accommodating. From the start Chris was very responsive and he made
...
Spectacular 2000 sqft Rooftop Deck
This venue was perfect for our daughter's graduation celebration. The rooftop, along with the rustic decor set the tone for
our "vineyard, wine-tasting" theme. The hostess was very accommodating. We will keep this venue in mind when we are in search of another intimate setting on the near
...
Pool Deck Oasis With City View
We rented this space for a graduation party and it was fantastic. Holli was a wonderful and accommodating host who was easi
ly accessible whenever we had questions. It was a great space to unwind and relax. Very beautiful space overlooking the city. Good for golden hour pictures. Would definitely consider
...
Hidden Gem Studio | Perfect for Intimate Events
Our graduation dinner event worked out perfectly - great atmosphere and experience!! All of our guests loved the space and
the vibes of the studio. Chris and his wife were beyond accommodating, very communicative and helpful through everything! I would definitely book again and will be referring tons of people to
...
Stylish South Shore Bungalow
My family and I had a great time this weekend celebrating my niece and nephews graduation. The host was very responsive, t
he space was clean and beautiful and we had plenty of parking. Would definitely recommend hosting an event here
...