The 8 Best Boudoir Photographers in Destin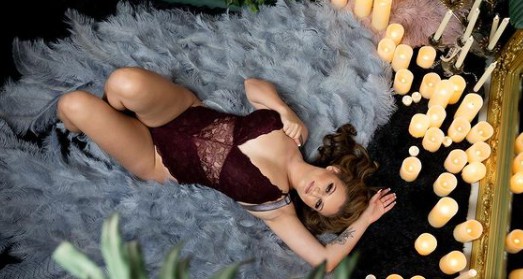 Boudoir is an exercise in self-love and intimacy that can be immensely liberating with a bit of bravery. After all, so few people see us at our most pared-down and intimate. Yet, as the words of these top Destin boudoir photographers reveal, sharing more of us only allows one to shine that much more powerfully. Especially when in front of the lens of a kind creative shares!
As a former mental health worker, Amanda of Boudoir Magic knows how important it is to cultivate safe spaces for healing. Best of all, this is the kind of healing that needs not wait for you to work up your confidence or get your hair just right. She even has a team of makeup artists and hairstylists to give you a complete luxury experience right before the shoot. Amanda takes as much of the nerves out of the process as possible, leaving you free to express yourself.
And if you are a fan of more creative approaches to the genre, then you're going to love the work of Destin boudoir photographers like her! She can add whimsical costumes, fantasy takes, colored gel lighting, and props of all kinds to bring your boudoir vision to life.
Beloved Bodies sees each boudoir session as something much more than just "intimate portraits." Instead, these Destin boudoir photographers see it as a chance for folk to fully announce "here I am!" To feel the self-love, self-worth, and confidence that comes from seeing yourself free of imagined flaws.
We especially love the brightly lit, more vibrant style favored by Beloved Bodies! It adds a celebratory element that stands radically apart from the moody, shadow-filled style that's much more common. It feels much more in line with the approach mentioned earlier as it shines a spotlight on you at your most intimate while revealing that there is no need to hide your radiance from the world.
Manda Koolis shares the essence of why boudoir is such a healing, life-affirming project to take on. From feelings of insecurity about her body to learning how to escape those feelings, Manda's journey was one of increasing acceptance and understanding.
And now, she offers boudoir to women on a similar path, hoping to illustrate that you're beautiful regardless of your weight, shape, skin, or age. As Manda forcefully reminds us: "You don't need permission to be confident, sexy, happy – just as you are right now. Not 10lbs from now, not when your stomach is a little more toned, not when someone else tells you that you're looking good. NOW."
Looking for a glamorous, sun-kissed approach to boudoir? The Shanna Star is the top pick of all other Destin boudoir photographers for you! Vibrant afternoon sunshine banishes the shadows and diffused curtain light entirely. And bare skin dusted with sand, wet from the surf, and glowing with Golden Hour tones is her favored expression of the genre! This gives Shanna's boudoir a robust glam/lifestyle quality that not everyone uses since they think it's only for actresses and supermodels. Fortunately, Shanna and her team make everything possible; from makeup and hair to posing and apparel, you can have a luxury boudoir experience all your own.
Artistic expression and boosting the confidence of her subject are the twin pillars of Kristy Cooley's boudoir! She helps women feel sexy and desirable, both to themselves and to their partners. Kristy uses an even mixture of shadow and highlights paired with natural light for a classic take on boudoir portraits. And suppose you prefer a more subdued color palette free of the overwhelming saturation or fake-looking color grades popular with other Destin boudoir photographers. In that case, you'll love Kristy's realistic approach to grading.
Kristy is also well acquainted with bringing fantasy apparel and whimsical props into the frame as well. Why not add wands, glitter, bathtubs, and anything else you've dreamed of for your next boudoir photoshoot?
Weddings and boudoir are what Kat of Alley Kat Photography has to share with us. While cameras have always been a part of her life, the interplay between photography and fashion steered her towards photography. As she grew into her teens, Kat realized just how much fun it was to dress up, have makeup and hair done, and enjoy other elements of self-expression.
Looking at her boudoir photography, we see her love for these elements and how light adds to the mix! Deep shadow, rich contrast, and moody details are essential to her emotionally rich approach. And regardless of the theme, you have in mind, from maternity to classic, Kat has ideas for lighting, environment, and apparel that fit the story.
Susan of Red Umbrella Boudoir found her way to the genre after her husband, and she held an unplanned boudoir session. After seeing the results, she realized just how many lovely qualities there were to love — as she'd always heard from him yet was unwilling to take in! Susan now shares this experience as one of the top-level Destin boudoir photographers, helping women across the Emerald coast remember their inner self-worth.
As Susan reminds you: "BOUDOIR is an EXPERIENCE! It is not just a photoshoot. It gives you permission to be the Vixen, the Siren, Foxy and Fierce woman that is all of us. She is just so terribly shy and sometimes hidden under years of neglect. She is however always willing to be found. To be revealed!"
Roland Moriarty has been photographing folks from all walks of life for over 20 years; kings, celebrities, and everyday people! He tells stories about boudoir and weddings, fitness, families, and other people-centric photography subjects. Roland sees boudoir as an opportunity to do more than take a picture of what someone looks like. Instead, it's the opportunity to make a portrait of who they are, an entirely different approach relying on natural expression, authenticity, and the vulnerability that comes with boudoir.

Get together somewhere better
Book thousands of unique spaces directly from local hosts.
Explore Spaces

Get together somewhere better
Book thousands of unique spaces directly from local hosts.
Explore Miami Spaces