The 9 Best Landscape Photographers in Cleveland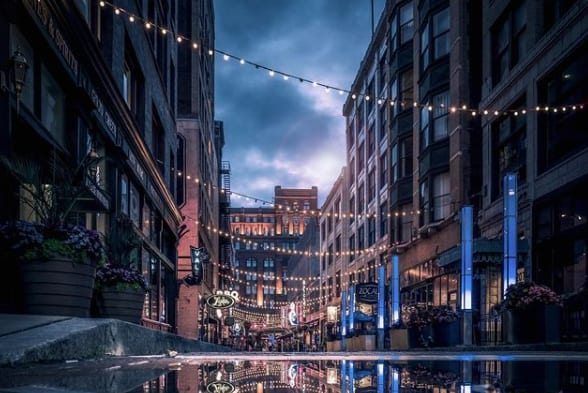 The City of Lights is one of the top attractions along the Lake Erie shoreline. Its mixture of rust belt factories, chic downtown avenues, a bold skyline, and access to nearby Ohio parks makes it an ideal home base for photographers who love the outdoors. As the work of these Cleveland landscape photographers will attest to, there is a lot to see and appreciate in Northeast Ohio!
1. Hunter Louis
Lovers of contemporary natural and urban landscapes with a moody twist will love the work of Hunter Louis. This Cleveland landscape photographer embraces deep shadows, concrete, and steel in a way that gives his work a gritty character. Coupled with dramatic color grading and perspectives that feature street and car lights, we can see just why the City of Lights is so nicknamed. Hunter is especially talented at presenting ultra-wide-angle shots with subjects and leading lines close enough that they create a sense of drama and enhanced perspective in the foreground!
2. Wil Lindsey
Motion often plays a strong role in the photography of Wil Lindsey. Long exposures of nearby Lake Erie, freeze-frames of lighting, fireworks, and motion-blurred cars suggest speed, stillness, wind, and other elements. Wil focuses mostly on the urban landscape but occasionally takes us to the calming lakefront, where jetties, lighthouses, and eagles all create a strong picture of what Cleveland is like. He also favors strongly saturated color grading and contrast, making the most out of the deep purples and yellows of Lake Erie sunsets and nighttime city lights!
The photography of Erik Drost is an especially diverse collection of what Cleveland has to offer. We're treated to sports, concert, and event shots, and of course, plenty of vibrant landscapes! Erik strongly favors urban landscapes over natural ones but skillfully includes how nature blends into Cleveland itself. He is especially good at capturing enchanting sunsets, where the sun's globe hovers perfectly poised over the cityscape. And when night begins, he treats us to the shimmering painting of color across the water that the glittering lights of downtown create.
The portfolio of Cleveland landscape photographer Jackson Koch takes us on adventures further afield. His work includes New York City, Napa Valley, east coast lighthouses, and other places worth appreciating for their scenic beauty. Still, being a Cleveland local, we can't help but be impressed by the diversity of views he shares here. Church interiors, East 4th Street, the Cleveland Arcade, and other hotspots instantly recognizable by locals all find their place in his work. Jackson also features natural landscapes with a special focus on the places where land meets water!
The diverse interests of Pierson Trimarchi manifest in his personal interests as an engineer, musician, and photographer. They also come to life in the genres he prefers shooting. Besides landscapes, Pierson also enjoys creating travel, wedding, and maternity imagery. Still, his landscape photography has a special character that we think you'll enjoy. The warm glow that comes from misty, Golden Hour timing is delightful to see. The same goes with his talent for calming, long-exposure waterfalls from the many parks in the region. Pierson's love for the outdoors also extends into lifestyle-oriented images where people become part of the landscape as they explore and give the background a sense of scale!
David Petkiewicz has over three decades of experience working as a photojournalist and is now a top Cleveland landscape photographer. You may have seen his past work in Time, Sports Illustrated, or the Washington Post. But it's his current love for landscapes that have caught our attention today! We love how other landscape artists go wide. David prefers a tighter composition that focuses on singular details. A distant skyline, a rain wrap over Lake Erie, or a solar eclipse remains on center stage and undiluted by excess details.
Igor Oliyarnik has an eye for leading lines that adds a sense of drama and perspective to his work! The way bridges, buildings, trees, and even the skyline itself extends intentionally gives his work something ignored by artists more interested in cramming as much into the frame as they can. Igor's love of dramatic lighting conditions is also enjoyable. From sunsets to dappled clouds, the air above plays a huge role in how his images impact us as the land itself.
The fine art photography of Gabe Leidy is truly a labor of love for the emotional impact the natural landscape can have on viewers and his sincere desire to share it as much as possible! And being a lifelong resident of the region, Gabe has an insider's knowledge of when, where, and how to capture landscapes that truly showcase what Ohio has to offer. His work covers the entire gamut, ranging from the lakefront to interior forest glades. Waterfalls with misty curtains and vibrant gold sunsets with lighthouses and jetties all paint a full picture of the greater Cleveland and Ohio region!
Hiker and fine art photographer Michael A. Krek is the creative we recommend for folks who love a slightly more high dynamic range (HDR) approach. His well-recovered highlights and shadows and preference for stronger saturation gives his work impact. His images claim what's missing in the subdued tones of many other scenes. He often features skies, flowers, and the Cleveland skyline; subjects that are just as bold as the grading he prefers. Michael's monochrome photography also employs strong contrast in ways that bring out surface textures and helps form stand out when color is quieted.

Get together somewhere better
Book thousands of unique spaces directly from local hosts.
Explore Spaces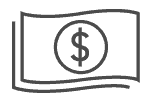 Share your space and start earning
Join thousands of hosts renting their space for meetings, events, and photo shoots.
List Your Space