The 8 Best Boudoir Photographers in Orange County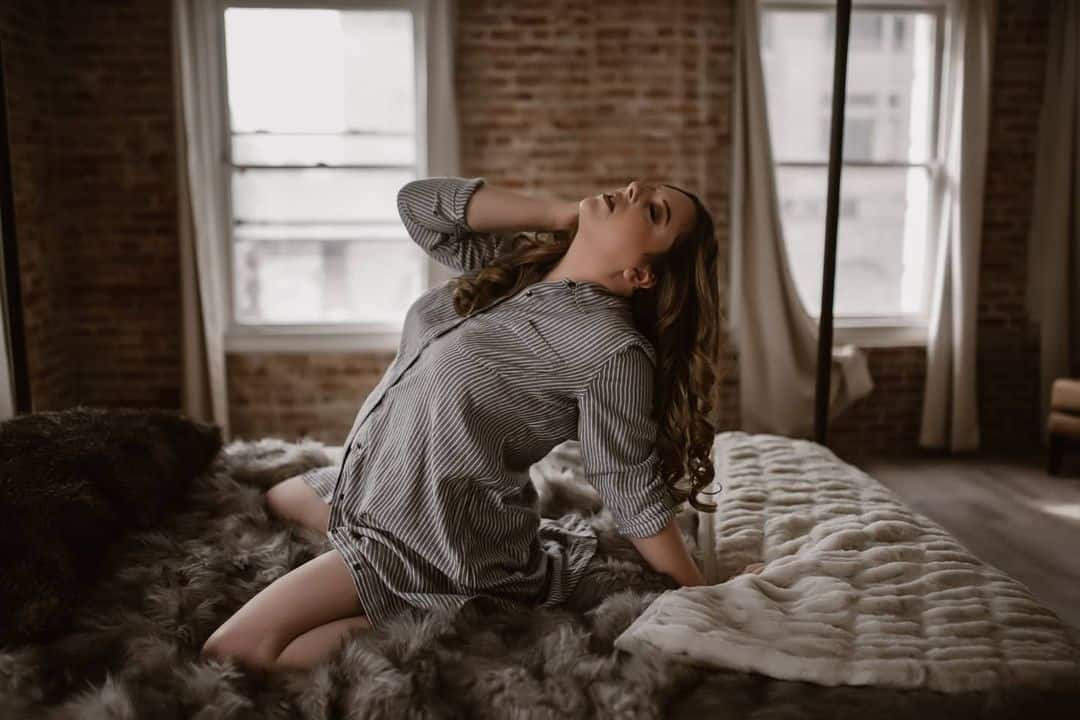 Orange County is a buyer's market when it comes to photography. The sunny beaches of SoCal are home to hundreds of creatives who are eager for your business. But it takes a rare talent to stand apart from the rest, especially when it comes to the boudoir world, which takes sensitivity, artistry, and a strong desire to help clients feel comfortable in their skin. That said, these talented and passionate Orange County boudoir photographers truly impressed us. Check them out!



Alyssa Michelle channels a passionate desire to create a life-changing experience for her clients at each photo shoot. She recognizes how so many women find it challenging to love themselves unconditionally and how elusive body positivity is, especially when it comes to boudoir photography. Alyssa's view of you from her camera is one of a confident, seductive, beautiful individual who simply needs a mirror to affirm their worth.

Her studio offers a subdued lighting environment, brick walls, and furniture perfectly suited to the boudoir experience. And she boasts the coveted ability to help her clients find ease and playfulness, which is evident in her breathtaking portfolio.
Bold, elegant, and feminine are just a few of the ways we can describe the work of this Orange County boudoir photographer. Melissa works both in studio and outdoors at the beaches of SoCal helping you find just the right light to shine under. She calls her work inclusive boudoir, a reminder that boudoir is for every woman and not a particular size or body type.

This sort of photography is a gift for her clients. A way for them to see past preconceptions of flaws and embrace the vision of a master artist. Melissa adds classic boudoir poses to film-like color palettes, creating masterpieces of photography that we think you'll adore!


Jenna's European-inspired studio space is set up perfectly with white posing couches, bedspreads, and other props for your dream boudoir shoot. The white tones are a perfect match for skin color, and her use of soft flash and ample natural light help her subjects pop in a gentle yet eye-catching manner. The colorful contrast to the background gives her work a polished, editorial character we really enjoy seeing in the typically moody, shadowy world of boudoir.

Jenna also ensures that no woman is left unsure on the days leading up to the shoot. She helps you find your confidence by providing a full hair, makeup, and lingerie guide beforehand so you walk in with the utmost confidence in her and yourself!


4. BOUDOIR O/C by Faye Gedik Photography
Orange County boudoir photographer Faye Gedik has a style that's up close and personal, even for this genre. She fills the frame with her subjects and highlights each of their best assets along with half-body portraits. Her color palette is subdued and filmic, with toned-down colors and plenty of monochrome, which is perfect for boudoir!

We especially enjoy Faye's editorial style of shooting. She often has her subjects framed in the midst of motion, looking off-camera, and otherwise in the middle of an implied story. It's an exciting way of shooting boudoir and plays well with the diversity of settings, props, outfits, and subjects she works with.


Leonor Alvarez calls herself a "body image activist," which is an immensely fitting title for boudoir photographers. Her work cultivates body positivity, which is such a hard quality to cultivate, especially for women. She drives home the fact that boudoir is for every woman, not just those with a certain body type, and encourages anyone to reach out past their nerves to try something fresh and empowering.
Her ability to find expressions and poses that feel playful yet authentic is second to none, demonstrating just how great she is at making her clients feel comfortable. Leonor's color palette is very consistent as well, with pastels and black making a delightful contrast that helps skin tones pop in every scene!


A premier boudoir studio in Orange County, Optionz Photography entirely lives up to its name when it comes to accessories! They provide a full selection of jewelry, lingerie, shoes, and just about anything else you can think of for your photo shoot.
In addition, Optionz has a portfolio full of inspiring ideas on how to capture any theme, fantasy, or whim. Themes range from birthday to hotel, glamour, and just about anything else you have in mind. Optionz Photography also offers extensive image editing for clients looking for an even more curated look.


As a luxury boudoir photographer, Cassandra L. Stephens seeks to cultivate an experience that's enjoyable from start to finish. Her work is about celebrating yourself through the artistic vision of one of the top Orange County boudoir photographers. We thoroughly enjoy the diverse backgrounds and props Cassandra brings into her work.
Themes range from holidays and rustic cottages to studio glamour boudoir sessions, with lighting, props, and posing to match. Sultry shadows and warm, golden highlights are central to her style, which matches her wedding work very nicely. The continuity and maturity of her personal style are the hallmarks of a creative professional.


Erin Kaiulani works from both Hawaii and Southern California. Her studio in Huntington Beach is where she works her creative magic with a style that's bright, expansive, and dynamic. Unlike the sultry shadows that dominate boudoir photography, Erin stands apart by using a well-lit, colorful palette that avoids bright highlights.

She lets skin tones, poses, and thoughtful composition sing through her images along with perfectly controlled studio and natural lighting. Erin also works some serious magic in her prep sessions, ensuring that not a single hair is out of place and each subject is aglow with beautiful makeup and fine lingerie for the photo shoot!


Get together somewhere better
Book thousands of unique spaces directly from local hosts.
Explore Spaces
Share your space and start earning
Join thousands of hosts renting their space for meetings, events, and photo shoots.
List Your Space