Cake Smashing Photography: What to Know and How to Nail It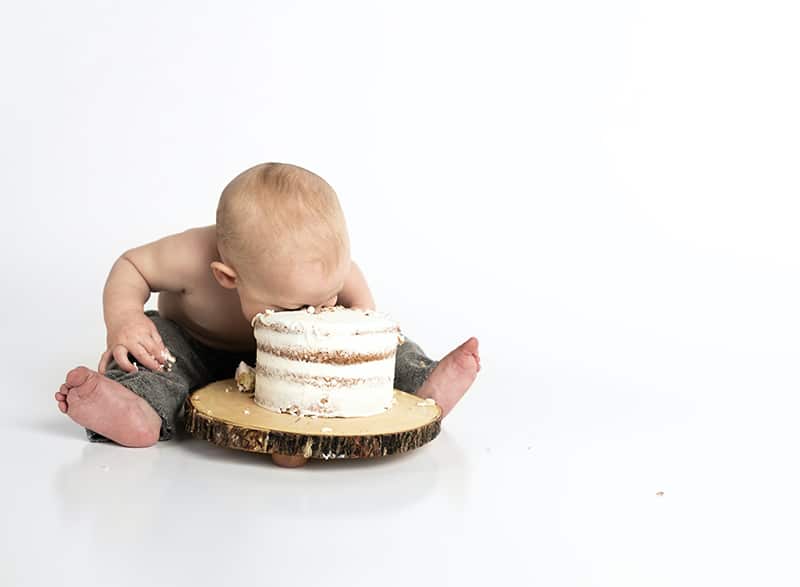 The youngest kid in your client's family finally turns one. Welcome to the world of infants and celebrating growth milestones, and to the segment of photography that sounds simple, but is rather tricky to pull off well—the first birthday cake smashing photography trend.
It's become popular among young parents to celebrate their little one's first birthday with a cake smashing photography session, and some parents have ambitiously attempted to do it themselves. We hope they survived it. But if you are a photographer interested in getting into cake smash photography (or a parent ready to give it a whirl), we're sure you're in for a LOT of fun! It's pretty much the cutest thing in the world, but you do want to get it right, or you're going to have a big mess on your hands for nothing.
What happens in a Cake Smashing photography session?
Your clients bring in their ultra-adorable just-turned-one tiny human. Said junior human has discovered they have teeth, tried tasting many things they now love or hate, has discovered the joy of sitting upright, and is potentially waddling around (we're looking at you early bloomers) and the delight of destruction of any and everything around them with a whoop, a laugh, and a gurgle in true baby fashion.
Your clients are usually irritated at the prospect of cleaning up after their energetic 1-year-old. But for the first time, they're actually looking forward to cleaning up, and (gasp!) planning the mess, too.
Your little model is dressed to the nines. Placed in a color-coordinated backdrop that matches their adorable outfit. They have their special moment of gummy smiles and laughs, and curiosity with the props. Click! Click! Click!
How exactly does a typical photo session play out?
Then you bring in the cake. Hopefully you have photographed the gorgeous cake before it meets its demise in tiny hands. You place the gooey goodness in front of your little model with a flourish, then join the parents in using every trick in the book to attract the baby's attention to the cake.
Tiny hands reach for it. Swipe. Taste. Eyes widening in delight. It's sweet! Click! A fist goes out to grab a handful of the sugary treat. Yum! Click! The child has begun to eat the cake, and so has their clothes. Click again! The child is delighted that they're eating something so sugary, so soft, and not getting cleaned up by mommy and daddy. They dive in! Click rapidly. Burst mode activated!
Roll in it, revel in it, paint your entire set in sugar and cream. Click! Click! Click! Child's parents are cheering, encouraging the tiny tot to look at the camera, with their own acrobatics behind you. You fight the urge not to photograph them instead and focus on baby Picasso in front of you. Now you are in the zone, and ready to get artistic.
You pick up your camera, and take pictures, from above, from below, from the front, side, behind. You masterfully compose your shots, and click away with a flourish. Hopefully the flashes of your camera attract the little model, and you're rewarded with 10000 megawatt gummy smiles smeared with cake. And finally, the session ends.
That's more or less the gist of a session. But there's a lot more that goes into a successful, short, sweet session.
It's all in the planning and patience. Tons of it.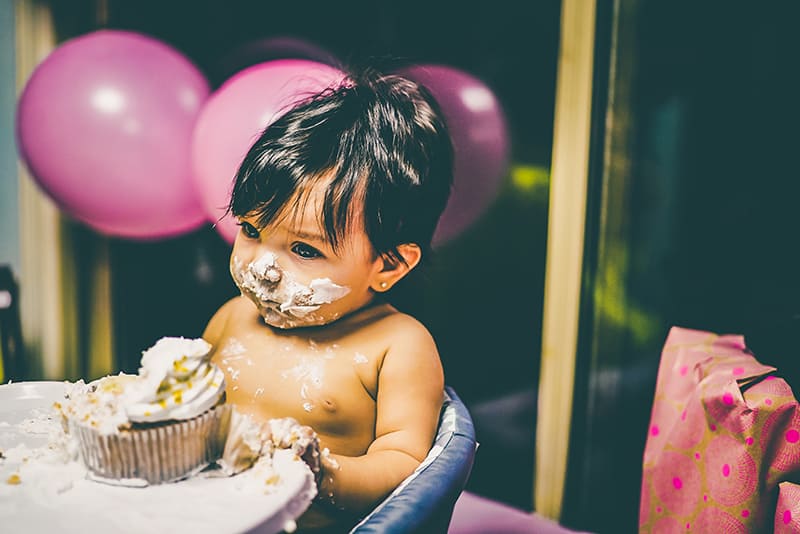 Initial Considerations
Ask yourself if you are prepared to handle the genre
Are you good with children? Are you comfortable handling a small crying child? Is your studio baby-proof and child-safe? A small child comes with concerned, hawk-eyed parents, and rightly so. Can you be patient with them and their concerns as well? Get assistance. Join yoga, or do whatever you need to cultivate patience, because you will need plenty of it.
Safety and child-proofing the session
If there's anything that can go wrong, it will go wrong, because you are dealing with a helpless, non-aware individual who is prone to mischief and unintentional danger. Before you order cake, check for allergies. Make sure your space is ultra clean and extra safe. Also, child proof your photography equipment.
Setting the scene and choosing the props:
This is the fun part of the planning. There are often readily available themes that parents pick from. But the fun lies in beginning the elements of the themed shoot together. Some photographers may offer these in-house, while some coordinate and advise the parents to plan and arrange for these.
Choosing the cake: Unless you have a hack for it, we recommend you stay away from chocolate (brown) and red-velvet (red) because on camera, they will look like baby poo, dirt or blood in pictures. Try to go for soft color gooey cakes. Take sample pictures at this stage beforehand. Get the cream and colors fixed early on to match your set.
Assembling accessories and outfit: Choose clothes with the parents' help, and do a few trial shots. This will help you fix up your technical specs—where to put the camera, what kind of exposure, what kind of color balance and so on. Sometimes, while parents want fancy outfits, a plain outfit will show off the beautiful effects of smashed cake better. 
Childproof your equipment and studio. Photography equipment is expensive, and we don't want hazards due to a child or overzealous parents. Tape things down, get covers, lots of tissue, and assistance on your shoot, both for the child and for your needs.
Plan your shots. If you can, keep a theme book for all the themes or ideas you can shoot. This will give you the advantage of practicing and preparing beforehand, with setup and photography settings, and help you recommend ideas easily. If you are shooting in a new location, make sure to plan things with the parents a few days in advance.
Involve the parents. They know their toddler best, so encourage them to bring toys, attract and distract the child to help you get your shots. This is an exercise in patience and teamwork with your clients. However, having some tricks up your sleeve will come with experience.
Go with the child's flow. Children are unaware models, and you will have no idea what you will get from them. So get your key shots, such as a picture of the cake, portraits of the clean baby before cake smash, and so on out of the way, and then improvise.
Clean up. Always have a clean up plan. Help in cleaning up your accessories, and have a tub with water, and baby equipment to give your little model a bath. They'll need it. This will also mean lots of disinfection, and thorough post-shoot cleanup, whether it is your studio, or a client's house or a third location.
Be prepared to reschedule and repeat. Have a plan B. Your model is a small child who may not be ready or comfortable on set, in those clothes. They may cry, or get irritated, or refuse to engage. Instead of forcing the shoot, be prepared to do it when the child feels ready and comfortable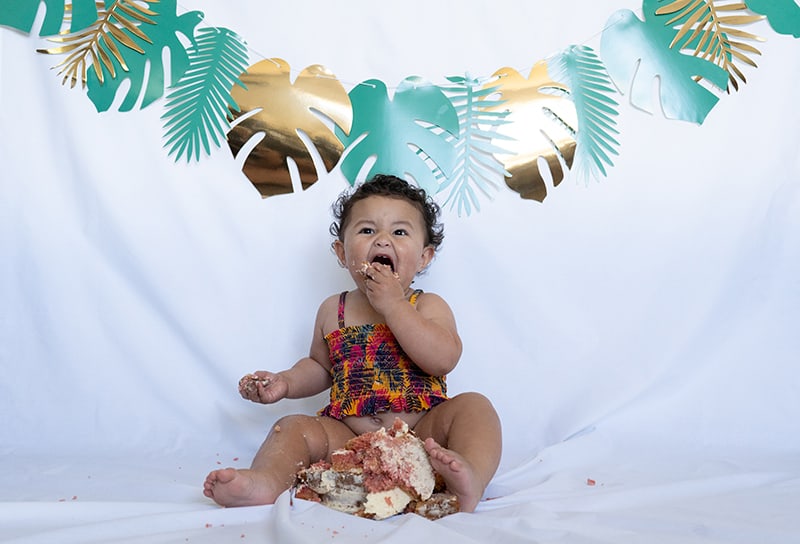 Editing and post-production
Keep edits to a minimum
Cake smashing photography is already a dynamic, unpredictable genre, so nobody will expect pristine photography. What they will expect is well lit, well composed images, which are the groundwork you need to lay. Afterwards, your edits will be a simple job. 
Play with the child, work with the parents, and smash a cake (or two)!
Cake smashing photography is both intensive to plan and gives room to improvise. But the results and the experience can be incredibly fun. When you're dealing with a child, we recommend planning, and relaxing yourself so you have just as much fun on the shoot. Here's to a sweet sweet shoot!


Get together somewhere better
Book thousands of unique spaces directly from local hosts.
Explore Spaces
Share your space and start earning
Join thousands of hosts renting their space for meetings, events, and photo shoots.
List Your Space