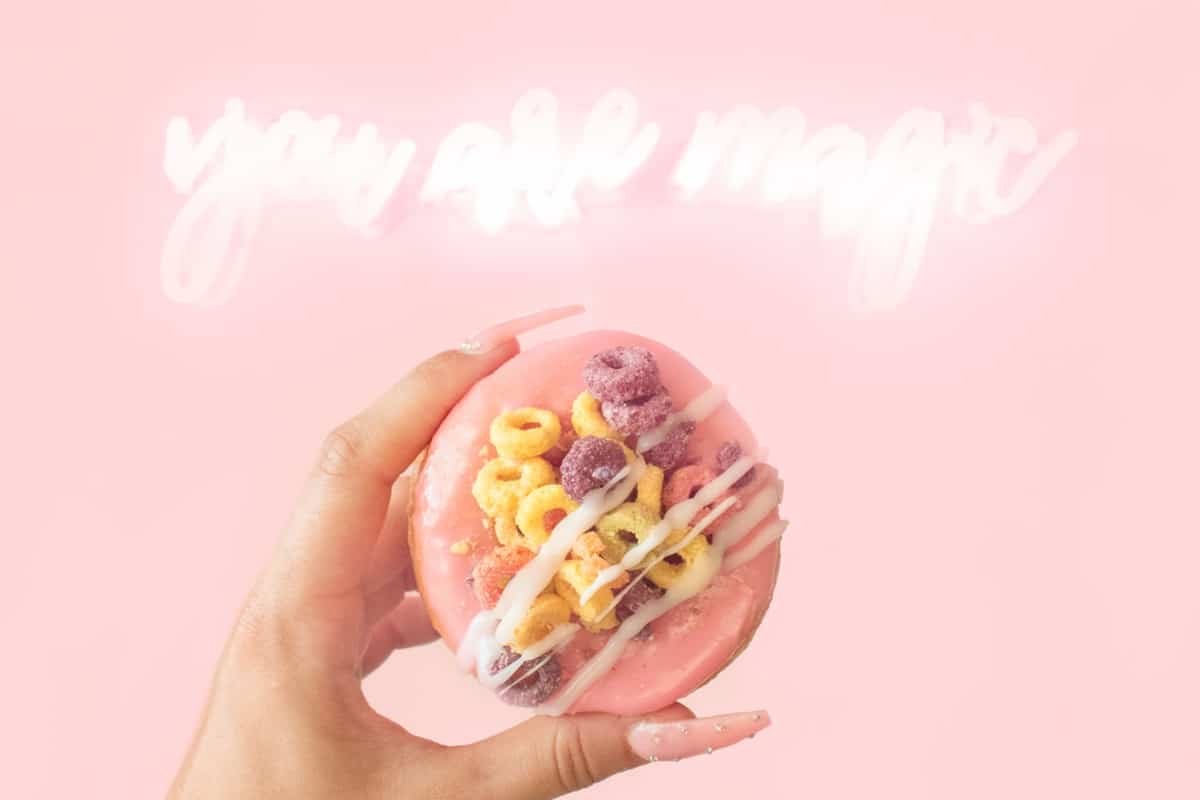 Parties are always entertaining. However, the fun is amplified a few notches when you add a theme. Themes are usually a tribute to eras, people, occasions, or things. The legendary theme Peerspace chose for you in this article is donuts and donut party ideas, for example. In movies or cartoons, police officers are always fond of donuts, but who could blame them? IRL, we all love donuts! Once you try a donut, your only regret is not having more on hand to enjoy. And in that same vein, whoever came up with the donut-themed party has the gratitude of millions of people.
You might be intrigued by the idea of a sweet donut party, but organizing it can be a difficult task. What you need is a starting point and some easy-to-pull-off ideas to throw a memorable party. And that's precisely what Peerspace is here for! Whether a kid's birthday party or a just-for-fun party for adults, this theme is, hands down, one of the best. Here is a list of 10 sweet donut party ideas that will make your responsibility much easier.
1. Round invitations!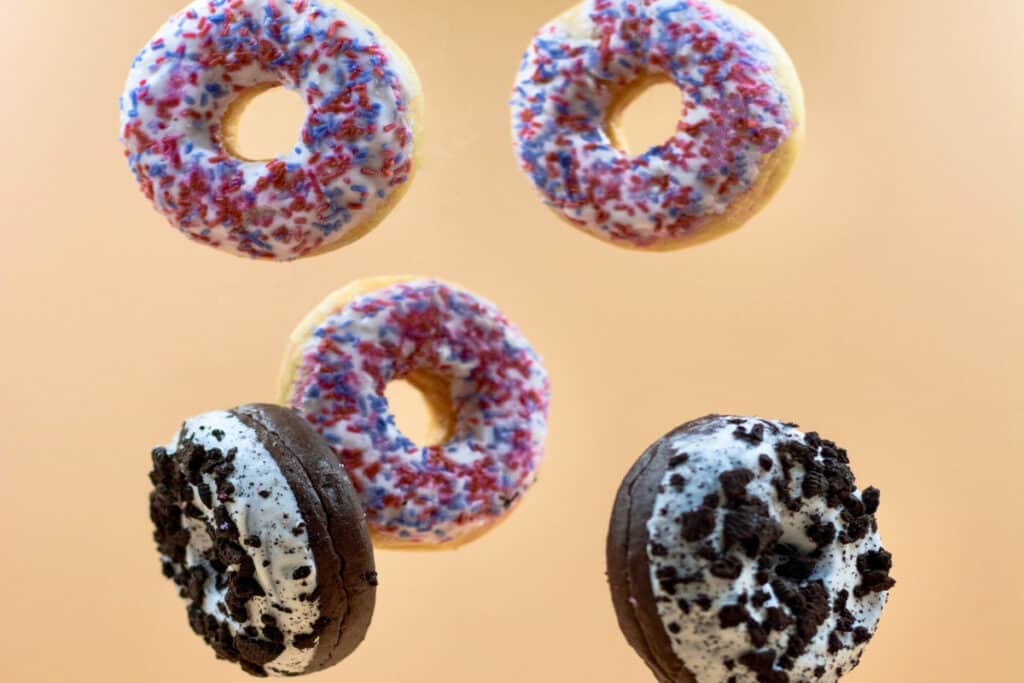 Attention to detail matters a lot. You may want to make a delicate first impression on your guests. The best way to do so is through invitations. Customize your invitations according to your theme. You may cut your invitation cards into a circular donut shape. If not that, you have the option of simply printing donuts all over the invitation card. This mouthwatering invitation is undoubtedly a great idea and does not require much effort.
2. Peerspace, bringing you sweet locations for a sweet party …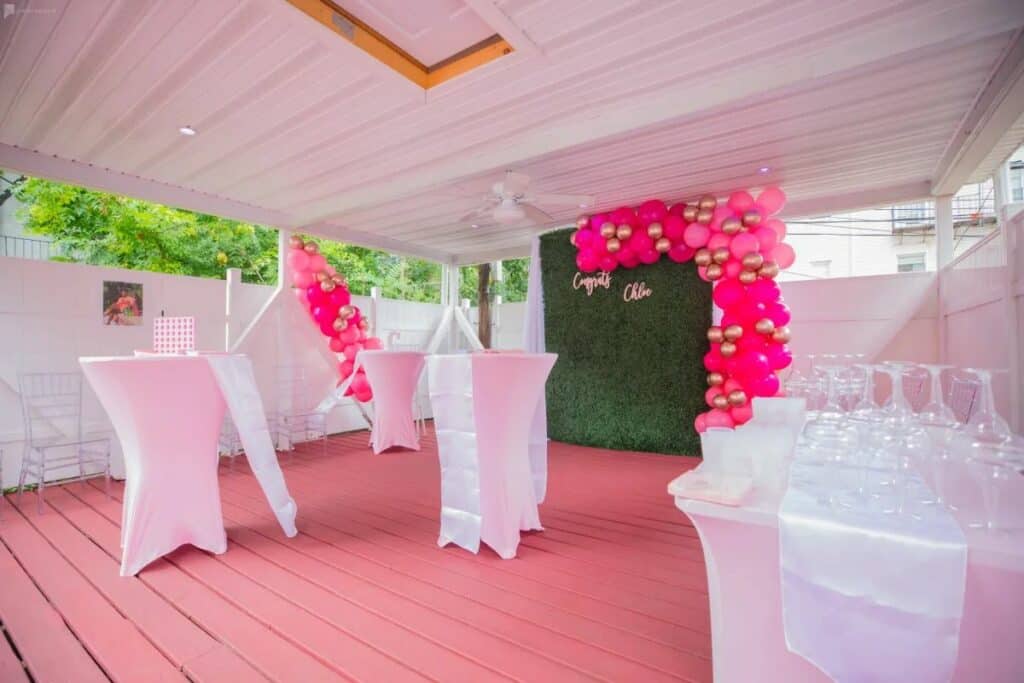 Venues are one of the most critical factors of every party. While deciding the venue, you may want to consider a few elements; guest count, theme, age factor, and type of guests. Some prefer indoor parties and some prefer outdoor parties. The decision depends on you. Finding the appropriate location is a tiring job, but with the help of Peerspace, you can get the most suitable location around you effortlessly.
3. Round all around!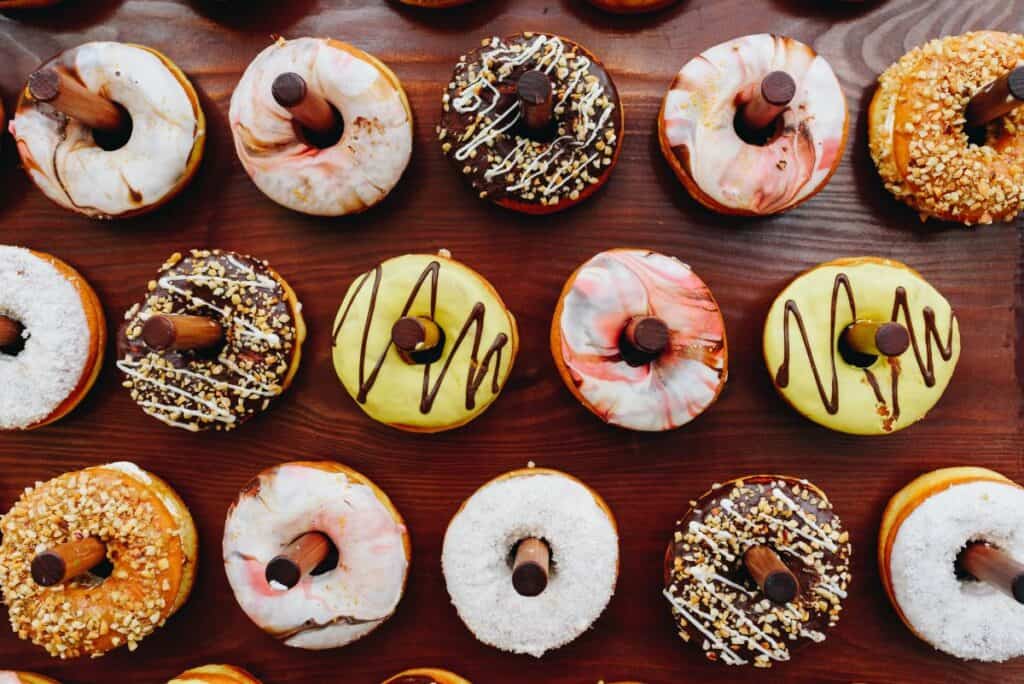 The best part of a theme party is the decorations. For your party to look as good as a donut, you may want to exhibit your theme at every corner. You could buy donut-shaped balloons from Amazon that are only a few bucks. Fill them with helium to have your guests go crazy over floating donuts. Hang donut banners on the walls or maybe small donut-shaped cards from the ceiling. You can put up more DIY decorations if you have enough time and energy. And donut walls are a social media sensation for a reason and very easy to put together yourself.
4.  The donut gang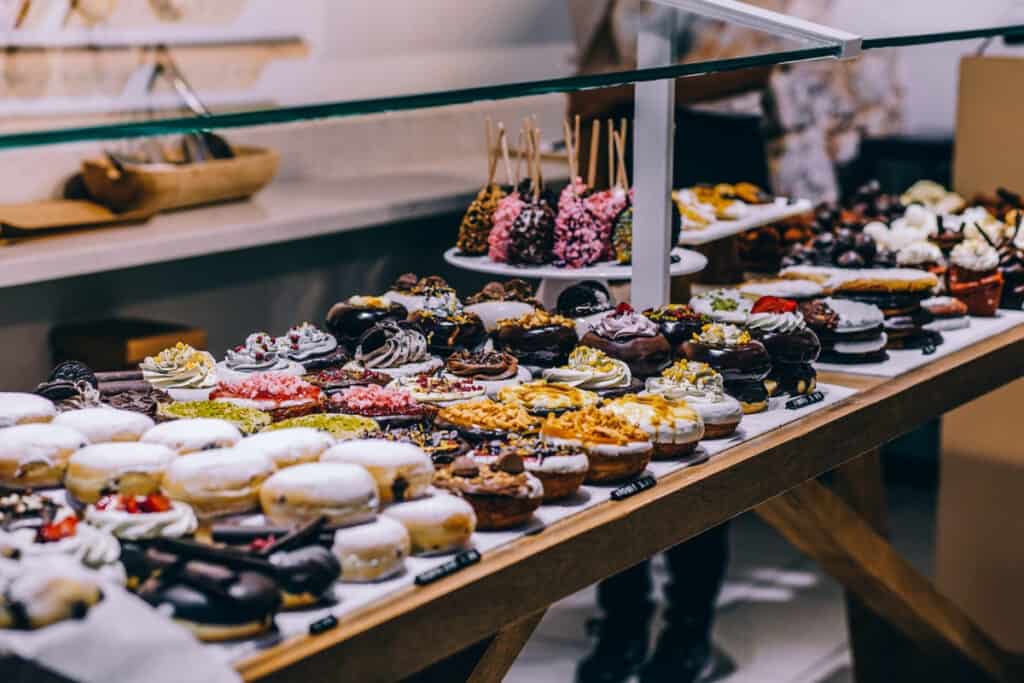 A party is incomplete without the dress code so let's move to the next sweet donut party idea. Even though kids are already so adorable, funky dresses further add to the cuteness. Ask your guests to bring their children in donut outfits. For adults, get donuts printed shirts and make your guests wear them to register into "The Donut Gang."
5.  Multicolored menu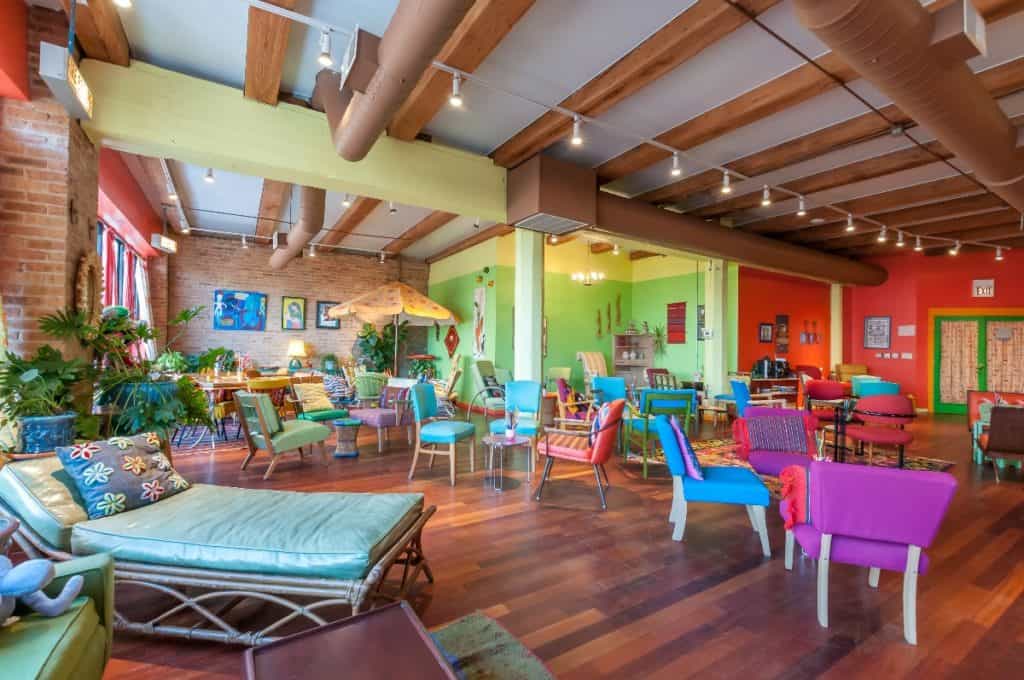 If you ever encountered a child's coloring book, you would know that kids love to add as many colors as possible. Keeping this in consideration, why not devise a multicolored menu? Donuts are not only savory but also as beautiful as a rainbow, too, literally. Donuts come in many colors, so use them to your advantage and prepare a colorful dining table. You could either go for something colorful or something round for the rest of the menu, just like your theme.
6. Donut toss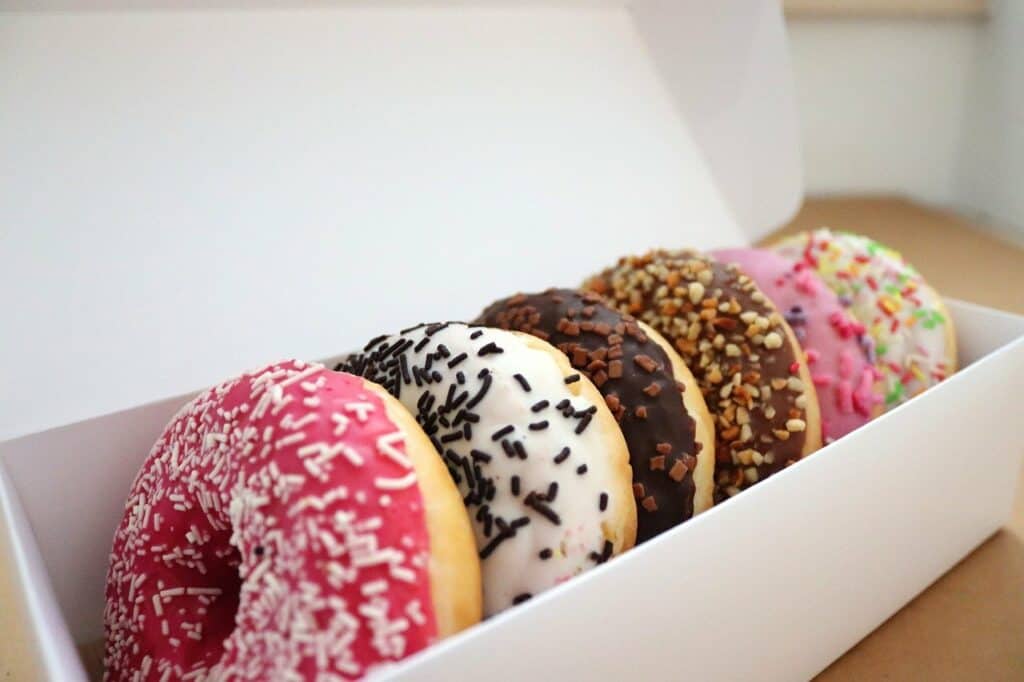 Kids love playing games, especially in this era when smartphones have dominated our lives. A few games are still irreplaceable, and "ring toss" is certainly one of them. However, at this party, replace the rings with donuts! There is another great game that all kids could play. All you need is a stick or stake in the ground and, obviously, donuts.
7.  Donut or cake? Or both?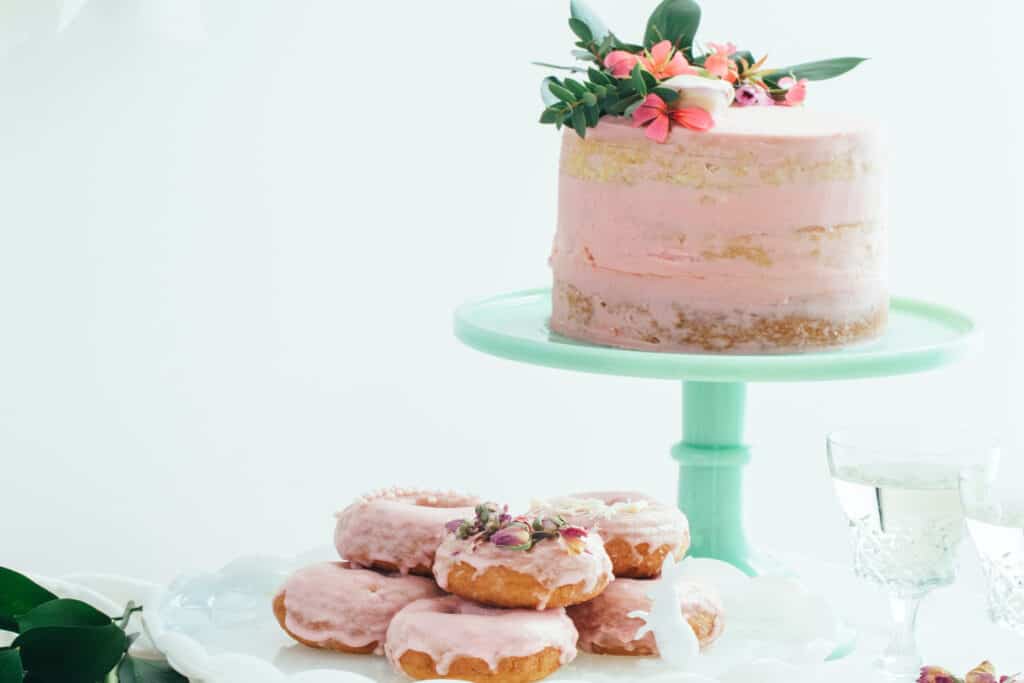 A birthday party without cake is like a zoo without animals. It's a tough choice when it comes to donuts versus cake, so why not combine both? You could ask your nearest bakers to bake a cake with donut toppings. For reference, you can find many pictures on the internet for donut birthday parties. You could ask for a hollow cake from the center, so it looks just like a giant donut. Add smaller donut-like cake layers on top until the real donut fits on top. You can now entertain the guests with a cake they would have never seen before.
8. Sweet surprise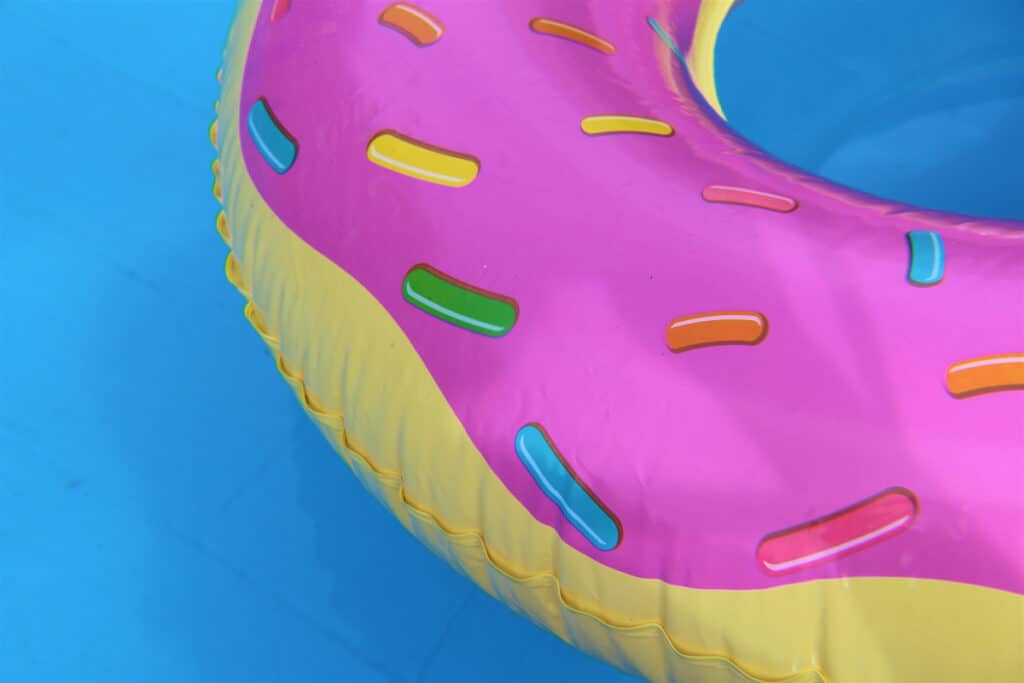 Party favors are just as important as cakes, and you wouldn't want to deprive your guests of these gifts. You could buy donut keychains for your guests. Make Minnie Mouse Donut Ears for the kids. Another great party favor for the kids could be donut stamps. Anything related to your theme or specifically anything donut-y would make a great party favor. Small Donuts like cereals packed in cellophane bags would also work.
9. Donut shoot!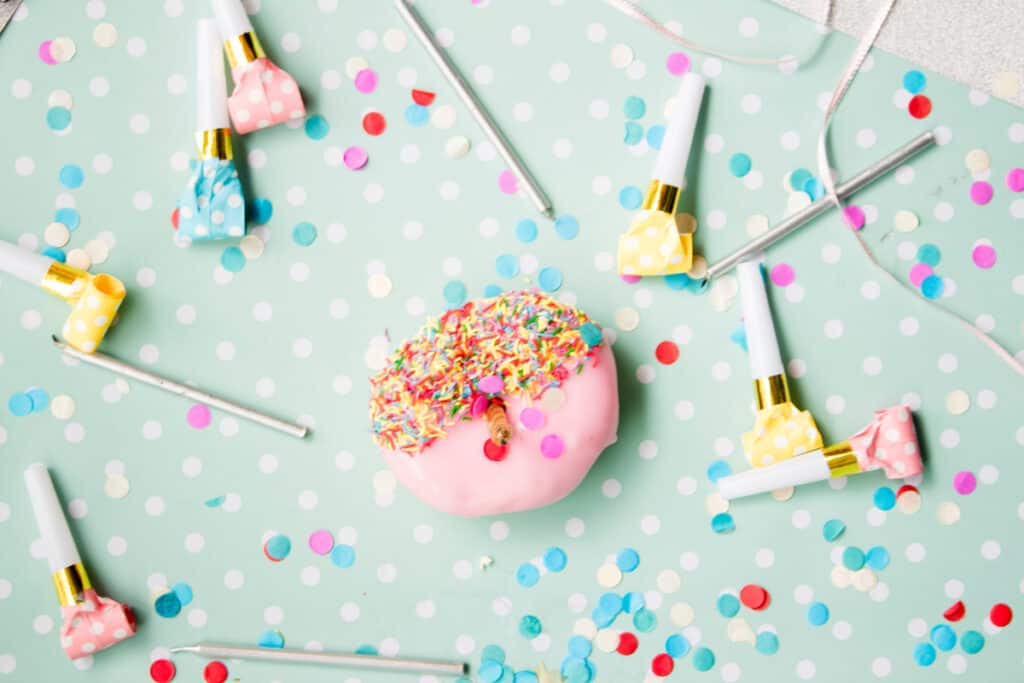 A great way to save your precious moments is by capturing pictures. All the parties usually have a designated picture spot meant to portray your theme in one picture. You could create a photoshoot corner as well. Paste a giant donut in the background with helium balloons on each side. For kids, design a donut truck or donut cart so you can capture the two most precious things in one photo; kids and donuts.
10. Sweet deal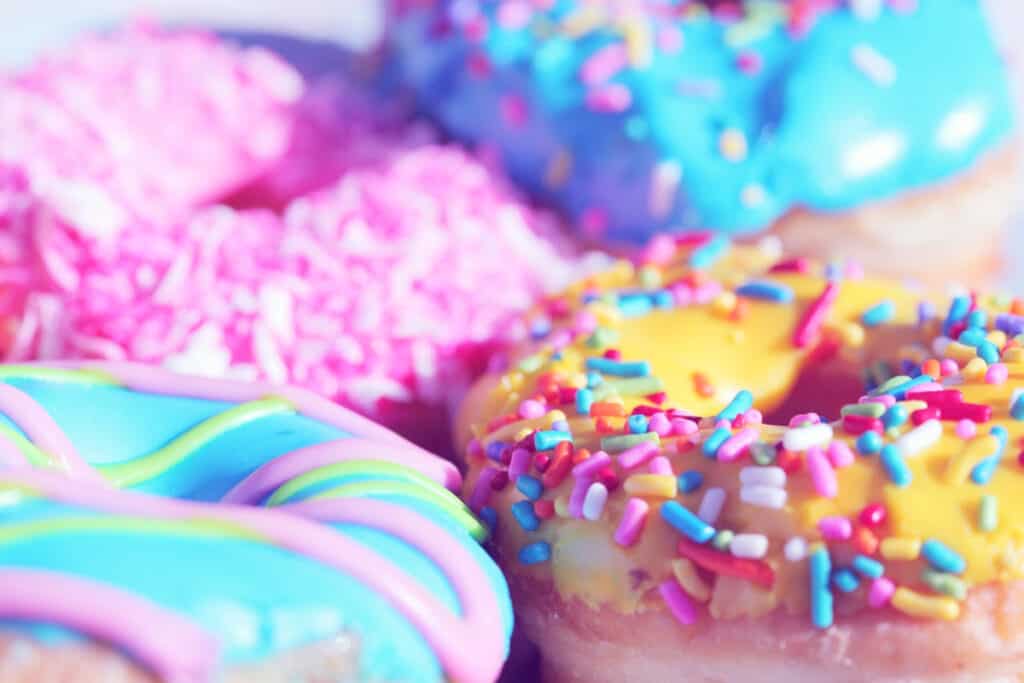 Do not worry if you do not have enough time to make all the arrangements yet want your party to follow the theme! Here's a deal that will solve your problem. Buy an all-in-one donut party supplies package. This package includes almost everything that you would need in donut style. Tableware, favors and gifts, decorations, personalization, invitations and thank you cards, balloons, piñatas, and cake supplies are all included in this package. With this, you have more than enough to throw a sweet donut party.
Get together somewhere better
Book thousands of unique spaces directly from local hosts.
Explore Spaces
Share your space and start earning
Join thousands of hosts renting their space for meetings, events, and photo shoots.
List Your Space