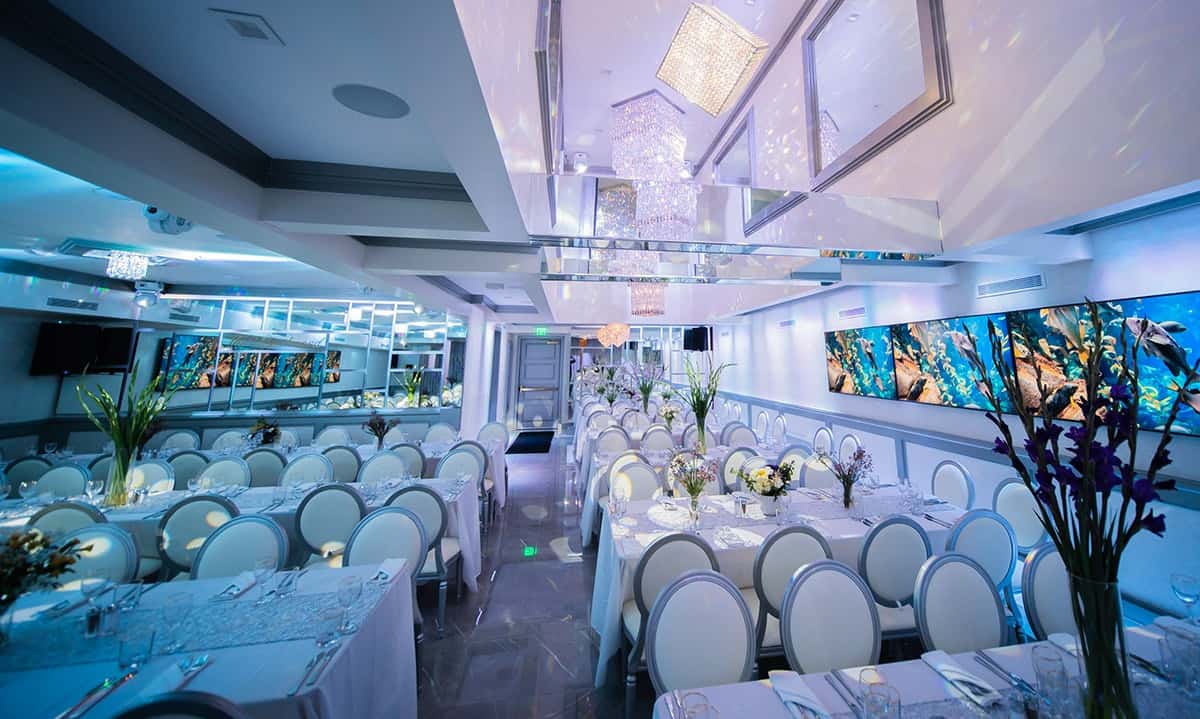 Fundraising season is year-round, and swanky, gala-style events are making a comeback. Donors need a break from more casual, station-style events and endless silent auctions. The goal of a gala fundraiser is to spread awareness and raise money for a worthy cause. Selling hundreds of tickets is a worthy goal, but remember that the event itself is a tremendous opportunity for more monetary support. The key is to keep guests entertained and delighted so they stay put, participate, and ultimately can't wait to attend your fabulous event next year. Following are 13 exciting gala fundraiser ideas to help your organization break campaign goals.


1. Book a breathtaking venue

Step out of the ballroom and into something unexpected. Peerspace offers exciting and unconventional venues for rent in metro areas across the country. Transform a renovated industrial warehouse into the event venue of your dreams. Sprawling space and soaring ceilings create an enormous canvas to turn your most over-the-top, creative gala fundraiser ideas into reality.


2. Say thank you

Your event wouldn't exist without volunteers and donors! Enlist the help of local artisans, wine and spirits distributors, book and music purveyors, and clothing stores for donations of gifts of all sizes: custom jewelry, splits of wine and champagne, bestselling books and vinyl, scarves and ties. Welcome your big donors at a private welcome reception with tables filled with swag. Make sure you give the vendors appropriate recognition and give them documentation of their donations.

3. Include splashy surprises

Lean in to dramatic gala fundraiser ideas to make sure attendees talk about your event for years to come! Retain a troupe of entertainers to herald in announcements or to close the party. Choose the format that's best for your theme: a zydeco or marching band, circus entertainers or theater troupe, belly dancers or burlesque performers for a more daring presentation.


4. Hold a bubbly raffle

A sparkling gala fundraiser idea to raise an extra several thousand dollars for your charity: fill a finite number of glasses of champagne. Adorn the bottom of each glass with a semiprecious stone, except for two that have a precious stone. Sell each glass for $50 and announce the "winners" at the end of the evening. Diamonds and cubic zirconia have universal appeal but if it suits your theme, use color here: garnet, amethyst, peridot as semi-precious with emerald, ruby, or sapphire as the precious prizes.


5. Set up intelligent lighting

Never, ever forget about the power of fantastic lighting! Technology is your friend: pixel tubes are versatile, state-of-the art LED lights that allow you to manage the mood from above. Begin with softer colors for dinner, then switch to beat-sensitive color and effects for dancing. It's a perfect way to draw guests to the after-party.


6. Host a fabulous after-party

Speaking of the after-party — invite guests to attend a dessert and dancing reception for a cover charge or suggested donation. Serve truffles and wrapped candies, espresso, sparkling water, and spiked hot chocolate. Give everyone glowing accessories, and shoot a confetti cannon towards the end of the night. Showstopper, indeed! And, if you're feeling particularly adventurous, incorporate one of these other gala fundraiser ideas into your after-party.


7. Offer useful services and personal care items

Hire representatives from the charity to roam and offer beauty and personal care items for a donation: tinted lip balm, facial spritz, or hand moisturizer; tins of mirror mints or breath freshener; mini bottles of champagne or sparkling water, all emblazoned with the charity's logo. If space allows, station a restroom attendant to offer similar services. In the lobby, create a phone charging station or a shoe-shine chair, available for a donation, of course.

8. Prepare a live auction

Sure, everyone does live auctions — because they raise so much money! Keep yours brief and hilarious as you auction off experiences rather than things: beach vacations, concert tickets, or a home-cooked meal by someone's grandma. Businesses and individuals are often generous when donating such things, but don't feel obligated to accept every auction item that is offered. You know your audience. Make sure it's something that is going to move.

9. Select a unique theme and commit to it

Every theme has already been done, so choosing gala fundraiser ideas for your event shouldn't be too much of a challenge. If you're in love with springtime in Paris, consider shifting your sights a bit west and select a theme of Monet's Garden in Giverny! Don't stop at pretty invitations: draw the mood throughout your planning and execution. Create a dreamy watercolor-inspired design concept that flows from lighting to live plant installations to tabletops — and, if budget allows, have guests enter via a Japanese bridge adorned with Wisteria.


10. Offer buzz-worthy food presentation

Run-of-the-mill banquet food is a terrible letdown. Request that your chef find inspiration in natural elements to create beautiful, interesting food: slate, stone, and wood are a beautiful backdrop for any hand-passed appetizer. Remember that "interesting" should not mean "complicated." Appetizers should be small, thoughtful bites that are easy to identify and can be eaten while one is wearing lipstick and holding a glass of wine.


11. Have social media-ready photo ops

Social media is a key element to future donations from your gala fundraiser. Give your attendees backdrops that are Instagram-ready! Urban art meets upscale event with air graffiti walls and virtual spray cans. Your guests can choose a backdrop, then graffiti their own images to be posted ad infinitum. It will generate more interest in your event and cause while also ensuring that you have tons of material for next year's campaign.


12. Serve an interactive dessert

Style of service is often a tough roadblock. How to encourage guests to hang around long enough to dine and donate as well as get them to mingle? People want a home base but they don't necessarily want to be trapped at a table all night. Solve that problem with dessert carts or stations: go retro with a bananas foster station or nostalgic with an ice cream cart of frozen novelty treats.


13. Keep it a whimsical affair

Hold your adults-only, gala fundraising event in a location that will inspire childlike wonder: after hours at the zoo, late night at the aquarium, or an amusement park reserved just for your event. Theme the food accordingly: cocktail frank en croute, chocolate covered strawberries, and tiny bites of cotton candy. Among unforgettable gala fundraiser ideas, choose this one for a night full of fun and adventure.


By incorporating one or more of these creative gala fundraiser ideas into your event planning, you're sure to hold an incredible event that donors won't soon forget.


Get together somewhere better
Book thousands of unique spaces directly from local hosts.
Explore Spaces
Share your space and start earning
Join thousands of hosts renting their space for meetings, events, and photo shoots.
List Your Space