Maternity Photography: What To Know & How To Nail It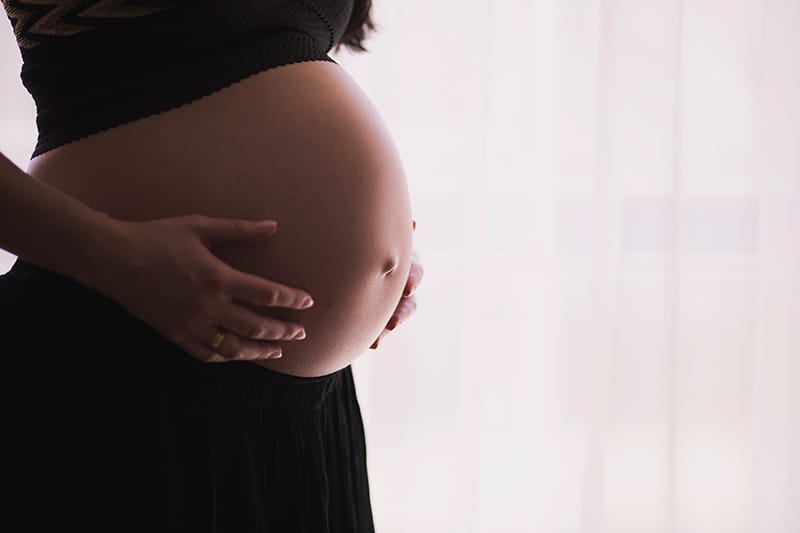 Documenting the excitement and memorable moments of pregnancy is genuinely an art. When it comes to maternity photography, making the mother feel truly beautiful in her skin is essential. Close attention to the subtleties of pregnancy will add an extra personal touch to your photos. Have a look at these few tips to capture timeless shots for your next maternity session. 
Communication is everything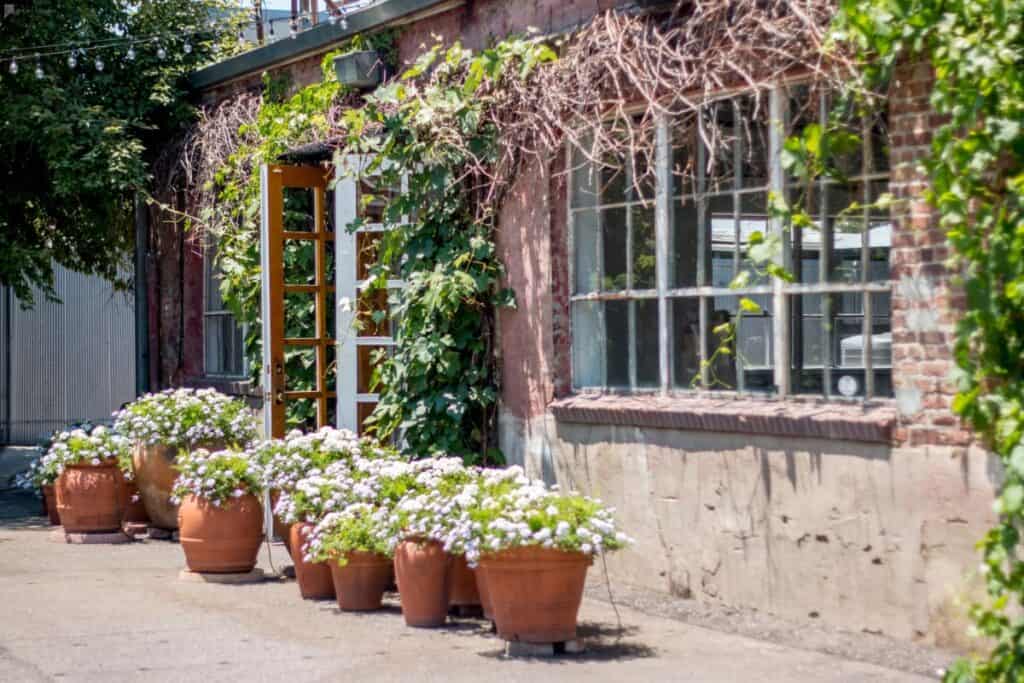 Your first job is to determine what the client wants from the maternity shoot and understand how she envisions it. Check her location preferences, color choices, prop picks — down to the last detail she may have in mind for her dream shoot. Also, making the mother feel at home throughout the activity is extremely important. These are photos she is meant to cherish forever and that ideally capture her raw, natural, and breathtaking beauty.
Keep in mind that pregnancy is an exciting yet stressful time for most women, given the physical and mental challenge that comes with this life-changing experience. So tell your client everything she needs to know to feel at ease — the shots you plan to take, wardrobe recommendations, your team size, et cetera.
Also, discuss the shoot date and time that suits her the best, and acquaint yourself with her medical condition. Be aware of her specific needs so you know in advance how long she can pose for and some things to avoid while shooting. Usually, 28-32 weeks is suitable for a maternity photoshoot, when the bump shows beautifully. But it could be different for every mother and every pregnancy. 
Prep Like a Pro
Even if you feel creative, and are excited about the shoot, don't forget you are photographing mothers-to-be. Your clients can't be expected to move around much, or be super comfortable with all the poses, or fit the shoot exactly in those designated two hours. Chances are you will need to run around a lot, be mindful of the location and lighting nuances, and make all necessary arrangements to weather logistical challenges in real-time. So start early and plan for an adventurous day. 
Location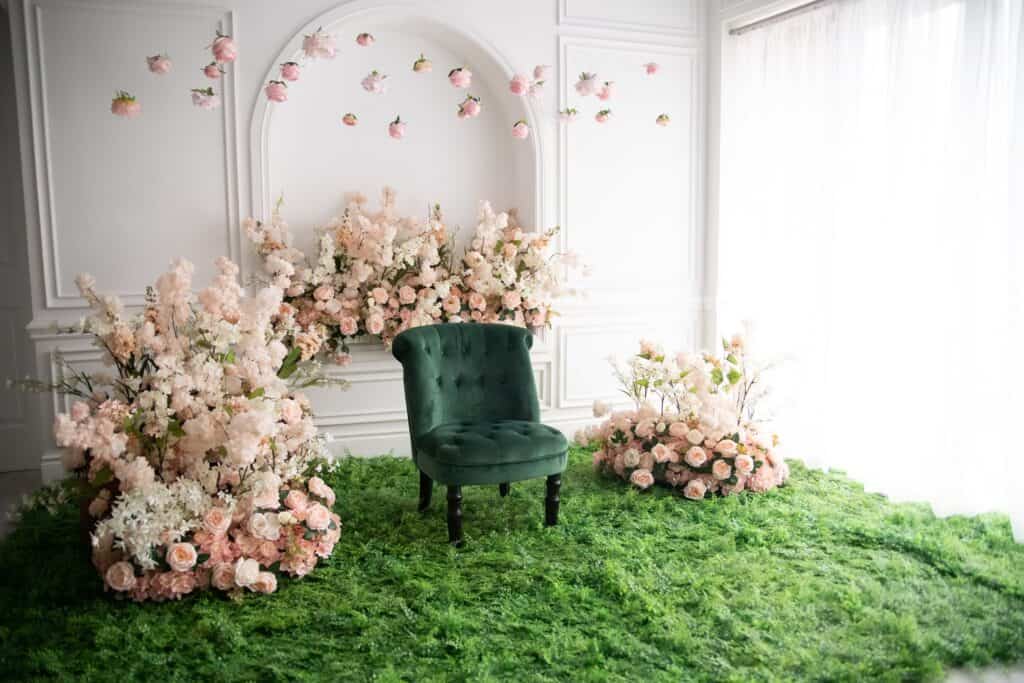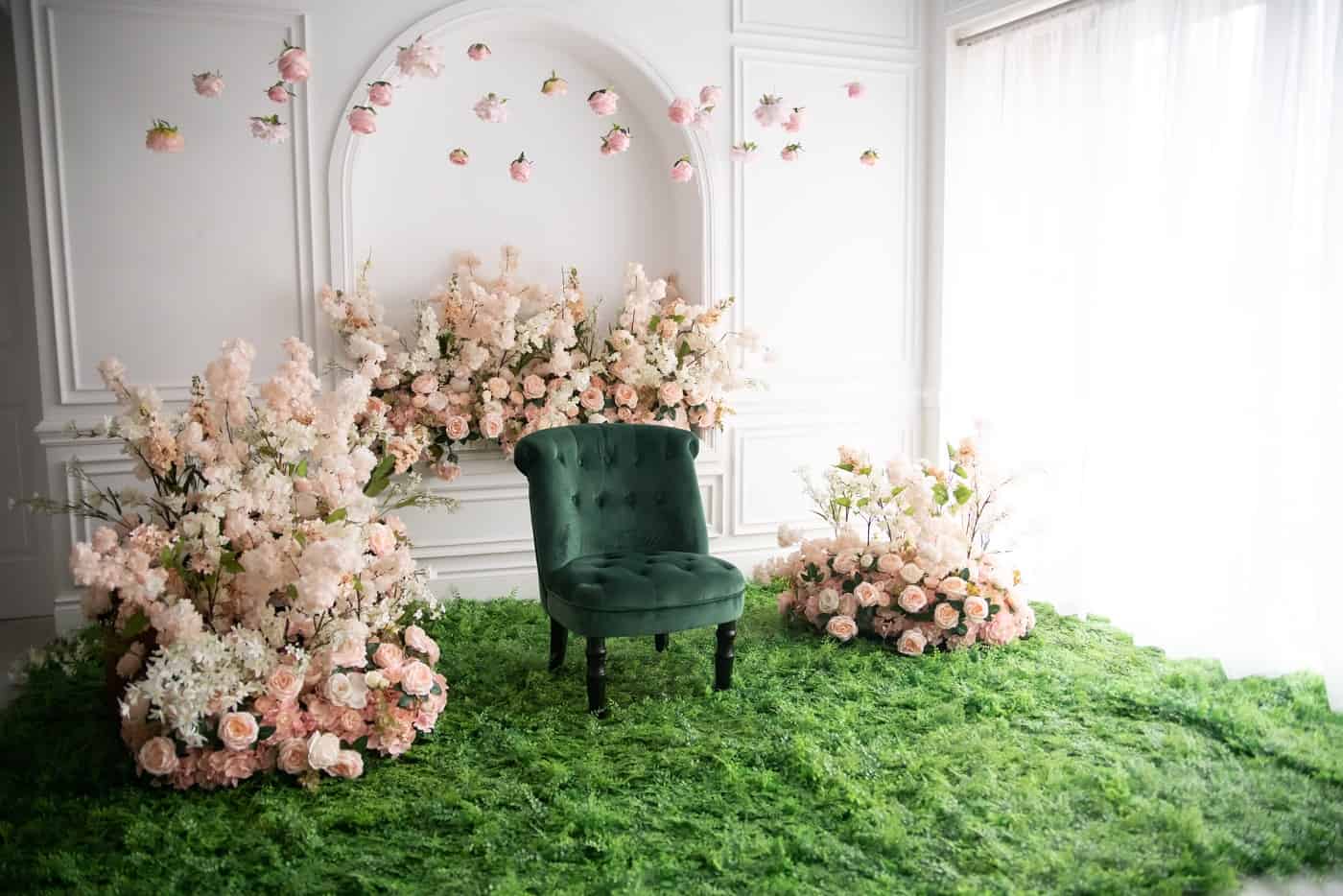 Pick a location that best fits your client's personality so they are excited about the shoot. If shooting outdoors, choose sites that do not require a ton of walking or moving around. Golden hour photos are beautiful, but they present challenges such as quickly changing light conditions, time-pressed shoot requirements, and walking back to the car in the dark. 
An indoor session can be more private and intimate, but the client might have to compensate with more creative poses to keep the photos interesting and unique. Lighting is essential, mainly if you're working at home. Shoot in a room that has the best natural lighting conditions and background colors that complement your shots. 
Wardrobe
One of the most important aspects of maternity clothing is comfort. Understand your client's style and make sure you plan the shoot accordingly. Light and classic colors make for ethereal aesthetics when it comes to expectant mothers. Be prepared to offer the mothers some tips on which maternity dresses will look best in photos and enhance their overall look with the right make-up and hairdos.
Nail the camera settings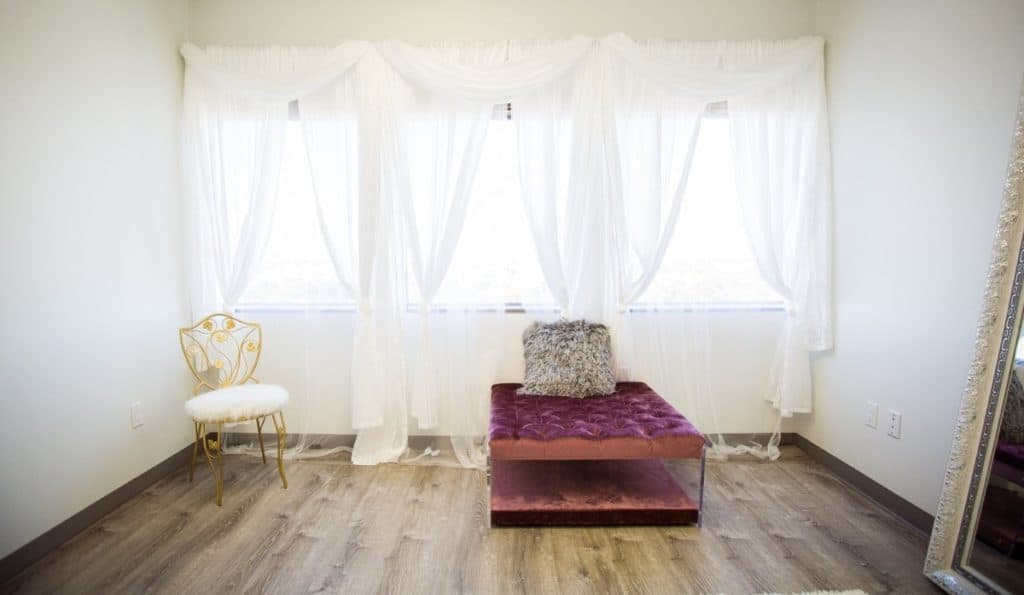 The camera settings you use for maternity photography will naturally depend on the exact shots you are going after. Portraits look great with a beautifully blurred background and, for that, you can choose an f-number between f/1.4 and f/4. If you're shooting a very wide shot incorporating some landscape, opt for a higher f-number, like f/8 or above. To avoid noise, keep your ISO as low as you can. Using Auto ISO is also an excellent way to keep your focus on the subject without adjusting camera settings frequently, but don't forget to set the upper limit. 
Set your shutter speed to the fastest possible that still allows for the correct exposure. If you're doing a close-up shot of the pregnant mother's stomach, keep the aperture low to a shallow depth of field. It's a skill to showcase the belly in all its glory and at the same time make the mother feel good about herself. You need to zoom in and focus on this body part without making the client feel out of place.
Find creative angles and poses to flatter the body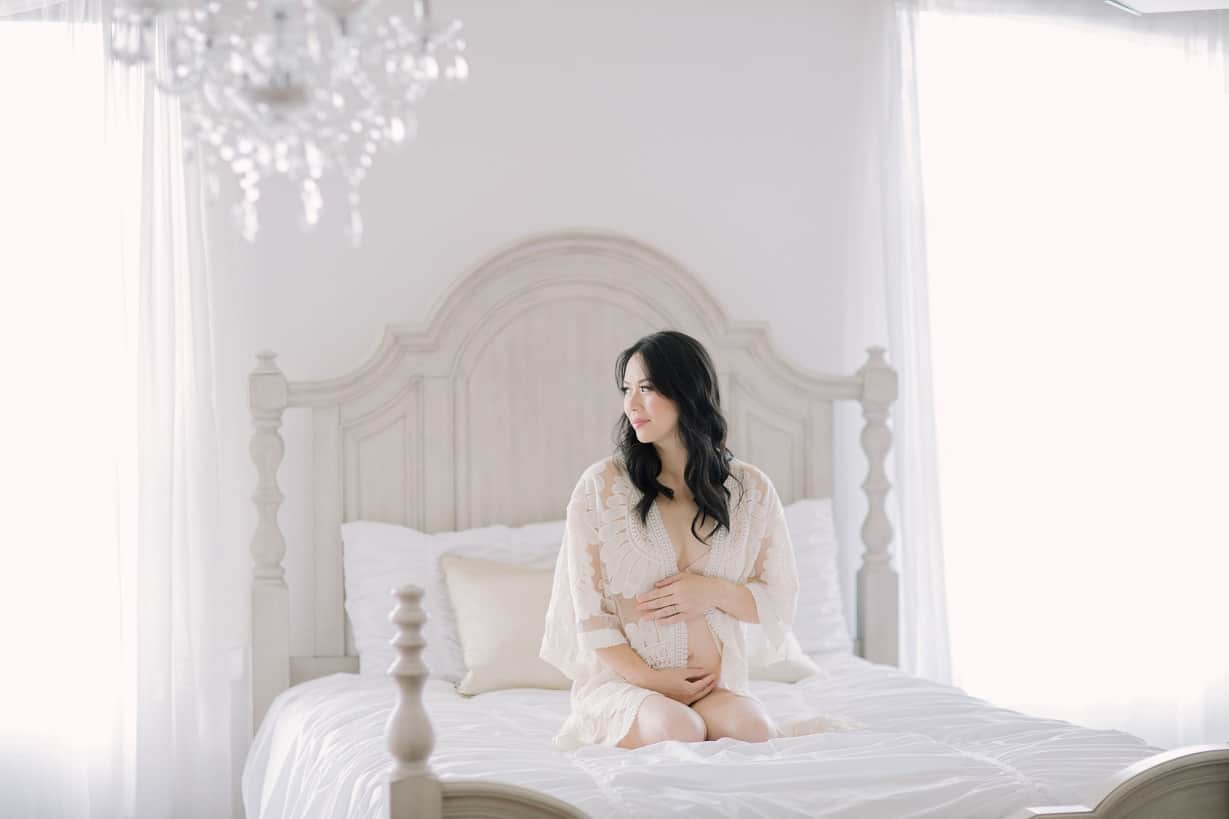 Some pregnant women may feel self-conscious about their new body shape, so thoughtful posing is the key to good maternity photography. Sitting poses are generally more difficult because the belly shape gets obscured. By all means, experiment with them – but if they aren't working, opt for standing shots.
It's very natural for the expecting mother to touch her baby bump, so try to capture this lovely pose by capturing this from the side. This pose is perfect for drawing attention to the mother's belly and giving her a comfortable way to use her hands. Another idea is to shoot the belly from underneath — an angle that helps emphasize the size of the bump. Make the mother look down, and add a touch of emotion by asking your client to smile.
Shooting from a height can be flattering when it comes to maternity photography. This is a creative space for you to play around — ask the mother lay down on a sofa, use a blanket, spread some beautiful flowers everywhere. Use props and colors that make the shots look more soothing and appealing.
When shooting indoors, leverage the place's windows well. Snaps by a window overlooking a scenic outdoor area with beautiful backlighting bring out that touch of magic in indoor photography. Also, the natural light often softens the image making the portrait look more artistic and attractive.
Movement poses are great when shooting a couple. There is less anxiety involved when the subject is around a loved one, making the pictures look more intimate. To keep the momentum going, make sure your clients are aware and assured about how the shoot is going. After a few photos, show them an image and feel involved in the process and confident about the output. 
Think outside the box
The mother may have some memorable objects pertaining to her pregnancy — an ultrasound image, a pair of little shoes, an old sweater from her childhood, and the like. Enquire about these and ask her to carry them to the shoot. Personal props make a huge difference to clients.
Editing
Add a layer of sparkle to your photos with presets to boost colors and sharpen the details. If you're inspired to get even more creative, try making something extraordinary with the double exposure effect or revamping the background completely. You can create your own presets, too, and save some time each time you sit on the edit table.
Make the shot look personal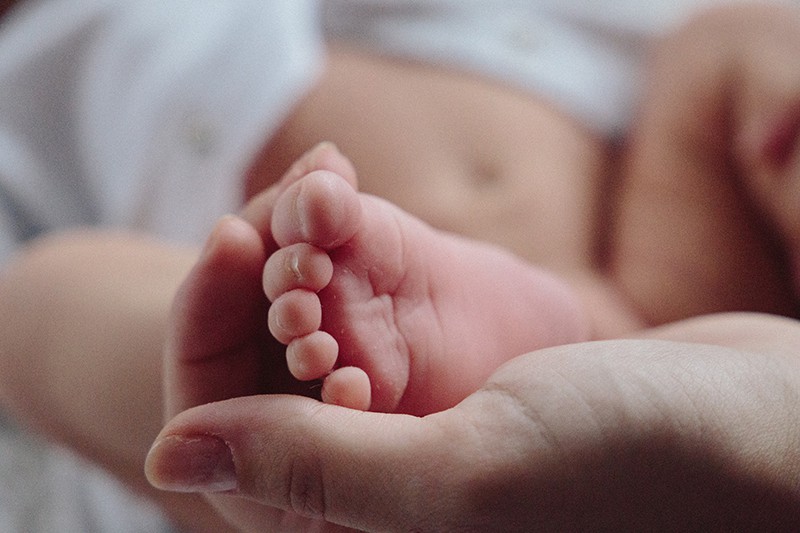 While all the above-mentioned technical hacks are beneficial, if there were just one tip we could leave you with, it would be to get to know the client as closely as possible. Involve their partners, pets, and other close ones in your creative process. Find out what moves her and plan the shots accordingly. Give her directions, plan enough breaks for her to rest it out, and minimize her physical strain as much as possible. Remember that your client and their families are going through a life-altering experience, and the shots you take are going to be revisited by them fondly for decades to come. 

Get together somewhere better
Book thousands of unique spaces directly from local hosts.
Explore Spaces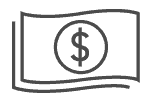 Share your space and start earning
Join thousands of hosts renting their space for meetings, events, and photo shoots.
List Your Space