Rain Photography: What to Know & How to Nail It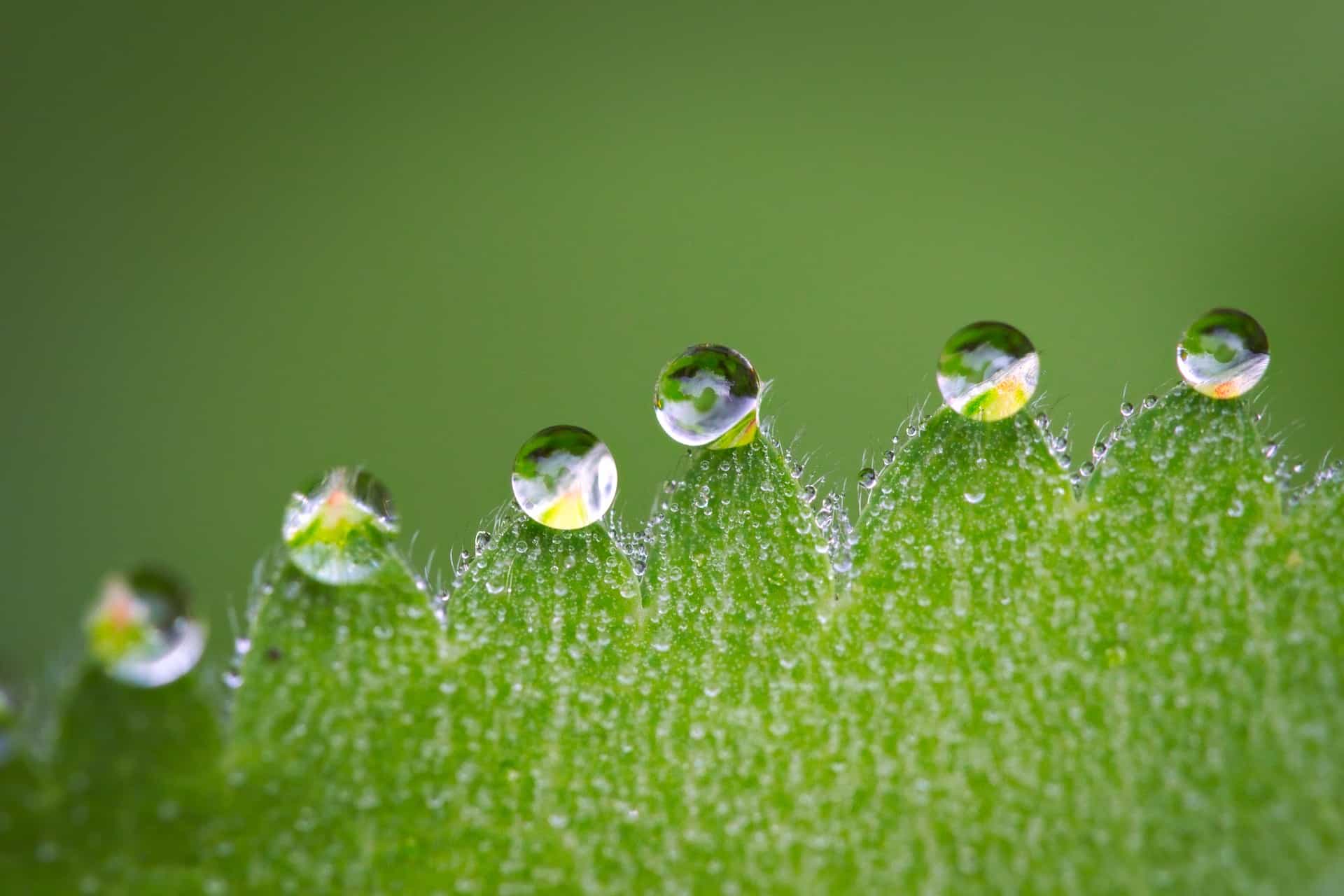 Let's ditch the sunglasses and blue skies and get ready to photograph the rain! From reflective puddles to dark and moody aesthetics, there is lots worth photographing when the clouds roll in. In fact, rain can transform the world around us in unexpected ways, and those not afraid to get a little wet will reap the benefits of their adventures. With the following tips and tricks, you will quickly master the art of rain photography.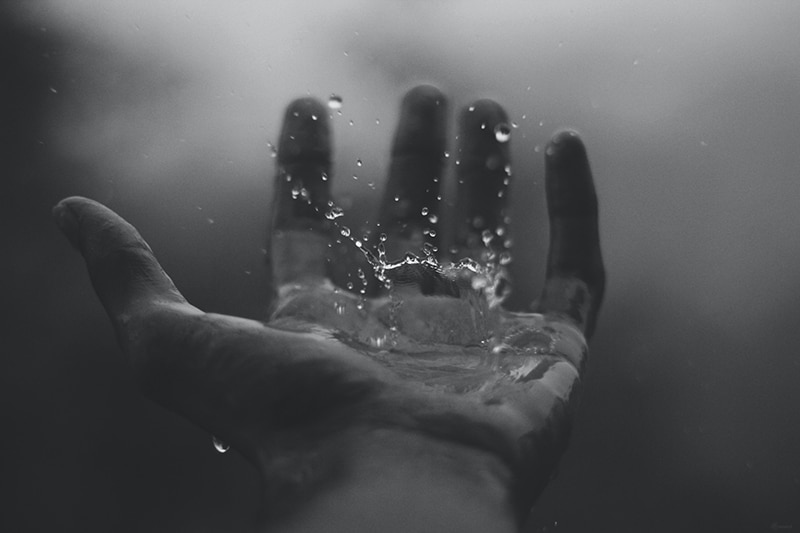 1. Practical ways to stay dry
While we might survive the rain with only some mild discomfort to show from it, our cameras need a little extra protection. Specially-designed camera rain gear is available in photography shops and online, but a little MacGyver-ing can go a long way. Transparent plastic bags can be wrapped around your camera, and a lens hood—normally intended to keep sun glares at bay—will provide additional protection from the rain.
Some of the best photographers recommend just wearing a large coat, and tucking your camera in whenever you're not shooting. It is important to note that if you are shooting with a flash, you want to make sure the hot shoe is dry before attaching the flash, as getting it wet can result in serious problems.
It is a good idea to always carry an umbrella with you, especially if you live in wet climates where seasonal storms can pop up at any minute, and you can practice ways to hold an umbrella and your camera at the same time. (A little awkward, but feasible!) More and more modern cameras are well weather-sealed, so as always, know your gear—that'll help you know what degree of protection from the elements you need.
2. Use a long lens and shallow depth of field
One of the best ways to capture the atmosphere of a rainy day is by coupling a long lens and shallow depth of field with a fast shutter speed. This will fix the raindrops in place, without them being lost in a busy background. Try focusing on something like the wet needles of a pine tree, with the rest of the forest in the background, or the face of a waiting commuter, as the raindrops bounce off her umbrella. Using a flash will also help you "freeze" the raindrops, but we will touch more on that later.
3. Backlight
Backlighting the falling rain will illuminate the rain, and coupled with an off-camera flash, you can achieve some dramatic effects. Even without a flash, a backlight will give the eye something to focus on when looking at the image, and the more directly you shoot into the light, the clearer are the raindrops. Experiment with different light sources—the lights of a bike or car, a streetlamp, or a flickering neon sign will all provide interesting nuances to your photo. Try different angles, and see how the light changes with the movement.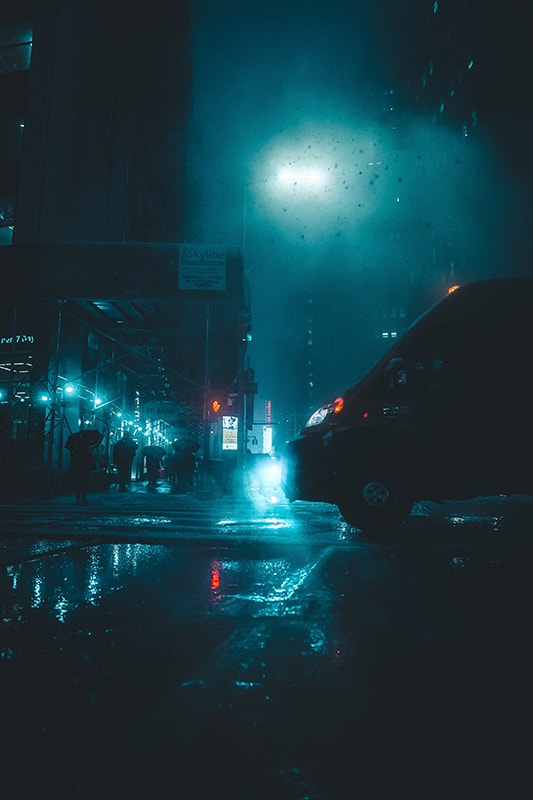 4. Use a flash
As we have now mentioned twice, a flash can often be used to interesting effect in the rain, although it's tricky to get it just right. Fire the flash at full force and you run the risk of capturing nothing but splotchy bright spots directly in front of the lens, and a murky dark background lost beyond. Turn your flash down (try -3.0 to -4.0 stops) and you will find that the flash just catches the falling rain, an effect which can be quite magical. As always, experimentation is key, and you'll find how you can best utilize this bit of kit.
5. Find other ways of showing the rain
The rain changes the world around us, and sometimes the best way to show this is to turn away from the rain itself and focus on those changes. The reflections in a puddle, or streaks of water on a car windshield, or even the ripples on the surface of the bird bath outside your kitchen window can tell a story.
6. Long exposures
On the opposite end of the spectrum from capturing the raindrops mid-fall, we can produce some truly magical moments in the rain with long exposure. Head to a busy intersection in the rain, and you will be rewarded by streaks of light not only from the cars, but also in the reflective wet pavement. On a pedestrianized street, the colors of blurred pedestrians moving past is given another element when everyone is hurrying past under their umbrellas.
7. Muted colors and other rainy moods
Shooting in the rain gives us the opportunity to really explore our inner emotions—something about the wet earth around us closer to the human experience. Try focusing on muted colors and lack of contrast—this might be something we normally avoid, but on rainy days, the atmosphere seems to call for it, and we can shapes images of poetry in the drizzle.
Reduce the amount of light coming into the camera and allow your images to be a little under-exposed. Suddenly the thoughtful look on a shopkeeper's face gives way to something harder to put your finger on, and the increased shadows around a puddle can have the feel of a thriller.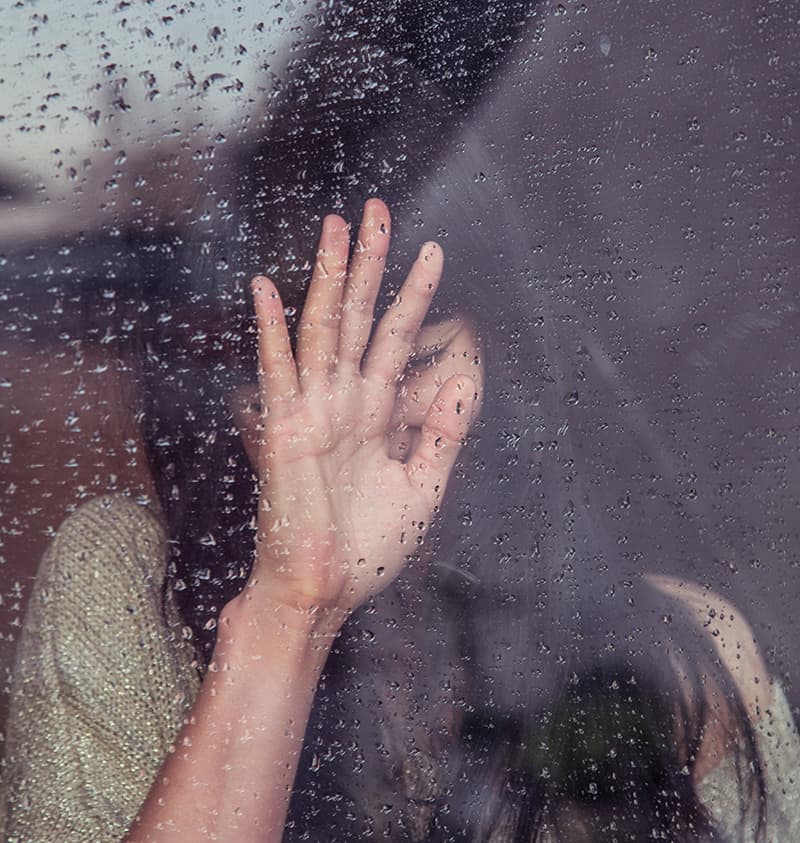 8. Shoot in black and white
Rainy days are a great time to shoot in black and white. Something about the reflections and glares of light off the water becomes especially special in the rain. Foregoing colors also makes us focus more on other aspects of the image, such as texture, shapes, shadows, geometry, highlights, and repetition.
9. Shoot with a model
Most people duck for cover when it rains, and hiring a model can be a fun way to bring humor and creativity to your shoots. What does it look like if everyone else on the bench is huddled under their raincoats, except the one person holding a book as though nothing is happening? Or a busy street crossing with harried businessmen marching under crisp umbrellas, and one woman in a sundress and sunglasses sipping her Starbucks as though it's the middle of a blue-sky day? There are all sorts of fun and silly set-ups you can arrange on rainy days with a willing participant, but make sure you treat them to a warm coffee afterwards!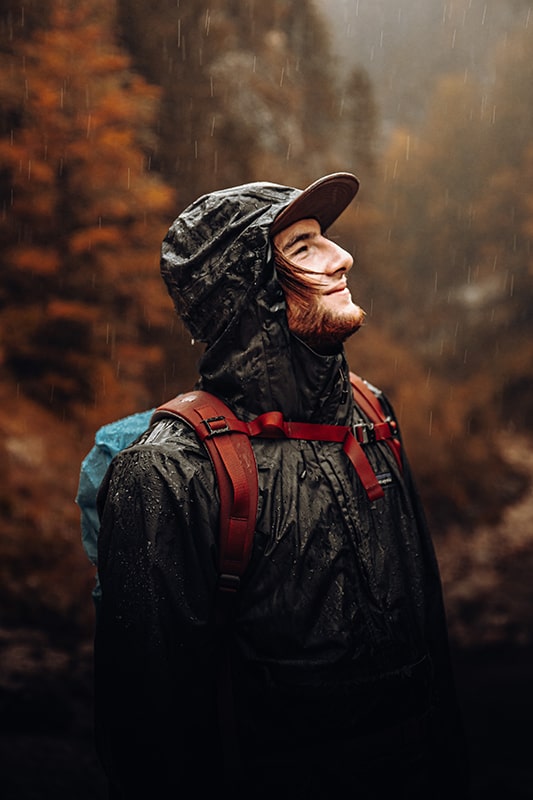 10. Jim Richardson: Look out for "joy or misery"
National Geographic photographer Jim Richardson has done his fair share of shooting in the rain, and that is why we want to include one of his greatest tips here. "Rain transforms people," says Richardson, "We react to rain with a gamut of emotions, rom the sullen dread of rain-drenched commuters to the wondrous joy of children." When you're shooting in the rain, keep an eye out for these human reactions, and you'll be sure to come home with some real masterpieces.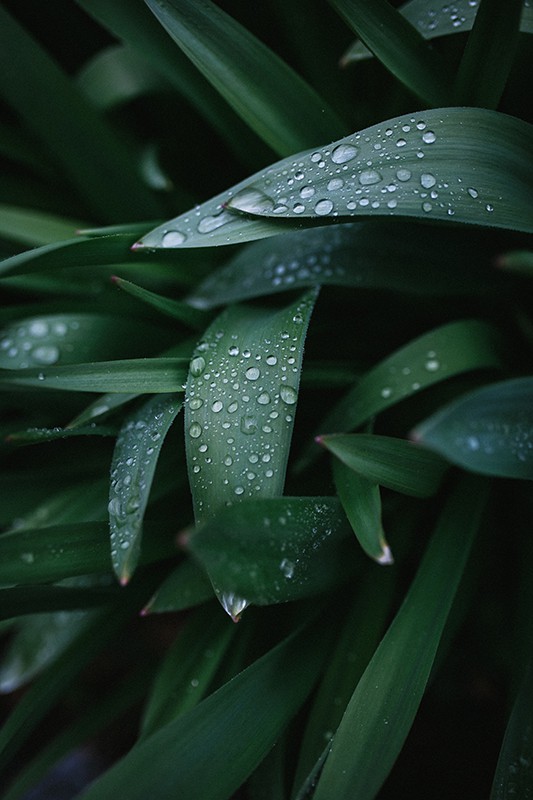 11. Shoot from shelter
As one final tip, we want to remind you that you don't necessarily have to wade through overflowing streams and drench yourself on a walk through the city to get the best rain photographs. Shooting from a car, under an awning, or from the sheltered terrace of a coffeeshop can all be great ways to photograph the rain while still keeping dry. Let the photos come to you.
Shooting in the rain can be very rewarding for the photographer unafraid to get a little wet. Of course we must be aware not to get ourselves or our gear too drenched, and dangerous weather conditions should always be avoided unless you are a professional. But with patience and good humor, shooting in the rain can be a rewarding experience, and with these helpful tips and tricks, we're certain you'll be mastering the art of rain photography in no time.


Get together somewhere better
Book thousands of unique spaces directly from local hosts.
Explore Spaces
Share your space and start earning
Join thousands of hosts renting their space for meetings, events, and photo shoots.
List Your Space