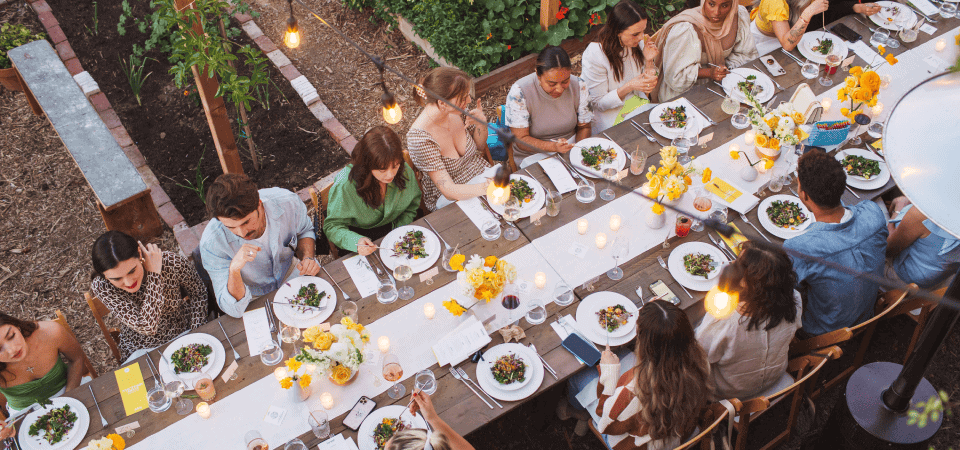 The way we celebrate and gather has evolved over the years. While birthday parties, corporate gatherings, and even weddings and wedding related events have all undergone major evolutions, there's been one event that has remained constant: the dinner party. With themed tablecloths, crystal wine glasses and well-loved placemats all laid out, it's a part of the human experience to dedicate time to dining with others.
It's unsurprising that during the latter half of the year, the amount of dinner parties we have begin to increase. August through New Year's is the season of gathering for every cultural background. People also tend to spend more time indoors during these months, meaning more time spent around the table with our loved ones – both formally and informally.
Our collective love of dinner parties and interest in gathering hasn't changed, but our ability to host them has. The challenges in hosting have even led social critics to speculate that the dinner party is "dead," suggesting that millennials killed it. The truth, however, is more complex.
Peerspace recently gave the narrative back to consumers to see what they really think about dinner parties. The main takeaway?
People want to host dinner parties, but don't have the space.
When asked the reason for not having hosted a dinner party in the last 12 months, 32% of consumers reported that not having enough space in the home to host was their primary reason for not doing so. The event being too expensive and not having any occasions to celebrate followed. Not wishing to host a dinner party accounted for the smallest group of respondents.
"With so many reasons to celebrate but limited space, parties are often forced into a friend's apartment or a crowded bar just to get by. Rentable spaces make it possible to bring a specific vision to life, without having to move apartments or book a venue all day for thousands of dollars."
Despite 55% of Americans say that they would like to host more dinner parties, only seventeen percent of Americans said that they plan to host a dinner party in the next 12 months.
When you want to host a dinner party, but your space is your chief concern, what is the solution?
60% of respondents said they would host dinner parties more often if they could rent a space to host in. However, 67% or a majority of Americans are not aware of any platforms where they can book a venue to host in by the hour.
Peerspace is here to help with the revival of the dinner party. The hourly venue rental site is used by professional and amateur planners alike, making it easier than ever to access and explore dedicated spaces for events like dinner parties.
"We are most definitely in the era of dinner parties, even more so than pre-pandemic. In the last 7+ years of running Create Dinners, I've witnessed how powerful the act of gathering with strangers and friends alike can be.

Kate Pauley, founder of Create Dinners, a Peerspace partner
"It's inspiring to see so many people – many of whom were intimidated by the idea of hosting – open their doors and welcome the idea of gathering in a more intentional way. The desire to gather is rekindling and potentially growing from pre-pandemic levels. We see this in a lot of online content, too – there's increased interest in romanticizing life, friendships and more," says Pauley. "These trending aesthetics; ones that people latch onto, are rooted in emotion and more authentic connection with those around us. This survey is another proof point that increased connection and gathering will continue to be a desire for most people."
The proliferation of social gatherings big and small means that naturally, generations will continue to change what the dinner party looks like for them. And so will the next generation, and so on.
"Over the last 10 years, narratives about the death of the dinner party and generations moving on from gathering have been thrown around," says Chammas. "This is simply not true. People will always crave connection and dinner parties, culturally, are a meaningful way of expressing the fundamental need to connect and share space."
Many of our ideas about what dinner parties look and feel like date back to 50's and 60's ads and TV shows. With all of these ideas baked into our brains, we begin to compare what today's dinner party should look like against these antiquated models. If you're hosting a dinner party and want the most up to date inspiration, see our post with expert insight and tips from Kate Pauley to make sure you're the host with the most.