The 12 Best Boudoir Photographers in Houston

Searching for the most talented Houston boudoir photographers? We can't blame you! Houston has a growing, nationally-renowned art scene and has become a beacon for aspiring shutterbugs. And if you're looking for a fun and exciting way to unleash your inner god or goddess, boudoir is a wonderful way to do so.
Once you found your perfect match on this list, grab them and head to a Peerspace location to make the magic happen. As the largest online marketplace for hourly venue rentals, Peerspace has hundreds of one-of-a-kind venues for your use. We can help bring your vision to life whether you prefer penthouses, lofts, fully-equipped studios, or rustic barns. The following Houston boudoir photographers specialize in intimate portraiture. Capturing subjects at their most vulnerable, their talents change people's lives, instilling that good old Texan confidence.
In her goal to be the best of all the Houston boudoir photographers, Julia Snider deliberately sets herself apart. She's the founder of Shine On Boudoir, a studio operated by a team of incredible women with the singular goal to make your boudoir experience exceptional. With more than a decade behind the camera and several years of boudoir to her name, she's an award-winning photographer who's also the curator for magazine Texas Inked.
A boudoir session with Julia isn't run of the mill. In fact, you'll enjoy full hair and makeup, posing guidance, and so much more with Shine On. In fact, this may be why her photographs resemble haute couture editorials, glamour shots with heart. Give her a space with the light, props, and equipment to make something amazing (like this awesome studio spot in North Houston), and she'll do it.
For some artists, minimalism is the secret ingredient. Taylor Lange of Taylor Elizabeth Photography excels at minimalist boudoir. Her Houston-based boudoir photography is fine art bottled and unleashed into the boudoir realm. In fact, we're just wild about her shots. Since Taylor is all about minimalist boudoir, she lets your beautiful self shine through. No awkward poses or cheesy props required!
And where she shoots is equally interesting. From those artistically incorporating Texan landscapes to in-motion portraits, and intimate, up close, personal nudes in-studio. Those interested in one of her outdoor shoots would do well to check out this tropical tiki home (and its gorgeous poolside) hidden right here in Houston. Each of them is soft and inviting. Natural light has never looked better.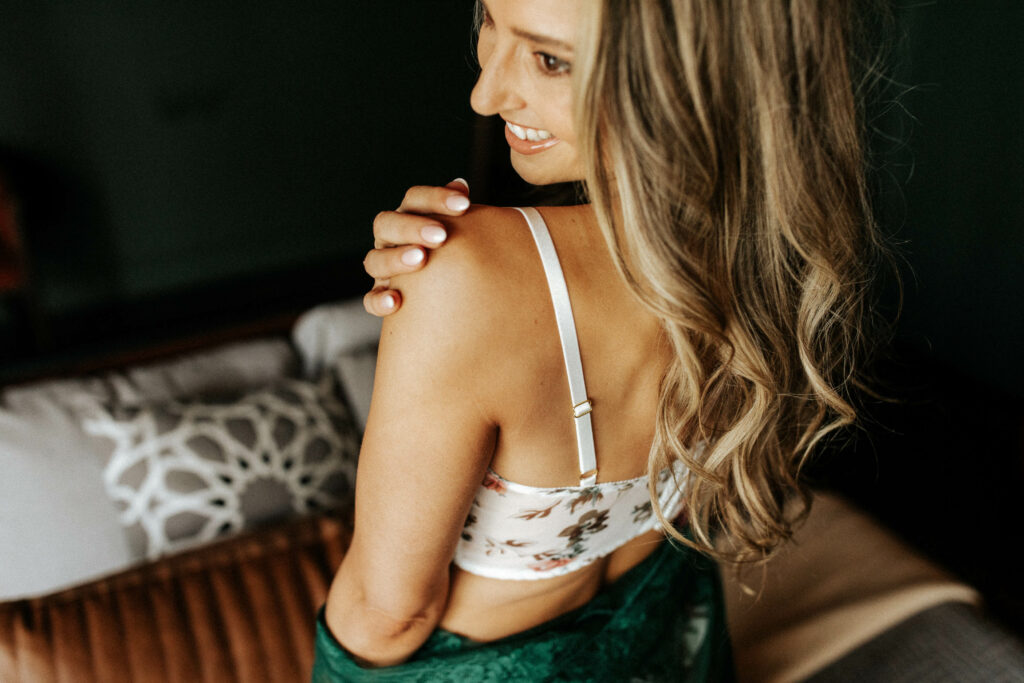 Kristen Giles's love of photography was borne of an innate need to care for others. When it comes to Houston boudoir photography, there really isn't a better mix. A boudoir photographer has to care for their subjects. Being vulnerable isn't easy, and it takes a calm presence to ensure someone feels comfortable in a shoot that usually calls for lack of clothing. Her portrait shots are candid, peeking into the lives of the people in them in ways only an empath could do. And boy, does she do it.
Kristen is part of The Rooted Workshop alongside friend and photographer, Leah Leftwich. Rooted is a community of creatives that hold photographic workshops around Texas — if you're a budding Houston photographer, go check them out.
Jan Salvador is part digital content creator, part incredible Houston boudoir photographer. In recent years, her studio, Sensual Spirituality, has picked up steam on social media. Wanting to create opportunities for women who didn't feel like they fit into regular beauty standards, she began taking pictures of them.
Her photos are fun and sexy, dabbling in everything from glamour-inspired poses and fun, themed photoshoots to stunning, artistic nudes. Jan's camera is for anyone who wants to feel beautiful, and her photos are the loud and proud evidence of that beauty. She'd be an awesome fit for an offbeat shoot at this dizzyingly cool neon jungle studio.
4forty4 is the brainchild — and passion — of HTX boudoir photographer Angela Latimer. A native Texan, Angela has been taking photographs for most of her life. A decade ago, she decided to take what had then been a hobby and turn it into a career. Never having a doubt that women's portraiture was her calling, she leapt into fine art and Houston boudoir with both feet forward. Her portfolio is so bright and inviting, full of vintage and contemporary portraits of women of all shapes and sizes, each as sexy as the next. If you want unique, you want 4forty4.
Meagan Gauna has a bachelor of fine arts degree in photography and over 10 years of experience as a professional photographer. As the owner and lead photographer of Freckles Photo, she's also had the opportunity to take pictures of some of HTX's hottest residents. Megan is exceptional at composition, knowing just where and how to position the camera and how to frame her subjects, be it at a wedding or in the boudoir.
Even during professional photoshoots, she's able to capture the in-between moments that matter, yet in a way that wouldn't look out of place on the pages of Vogue. That's called creativity. We also adore the warm, vintage quality of all her images.
Sontera Mader of Lighthouse Boudoir might be based in Houston, but she'll always travel for the right artistic venture. While she got started taking pictures for weddings, her first boudoir client made her realize her passion for it. Sontera's fine art nude portraits are some of the best work we've seen by any of the other Houston boudoir photographers.
Whether she's shooting in your own home or in a sun-drenched high rise you've booked for the occasion, she'll give you her all. She proves there's no age limit to looking your most powerful or feeling your best. Every woman deserves time to treat themselves, and those in front of Sontera's lens leave feeling empowered.
Modern, luxuriant, and naturalistic, Bare by Elizabeth is the place to go if you're wanting modern and timeless boudoir photographs. The Elizabeth in question is Elizabeth Jones, a fashion and brand photographer whose vision is to deliver timeless portraits to the modern woman.
Her pictures are refined, relying only on natural light and beauty with the aid of hair and makeup artist, Victoria Rae Barta. A Houston boudoir shoot with Elizabeth can take place at her minimalistic home studio, Carr Mansion in Galveston, or any one of the unique spaces around Houston available on Peerspace.
MUSE Boudoir is more than just another Houston boudoir photography studio — it's a way of life. An image to aspire to, of you as you're meant to be seen. Behind it is Amanda Blodgett, filmmaking teacher and creative director of Dear Marlowe in Katy, TX. MUSE was her opportunity to set foot into the world of boudoir. Amanda masters her cameras, mixing focus within single frames as if it were second nature. We love the autumnal color scheme of a MUSE boudoir shoot, too, all ambers and siennas, perfectly complimenting the women within.
Toni Black is an intimate lifestyle photographer based in Dallas, who takes plenty of trips to snap HTX babes, too. A photographer for over 10 years, Toni spent a chunk of that time shooting weddings in Hawaii.
The reason she takes photographs is the reason most Houston boudoir photographers should: to let people know it's okay to be them. In fact, her gorgeous portraits serve as a worthy voice for Black women in Texas and beyond, and there's a magic to each that earns her studio its name. With her art, she can help lift those who matter to the platform. She's also sickeningly talented to boot.
Since 2015, Rachel Lynn has been taking wedding and portrait photographs for women in Houston. With her Houston boudoir business, she takes enticing, lustful photographs of those same people. Taking a similar approach to both, she gets to know her subjects so their pictures truly reflect who they are.
For example, if you love pizza, you can do a shoot with pizza. Similarly, if you love your dog, you can do the same. Pair her with a studio space made to be customizable, like a posh content-generation studio, and watch the fireworks. Her photography is equal parts fun and exotic, and they look like a blast to get involved with.
Military veteran Ryan Dalton's primary passion (besides his family) is photography. Some of his grayscale black and white shots give us Lindbergh vibes, while others are like stills from a Fellini film. It's what caught our eye primarily and made us want to see more. Mixing boudoir with such fine art is a talent, and it's one you have to do right or it misses the mark. Ryan definitely hits it.
His first boudoir shoot was of his wife, Dawn, who's been by his side since the beginning. They founded the studio in an effort to make other women feel as empowered as she did that first day. Together, they've carved out a spot for themselves among the best boudoir photographers in Houston, whether they're shooting in a place like this Casablanca ranch with its urban poolside vibes or in a multi-use pro studio.
We could not leave an immense talent like Lorie Boughton off this list of best Houston boudoir photographers. In fact, we love her luxurious take on the artform that involves plenty of fun and fantasy. When you work with Boudoir by Lorie, you not only get tons of gorgeous snaps, but you'll be given the star treatment with full hair and makeup. Check out her portfolio and you will see tons of women looking movie star glamorous, in beautiful settings, exuding confidence.
Houston boudoir photographers rely on Peerspace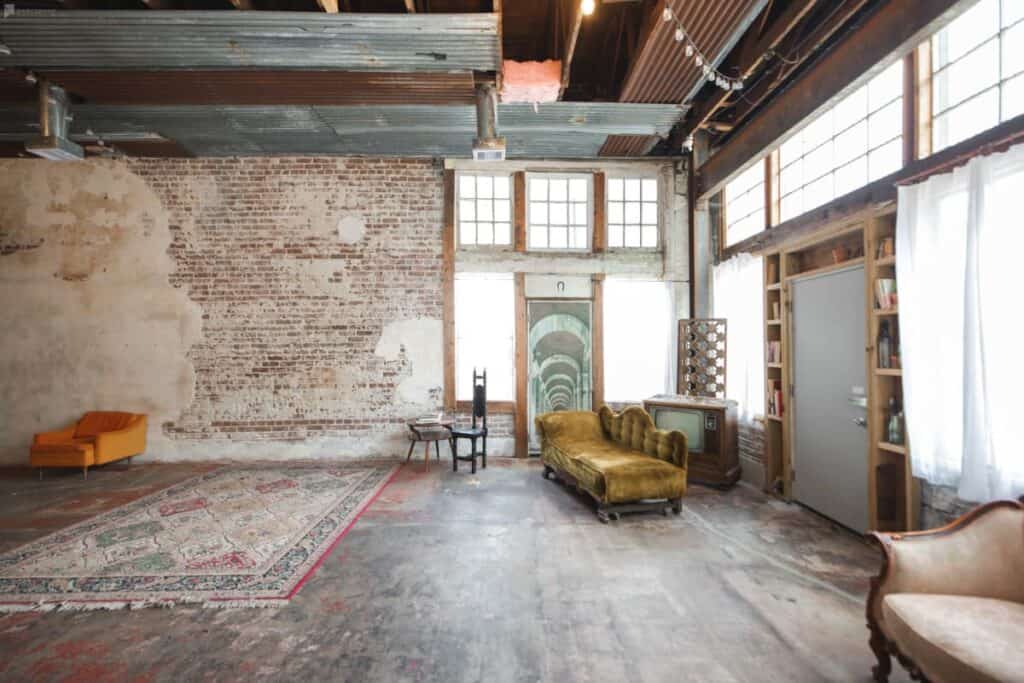 We hope you enjoyed this list of some of the best Houston boudoir photographers. They're all obviously very talented in unique ways. And no matter what side of the camera you land on, count on Peerspace to provide you with stunning photoshoot settings.
Whether you're booking a boudoir shoot for your lover or for yourself, Houston's boudoir photographers live to make you feel good. In times when distorted selfies reign supreme, a real portrait by a real photographer can invigorate you in ways a blurry filter never could.
And y'all deserve to feel good.