12 Best Boudoir Photographers in Philadelphia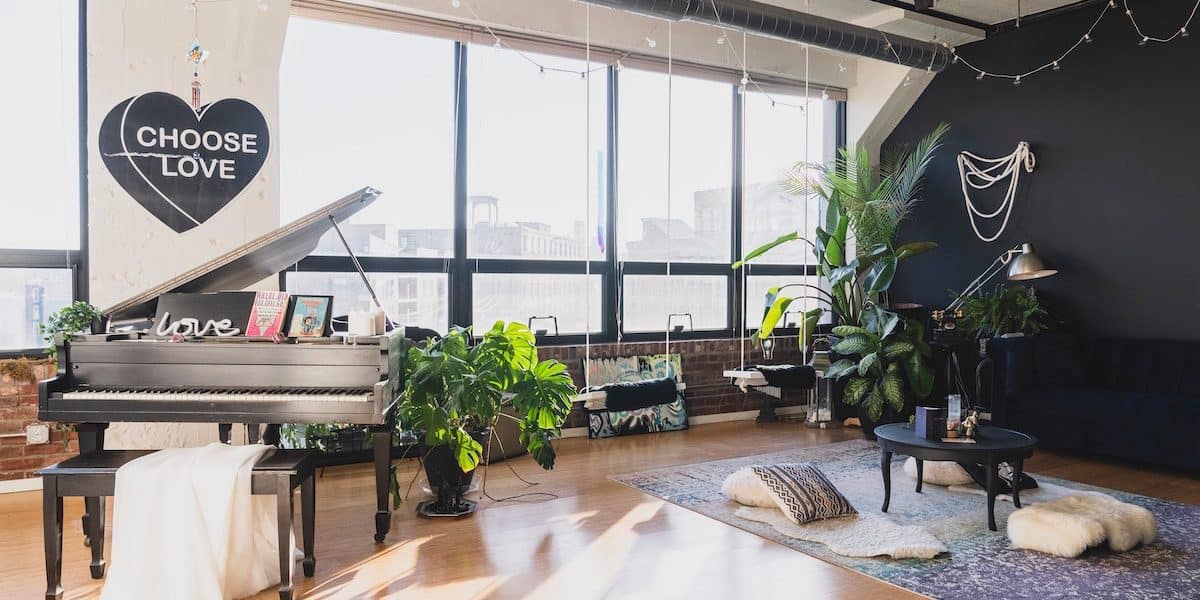 Looking and feeling sexy is for everyone, and boudoir photography is quickly becoming one of the most popular ways to boost self-confidence and celebrate ourselves and our bodies. Philadelphia boudoir photography is booming, with creative and talented photographers around the city out there shooting bedroom sessions and beyond.
With Philly officially having one of the sexiest accents in the country, it's time residents look as great as they sound. The best boudoir photographers in Philadelphia bring a keen eye for style and a lovely creative energy to every shoot. Here's 12 of them.
Source: Nicole J. Inc
Nicole J. Jones is a Philly snapper specializing in maternity and boudoir photography.. A force to be reckoned with, Nicole's pictures are alluring, candid, and personal. Using natural light as much as possible (like the kind in this breathtaking creative space), she captures women the way they want to be. Embracing every part of her subjects' bodies from smile to ankles, each photo invites the viewer in to not only be one with them, but to worship them, too—photo and model. She's a gift to the Philadelphia boudoir photography community, and we can't wait to see what she does next.
While based in Brooklyn, traveling photographer Raul Vargas has taken some of the hottest boudoir photos we've seen—and that includes plenty of work in Philadelphia.
Specializing in portraiture, Raul brings a modern twist to boudoir. His portfolio harks back to the days of SuicideGirls and modern burlesque. Tiptoeing the line between fine art and candidness, he brings an alluring sensuality to his Philadelphia boudoir photography by not only breaking the fourth wall, but confidently dismantling it.
For Phuladelphia boudoir photographer Amanda Swiger, sex appeal is about hard contrast, bold color, and natural lighting. A professional photographer for over a decade, Amanda got her start in wedding photography. Over the years since, she's built a photographic team that specializes in as much boudoir as elopements and engagements. For her boudoir sessions, she uses real women rather than models, throwing cliche beauty standards out of the window. As a result, Amanda and the rest of the Swiger photography crew excite us. They make us want to jump in front of the lens, as well. What we wouldn't given for a shoot in this chic minimalist modeling studio, especially alongside its stained glass features.
Philadelphia boudoir might as well rename itself to Alyssa Andrew boudoir. She did start the first all-female boudoir photography team in PA, after all. Alyssa's luxury, fine art boudoir portraits are a thrilling gaze into how her mind works. A lot of the time in boudoir, you see the same angles and shots over and over again after, at first, appearing unique. Alyssa's photographs, on the other hand, truly do exhibit her own unique vision. There's nothing syndicated, nothing generic. She uses some of the most interesting framing we've seen in the medium, and we're obsessed.
This photograph was the first thing we saw from Toni Christine Burns, and just like that, we fell in love. Unlike Philadelphia boudoir photographers who got their start in portraiture, Toni got hers in architecture. It was a medium that taught her the importance of lines when it comes to photographic composition, and that experience is paying off well for her—and her clients. Whether subverting expectations of regular boudoir photography by embracing her surroundings or delivering a straight-up portrait session, we absolutely love what she does. If we had our way, we'd book her for an offbeat shoot in this versatile interior-design studio and create something truly unique.
Mariah Treiber is a travelling wedding photographer, but she's also a Philadelphia boudoir photographer that brings out the luxurious sophistication of Philly's women. For Mariah, boudoir photography is about embracing yourself. Boudoir should be for everyone, all shapes and sizes. Even and especially those who don't conform to the pictures we see in magazines. We love the abundance of white in her portraits, from the sheets models are wrapped in, to the spotless walls that enclose them. Nothing says luxury like Egyptian cotton. Equally, nothing says sophistication like Mariah's boudoir work.
The first few photos we saw by Susan L. Youshaw had a vintage vibe about them: chaise longues, lingerie, candles and lace. (Perfect, by the way, for a shooting location like The Versailles loft at Hodgepodge Studios.)
The second thing we admired was her range of models, from older to younger and all shapes and sizes. Needless to say, it wasn't long before we'd peeked at her entire portfolio. Instead of sticking to one vibe with her photos, she ranges from deep contrast black and whites to light and airy exposures, selected exclusively to bring the best out of her models and to make them feel as beautiful as they are, as well as express their own individual style through the editing. Susan's dedication to her craft has cemented her position among the best boudoir photographers in Philadelphia.
Elizabeth Craig isn't just a Philadelphia boudoir photographer—she's a brand.
An Elizabeth Craig boudoir session encourages women to embrace themselves for who they are. It also inspires them to leave what they know about female liberation at the door, letting themselves feel as sexy and powerful as they want to be. As well as being a photographer, she's an educator, feminist, published writer, and an icon to everyone who steps in front of her lens. There's nothing prescriptive or generic about anything she does.
Sometimes it takes a while for a photographer to find their niche. As soon as Stacy Musgrave happened upon boudoir, she was all in.
The most important time to do anything is now. Stacy urges her clients not to wait around until they feel like they can do something. On the contrary—like she did when throwing herself into the boudoir realm—she urges they do it now. Her monochromatic portraits are stunningly current in a world of digitally over-processed images. She's one of a kind. And we're all about her point of view that today's the day to take action. (So we recommend booking a lovely studio space, calling up one of the photographers on this list, and doing something awesome.)
Renée Dee is a lot of things, as are her portraits. She's colorful, bright, bold, and carefree. Her boudoir photographs take on each of these traits, making them stand out from the crowd. Camera-in-hand for as long as she can remember, and once upon a time a professor, Renée started out shooting friends' weddings but soon expanded her portfolio to include just about every medium you can think of. Photography is very much an art to her, and her Philadelphia boudoir photography is proof of it.
No, you haven't seen boudoir sessions like Aliza Schlabach's. And yes, you can hire her.
Although she also takes headshots and more contemporary portraits, it's clear where Aliza's true talent lie. She's far and away one of our favorite Philadelphia boudoir photographers. The boudoir and nudes she takes in her Ardmore studio have echoes of Harper's Bazaar and Vanity Fair. Floral backgrounds, intriguing and inviting shadows, desirous silhouettes, lace. Everything you didn't know you needed—or if you're lucky, maybe you did.
As Leslie Gilbert's portfolio shows, there's no substitute for natural light. In fact, nothing comes close.
While she uses studio lighting set-ups as well, it's her natural light portraits that hooked us from the jump. When light pools over bare skin in front of a window, the body takes on its glow. Models wind up looking angelic yet real, like the very photograph feels like soft, enticing flesh. To say she's a natural talent among Philadelphia boudoir photographers would be underselling. Set her loose in a bright and intimate studio space and she'll bring out the best in you.
Book a Boudoir Photographer in Philadelphia
No matter the reason you're looking for a boudoir photographer in Philadelphia, we hope you enjoy perusing these portfolios as much as we did. Trust between you and your photographer is essential for a boudoir session, as is a shared vision. You know what makes you sexy. A good photographer can just translate it to film. We hope you have an awesome session, and make sure to tag it with #MadeInPeerspace so we get to see the outcome!