12 Best Boudoir Photographers in San Antonio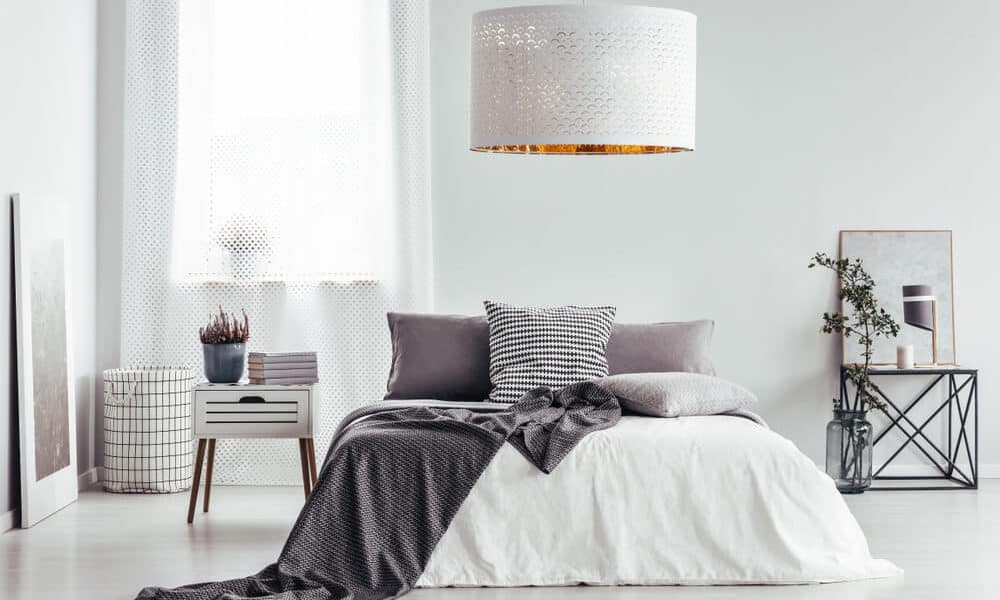 Nothing says "I'm feeling myself" like booking a boudoir photoshoot. With a hair and makeup makeover, fun outfits, music, and sometimes champagne, the boudoir experience is like a mini party for one. When's the last time you got to feel that glamorous? Now is the time to treat yourself. We rounded up a list of the best boudoir photographers in San Antonio to help make it even easier to give yourself a special day.
Mary wants you to throw all the beauty standards you have been trying to conform to out the window. It's her mission to empower women of all walks of life to feel beautiful. The neon signs in her studio add a touch of glamour to this empowering boudoir photography experience in San Antonio. Mary takes bold, steamy photos that bring out the badass in every client. None of the women she photographs are professional models, but they all appear to be dripping with confidence in every photo. That can be you too! This historic neoclassical estate would make the perfect backdrop for a boudoir session dripping in luxury.
If you're ready to feel like the next Bettie Page, you're in luck. Savannah is one of the only boudoir photographers in San Antonio who offers pinup style shoots. Her work has an edgy, playful vibe. Savannah's photos are often bold and colorful, but she's just as skilled at classic boudoir with more neutral backgrounds. She's 420 friendly and fearless when it comes to experimenting with different photoshoot themes.
If you're looking for an average boudoir photographer in San Antonio, keep scrolling. Sunflower Stills owner Jenny is a quirky soul who rejects conformity. She wants to see you bloom in all your unique glory in your boudoir shoot. Her whimsical work is always inspired by nature. It's the perfect fit for those who love the outdoors and naturally lit photos.
For unique boudoir photography in San Antonio, check out From the Shadows. Photographer Michael Gonzalez shoots exclusively black and white boudoir and fine art nude portraits. If you're new to boudoir, Michael will guide you through every step of the process. Your boudoir session can take place in a local San Antonio studio or right in your home. This downtown apartment would make the perfect setting.
You won't find a more inspiring boudoir photographer in San Antonio. Diamond and Pearls owner Crystal is a two-time cancer survivor. The surgeries that saved her life left her scarred and knocked down her confidence. After doing a boudoir shoot that helped her reclaim her self-esteem, Crystal left the wedding photography business to build her own boudoir portfolio. Giving others the empowering experience that allowed her to reclaim her own confidence is her greatest joy. Crystal's versatile style ranges from dark and moody to soft and bright.
"Life is short. Get naked." is the motto of this husband and wife-owned boudoir studio. Sam and Crystal are the power couple behind the biz. Crystal handles the details, and Sam is the posing master. Most of their work is black and white, because they believe that is the best way to spotlight your soul in photos. They book maternity and bridal boudoir sessions and love working with creative themes. This creative space in Uptown is perfect for your next session.
"Bluhen" means "bloom" in German. It's a beautiful acknowledgement of how your sexy side will blossom through a transformative boudoir photoshoot. Natural light photographer Adrien not only does boudoir photography in San Antonio, she also shoots weddings through her other studio, Pine and Blossom. Her work has a soft and stunning catalog quality to it. Although boudoir can be awkward at first, Adrien is confident that she will make all of her clients feel comfortable enough to leave the shoot as her newest BFFs.
Erin Valkner wants to show you the beauty you might not always see in yourself through her magazine style boudoir photography in San Antonio. You can have your session in her studio or on location (we recommend this loft style home!). Erin works in black and white as well as color to highlight your body in different ways. She is truly enthusiastic about the work that she does. She seeks to capture "expression and connection," because to her, that's what brings a beautiful light to every photo.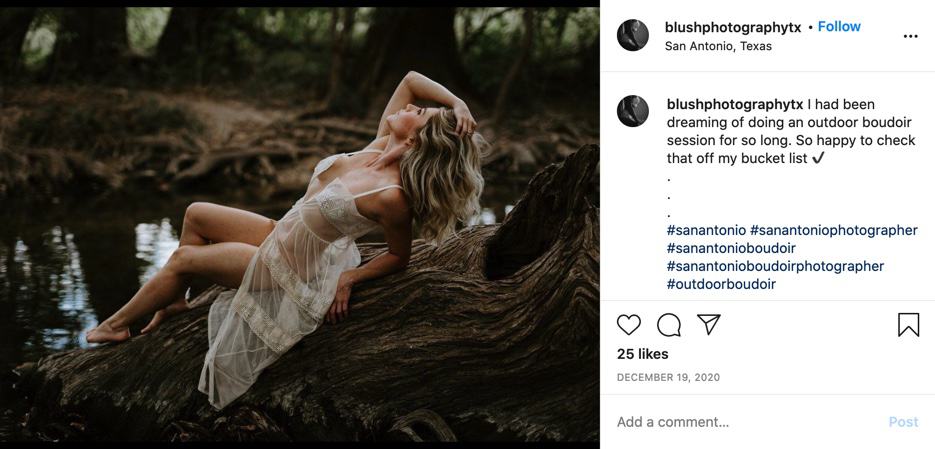 After spending much of her career shooting gorgeous mother and baby portraits, Brittany fell in love with photographing the mothers. She decided to offer boudoir photography in San Antonio to focus exclusively on celebrating female beauty. Her photos are shadowy and sensual. She also shoots boudoir films to capture a 360 view of clients in all their sexy glory. So if you've ever wanted to be a movie star, here's your chance!
Although she started as a wedding photographer like most boudoir photographers in San Antonio, Lauren Fryer believes boudoir is not just for brides. It's an indulgent experience every woman deserves to give herself. Lauren loves boudoir for its body positive, confidence-building power. She has a versatile but always glamorous style. Occasionally, she works in black and white, but most of her photos are naturally lit in such a way that allows colorful lipstick and lingerie shades to pop.
Mary Gongora loves capturing strong women. She firmly believes boudoir is for everyone, so if you've been having second thoughts for any reason, let this be your sign to stick with your decision to book a session! Although the sultry shots she takes are unbelievably gorgeous, Mary feels boudoir is more about the experience as a whole than actual photos that result from it. Book her for unforgettable boudoir photography in San Antonio.
Get the tissues ready, because the story behind this boudoir studio is a tearjerker. Franco Saverio is a former combat photojournalist who started doing boudoir to help women with their self-esteem in honor of his mother, who was always put down by his emotionally abusive father. Franco has done some of the most creative themed styled shoots of any boudoir photographer in San Antonio. From outdoors and high on rooftops to cars and even cemeteries, he has made the world his studio. But if you want to keep it low-key, Franco also shoots classic indoor boudoir.
Book a Boudoir Photographer in San Antonio
Booking a boudoir photoshoot is a luxurious way to show yourself some much-deserved love. You won't regret giving yourself the gift of an empowering experience. Invest in yourself and reach out to one of these wonderful photographers to get started. If you need a venue or just want an alternative photoshoot location, check out these venues. For a unique destination shoot, try one of the most Instagrammable spots in the city.