The 8 Best Lifestyle Photographers in Virginia Beach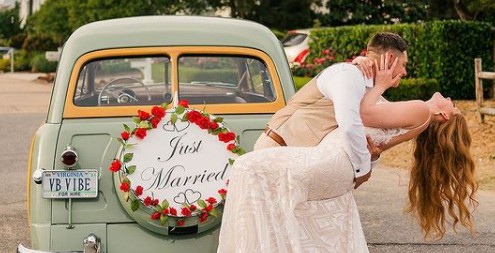 Telling the stories of the lives of families, couples, and individuals is a challenge to creative photographers. They always need to find the line between artistic addition while still staying true to their subjects. Each of these Virginia Beach lifestyle photographers manages to do precisely this. In fact, they combine their fine art vision of the world with your unique qualities for a visual blend that's intoxicating in its beauty!
Family lifestyle photography is one of our favorite genres, and Chelsey Kraus is one of our favorite Virginia Beach lifestyle photographers! She uses compositions and settings that portray moments of your family life in a stunning, artistic fashion. Viewers see more than just a day outing to the beach. They see you engaging with your loved ones through Chelsey's fine art vision.

In particular, she has a strong appreciation for the in-between moments where your family forgets about the camera. Authentic expressions, unplanned moments of laughter … The special way your partner looks at you and the cheeky smiles of your kids are captured. This also speaks to Chelsey's talent at helping her families feel at ease and open enough in front of her to loosen up and express these emotions, which is a rare and underappreciated talent.
While she also shoots traditional family portraits, motherhood is the lifestyle story Iliana Ingram most powerfully focuses on! This story finds its beginning through the maternity process. Here, Iliana's appreciation for the grace and glow of new mothers shines forth through maternity gowns, celebratory postures, and the intimacy of couples celebrating their child to come.
We also see motherhood celebrated through expressive newborn and children's portraits. The props she uses in her newborn photoshoots are thrilling, with baskets, blankets, and other elements wonderfully highlighting the nostalgic qualities of these sessions. After all, your babies will never be so small again!
As a wedding and portrait photojournalist, Heather Hughes offers a drastically different approach to that of most Virginia Beach lifestyle photographers. Rather than posed moments, she seeks to tell the story of your major events through a photojournalistic lens. As Heather shares with us: "What makes me different is I truly love to capture authentic moments as they happen – more recently referred to as lifestyle photography."

Heather's work masterfully captures the celebratory elements of weddings. She pays careful attention to the background to tell a story and highlight her subjects. We see couples framed with light, foliage, building elements, and other aspects of the scene in intentional ways. This is a strong reminder that even peak emotions gain extra power when paired with artistic compositions!
As a Virginia Beach lifestyle photographer, Laura Walter specializes in family lifestyle portrait sessions for coastal VA and NC residents. Endless examples abound in her portfolio of color-coordinated outdoor sessions, where clothing, lighting, and background all come together seamlessly. Laura has a mature style, using a consistent approach that helps viewers fully understand what to expect when partnering with her.

She also seeks out moments with loads of movement, dynamic lighting conditions, and emotion. When these come together in front of her lens, Laura creates heirloom-worthy images. These demand to be printed and shared with visitors rather than languishing on a hard drive!
Hannah of Canvas Photo demonstrates that you don't have to choose between artistry and authenticity. You can have both when you have a photographer like her! The key to Hannah's approach is helping cultivate a relaxed atmosphere so your true spontaneity can shine forth.

We see this in the playful, even adventurous quality her families and couples display! This cheerful, less formal style is an especially good match to her destination wedding collaborations, where it is most important to convey strong lifestyle narratives. Hannah's photography often feels more like we've snuck into the lives of her subjects rather than viewing a planned photoshoot. Which is exactly how the best lifestyle photography should be!
Being a Virginia Beach lifestyle photographer, Tashena Shaw captures and preserves memories in a style that's simultaneously celebratory and artistic. You've likely seen her work before if you are a fan of publications like The Overwhelmed Bride, Tidewater & Tulle, or even Diamonds Direct's engagement guide!
Vibrant, richly saturated, and with an eye for dynamic lighting conditions, her work brings the emotions you felt in the moment back to life when viewed for years to come. We especially love how Tashena works the environment into the frame, cultivating a distinct mood when working in local parks, forested settings, the beach, and other classic settings.
McKenzie Fairclough's journey as a Virginia Beach lifestyle photographer was spurred by her simultaneous journey into motherhood. She realized that one of the true gifts that photography has to offer is its ability to help others fully appreciate what's past. As she shares with you: "When I became a mom, I quickly realized how quickly the days and weeks passed and wanted nothing more than to freeze time. I believe photos allow me to come pretty close to doing so."
Given her focus on motherhood, her family lifestyle images have strong nostalgic characteristics. It comes across in her subjects and composition. We also see it in her use of monochrome, toned-down color profiles, and preferences for settings that illustrate life at that moment,
8. Ky Amor
Engaging and heartwarming in its love for real life, the photography of Ky Amor is well worth taking a deep look into. Like many other mature lifestyle photographers, Ky also favors a distinct, consistent style. Warm earth tones, with subdued highlights, delightful contrast, and rich shadow is her preference. This is an excellent match to overcast diffused lighting and Golden Hour sunsets.
However, the moments she is a part of are even more important! Military homecomings to loving spouses, family outings to the beach, and celebrating motherhood alongside young children. Love and connection demand expression and Ky meets the challenge using a uniquely personal approach!

Get together somewhere better
Book thousands of unique spaces directly from local hosts.
Explore Spaces