Coffee Photography: What to Know & How to Nail It
Looking for insights to master coffee photography? We get it! First of all, who doesn't love a good cup of coffee? Warm and inviting, sharp and aromatic with the graceful curl of freshly-poured milk. There's a reason why Instagram is full of these photos! And besides fixing you up with coffee photography insights, we at Peerspace can also introduce you to sensational coffee photography settings. As the largest online marketplace for hourly venue rentals, Peerspace is where to go when you want to book the perfect photoshoot location. And we don't just mean any locations; we're talking distinct cafes, charming homes, professional studios, and even more offbeat places, like a treehouse or an indoor/outdoor lounge. Whatever aesthetic you want for your shoot, there are Peerspace venues to match!
If we dig a little deeper, however, we find that there is more to coffee photography than just a cute filter and a cup o' joe, and these tips and tricks will get you started. 
Gear and settings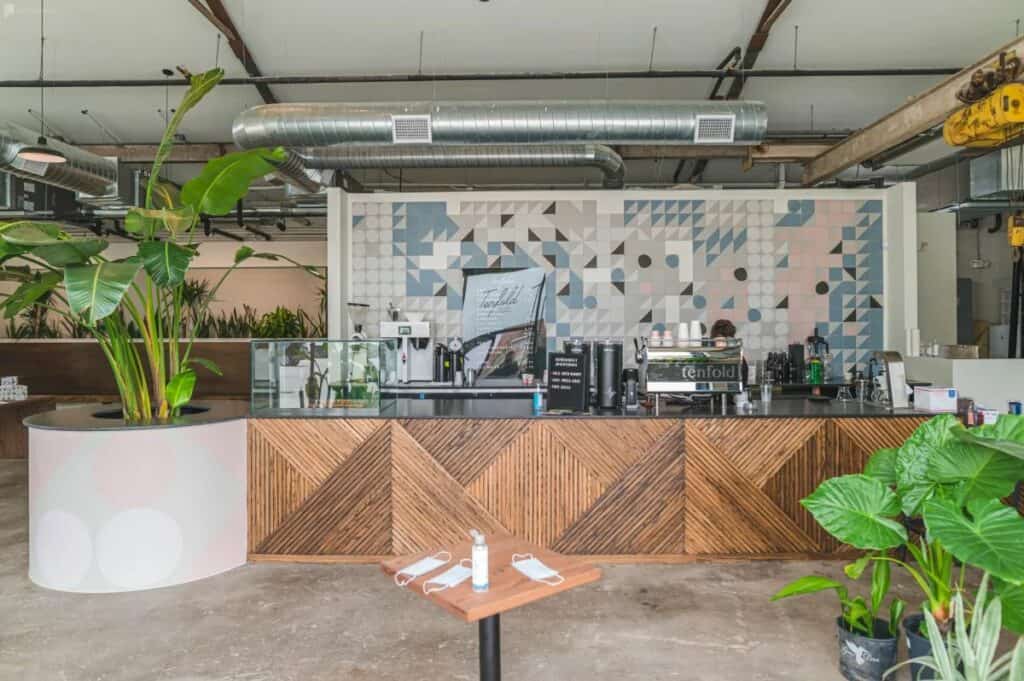 Generally, we want to treat a cup of coffee as we would a portraiture session, with lenses between 40-200mm. Of course, we can also get some stunning shots on a macro lens, especially when photographing coffee beans or the swirling motion of milk entering the coffee. Photographing any food product usually involves lots of minute changes and tweaks, so you might prefer to have your camera on a tripod during the shoot. 
Coffee cups are generally relatively small, so a wide field depth will help distinguish between the coffee and the background. When pouring milk into the coffee, you want to shoot at a higher shutter speed so that you capture all those beautiful swirls before they dissipate.
Shooting on manual focus is recommended for coffee photography, as autofocus tends to focus on the rim of the glass rather than the coffee itself. Shooting on manual lets you experiment with different aspects of the drink, from the foam on top to the condensation on the glass.
Finally, a light source can help bring out the depth of the coffee, whether you are shooting against a window or bringing your own lighting apparatus. We will get into more detail on this in a moment.
Preparing the shoot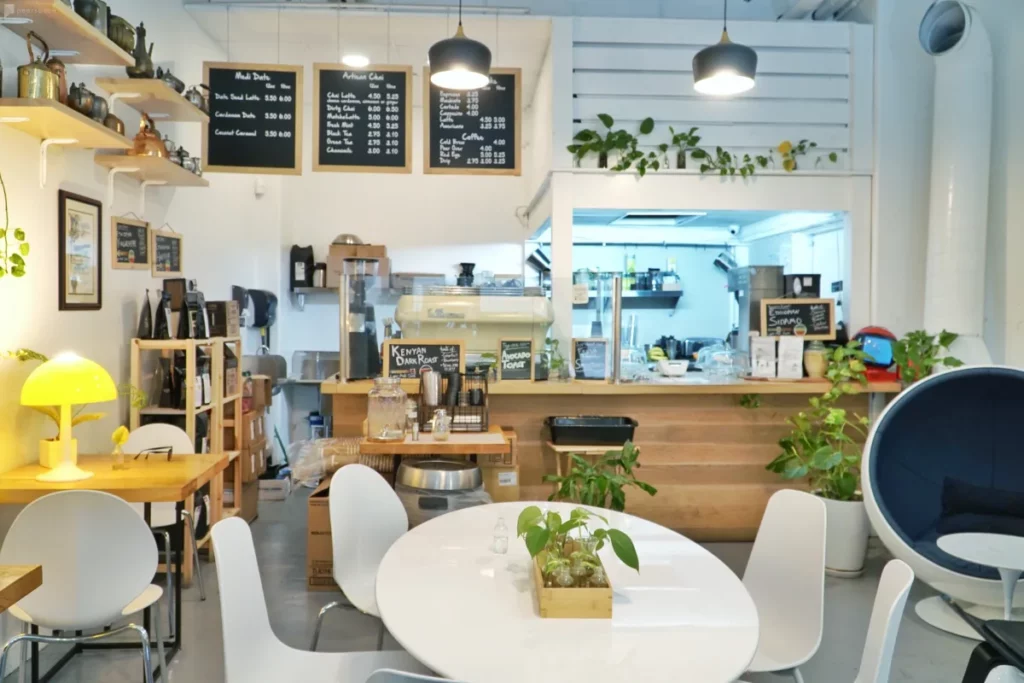 Ensure that all the coffee equipment you will use is cleaned, including cups, brewing devices, and the surface on which you will be shooting. The brown stain of leftover coffee will appear dirty and unsavory in your photo. If you are shooting coffee beans, you will get the best results with fresh beans recently roasted, as their natural oily sheen shows up as rich, nutty, and fragrant on camera.
If you only have older beans to work with, a simple trick is to spray a tiny amount of cooking spray over the beans, usually in a plastic bag, and then shake the bag to get the artificial sheen evenly distributed. Of course, these are not going to be beans you want to consume afterward!
Setting up the background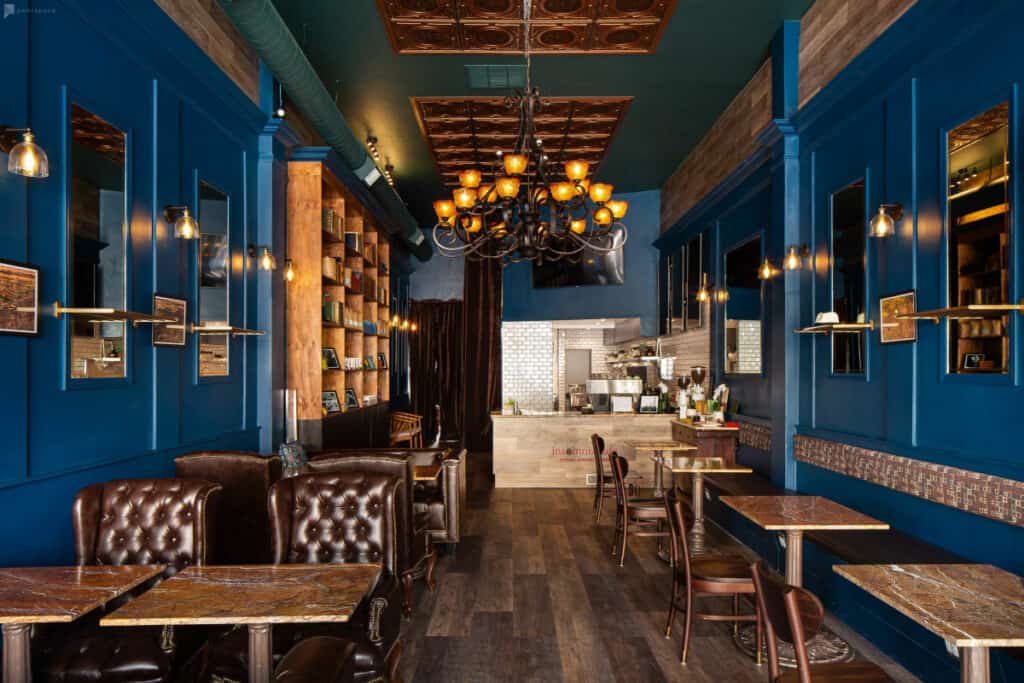 A great background is going to make a massive difference to your photograph. Many coffee shops today have invested in a recognizable comfy-chic look so suitable for Instagram. Still, there are many ways we can set up an exciting backdrop in a studio, too.
First of all, bringing together some props associated with coffee is an excellent way to set the scene. Handfuls of loose coffee beans or sugar cubes, a breakfast croissant, a small delicate stirring spoon, portafilters, and of course, your favorite mug are great places to start. Coffee is part of your day. Therefore, you can feel free to add props like a laptop keyboard, notebook, and pen, a book open to an exciting passage, or even your passport, ready on the table for you to finish your morning coffee and head off on a big adventure!
When we create the background for our coffee photography, it's good to pay attention to the color scheme. Many photographers will choose to match a darker palette to images involving coffee, including rustic oranges and earthen browns, as well as deep crimsons and milky beiges. Of course, we need not feel obligated always to follow suit, and incorporating a vivid range of eye-popping colors can tell a remarkable story. Whichever way you choose to go, planning the scene ahead of time will lead to the best results.
Lighting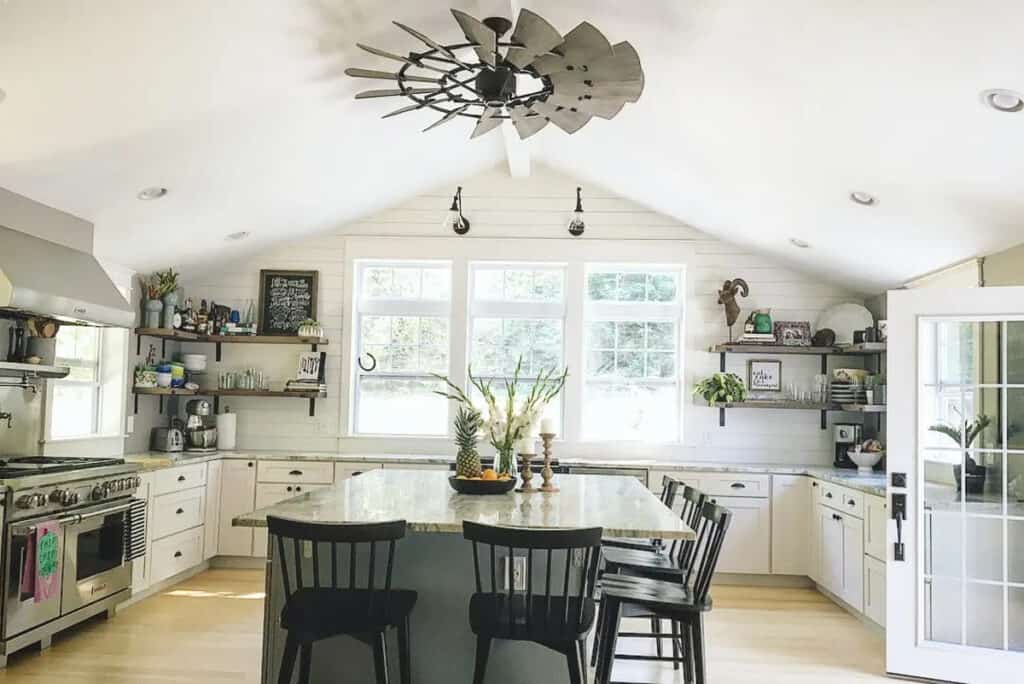 Like we said, lighting is essential for coffee photography. Since coffee is not opaque and generally rather dark, insufficient lighting can cause the subject to disappear into the background. Shooting against a large window will give you that warm, even lighting that speaks to lazy mornings on the couch, favorite coffee mug in hand. You can recreate this look in the studio with a large softbox or other lighting equipment. Many photographers suggest letting the light come in from the side or a combination of back and front.
Backlighting your subject will best allow you to capture the rising steam from your cup of coffee, a common way of capturing the warmth and comfort of coffee. This technique is also a great way to bring drama and mystique to your photos, especially if you don't add much lighting to the front, so the shadows drop into darkness.
Shooting quickly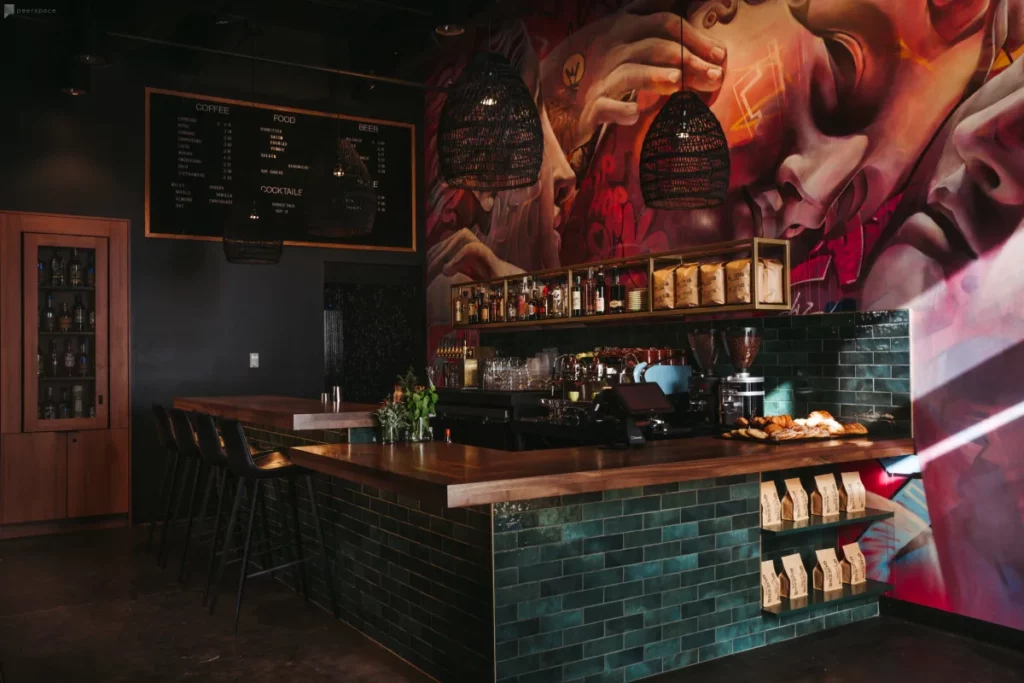 The minute you pour milk into your coffee cup, the clock starts ticking before you lose those fantastic, evocative swirls of white and brown. Even when shooting lattes or cappuccinos — coffee types with foam on top — you have a window of about three minutes before bubbles start to appear in the milk foam, known as "dead coffee". So it's essential to shoot quickly. 
Another great way to shoot coffee is a universal truth with shooting any liquids. That is to add a sense of drama and intrigue by dropping something into the cup from a certain height (ice cube, sugar cube, etc.) and capturing the moment of the splash. In this case, we need to ensure that we have the scene amply lit to shoot with a higher shutter speed to capture the action.
Creating a story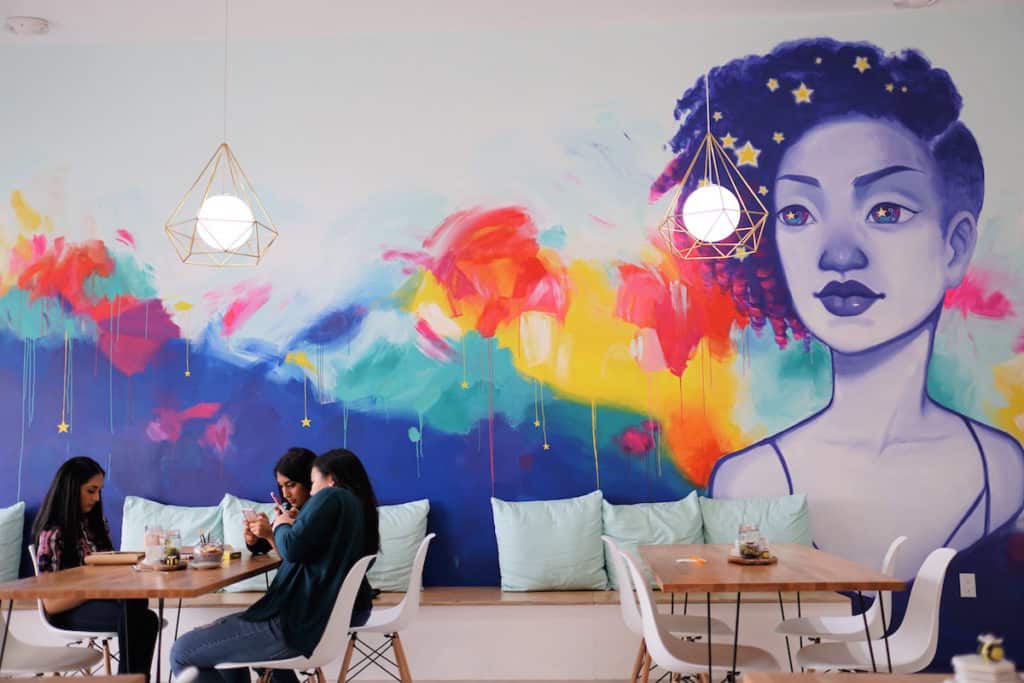 One of the best ways to create a truly unique piece of coffee photography is to develop characters and a story to accompany your coffee. Who is this coffee for? Are they in a rush? Is this their first coffee of the day, or have they spent the day working on a big art project, and we see all the empty cups of previous brews sprinkled around the scene?
Adding this bit of personality to the image will help you shape the final composition, including fun little details of your protagonist's life, making the scene feel natural and unposed. 
Shoot a variety of images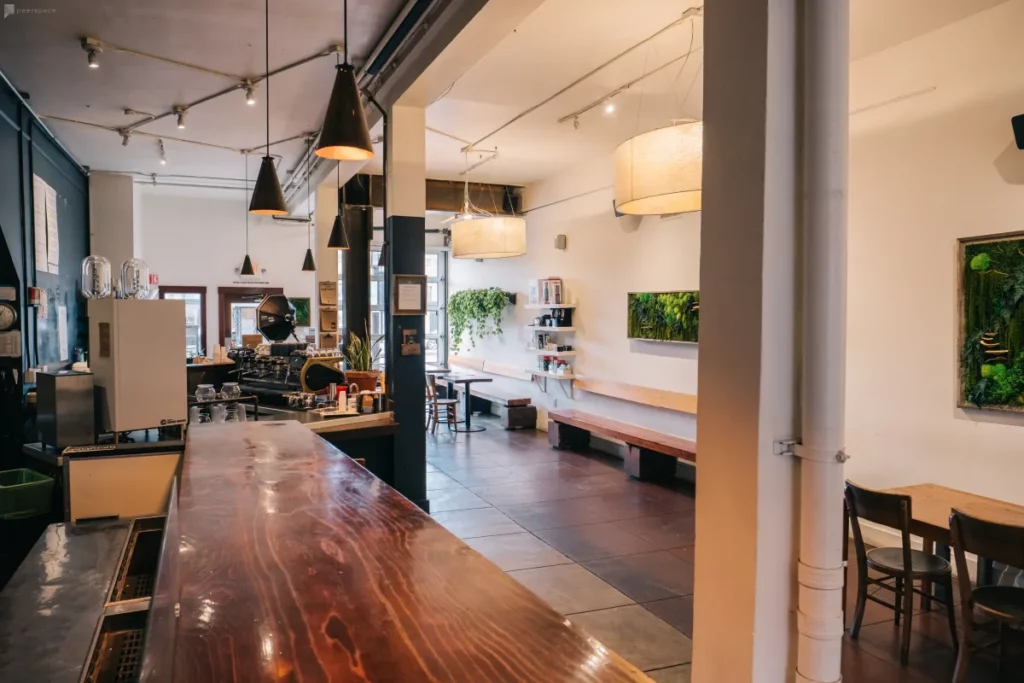 Coffee is a narrative, and while we tend to want to shoot the final product, we shouldn't ignore the rest of the coffee preparation process. Nudge yourself outside of your comfort zone and explore how the coffee is made, from the grinding of the beans to the barista's expert foam flourishes.
Experiment with shooting from different angles, as well. Try shooting from above and then from the side, and see how the dialogue changes with each new position. Incorporate the human element into your photos by having someone hold the coffee cup or reach for the handle.
Drawing with coffee beans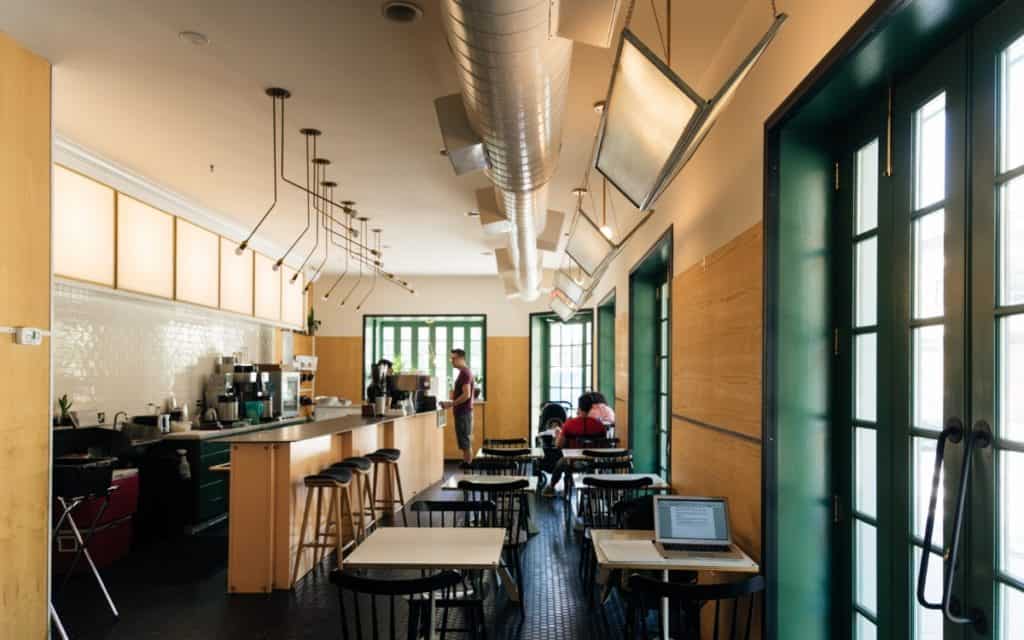 We don't only have to focus on the liquid element of coffee to make an exciting photoshoot out of it. With a bag of coffee beans and some creativity, you can craft all sorts of images, from words and quotes to hearts, mazes, and even celebrity portraits! Play around and see what you can come up with.
Peerspace caffeinates your coffee photography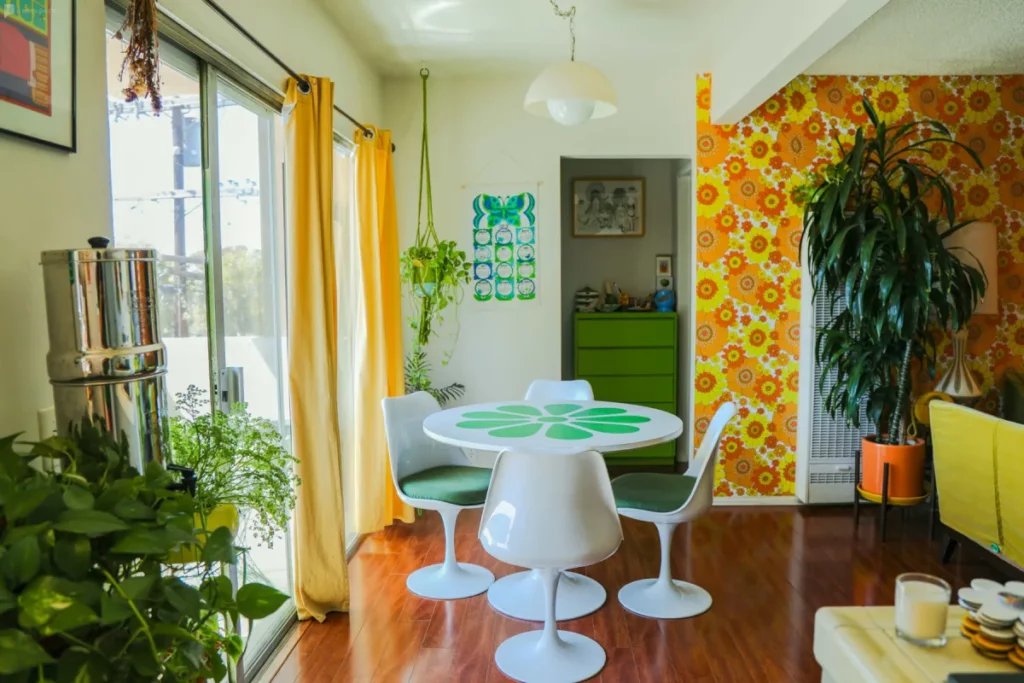 We hope this coffee photography tutorial has proven useful for your project. And remember, when you need a one-of-a-kind space to shoot your coffee photos, rely on Peerspace. You can book a home or office that has coffee makers on-site, or even book a cafe that creates delectable coffee drinks all day long. You can even book a cafe with baristas and incorporate them into your shoot if you like (and if they're game)! Plus, when you book a Peerspace, you have the support of the Concierge service at hand. This knowledgeable team can source and deliver anything you like. That means if you book a Peerspace studio and need a fresh bag of coffee beans, the Concierge can deliver it, leaving you free to focus on your work.
Coffee is an interactive medium, and one which we all have some knowledge of, whether we are big coffee drinkers ourselves or not. In photography, we aim to capture that cultural phenomenon and showcase how coffee makes us feel daily. With these tips and tricks for coffee photography, you'll have every Instagram influencer hot on your trail to learn your secrets! 
Get together somewhere better
Book thousands of unique spaces directly from local hosts.
Explore Spaces
Share your space and start earning
Join thousands of hosts renting their space for meetings, events, and photo shoots.
List Your Space