10 Dope Places to Take Pictures near Phoenix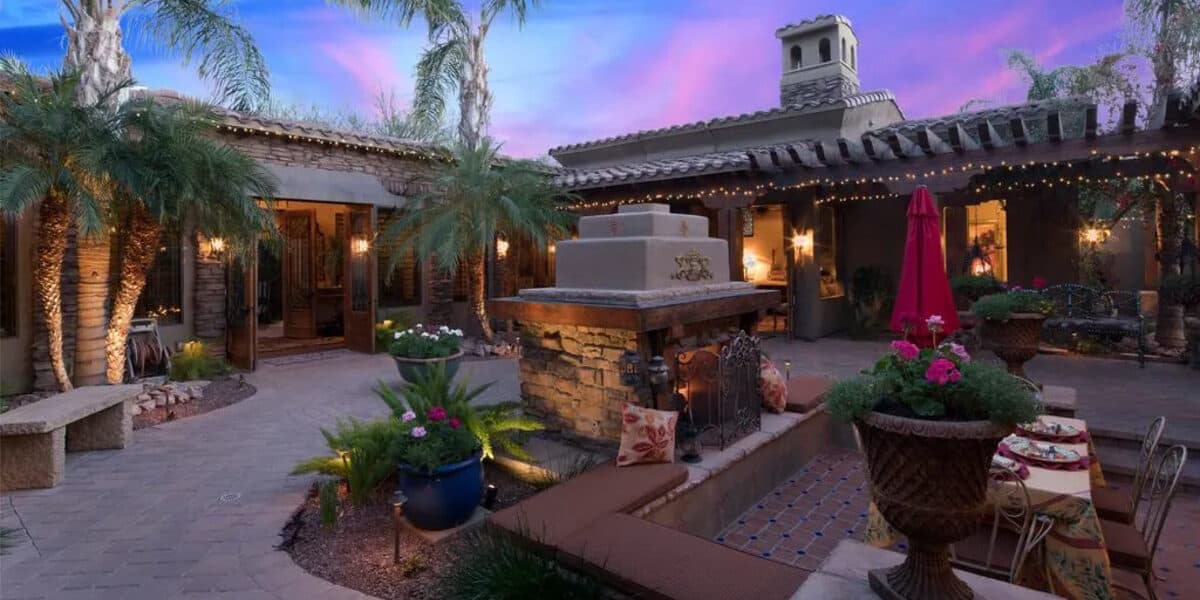 When Phoenix comes to mind, most of us associate it with a hot, barren Arizona, unlike anything northeast. Despite its proximity to the Sonoran Desert and temperatures that can exceed 110°F, Phoenix has quite a surprise under its belt. The canals that the original inhabitants of the Americas built made Phoenix an important center of crop production, and farming was the major profession associated with Phoenix up until the end of WW2. In simple words, you can define Phoenix as the little oasis in a big desert. Now home to many tech enterprises, Phoenix has plenty of iconic and spellbinding places to offer where you can go to enjoy nature, take stunning photos, and shoot creative content for your online community. So, let's see the 10 most dope places to take pictures near Phoenix.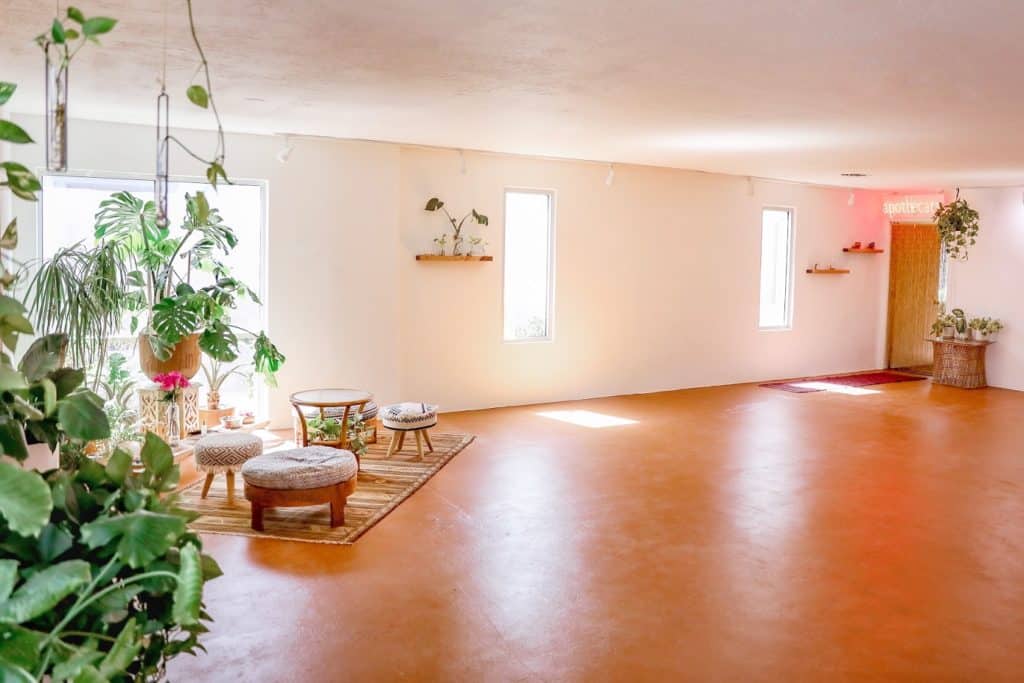 While modern architecture advocates for a minimalist and functional approach to the built environment, it also pushes people away from nature, thereby reducing the warmth and feelings associated with it. On the other hand, biophilia tends to reimagine spaces concerning the environment's perspective. This small, jungle-themed space offers you a very similar experience. A range of wild and exotic plants infuses a serene environment inside the space, making it refreshing and relieving all of your stress. For content creators and environmental advocates, this place is an ideal spot in Phoenix for creating content that preaches to people the benefits of caring for the environment and living sustainably. The furniture inside this Peerspace bookable loft is also minimalist to make use of space effectively.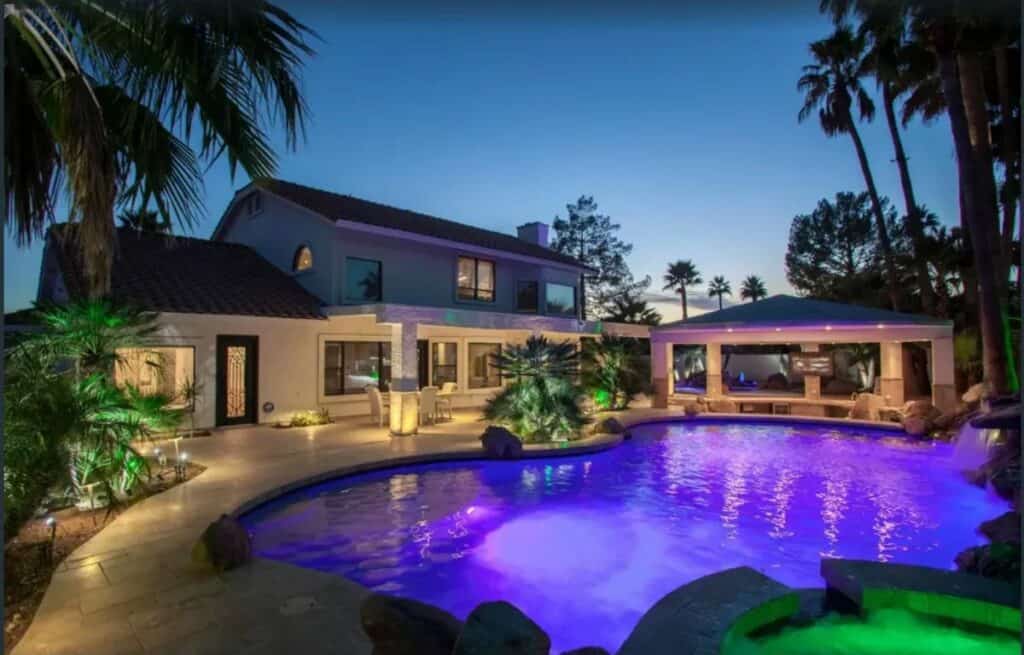 If you are ever searching for heaven inside Phoenix, this place surely will come to your mind. It has two swimming pools with multi-colored lighting, a swim-up bar, and a fog system that can instantly blow away your mind. It is a surreal place, especially for social media influencers and photo enthusiasts looking to throw a grand party for their online followers. And you can book it right here on Peerspace!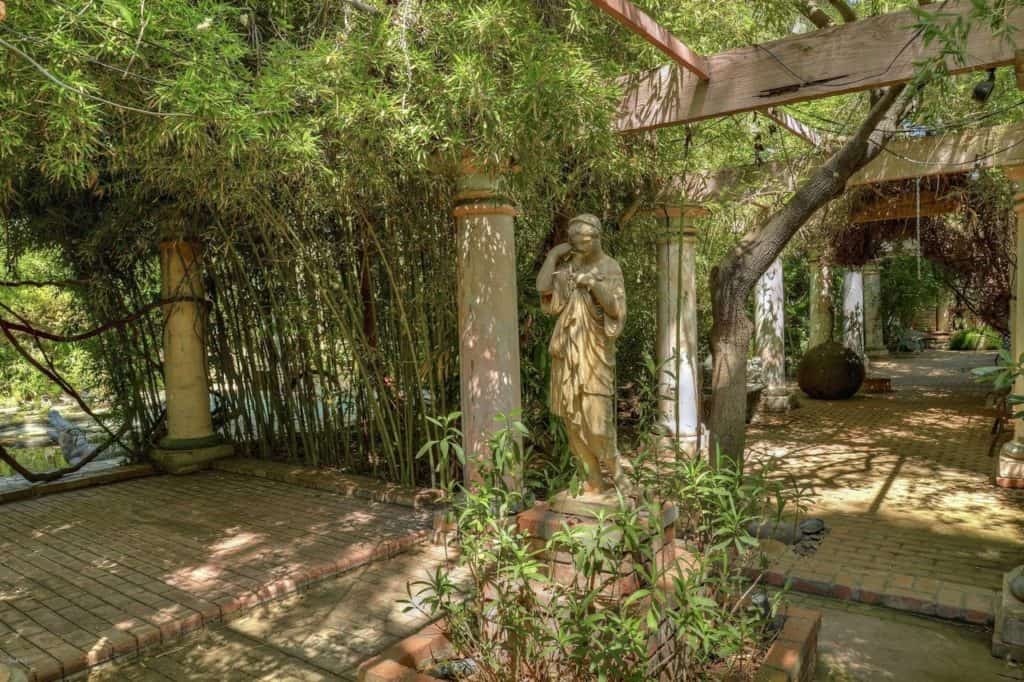 This tropical heaven is located near Paradise Valley Village. People who want to explore Amazon rainforests but do not want to go all the way to it can visit this tiny little jungle and explore the wonders of nature. Just by looking at the photos of this place, you can instantly get lost in its beauty. The next time you are traveling through Arizona, make sure to include this stunning Peerspace bookable garden in your 10 dope places to take pictures near Phoenix.
4. Admire the majestic Piestewa Peak Mountains from this luxurious house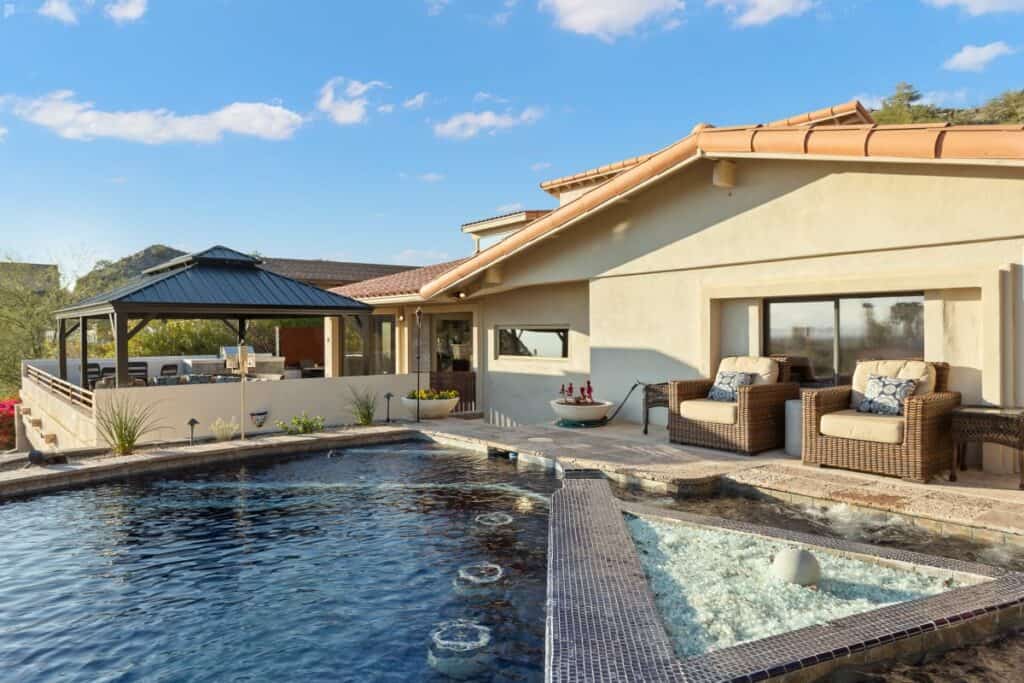 This luxurious house, located in Camelback East Village, lets you have the most desired views of the Piestewa peak mountains, the second-highest mountains in Phoenix. From outdoor seating areas to BBQ grills, an infinity pool and luxurious bedrooms, you have the option to use this space for a wide variety of purposes. Whether it's a corporate retreat, a photoshoot event, or a private gathering, the choice is yours. This place is quite unreal, and you will never be bored for a minute when you visit. Learn more about it on its Peerspace page.
5. Test out this minimalist house and share your experience with the world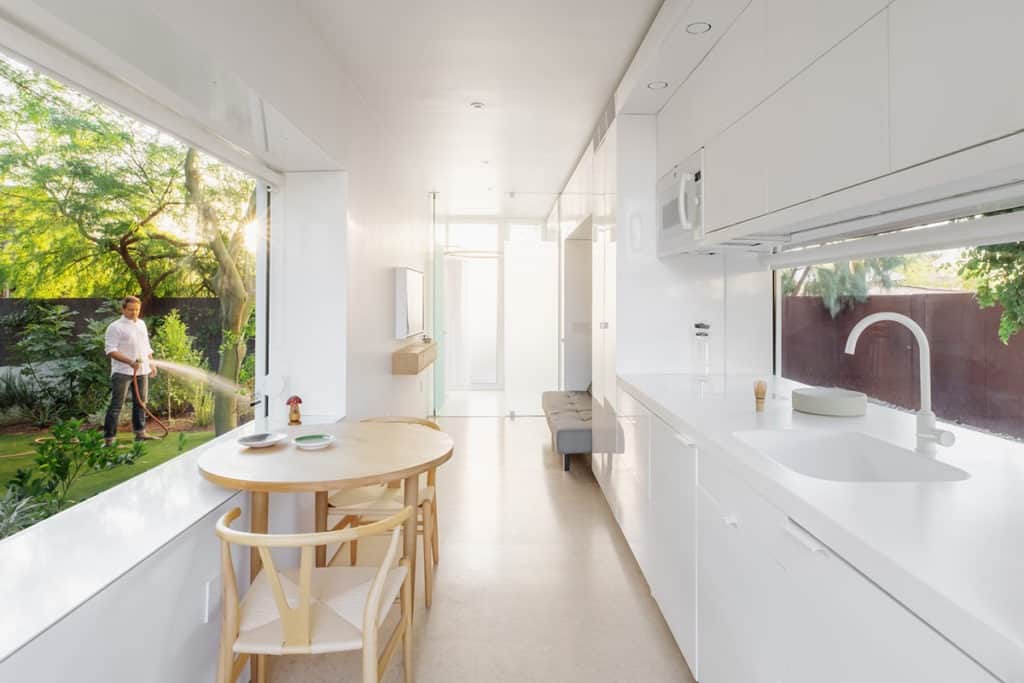 This 300 square-foot guest house offers you the opportunity to experience a minimalist and sustainable life. With people increasingly becoming conscious of how they live, it's a great opportunity, especially for social media influencers, to share with their online followers the benefits of living eco-consciously. Measuring 32' long and 8' wide, the guest house's interior is painted white to give it a minimalist look, and it includes a living area, dining and kitchen area, and bathroom. It also has an outdoor fire pit and a wooden deck surrounded by a Chilean Mesquite tree. Best of all, you can book it in mere moments on Peerspace!
6. Get a bird's eye view of Paradise Valley from Camelback Mountain
This place needs to be in your 10 dope places to take pictures near Phoenix. Hiking up to the top of Camelback Mountain will reward you with stunning views of the valley below and, of course, the entire city of Phoenix! Explore the majestic beauty of Paradise Valley below, which resembles an oasis in the middle of a desert. While you are at it, take some snaps to practice your landscape photography skills.
One of Phoenix's featured attractions, Encanto Park is spread over 222 acres of land and comprises picnic areas, lagoons, boathouses, a swimming pool, nature trail, amusement park, fishing, and two golf courses. You don't get so much in one spot every day! Since Encanto is a public park, you can explore this place freely and take some stunning photos to make your visit memorable. So bring your loved ones here to have an exciting time. For photo enthusiasts, this is a dream come true.
8. An acre of exploration and joy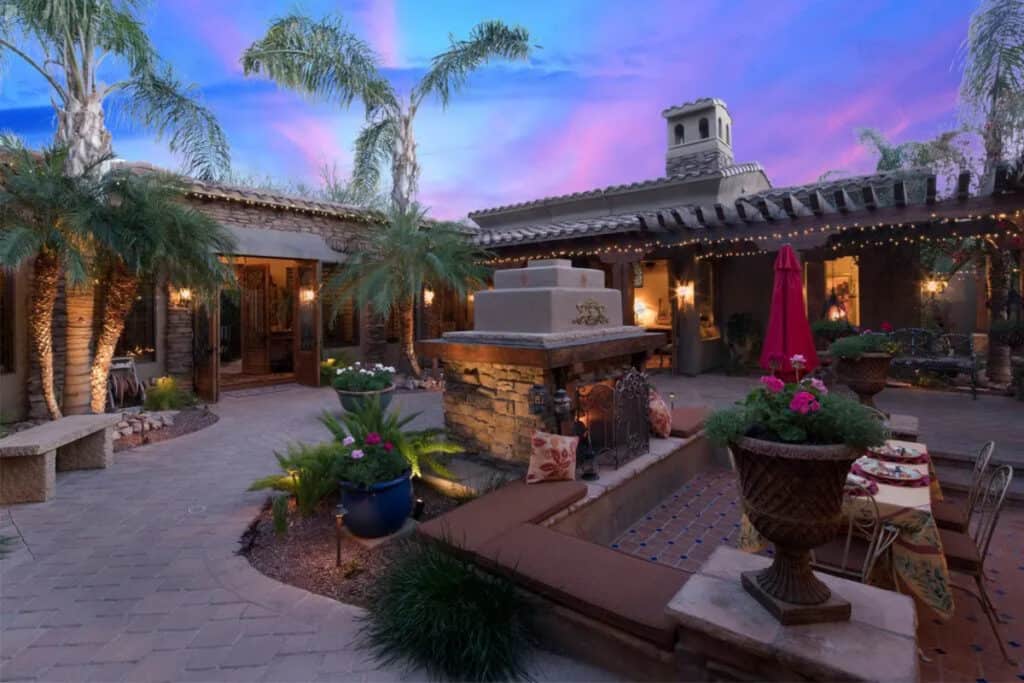 Without any doubt, this home has to be included on the list of 10 dope places to take pictures near Phoenix. If there is one place that perfectly matches the climate of Arizona, this is it. Spread over a complete acre, this Tuscan-styled home has a complete range of indoor and outdoor living spaces. Fire pits, private outdoor hot tubs, and enclosed courtyards––you are in for a special treat. Due to its unique and meticulous design, this house is very photogenic, and you will be thrilled to create content or conduct photoshoots here. Check out all its gorgeous photos on its Peerspace page!
9. Test your horse-riding skills in this 62-acre luxury ranch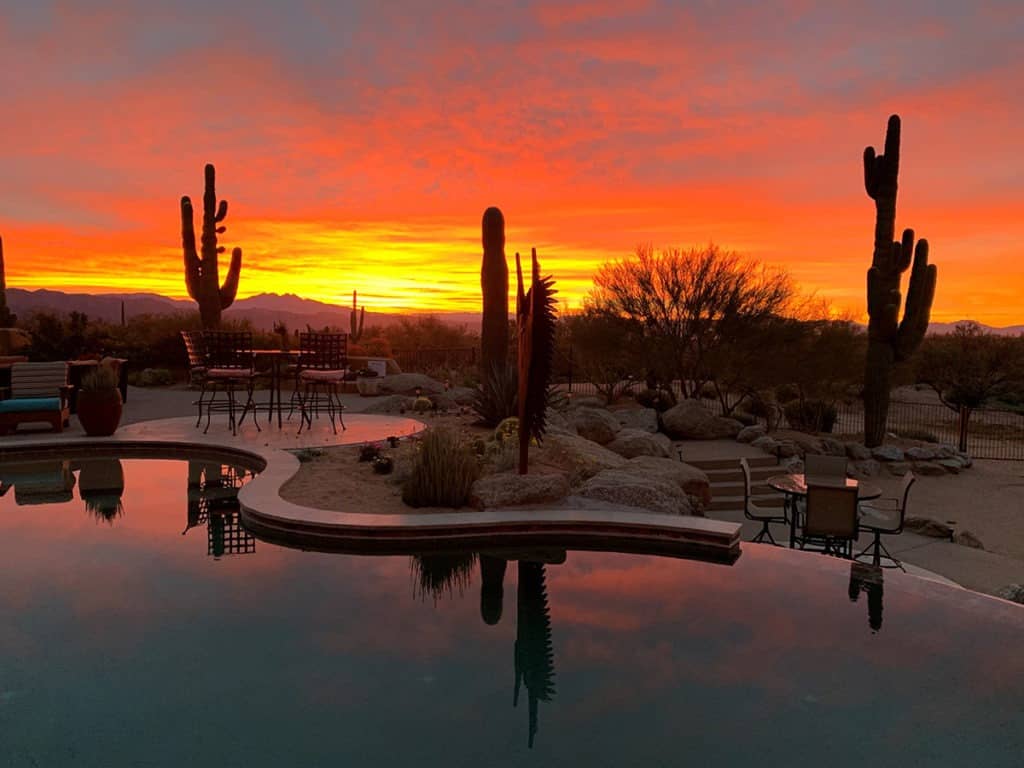 If you are a fan of the American Wild West or have watched movies such as The Lone Ranger, Godless, etc., you have to go to this place. Located on the edge of Tonto National Forest, this ranch offers panoramic views of Four Peaks Wilderness and is surrounded by glorious saguaros, mountains, and dramatic vistas, making it the perfect spot for large-scale production and photo shoots. This Peerspace bookable eco ranch also comes with a two-bedroom suite with a private pool, a bunkhouse, and a luxury travel trailer. There is also a horse boarding facility, so if you love horseback riding, that is another a bonus.
10. A secret lair perfect for your Fans Only viewers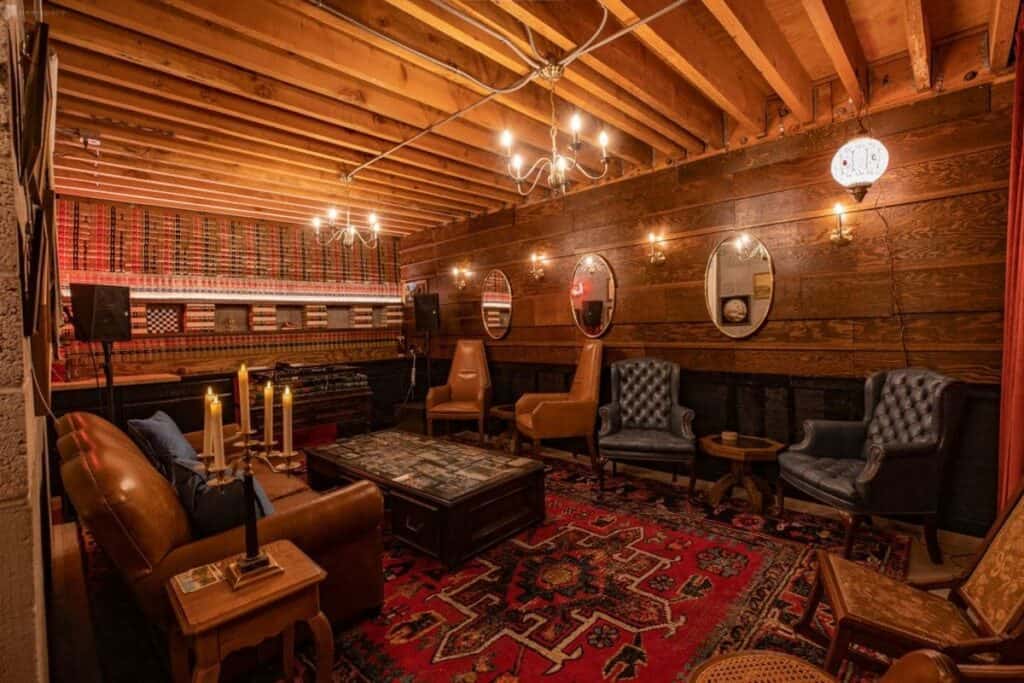 The last place in our list of 10 dope places to take pictures near Phoenix is this 300-square-foot speakeasy basement where you can spend some quality time with your friends or record a podcast to share with your online community. A wooden lumber ceiling and Persian rugs embellish its interior, and the basement has perfect acoustics that lets you conduct photoshoots seamlessly. Check it out today on Peerspace!

Get together somewhere better
Book thousands of unique spaces directly from local hosts.
Explore Spaces

Get together somewhere better
Book thousands of unique spaces directly from local hosts.
Explore Spaces