11 Festive Winter Wonderland Party Ideas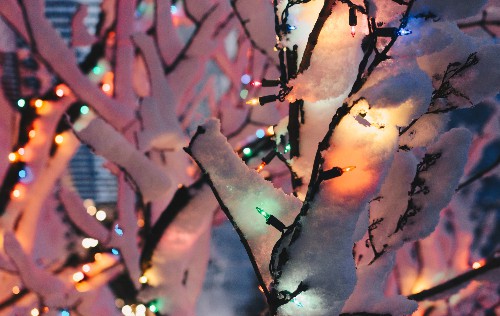 Looking for winter wonderland party ideas to elevate your next holiday gathering? At Peerspace, we get it. Winter is one of the most magical seasons of the year and should be celebrated with friends and family!
All that powdery snow and glittering ice transform the world outside into a sparkling white wonderland. Even if you live somewhere that doesn't get frosty, you can still bring the magic of winter to your friends and family with a festive winter wonderland party. Here are 11 of our favorite winter wonderland party ideas to get your creativity flowing!
1. Find a cozy venue on Peerspace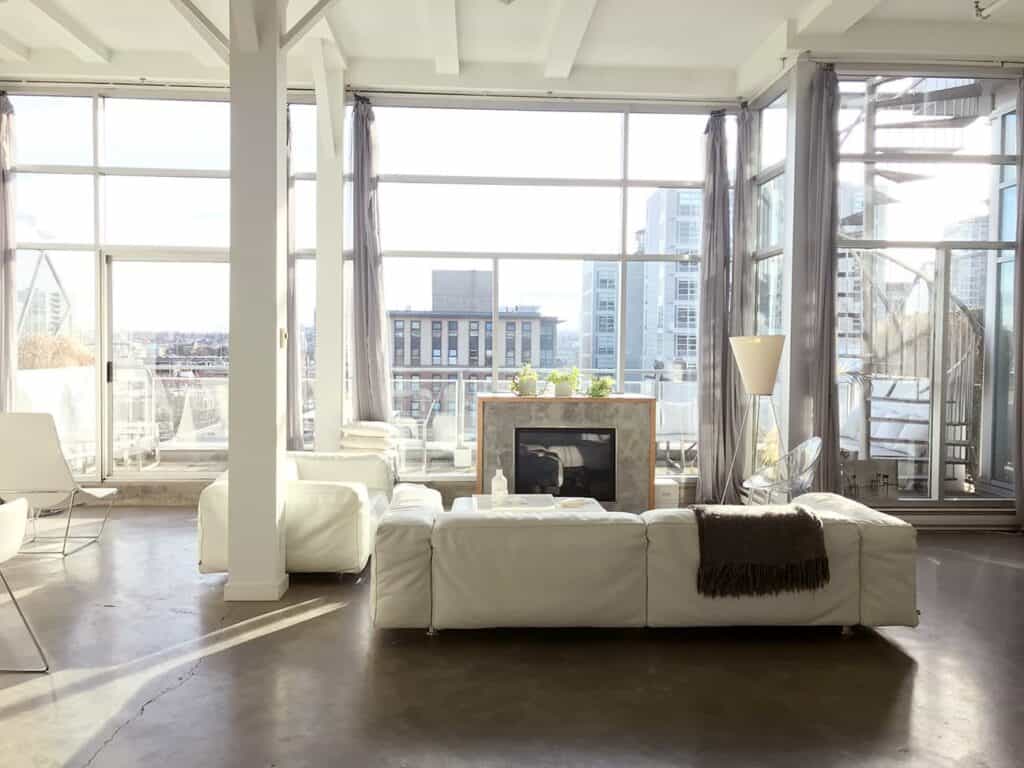 With the weather outside chilly and frightful, you'll need a venue that's extra delightful for your winter wonderland bash. Don't worry if there's not enough room for everyone at home. Peerspace can help you find the perfect spot.
With tons of unique spaces in cities all over the globe, Peerspace makes it easy to find a fantastic venue for your seasonal party. You can filter listings by their price, size, location, and even overall aesthetic until you find the perfect one for your extra special soiree. You can easily rent a space by the hour that comes with all sorts of neat amenities.
We'll include real photos and links to actual Peerspace venues throughout this article that we think make perfect winter wonderland party venues!
2. Transform your venue into a glittering wonderland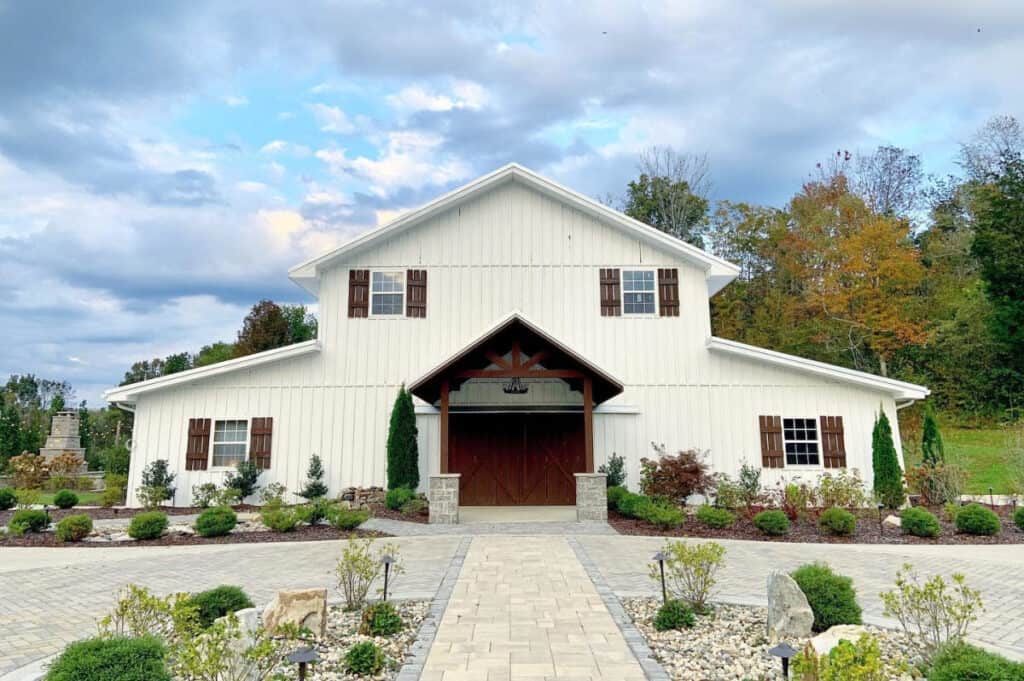 Once you've chosen the perfect place to host, it's time to give your venue an extra helping of wintery sparkle. We're talking frosty fake trees, powdery white balloons that resemble snowballs, and tons of magical twinkling fairy lights. Snowflake strand garlands or low-hanging fabrics can provide that extra layer of immersion you're looking for.
Your guests will feel like they've stepped straight into a real storybook wonderland!
3. Go nuts with fake snow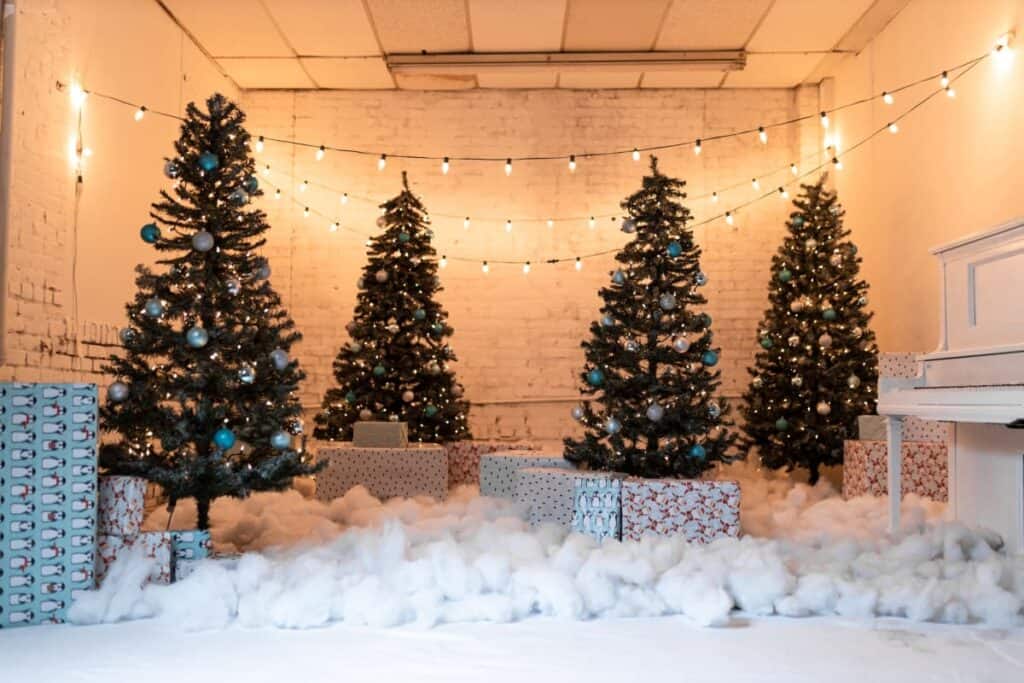 No winter party is complete without snow and plenty of it. Bring the outdoors in with some fake snow bundles from craft stores or by using fluffy cotton to decorate table spreads. If your budget allows for it, you can bring even more magic to the party by renting out a snow machine. Imagine occasional bursts of real glittery snowflakes showering your guests.
Sound awesome? Ask your Peerspace venue's host if they can put you in touch with a local vendor who can provide one! 
Do you also happen to be planning a wintery wedding ceremony? Then you'll fall in love with our winter wonderland wedding theme ideas!
4. Set up a hot chocolate bar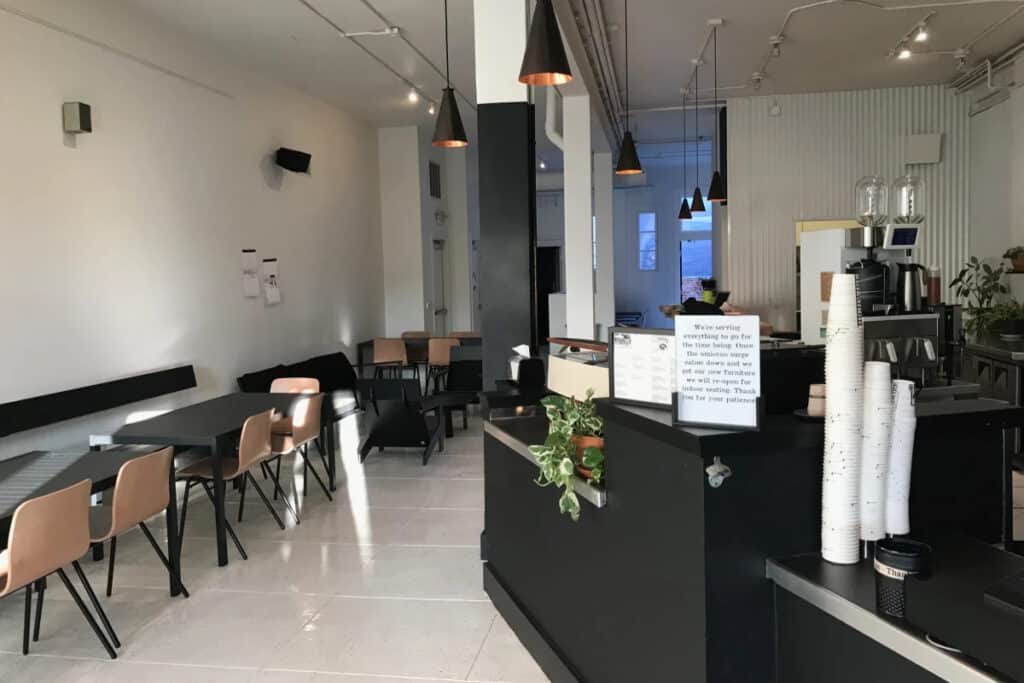 With all that chilly decor, your guests will crave something warm and sweet. Satisfy their cravings by setting up a DIY hot chocolate bar with all the fixings. We're talking marshmallows, whipped cream, sprinkles, caramel sauce, and whatever other yummy ingredients your heart desires.
In fact, you can rent a cafe near you through Peerspace that includes barista service! This is a wonderful option if you prefer getting together with loved ones but don't want to deal with the hassle of setting up a cocoa bar. For instance, this comfortable cafe in Berkley, CA offers barista service, indoor and outdoor space, and even beer and wine. It's a winter wonderland party idea that's guaranteed to put a smile on your guest's faces — and a warm, fuzzy feeling in their chests. 
5. Mix up some wintery cocktails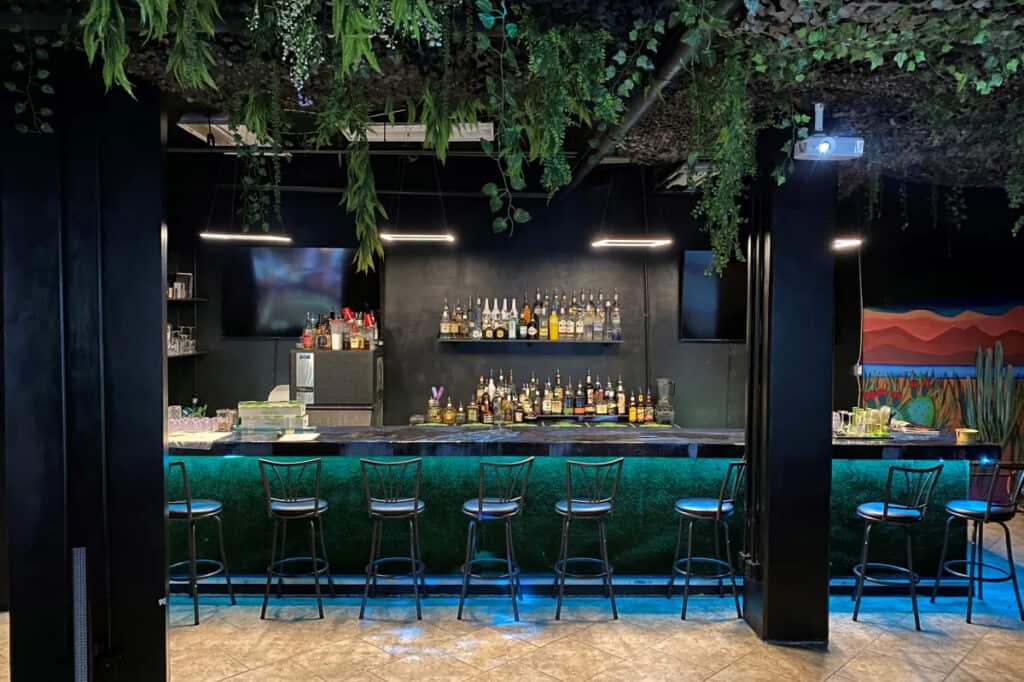 Looking to bring a more adult twist to your winter wonderland party? Mix up some delightful snow-inspired cocktails for your guests! Some fun ideas include glittery snow on the beach martinis or winter wonderland cocktails with a tropical twist. You could also warm up with some hot cocktails instead, like a hot gin and tonic or hard apple cider.
Make it even more special by mixing them up at a private Peerspace bar! Bars and restaurants list their spaces on Peerspace so you can rent them out for your special events. You not only get an amazing atmosphere you're looking for but first-class service that puts that extra special touch on a wintery gathering.
6. Make fun snow-inspired crafts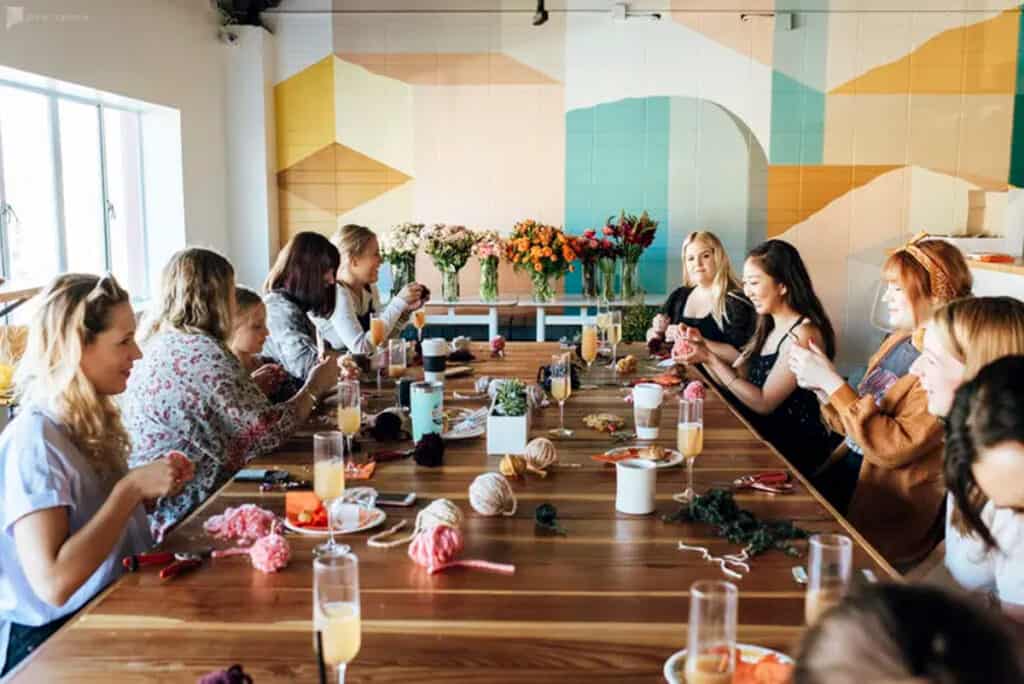 This winter wonderland party idea is perfect for a kid's party! Gather up some supplies and make some winter wonderland-inspired crafts. This could be anything from marshmallow snowmen to a custom gingerbread house covered with powdered sugar snow.
Check out Pinterest to find inspiration for some adorable crafts you can put together with the little ones at your party. Just pick up the craft supplies you need and let the fun begin.
7. Head outside for some wintery fun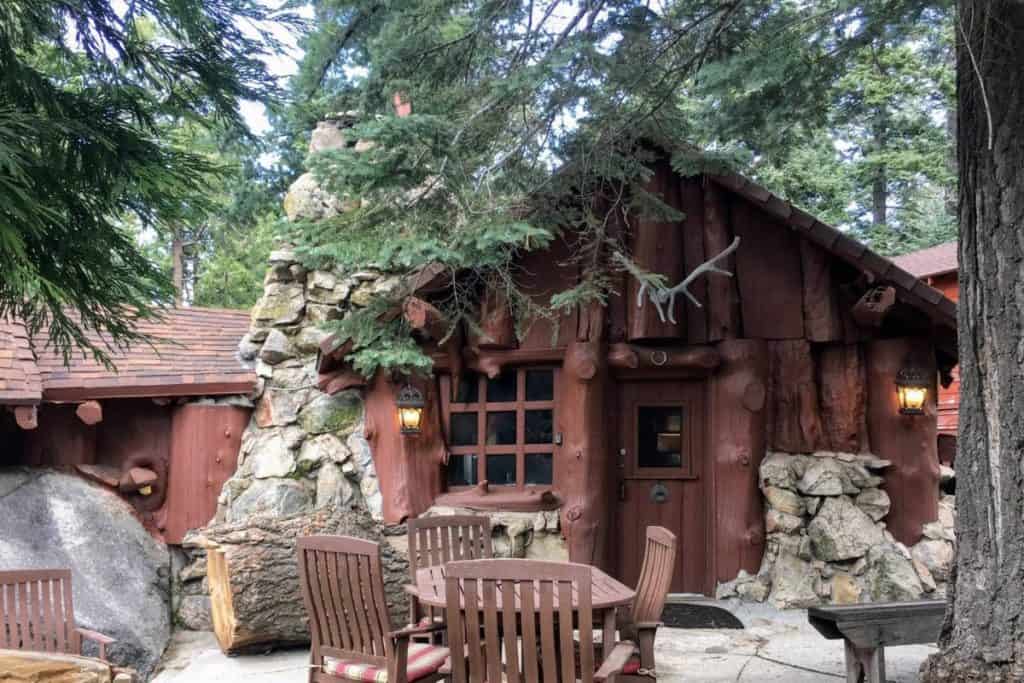 When the theme of your soiree is "winter wonderland," why spend the whole party indoors? Take your party out into the real winter wonderland by heading outside for some fun in the snow! You can build snowmen, make snow angels, or face off in an epic snowball fight for the ages.
Why not book an enchanting Peerspace cabin to serve as the setting? Even if there's no snow on the ground where you're at, you can still have some fun in the brisk winter air with all your party guests. Plus, it'll make our next winter wonderland party idea even more fun. 
8. Cuddle up by a warm fire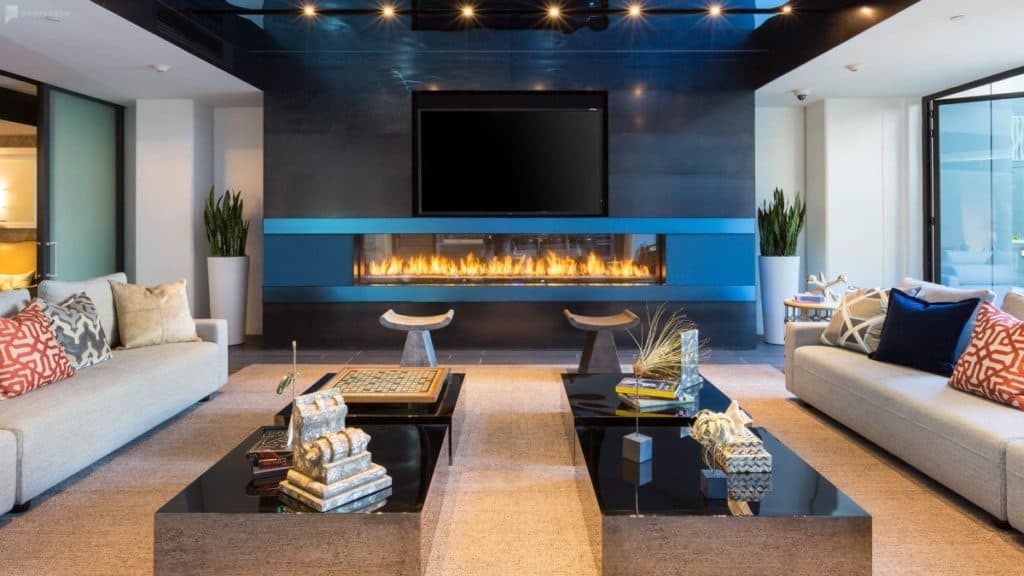 After spending so much time getting chilly with outdoor activities, your guests will need a way to warm up. Set up a cozy place where they can warm up by a roaring fire. Load up the fireplace if you're indoors, or if you've got access to an outdoor space, ignite a firepit where you can spend some time admiring the great outdoors.
Don't have access to a fireplace or an outdoor firepit? Check out Peerspace venues near you that do! You'll get all the warmth of a fire at your party without the hassle. 
Now that you have all your loved ones gathered, check out our wintery snow photoshoot ideas to commemorate the event!
9. Go ice skating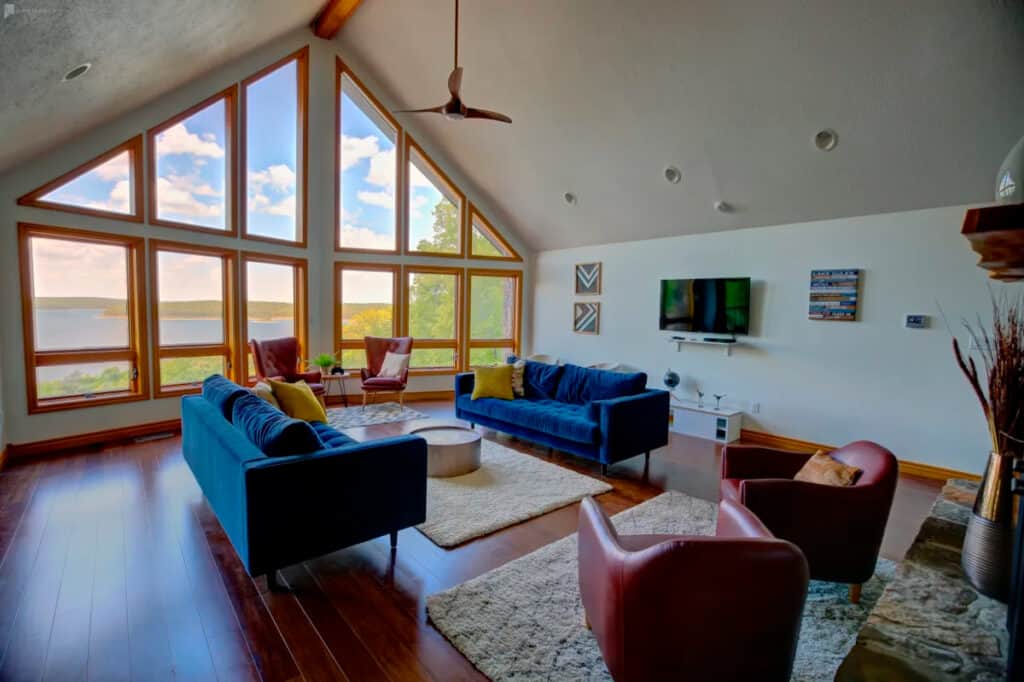 Want more ways to take your winter party outside? Head out to your nearest ice rink and glide around the ice with your friends. If you don't have a permanent ice rink in town, many cities set up temporary ice rinks for winter fun. Take full advantage of it by learning how to skate with your friends or by showing off your best pirouettes for the crowd.
10. Bake delicious snow-inspired treats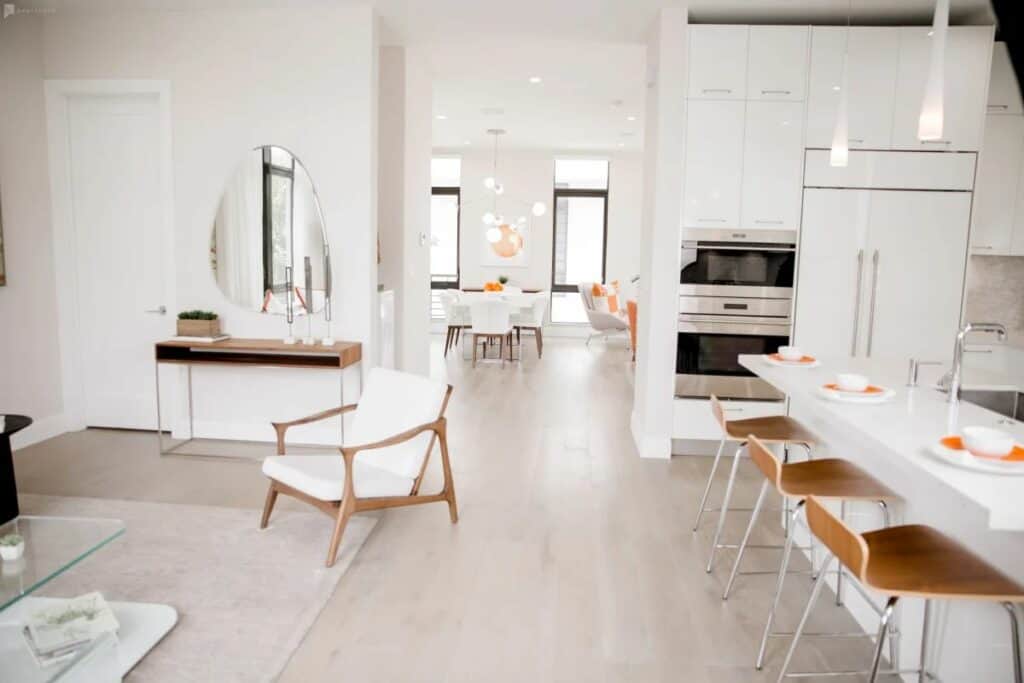 No party is complete without some scrumptious treats! Make your winter wonderland party's menu extra special by baking up some snowy treats, like powdery snowball cookies, festive peppermint bark, or decadent no-bake cheesecake. You could even incorporate baking into the party itself by decorating cookies on the big day!
This winter wonderland-themed party idea would be even more special if you host at a Peerspace kitchen. Most have all the equipment you need to bake to your heart's content, and of course, a gorgeous, spacious setting.
11. Watch classic snowy movies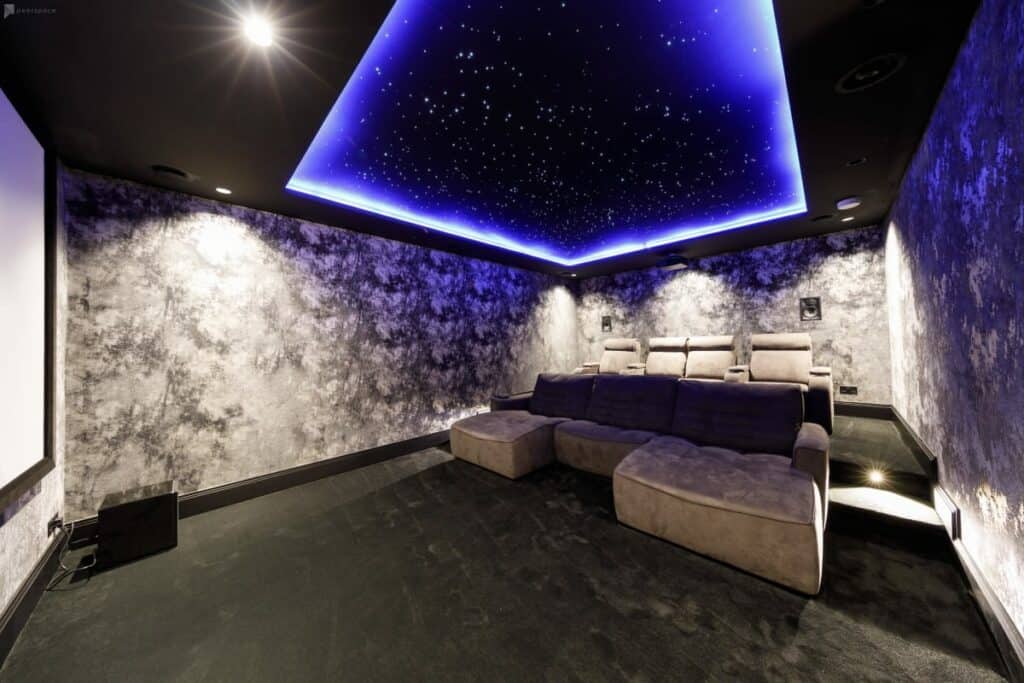 Is there anything cozier than cuddling up on the couch with a good movie? We think not. Bring some coziness to your winter wonderland party by firing up the projector and watching some of your favorite snowy movies with your friends.
These could be wintry classics like White Christmas or something more modern like your favorite Netflix winter romcom. If you're feeling bold, you could even watch a more chilling winter weather flick, like Snowpiercer or The Revenant. If you need a projector or a screen, don't forget to book a luxurious Peerspace theater. 
Winter wonderland party ideas: conclusion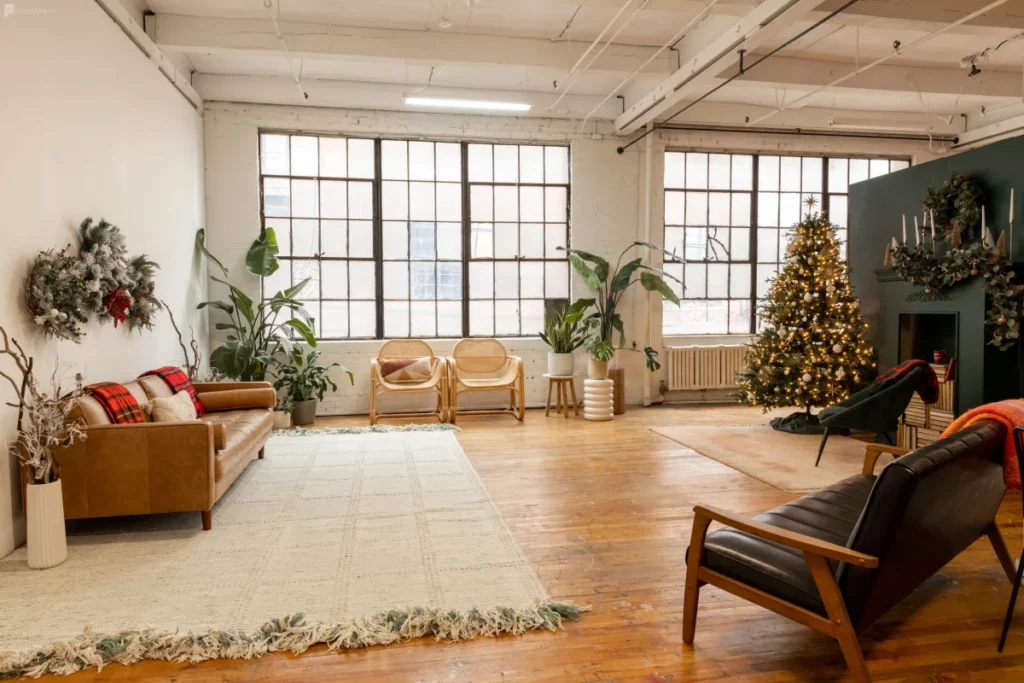 We hope these winter wonderland party ideas have you psyched to start planning your own wintery gathering. Along with using these festive ideas, book a suitable Peerspace venue near you to elevate the event.
As the largest online marketplace for hourly venue rentals, we make it easy to connect you with amazing hidden gem spaces that make your events come to life. You can find a space that suits your style and your budget in your location, so check us out today!

Get together somewhere better
Book thousands of unique spaces directly from local hosts.
Explore Spaces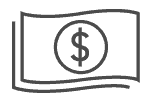 Share your space and start earning
Join thousands of hosts renting their space for meetings, events, and photo shoots.
List Your Space