Fisheye Lens Photography Tips: How To Nail The Shot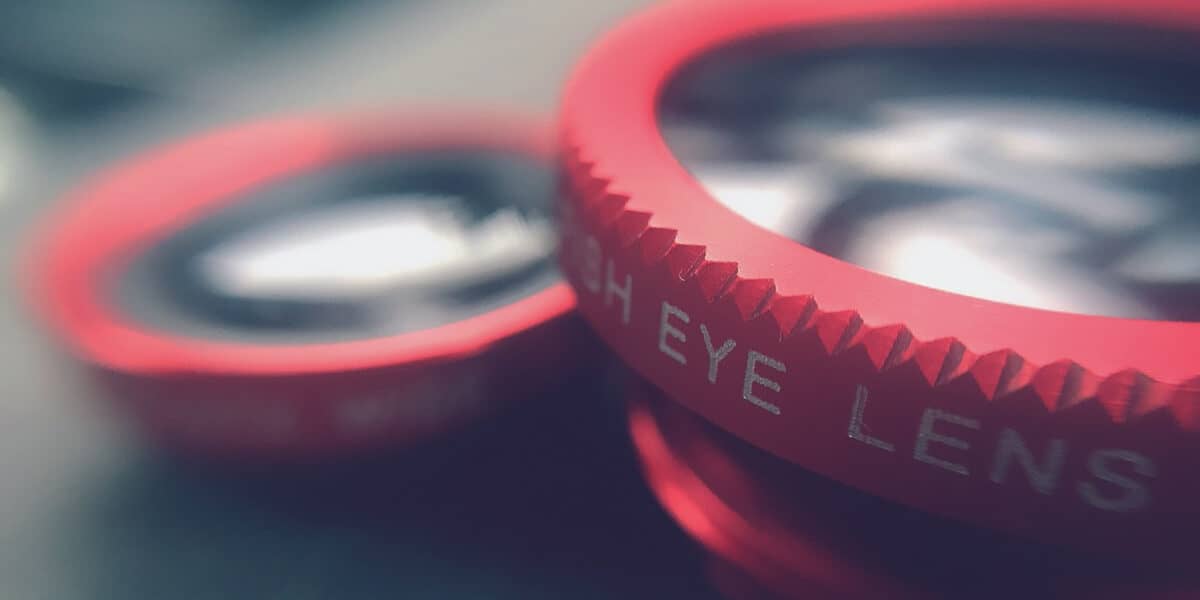 Have you ever wondered what the world might look like through the eyes of a fish? Fisheye lenses allow photographers to capture a truly unique perspective on life. They let us see things in new and novel ways and even challenge our perceptions of the world around us. But what even is a fisheye lens, and how do you use them on the job? That's what Peerspace is here to answer. Read on to learn all about the fisheye lens and why you need one in your photography bag! 
What is a fisheye lens?
A fisheye lens is a type of wide-angle lens that creates "hemispherical" or "curved panoramic" images. They get their name from the American physicist Robert W. Wood, who likened the extreme distortions to a fish's perspective on the world. They were originally created for astronomers to take in 180° coverage of the night sky. Still, they were eventually adapted for use on 35mm cameras, where the photography world caught onto their versatility. 
Fisheye lenses are known for their ultrawide angles, which cause straight lines to go curved. This curvature allows you to see far more of the environment than you can capture with a traditional wide-angle lens. But the intense distortion can throw some people off.
Some people discount the fisheye lens as little more than a toy for shooting novelty images. But a fisheye lens can do far more than capture curiosities. They're valuable tools for any photographer who wants to capture extreme panoramic views or stretch their creative muscles. 
Types of fisheye lenses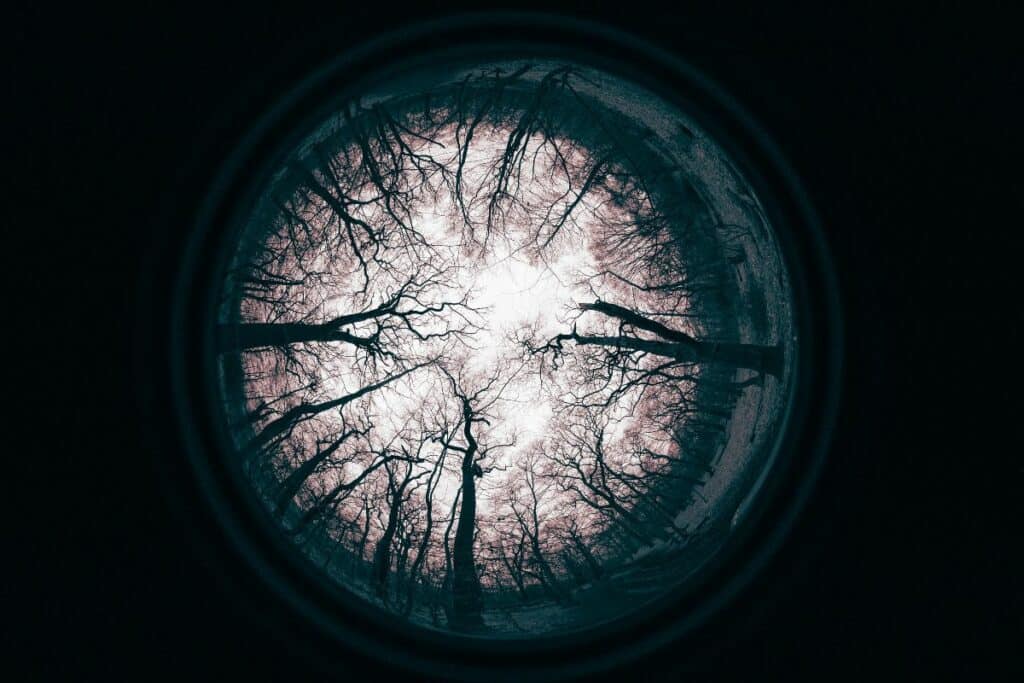 There are two basic types of fisheye lenses on the market—full-frame lenses and circular lenses. A full-frame lens will capture a wide view of the environment and circumscribe it onto the frame, with the distortion increasing towards the edges. A circular lens takes things a step further. It inscribes the environment into a circle with black edges making up the rest of the frame as if you superimposed your subject matter onto a reflective sphere. 
You can purchase fish-eye lenses that fit most major DSLR camera models online, like the Rokinon 12mm F2.8 Ultra Wide Fisheye Lens, which is compatible with Canon EF DSLR Cameras and costs under $400. On the premium side of things, Nikon's AF-S 8-15mm f/3.5-4.5E ED Fisheye lens can even capture both full-frame fisheye and circular images with its unique zoom functionality. But at just over $1,200, it's not exactly a budget-friendly option.
If you want to try out the fish-eye effect without making a big financial commitment, you can pick up fisheye lenses for your smartphones, like this model that you can clip right on top of your phone's existing lens for under $20.
What kind of images can you capture with a fisheye lens?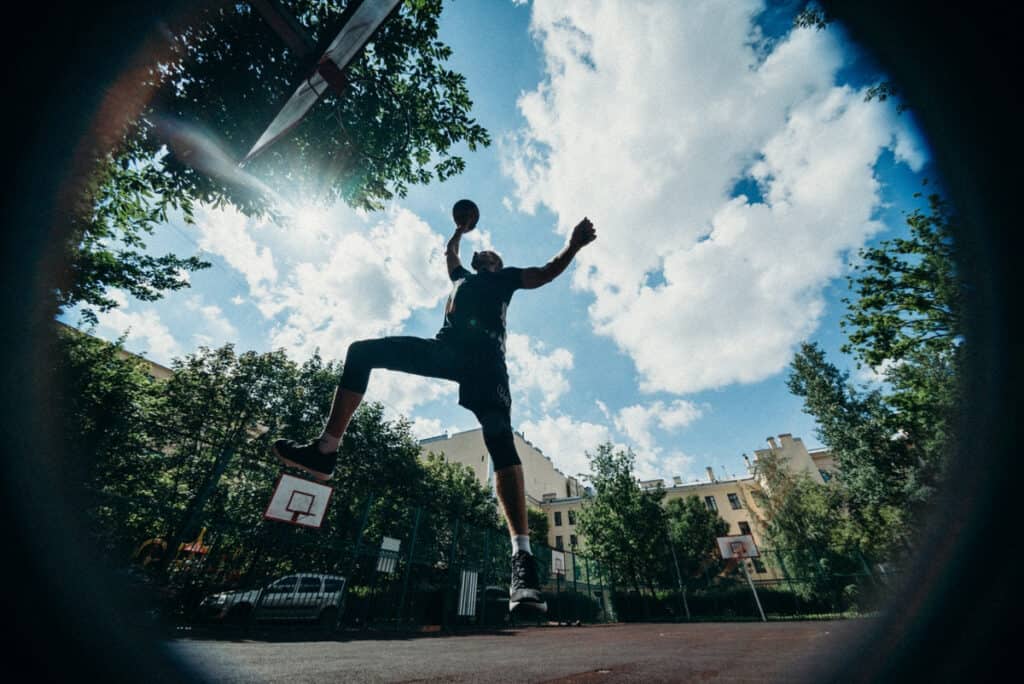 Fisheye lenses are amazing tools for landscape or outdoor photographers. You can capture a full landscape in a single image or the imposing height of a skyscraper from the city streets. Shots of the night sky are compelling when shot from a fish-eye view. It can emphasize the otherworldly quality of space or the vastness of the universe. After all, it's what the fisheye was originally meant for!
They are also valuable tools for real estate photographers to capture tiny powder rooms or narrow hallways in a single image. A fisheye lens is your best friend for any space that a normal lens can't capture in a single image. 
Fisheye lenses aren't just for photography either. In film, the fisheye effect is ideal for capturing action shots of athletes with dynamic flair. They're standard with skateboarding footage, where the ultrawide angles can emphasize the "big air" the athletes are catching.
Many directors use fisheye lenses to simulate feelings of confusion or unease. If a character regains consciousness after being knocked out, the distortion from a fisheye lens can give the audience a peek into the character's disoriented psyche. The classic "looking through a peephole" shot is also possible thanks to a circular fisheye lens distortion. Real-life security cameras also use a wide-angle lens, so shooting with fisheye lenses can offer a "found footage" look that's perfect for horror movies. 
Of course, there's also novelty work and fun images you can capture with a fisheye lens. Get a whole new perspective on your friends, your pet, or your household objects. Shooting with a fisheye lens is an amazing way to break out of your comfort zone if you need a fun exercise to get your creativity flowing. 
Tips for using fisheye lenses in your work
Due to the extreme nature of a fisheye lens, there will almost always be a level of curvilinear distortion in your images. However, it is possible to lessen the effect using Lightroom or Photoshop. Don't want to subscribe to Adobe creative cloud? Open-source editors PhotoDemon or FisheyeGL can correct fisheye distortions for free. But your results might not be as good as they would be with the professional apps.
Remember that the distortion will always be the most intense at the edges of your image. If you want to capture a subject with minimal distortion, keep it as close to the center of your frame as possible. This will keep the curvature focused on the outer edges of your image, where you can crop them later on or leave them for an artistic statement.
Distortion is also more prominent from short distances. Taking a few steps back from your subject will soften the curvilinear distortion. Most fisheye lenses don't have a zoom function, so you'll have to position yourself accordingly for the shot you want. However, some premiums models do have zoom functionality. 
Don't be afraid to play with the camera angle, either! Try tilting your camera up at the sky to capture a beautiful curve. Find a vantage point high in the city and capture a city skyline like you're in space. Shooting above can emphasize the earth's curvature, transforming your fisheye view into a bird's eye view. 
As with all types of photography, there are no hard and fast rules. The best way is to experiment with your fisheye lens until you find a shot you love.

Get together somewhere better
Book thousands of unique spaces directly from local hosts.
Explore Spaces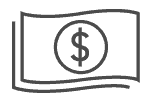 Share your space and start earning
Join thousands of hosts renting their space for meetings, events, and photo shoots.
List Your Space