12 Fun Sweet 16 Photoshoot Ideas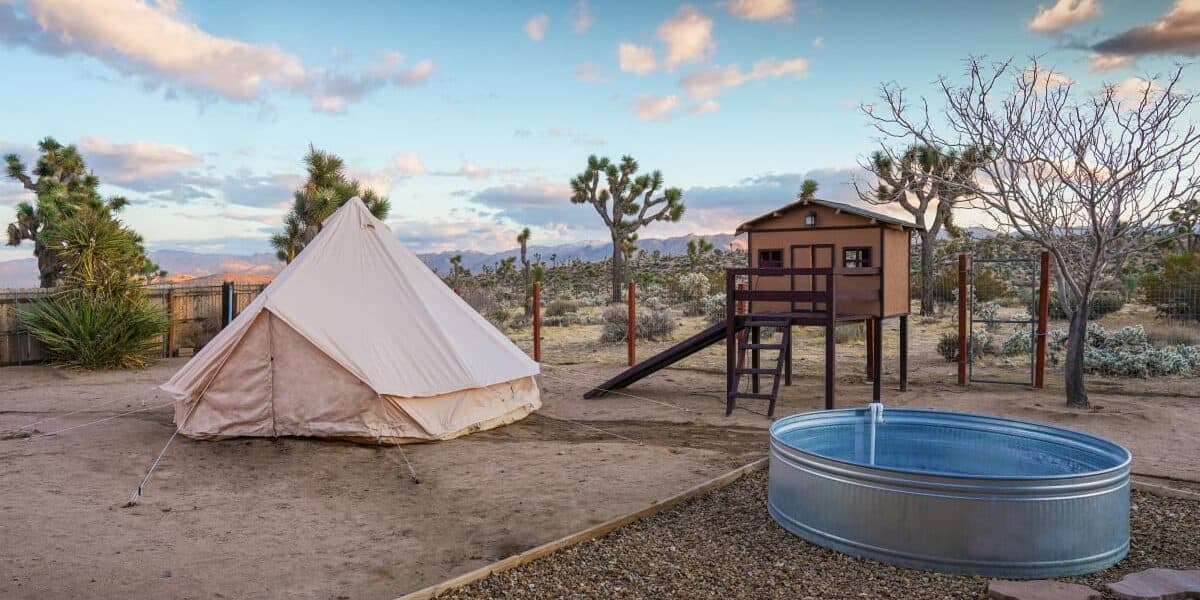 Are you looking for original venues for your sweet 16 photoshoot ideas? Peerspace has fun and creative venues in thousands of cities and towns across the US and beyond. Whether it is a photo set or a flower farm you're looking for, Peerspace has it and can help you reserve it by the hour.
And if you need catering, costumes, or a photographer, ask your friendly Peerspace venue local host. Since most Peerspace hosts who operate a photo studio are in the industry themselves, they can help you arrange everything in advance without breaking the bank. Now, let's explore some of our favorite Sweet 16 photoshoot ideas!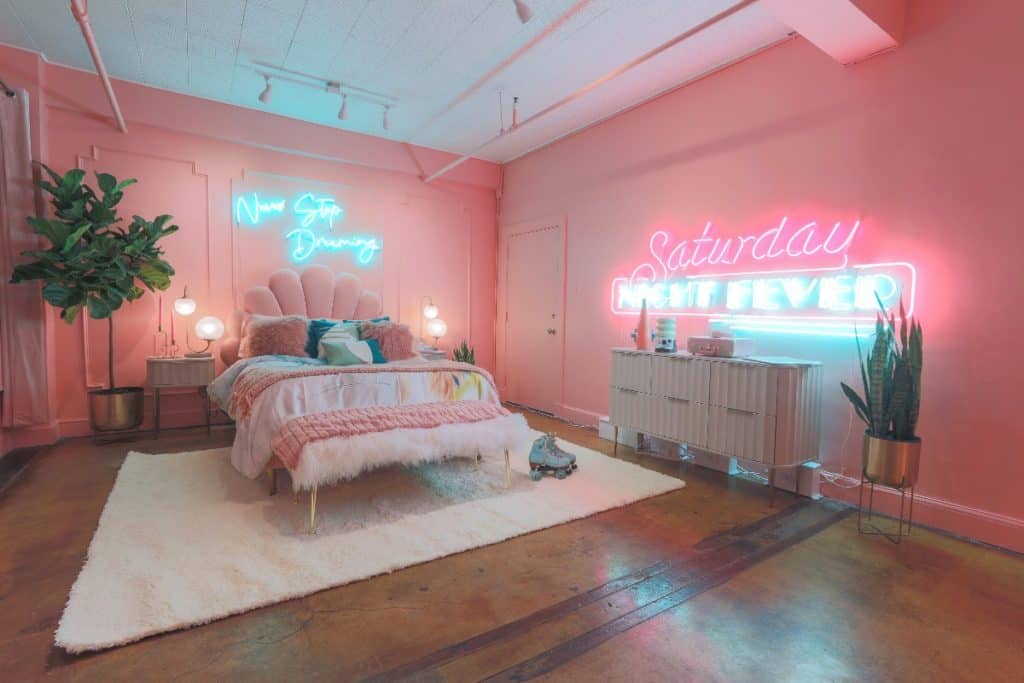 This downtown 80s neon pink loft is a studio set in Los Angeles. The hosts describe it as "The Urban Jungle brings you back to the 80s with this fully decorated loft. This loft features a 750 sq ft single-story floor plan. The loft also features unique furniture and different one-of-a-kind decors".
This particular set is a multi-room space with a frilly, girly pink bedroom set, a pink bathroom, and multiple neon lights throughout for all your Sweet 16 photoshoot ideas. It's also one of Peerspace's most beloved studios, with nearly 1,500 glowing reviews from past renters!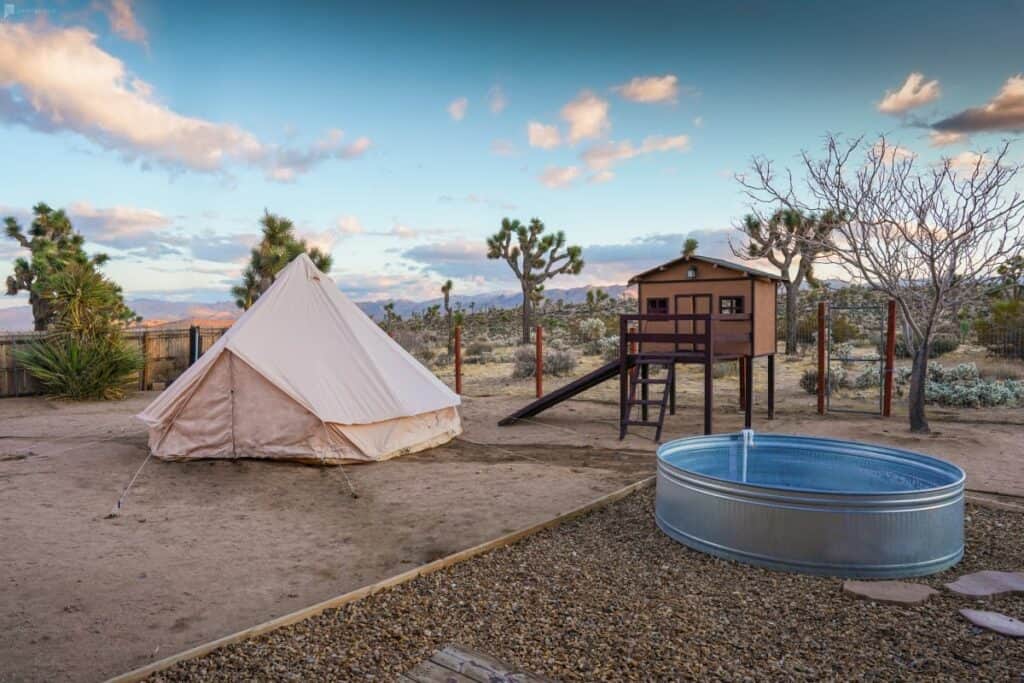 Starlight Ranch–a private oasis of Joshua Trees in Yucca Valley, CA, has an old-fashioned tent and a cute tub made from a livestock trough in the yard. The host describes it as "a rustic yet cozy space perched amidst the backdrop of Joshua Trees and breath-taking sunsets. A one-of-a-kind experience in nature. Expansive, secluded forest of Joshua Trees behind the backyard. Amazing sunsets! Entertainer's dream backyard with outdoor bar and cooking area."
The host also notes that they are happy to take requests, so let your imagination run wild. While here, pose in the cowboy tub, in the Jacuzzi, beneath the overhead misters, and within the tent. It's a versatile space that would make a fun and quirky setting for your Sweet 16 photoshoot ideas!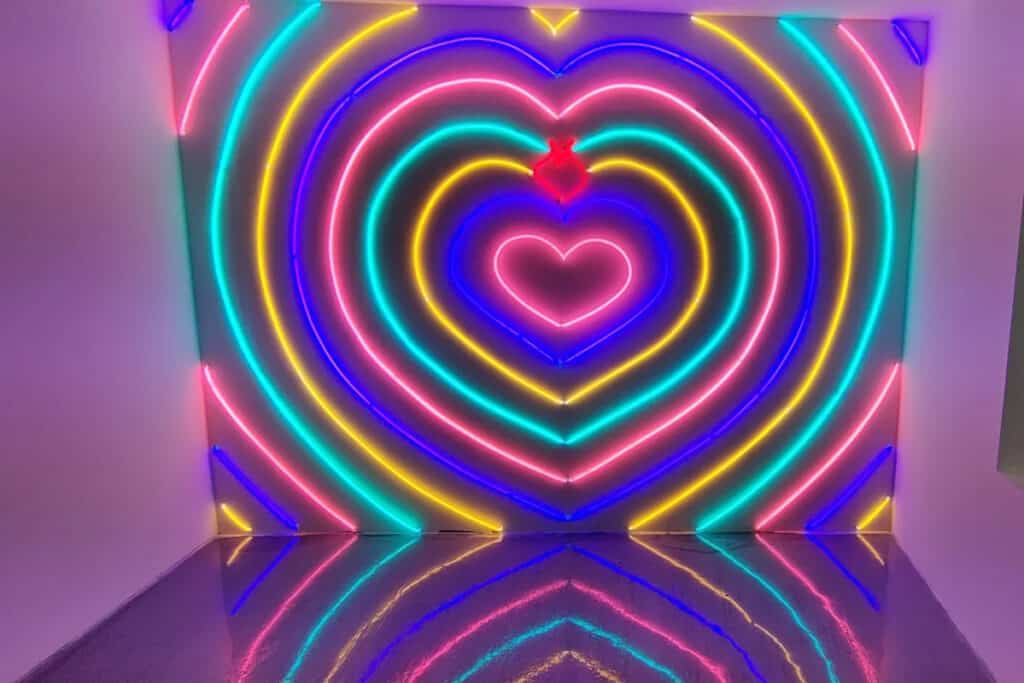 This neon-themed studio in Dallas, Texas, is the perfect space for Sweet 16 photoshoot ideas that are a bit edgy and totally sweet. This set comprises multi-colored neon lights in the shape of a heart and a reflective floor, meaning you and the glowing lights will be mirrored for super fun shots.
An artist manager who booked a photoshoot here shared the following Peerspace review: "Great flex space with very accommodating hosts. We had a great time"
Don't forget to party after posing! How? By incorporating our awesome 16th birthday party ideas!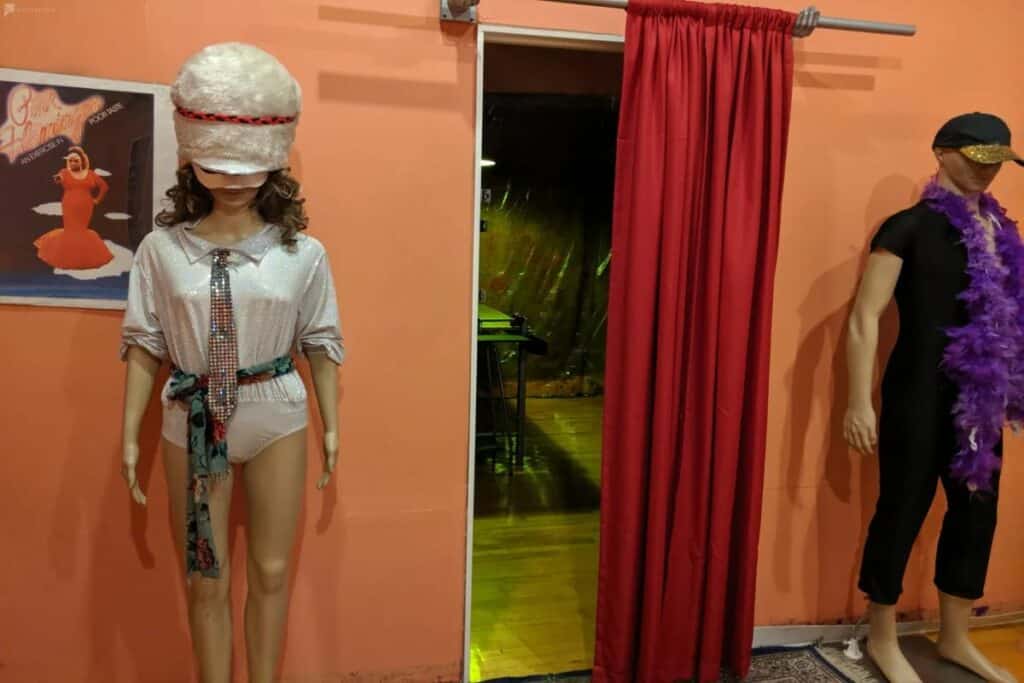 You may not have experienced the 1980's first hand, but this next Peerspace venue will introduce you to the decade's less savory side! This venue in Chicago is The Dollhouse–1980's photoshoot location in Wicker Park and is a little creepier than our others so far. "The Dollhouse was designed to be as nostalgic, creepy, and cheesy as the 1980s. One side of The Dollhouse mimics a teenager's bedroom, while the other is a murderous, doll-filled dungeon. Utilize this space for your next film, music video, or photoshoot to give your content a nostalgic – and terrifying – edge!"
If you pride yourself on having an edgier character than most, then this studio may be ideal for your Sweet 16 shot. It's definitely a more grown-up slant on the traditional dollhouses we all played with as children!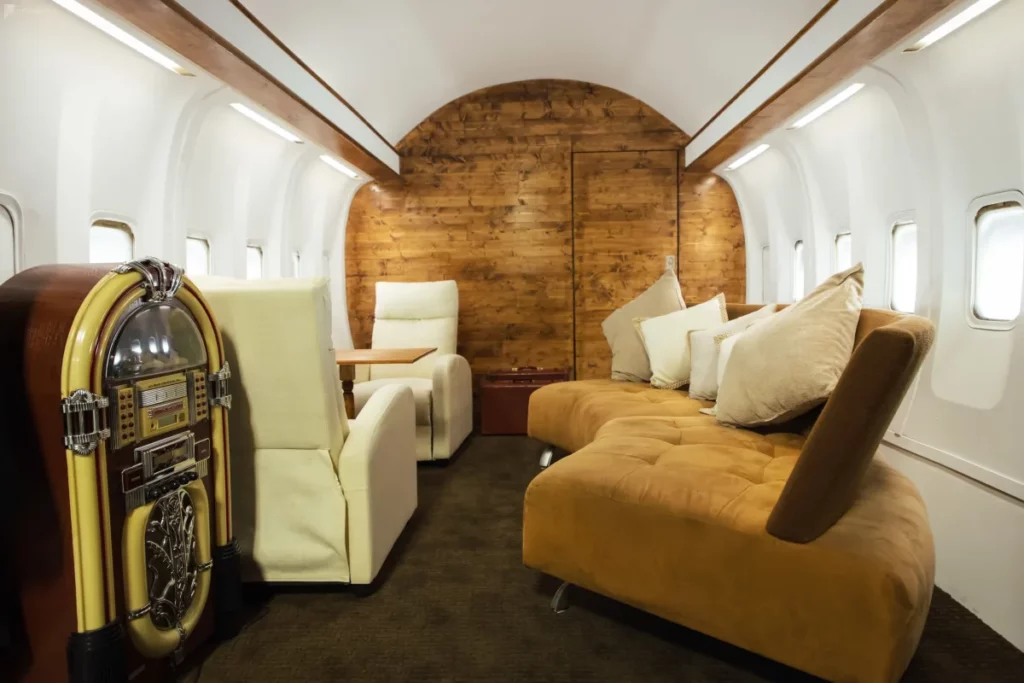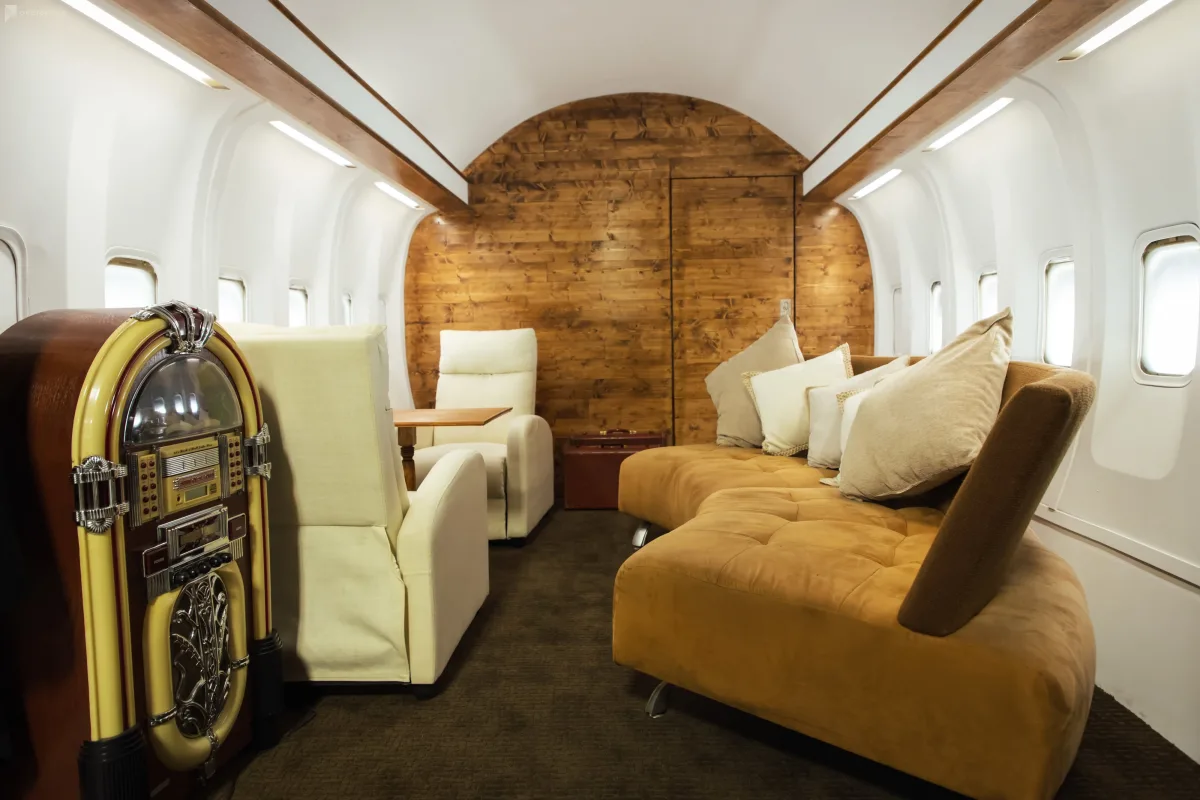 Are you a Sweet 16 to-be who aspires to a jet-set lifestyle? Then this unique private jet studio in Chamblee, GA is for you! It "is the first and most affordable mockup jet photo / film set in Atlanta. This pre-lit jet interior features a sliding door to cockpit, a cabin with two 1-person single swivel reclining seats, and a 4-6 person semi-circular sectional couch allowing total 8 passenger seating."
The host also offers additional add-on services, like a fog machine, Bluetooth speaker, and a continuous lighting kit. Overall, it would make a memorable venue for a Sweet 16 photoshoot, especially when you're going places.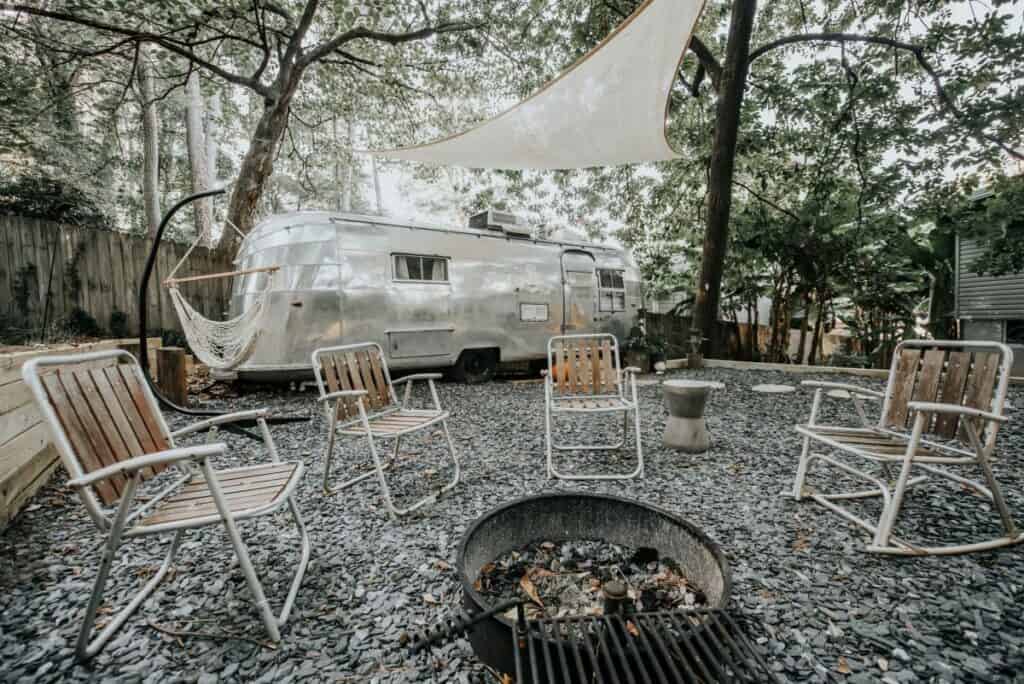 This Atlanta tiki Airstream oasis would be a fun Rockabilly-style photoshoot location for a Sweet 16. The description is inviting: "Welcome to our little mid-century tiki hideaway. We're tucked away surrounded by banana trees just minutes from Atlanta. This rare 1956 airstream has been decorated to bring you back to the 50's while sipping your favorite tropical drink. There's a large outdoor sitting area with a firepit and plenty of room to relax." What a fun throwback theme for a photoshoot.
A just check out what a Peerspace reviewer shared after booking this space for a production: "I cannot give enough praise about this place. Andrew and his family were very welcoming and accommodating. They have transferred their backyard into a mid-century, tiki oasis. Even cooler than the photos imply. Highly recommended for your next photo shoot or production. I know we will be back!"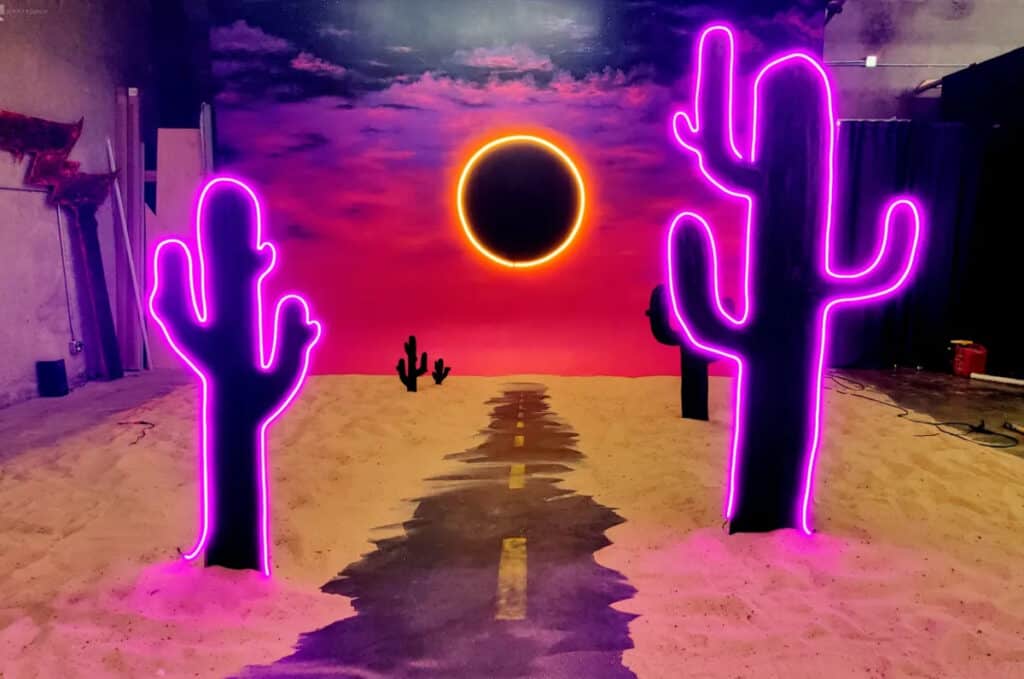 This is a photography studio desert set dripping in neon in Dallas, Texas for your cowgirl Sweet 16 photoshoot. The description makes you want to experience it. "At the far edges of reality, slipping feverishly thru the cracks of the surreal. 4,000 pounds of desert sand brushing up against the painted sky of a perfectly eclipsed sunset, and accented only by the statuesque and silhouetted neon cacti."
This is the type of unique photoshoot location that lets you take a metaphorical walk towards your bright and sunny future!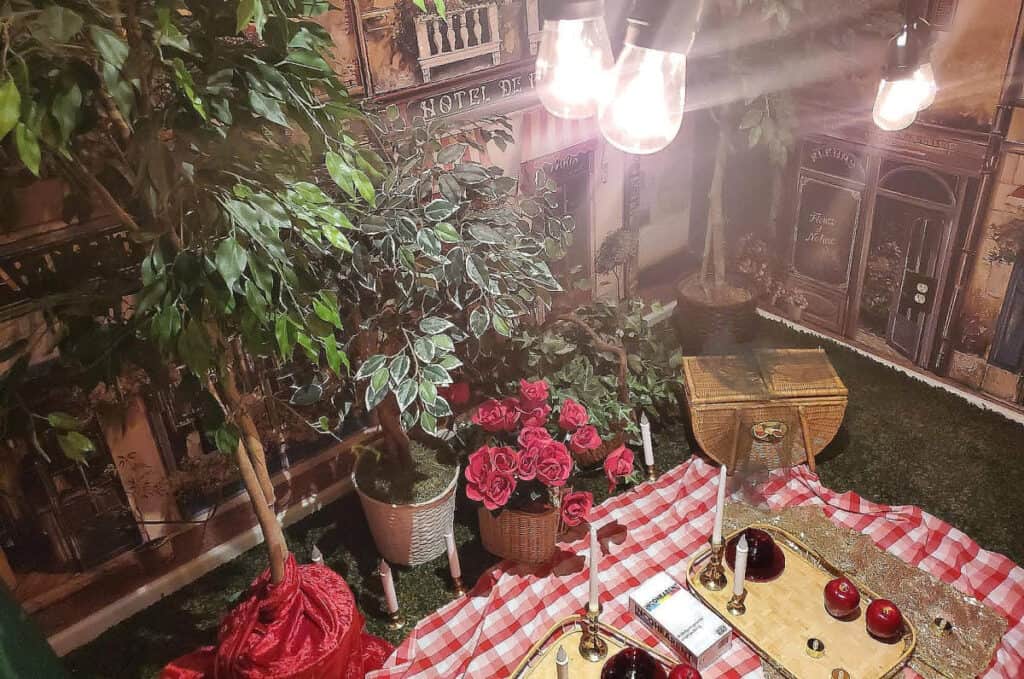 This European picnic in Paris set is a studio set with a Parisian flair in Marietta, Georgia. "This Dreamy European Style Picnic Room is great for photography/film production. The inside has green grass like carpet, luxury style ceiling tiles, Paris cafe-themed wallpaper, a picnic blanket, food tray, basket, candles and hanging lights to set the ambiance of the room."
Isn't it every young girl's dream to visit Paris? Now you can pretend you're already there (while mentally mapping out that European backpacking trip after graduating high school!)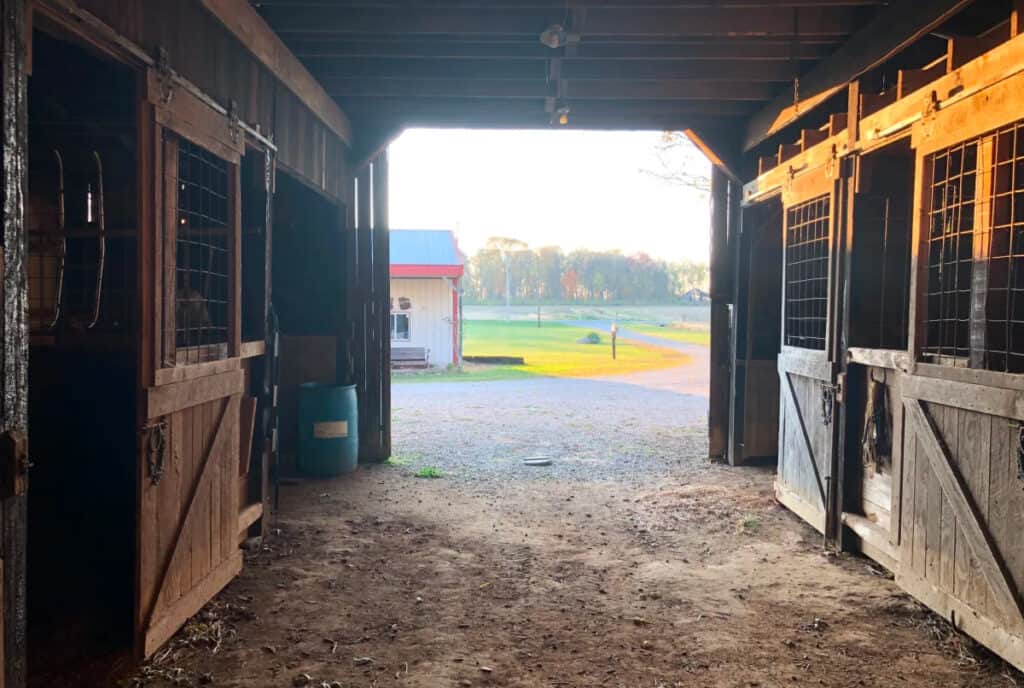 This country flower farm with charm would make a wholesome site for a Sweet 16 photoshoot when the flowers are in bloom. "Nine acres of pasture and fresh flowers and rustic barn to incorporate a wide range of possibilities for pictures and events. There are pastures where the family cow and goats roam and chickens and ducks that find their way to every corner of the property. Front and center from Spring to Fall are acres of beautiful flowers as part of the local cut flower business."
You get to play with farm life, pose with gorgeous lush flowers, and bask in the sun. Not many people can say that about their own Sweet 16 events!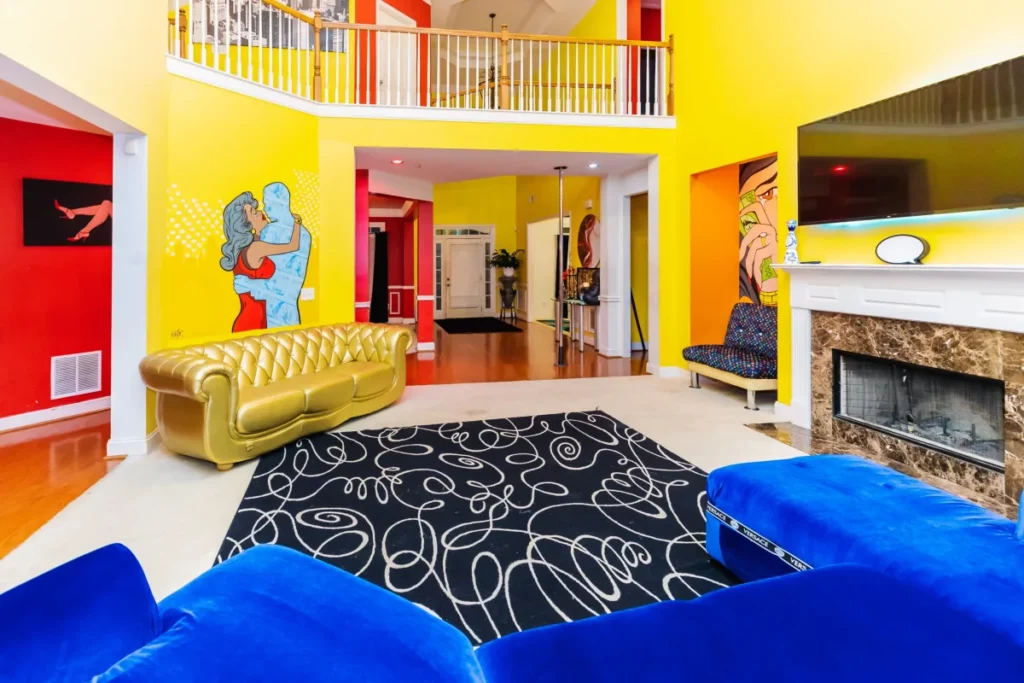 This venue is a dope film location in Atlanta, with an entrance that looks like a Lichtenstein painting come to life. "This bright, stylish home is the perfect for photoshoots, video shoots, & all film purposes. Located in a secure beautiful quiet neighborhood. It's the great location for your next project. Each room in this home is uniquely decorated, you will be sure to leave satisfied with your work done here."
It's a full 2,000-square-foot home with several rooms, all beautifully decorated. Every bright and colorful space is perfect for your Sweet 16 photoshoot ideas.
It's never too early to start planning: discover our 17th birthday photoshoot ideas next!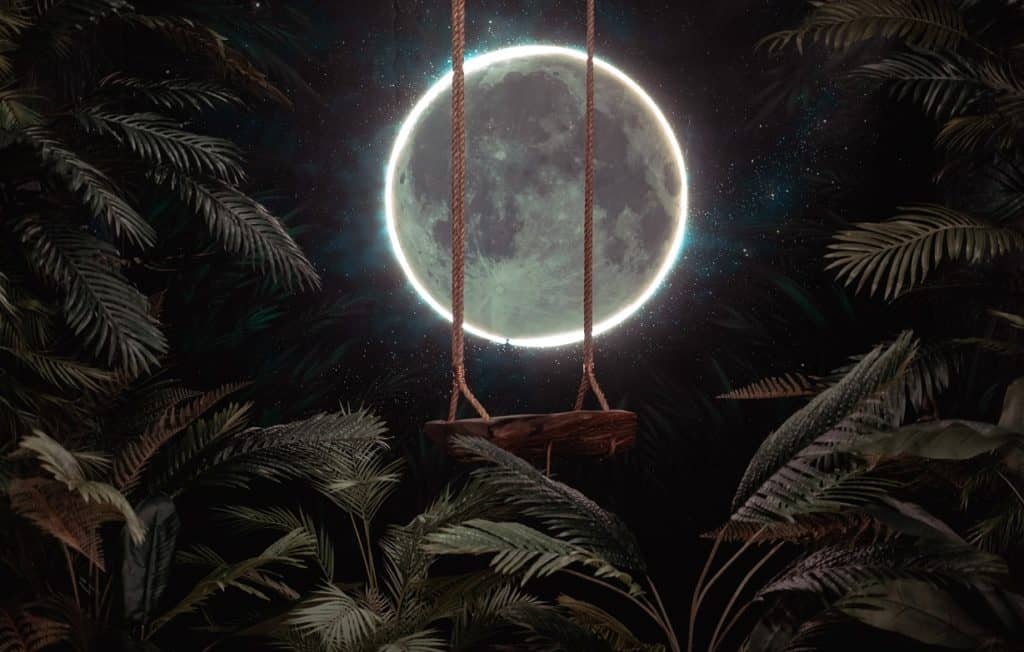 How about this jungle swing and neon full moon set in Dallas, Texas for your Sweet 16 photoshoot ideas? "There is a place that exists where the treetops kiss the moon and the only sounds you can hear is the night air as it tussles the leaves, while the birds sing love songs to one another. Here the sky is full of stars, a reminder that we are but a blip of a moment in the space of infinity."
Swing to your heart's content as you pose for your Sweet 16 photos. This is another Peerspace photoshoot set that is part whimsy and all experience!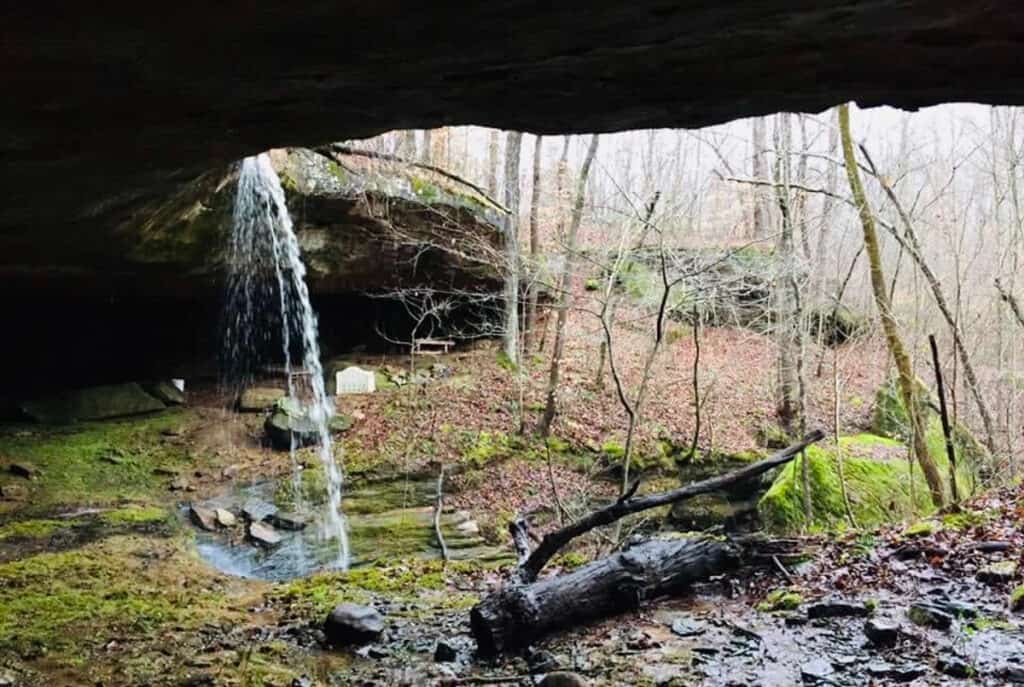 For something different and out in nature, check out this 20 acre farm with waterfalls and animals in Eastview, KY. There is more than enough to keep a photographer busy here. "Come enjoy our 20 acres of heaven with two waterfalls. We have peacocks, pheasants, pigs, honey bees, etc. We have a community space under our big oak tree complete with picnic tables, swings, and fire pit."
If you love the outdoors, then this can be a perfect venue for a Sweet 16 photoshoot.
Bonus idea: Be one with nature indoors at a secret garden loft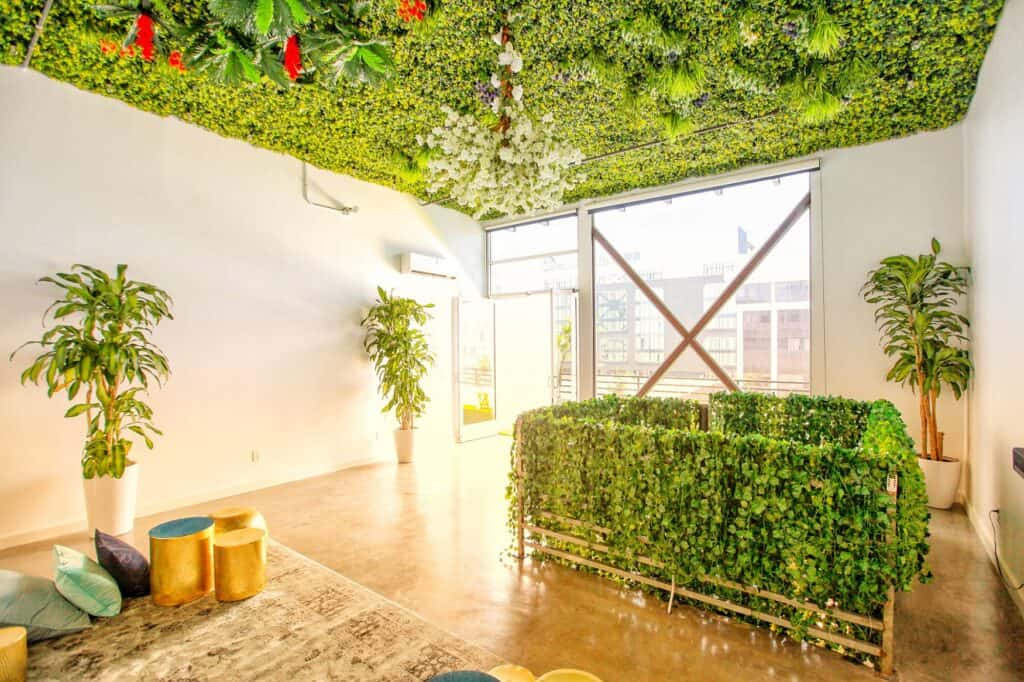 We have shown you a few indoor and outdoor Sweet 16 photoshoot ideas so far. But how about a space that can keep you indoors while still celebrating a lush, natural vibe? If that sounds appealing, then this secret garden loft in Los Angeles is ideal for you! It's a 1,600-square-foot two-story loft event space that boasts a massive balcony, Hollywood Hills views, and an upside-down garden. It's easy to imagine how much fun a photoshoot will be here, especially for your Sweet 16.
This is one of those Peerspace venues that gets a lot of love from the creative community! Here is just one of the hundreds of five-star reviews it has earned: "I love this space! It's a real treasure. Booking it was easy and everything was so easy 5 stars!!"
Peerspace brings Sweet 16 photoshoot ideas to life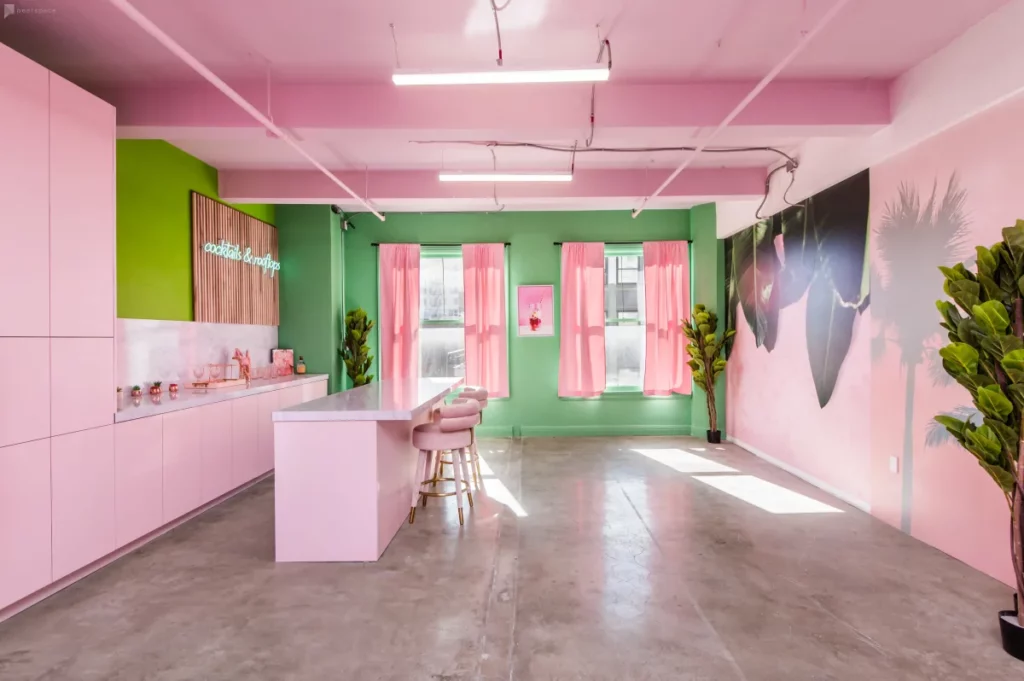 No matter your style and taste, Peerspace is home to the best Sweet 16 photoshoot ideas that your friends and followers will buzz about for years to come.
But keep in mind new spaces are added daily, so keep an eye on Peerspace to discover everything new we have to offer you! To get started searching for your own space, click any of the links on this page, then enter your location, and see what pops up. It's the easiest (and also most fun!) way to turn a milestone event into a one-of-a-kind experience.

Get together somewhere better
Book thousands of unique spaces directly from local hosts.
Explore Spaces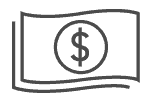 Share your space and start earning
Join thousands of hosts renting their space for meetings, events, and photo shoots.
List Your Space