How Much Does It Cost to Rent a Screening Room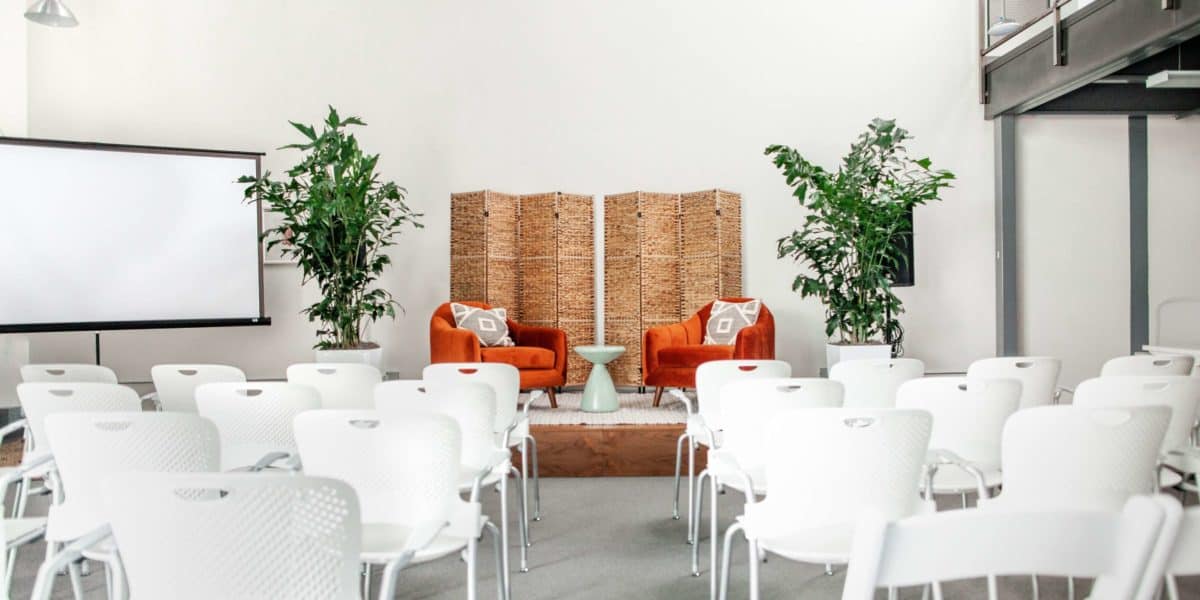 Answered
Screening Room Venues on Peerspace cost on average between $95 — $225 per hour.
A screening room is often used to showcase a new film for a small, private audience, however it doesn't necessarily have to happen in a movie theater. Renting out a movie theater can get expensive once the charges start adding up, so finding an alternative like a screening room can save you a lot of money and create a more intimate atmosphere for your audience. Whether you are screening your new film to a trusted few, having a movie night with friends, or showing a new cut of your film to your producers, Peerspace has plenty of options, regardless of budget, to make sure the viewing experience is worthy of a Hollywood premiere.
Why rent a screening room?
Atmosphere, atmosphere, atmosphere! Perhaps the most important reason – maybe the only reason – the setting in which you choose to screen a film is incredibly important to the viewing experience of an audience. Ideally the screen is large and the only focal point of the room, and the seats are comfortable enough to forget all your worries and focus on what is happening on screen. You don't want light leaking into the room and whitening the projection or casting a glare on the screen nor exterior sounds interrupting a vital piece of dialogue. The ideal room will encapsulate the audience in the world of the film.
Which brings us to the second reasons to rent a screening room: the picture and the sound. It's the entire reason the guests are there, therefore the sound and image quality need to be presented at their best. Whether you screen the film using a projector or a television, you need to make sure the equipment is functional and can be paired easily with the sound equipment the room will have. Screening rooms will already have that available for you versus your friend's house which might require additional costs just to get that level of quality for your movie.
Lastly, it adds an air of professionalism to your work, and why not? You worked hard on a film, it deserves to get the star-studded treatment. It will impress your audience to see the film in a screening room. Screening rooms also provide amenities like snacks, drinks, and movie theater seats that can keep the event fun and exciting. By renting through Peerspace, our Concierge Services can lend a hand if you need to add anything to your audience's film experience.
How to rent a screening room
Finding the perfect screening room takes a very specific search, luckily on Peerspace it is made very easy. With thousands of options to choose from in a major city near you, Peerspace allows you to filter your results through the location, the type of event, and the date of your event. The search has space for keywords such as "projector screen" or "movie theater"
Every search you do can be narrowed down by adjusting for your budget and the amount of people that will be in attendance. Oftentimes, the more people in attendance, the higher the cost. Any additional amenities can also bring the price up, this includes: popcorn machines, tables, decor, or even additional facilities like a bar, kitchen, or offices.
Whatever you need you will have multiple options to choose from since Peerspace rental spaces are made to be versatile. Yes, you can choose from a traditional theater room, but there are also spaces like lofts, production studios, performance halls, lounges, and bars to decide between. All the options have clearly defined what they can provide for your event in a streamline format, but any additional questions you might have can be addressed directly to the host of the space or to Peerspace's Concierge team.
Types of screening rooms
On top of creating the ideal atmosphere for your viewing audience, the type of screening room you choose can directly correlate with the movie you are presenting. Give it a theme! If it's a western, why not do it at a saloon style bar. If it's 1920's period piece, find an elegant theater from that era. Know what impression you want to leave for your audience by knowing your audience. The choice will be different if you are screening for your family and friends than it would for industry professionals.
Here are a few of the different types of screening rooms you can find on Peerspace:
How much does it cost to rent a screening room
Screening room rentals charge by the hour and the total cost can change depending on several factors. The amount of people participating in the screening will need to be accounted for in order to book a space that allows that capacity, often the more people you have the more the room will cost. Also if you need any additional equipment such as a projector, you will have to account for that fee as well.
Peerspace was created to give you a diverse range of locations and with that comes a diverse range of prices. From the options listed previously, the edgy and urban warehouse space costs $75 per hour with a four hour booking minimum bringing the cost to at least $300. In contrast, the large and open event space costs $575 per hour with a four hour booking minimum bringing that cost to at least $2,300. However on average, the cost to rent a screening room ranges from $150 to $500 per hour.
With whatever screening room you choose, remember that on Peerspace you have the resources to make the most out of your screening event. Whether you need more seating, A/V equipment, or catering, our Concierge team can make sure you have what you need to make the screening of your film a once in a lifetime movie premiere.