How Much Does It Cost to Rent a Tent?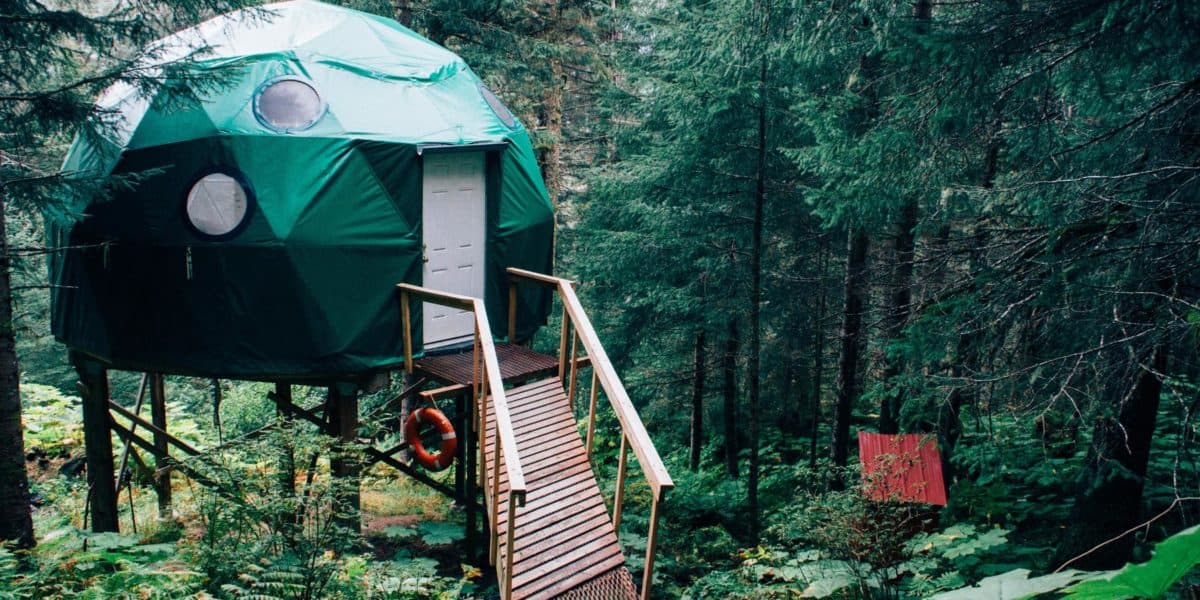 Answered
Tents and other outdoor venues on Peerspace cost on average between $75 — $200 per hour.
Whether you're an experienced backpacker, or you haven't slept outdoors since summer camp, chances are you've used a tent at some point in your life. But even those of us who travel often don't carry around a tent just in case we might need it. When you can rent everything else at a moment's notice — from beds to cars to cameras — where do you turn when you need a tent? And how much does it cost to rent a tent when you don't want to buy one of your own?
Why would you rent a tent?
First, what are some of the reasons why you might need a tent? The most common reason is to go camping, in which case you might be looking for a tent you can carry on your back. But that isn't your only option. If you don't want to carry a tent with you, then you might choose to go glamping, in which case the tent is already set up when you get to your destination.
Glamping has a reputation for being a modern phenomenon, but in fact, there's a long history of luxury camping, from Scottish earls to Ottoman sultans. These kinds of tents allow you to enjoy the appeal of the outdoors, while still having some of the comforts of home. Modern glamping options tend to be stylish and creative, with unique designs, including yurts and cocoons.
Which brings us to our second reason: photoshoots. Renting a tent in a remote area like Joshua Tree can get you closer to some of the most beautiful scenery in the country. You can use a tent as a staging area for your equipment, or as part of the backdrop of your shoot. From #vanlife to #roughingit, outdoor hashtags have become some of the most popular tags on Instagram.
Third, you might want to rent a tent to host an outdoor event. In this case, we're talking about a much larger tent, suitable for a wedding or a performance. Whether you need to accommodate just a few people or over 100, a big tent can protect your guests from the elements and lend a memorable atmosphere to a team retreat, pop-up dinner, or another kind of special event.
How to rent a tent
If you've set your sights on a tent, how do you go about renting one? While renting a tent for a backpacking trip is a little more complicated, finding a tent space on Peerspace is a breeze. All you have to do is search by event type, capacity, and location, and you'll find a range of unique tent spaces, including yurts, Bell tents, glamping venues, covered event spaces, and more.
Why rent a venue on Peerspace? For one, all of these spaces are available to rent from local hosts, so you'll get a more customized experience than you would just carrying a tent out into the wilderness and hoping for the best. If you're planning an event or a photoshoot, then you don't want to take any chances that the perfect spot will be taken before you arrive.
With Peerspace, your booking is reserved just for you, so you can count on a comfortable (and covered) environment, even on busy weekends or in the case of inclement weather.
Many of these spaces come with additional features, such as furniture, showers and toilets, and in some cases, even WiFi, lighting, and electricity. Some of them have fire pits, outdoor games, and other amenities that are perfect for an outdoor party or company picnic.
Also, you can turn to the Concierge for any special requests or equipment rentals that you want to add on to your booking. Want an oudoor movie screen and video projector for a team retreat? A formal dining table and chairs for a catered dinner? Whatever you have in mind, the team at Peerspace can help you create your own customized "event in a tent" for any occasion.
Types of tent spaces
So, what kinds of spaces are available on Peerspace and how much does it cost to rent a tent? As you'll see, the price can vary widely based on the location and capacity of the space, as well as what amenities are included. Some venues are located in urban backyards, while others are set on sprawling desert properties. Here are just a few of our most memorable options.
Most of these venues are available to rent by the day or hour, with an 8+ hour discount. If you're planning a late-night or an overnight event, check with your host to find out what's allowed at the property. The number of people allowed on site may not be the same as the number that can fit comfortably inside the tent, so keep that in mind when making a booking!
How much does it cost to rent a tent?
Now that we've seen what kinds of spaces are available, how much does it cost to rent a tent on Peerspace? The most affordable tent on the list is the Bell tent in Georgia, which can fit up to 25 people for a photoshoot or production. Located on a horse farm with pastures, old growth trees, and a bubling creek, it's available for $25 per hour, with a 4-hour minimum.
The glamping venue in Texas is more expensive, at $200 per hour, but it can fit up to 100 guests for a corporate retreat, a family reunion, or a wedding. With fire pits, games, and full kitchen and restroom facilities on-site, it's one of the most fully-equipped venues on this list.
The "Coccoon" in Malibu is one of the most picturesque spaces you'll find, with an outdoor deck, a hot tub, and a propane "fire cauldron." It's situated on a 12-acre property with a 1.5-mile hiking trail, and has parking for up to 25 cars and multiple RVs. It's ideal for photo shoots, retreats, and other private gatherings in need of a tranquil space with views of the Malibu hills.
Finally, the venues in Yucca Valley and Joshua Tree provide the most remote options on the list, with prices ranging from $95 – 225 per hour.
So next time you want to enjoy the great outdoors, don't forget to search Peerspace for some of the most memorable tents and other outdoor event spaces in the country!