Staff meetings get a bad rap as a colossal waste of time. Still, getting together as a team regularly is often considered crucial to your team's success. Avoid monologuing managers and daydreaming attendees. Instead, reinvent the narrative of morning meetings by restructuring the format and adding elements to make your time spent fun and efficient. Not sure where to start? Then check out our 13 creative morning meeting ideas.
After you check out these killer morning meeting ideas, be sure to book a stylish yet practical Peerspace venue. We are the largest online marketplace for hourly venue rentals, which includes thousands of meeting spaces in cities across the country and beyond. Besides inviting your team to a fresh space that helps you reach new realms of creativity, booking a Peerspace venue also brings you the help of the Concierge service. These event and logistics pros can source and deliver anything you may need, be it equipment, breakfast, coffee, etc., right to your venue. It takes a lot of the stress and guesswork out of planning an early morning meeting.
Why even plan morning meetings?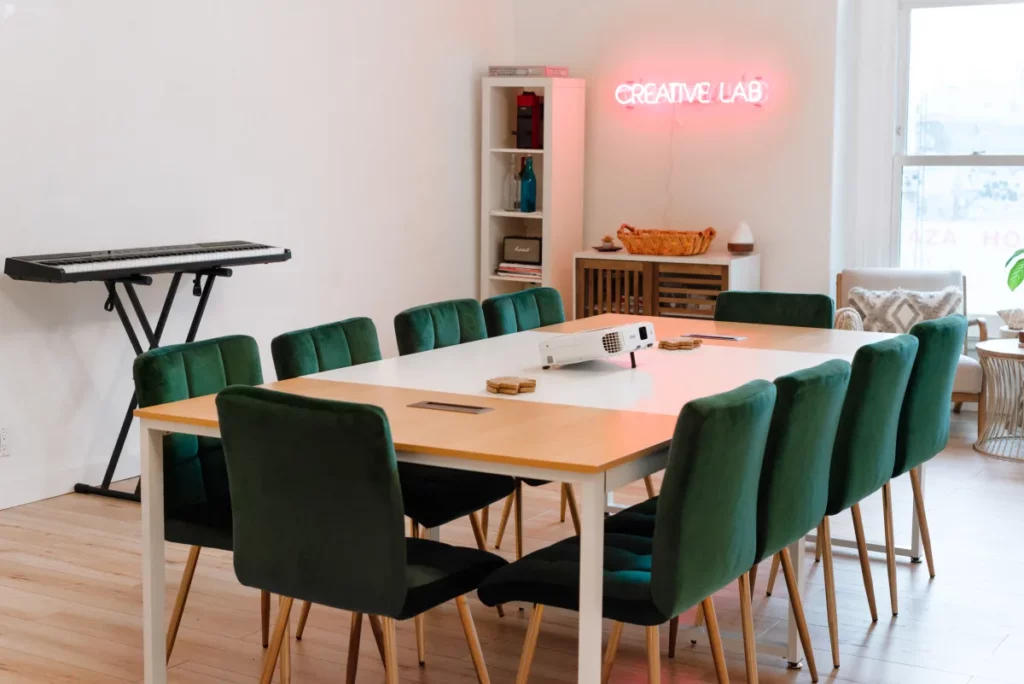 We know, these aren't anyone's idea of fun! However, when you plan them well, morning meetings can be incredibly beneficial to you and your team. Before we get to the creative morning meeting ideas, consider these three ideas.
Mix it up with three kinds of morning meeting ideas:
A quick check-in gets the team ready for the day ahead. Traffic, kids, spouses, bad weather, or forgotten lunch can make it difficult to hit the ground running. Take 15 minutes, a couple of days a week, to help each other to transition into the day. Stand up for this one! If you're on your feet, words will be brief and efficient.
Schedule a longer (think: 45 minutes) weekly meeting on either Wednesday or Friday. Vary the day from week to week and set an agenda to stay on track. Use this time to more comprehensively cover your goals and track group progress.
Close the office for a quarterly meeting. You heard me! Give your customers advance notice and don't open until noon on the day of your quarterly meeting. Review financials, schedule employee reviews and PTO, strategize for the upcoming quarter (and make sure to take a brain breaks every 30-45 minutes to refresh).
Set a timer, set an agenda, and avoid falling into a black hole of boredom by implementing a couple of these 13 smart morning meeting ideas below:
1. Bring breakfast!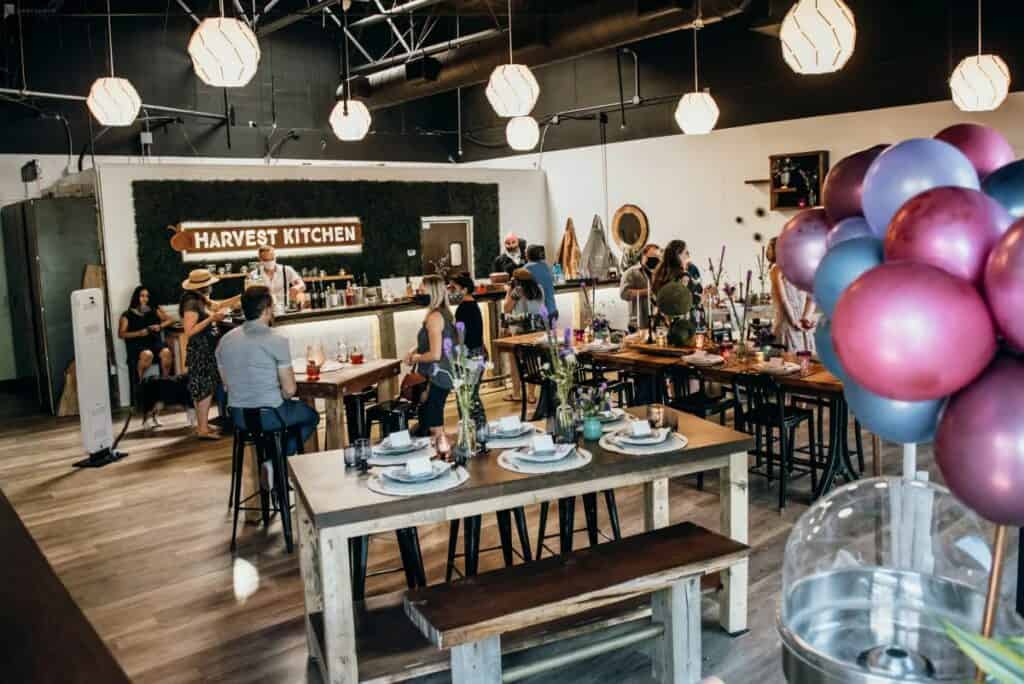 Food is the ultimate icebreaker! Is it a cheap ploy to get people to show up? Maybe, but that doesn't mean it isn't appreciated! Mix it up with bagels and assorted spreads one week, smoothies and yogurt parfaits the next, and donuts and iced coffee when things are chaotic and require a rush of sugar and caffeine.
2. Start at varying times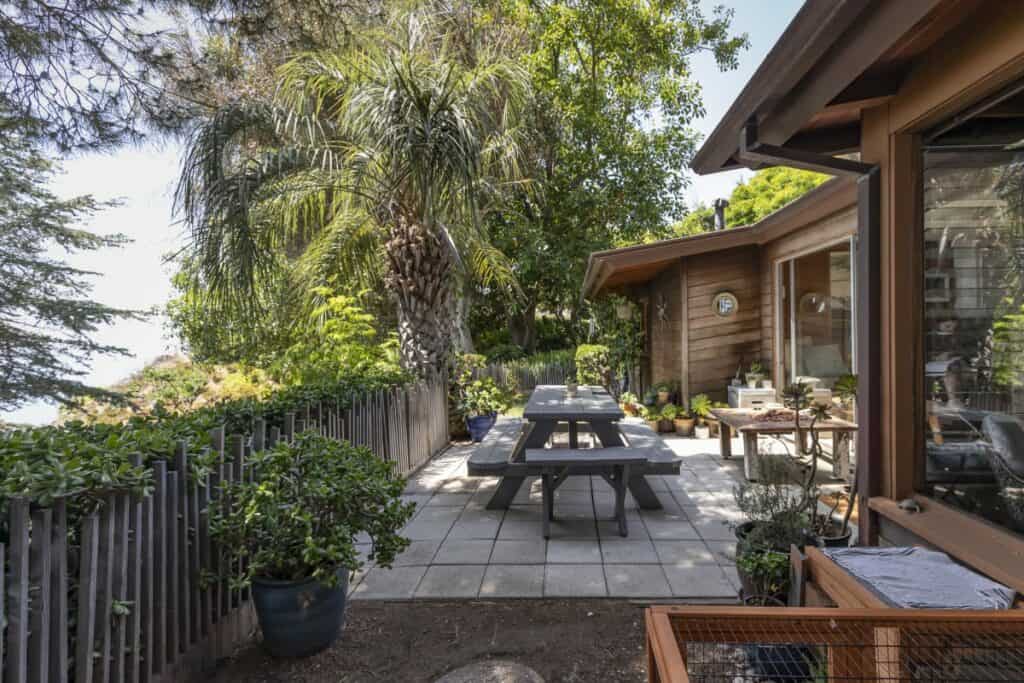 Schedule Monday and Thursday meetings for 9:30 AM. The rest of the week should include impromptu get-togethers: pull the immediate team or department aside as a group for five-minute check-ins to share quick tips, new information or to redistribute tasks.
3. Try a Team Leader "AMA"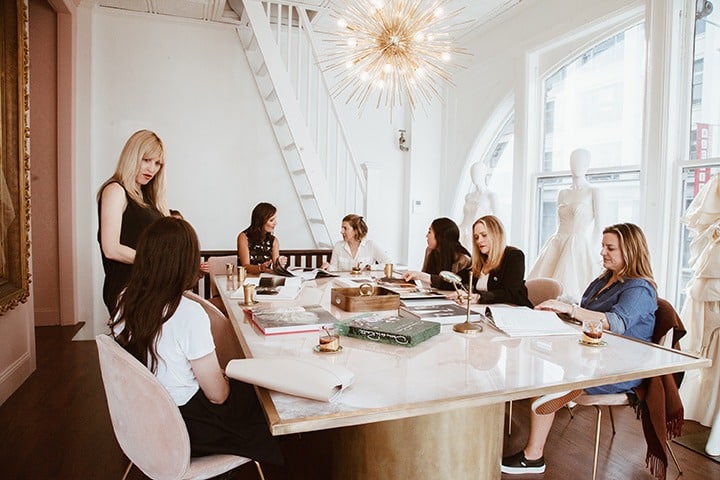 Bring in the CEO, the GM, or the Team Leader for 15 minutes of questions and answers with the team. Give everyone a general topic in advance, and keep it cordial! Face-to-face contact can solve a lot of issues and invite a more open and thoughtful dynamic.
4. Practice team shout-outs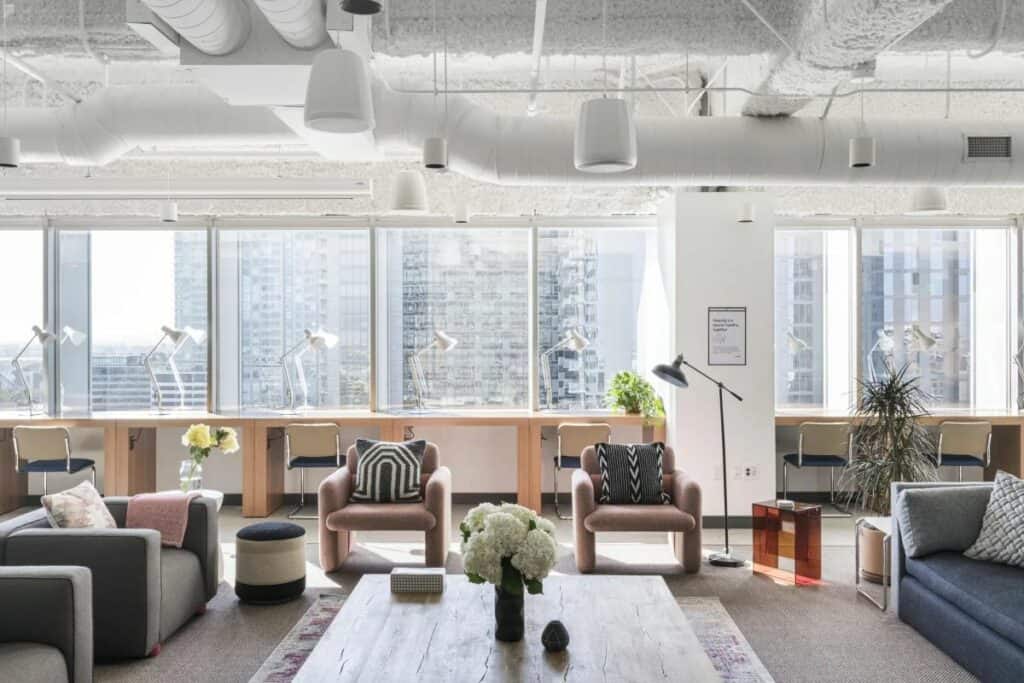 Did someone finish a large project or get kudos from a client? Is it someone's birthday? Invite your team to recognize each other by taking a few minutes to point out specific milestones, both personal and professional. This recognition goes a long way for morale.
5. Don't shy away from identifying pain points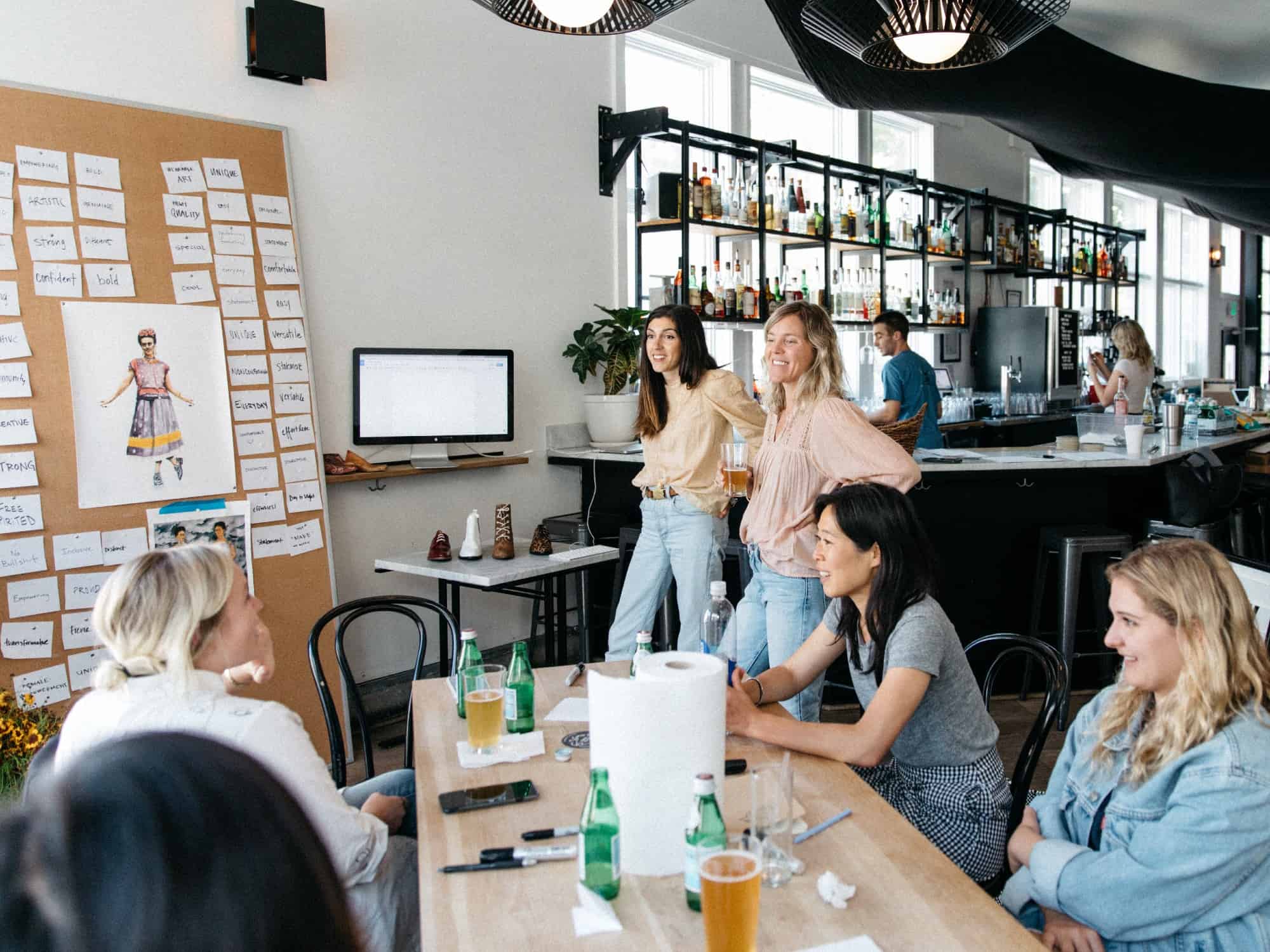 While "upbeat and positive" is the goal, everyone hits a wall sometimes. It doesn't matter if it's related to the busy season in your industry, a difficult problem (or client!), or a personal hurdle. This allows your team members to name a pain point when it happens. People need to let it out and feel heard, even if it is not necessarily work-related.
6. Keep things fun with a game of Jenga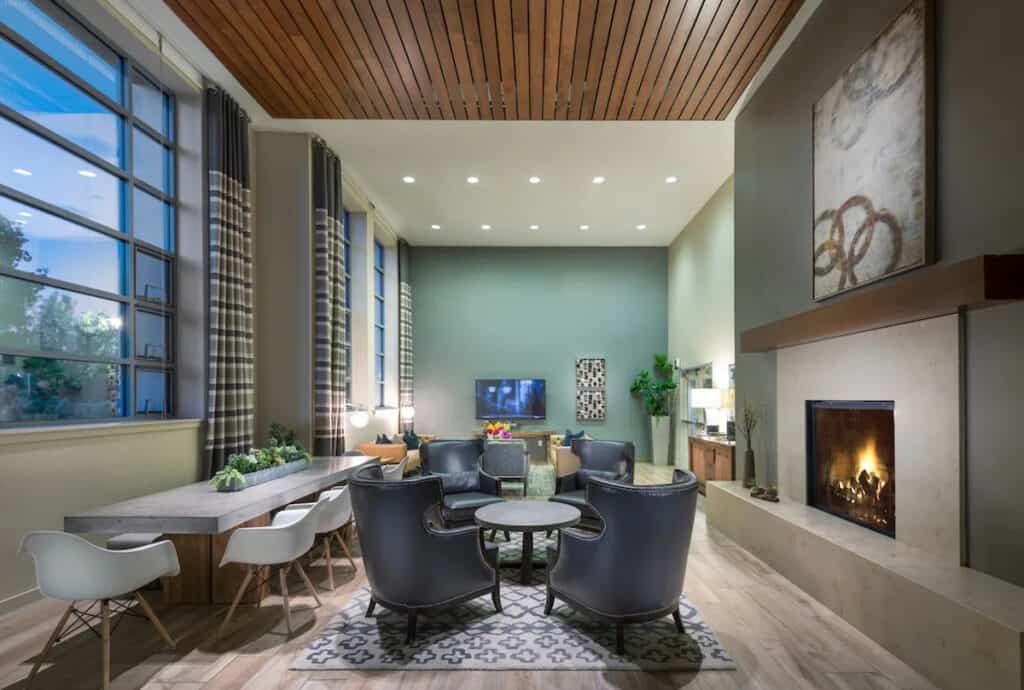 After all, nothing says "teamwork" like building with blocks! It's a game that requires patience, strategy, and a grasp of spatial relationships. The traditional version is great fun, but you haven't lived until you've played Jenga XXL, which your team can build into an 8' tower.
7. Try a word association game to inspire quick-thinking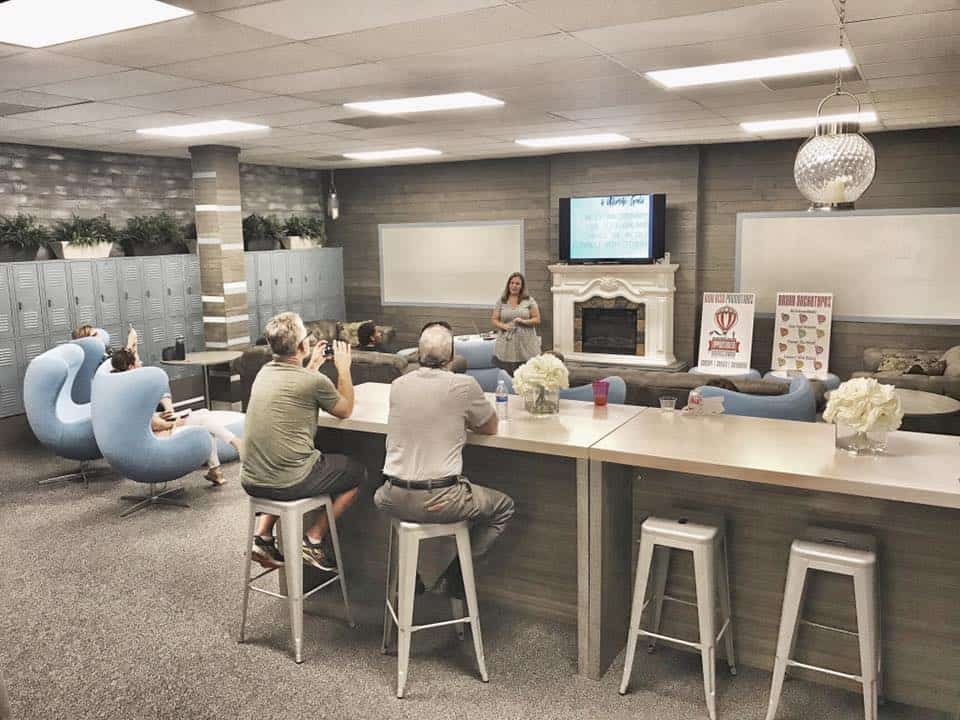 Responses in morning meetings aren't known for being quick, which is why word association games have the potential to dissolve into a lot of laughs. Take turns throwing a Koosh ball around the meeting room. The first thrower chooses the first word, and the catcher has three seconds to come up with an associated word and throw the Koosh at someone else. Players are eliminated if they repeat a word, the word doesn't fit, or they can't come up with one at all. Make sure to throw gently! No need to sacrifice a well-deserved cup of coffee by being too aggressive.
8. Plan a friendly debate
Introduce personal but non-invasive questions to the group. What was the first concert you attended? What's the last book you read? If you could choose your last meal, what would it be? When conversations start about the value of metal vs. pop or whether the book or the movie was better, let it happen! Comfortable coworkers are engaged coworkers.
9. Change it up and play some unexpected six-cup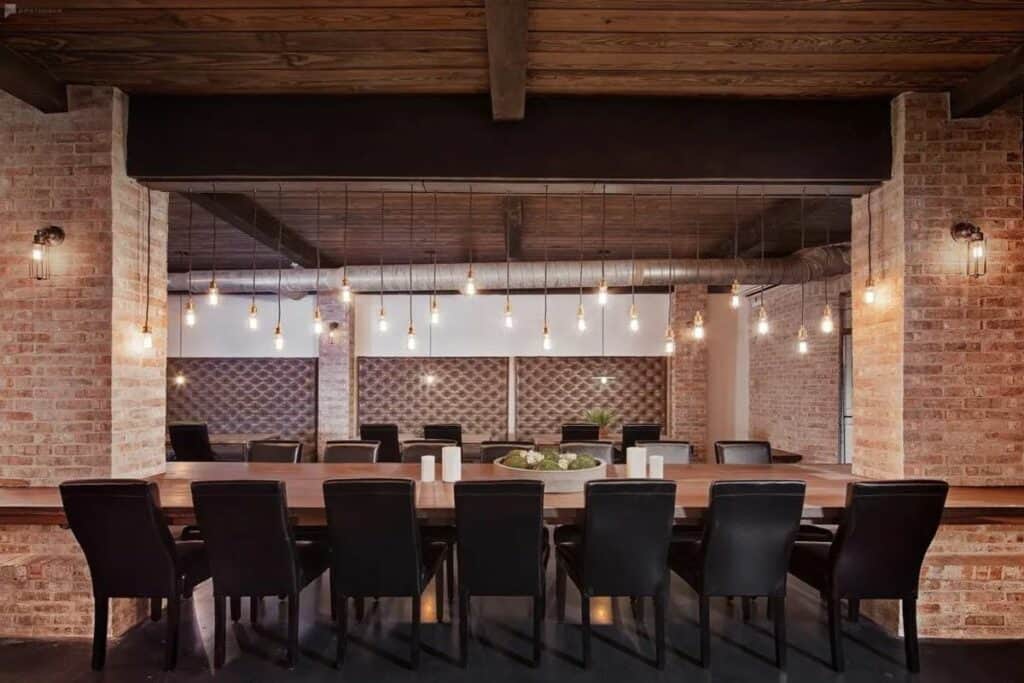 You may have called it by a different name in college, but everyone knows how to play. Set up 6 cups of water at either end of the conference table, then teams alternate tossing ping pong balls into cups from opposite ends. When a ball lands in the cup, remove the cup from play. The first team to eliminate all of the opposing team's cups wins!
10. Encourage everyone to share some news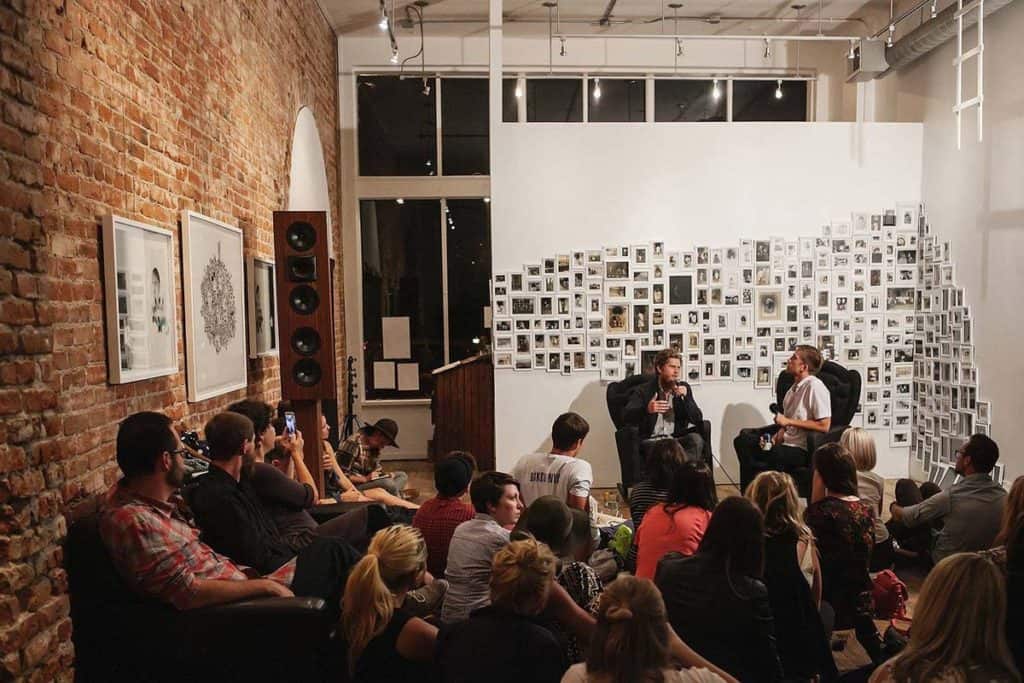 Nudge your team to share things that are loosely related to your industry: tax law changes for accountants or the opening of a new restaurant for hospitality pros. Client news is fair game, too! Sharing personal/business tidbits — business acquisitions, re-branding, marriage, or a new baby — are also a great way to continue empathetic contact between you and your customers.
11. Start a community service brainstorm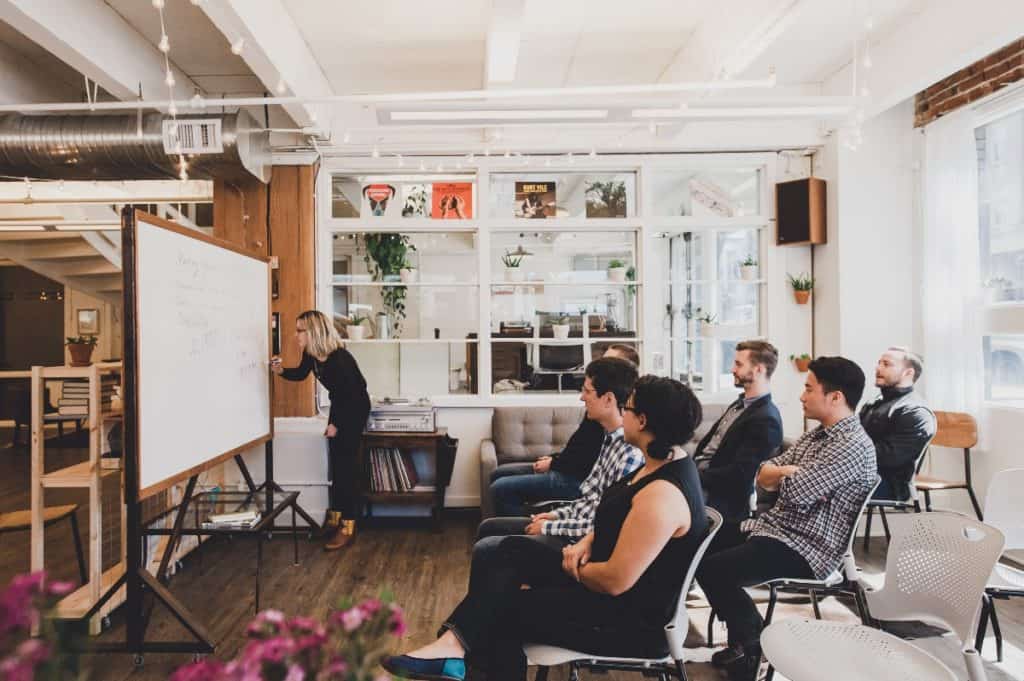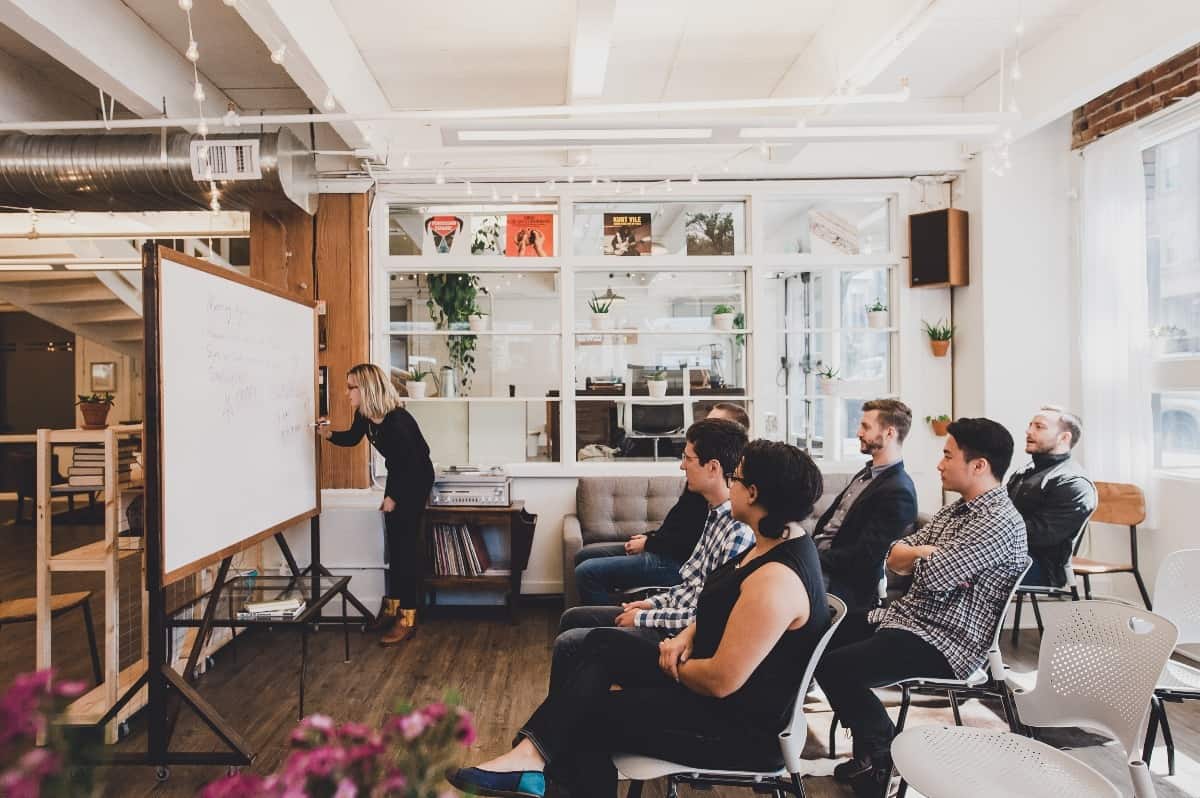 Supporting the greater good is a great motivator and morning meeting idea! Team members have the opportunity to give a sales pitch for a charitable organization to support that month. Describe the mission and vision of the organization and how the company can best support them. Create a team for a charity walk, buy a table at a fundraising dinner, or have an office initiative to collect small donations in exchange for "privileges" (dressing down, a better parking space, extra minutes of PTO).
12. Step outside!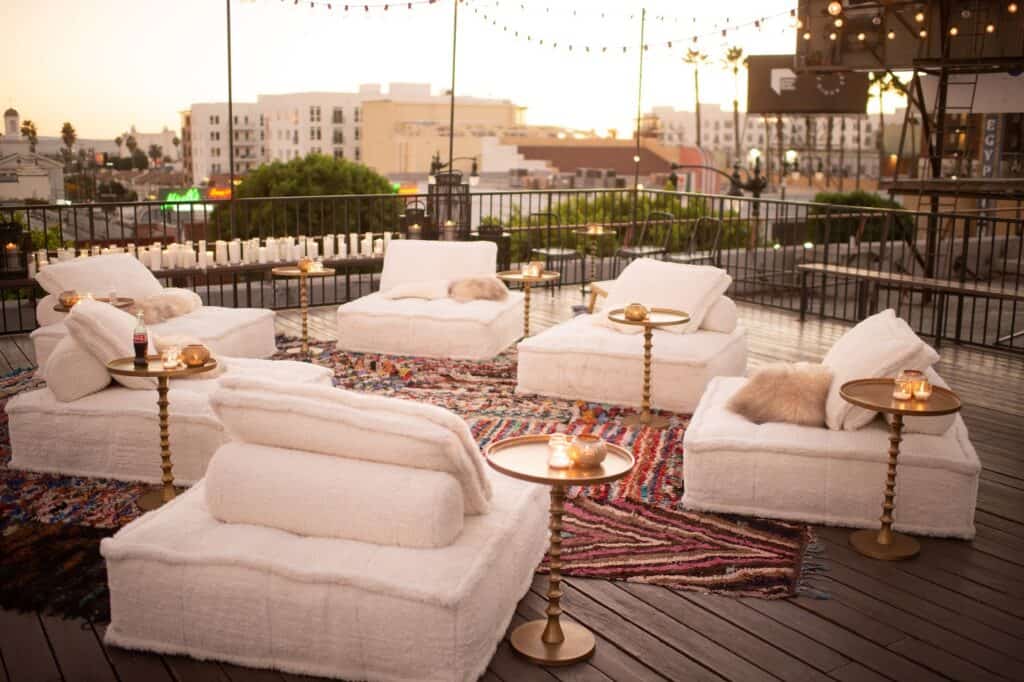 Simple, right? However, depending on the weather and the intensity of the meeting, fresh air is never a bad idea. It doesn't matter if it's a picnic table outside or a trip up to the roof of the building. Get out of your physical comfort zone and see things from a different perspective for a few minutes.
13. Stretch as a group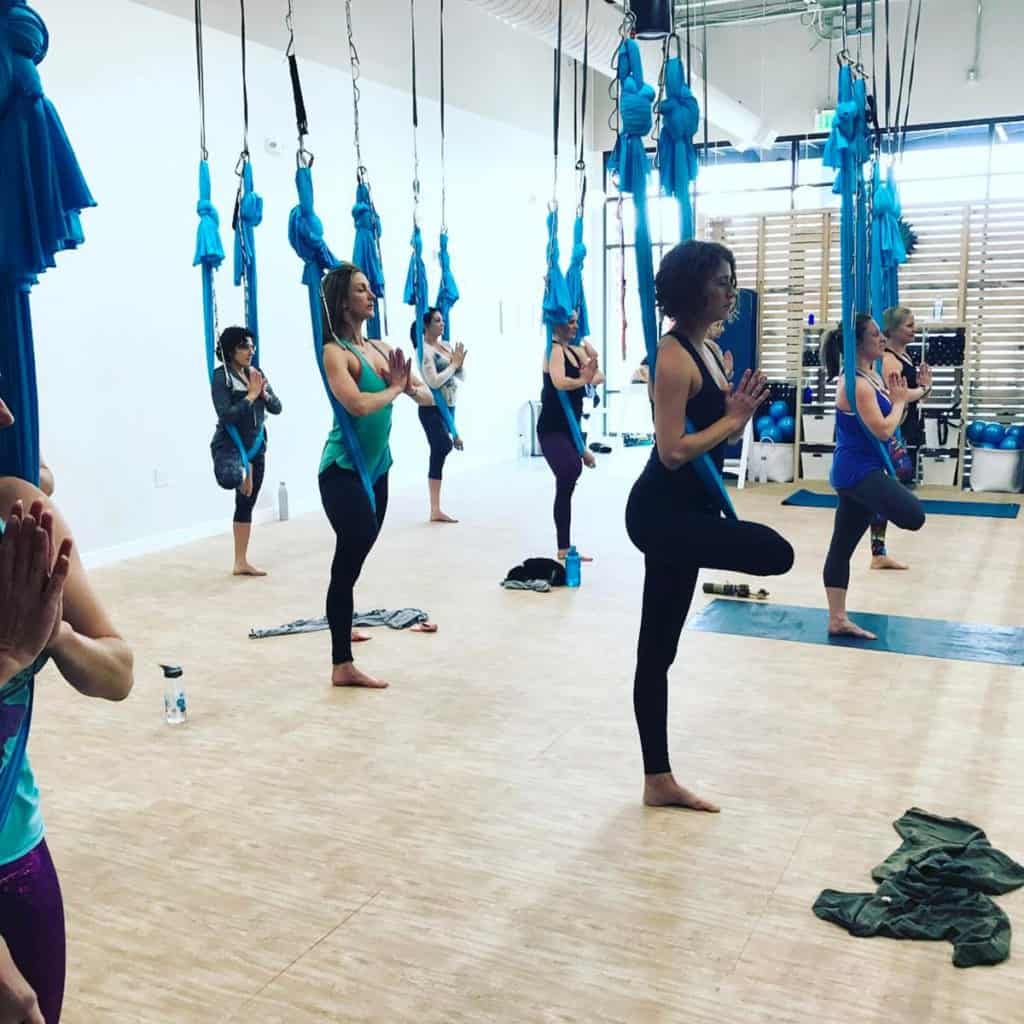 Take a cue from your favorite yogi and remind each other to exhale and loosen the jaw for a few moments. Unclench the shoulders and do a few side-to-side neck stretches or a cross-body shoulder stretch. Did we mention that, even during the busiest of seasons, you shouldn't forget to breathe?


Morning meeting ideas are better at a Peerspace venue
Boredom and lethargy kill creativity. Head it off at the pass with these 13 creative morning meeting ideas. And if you're looking for a unique space to host the team meeting next, book a Peerspace. We have bookable offices for every type of team and budget in cities across North America and beyond.
Spaces are available to rent by the hour and come equipped with furnishings and equipment in a stylish, clean space. Plus, you'll have full support from the Concierge service to source and deliver any extras you want, like a delicious catered breakfast and high-tech A/V equipment. With Peerspace venues and services, morning meetings never looked so good.


Get together somewhere better
Book thousands of unique spaces directly from local hosts.
Explore Spaces
Share your space and start earning
Join thousands of hosts renting their space for meetings, events, and photo shoots.
List Your Space