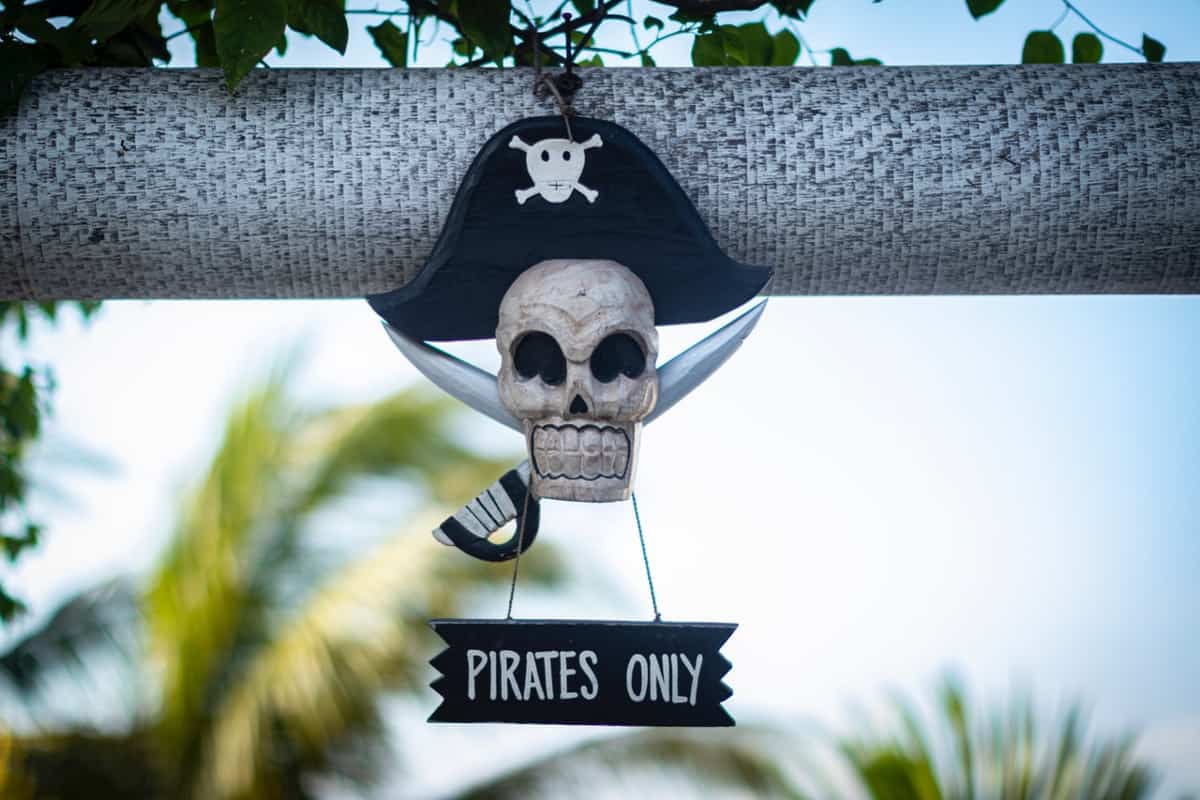 Arr me maties, it's time to load on the ship and go search for buried treasure! All you need to do to get this party started is gather the crew because we have the rest of the planning done for you! For a truly unforgettable pirate adventure, here are our top pirate party ideas:
1. X marks the spot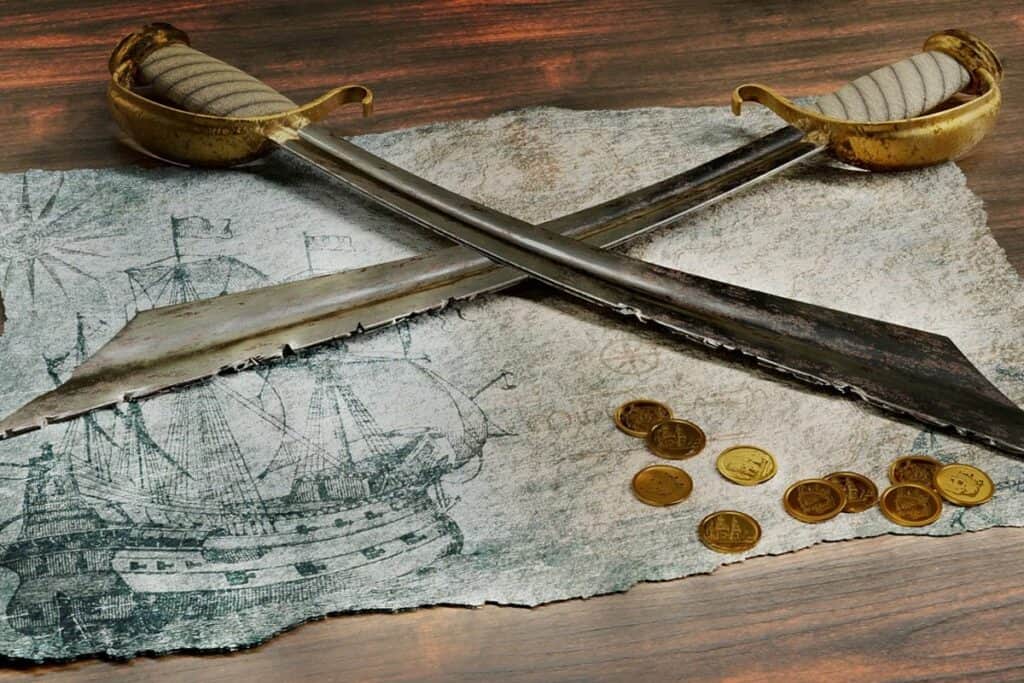 What would a pirate party be without some pirate's booty?! It's time to search the land near and far and surprise your guests with the best party favors in the land! Set up clues and challenges along the way for the kids to enjoy. You can use games (like our 11th idea in this post), crafts (like idea #4) as challenges guests must solve before getting the next clue. End the last clue with fun pirate-themed prizes, like stuffed animal parrots, eye patches, golden coin chocolates, and more!
2. Book a venue on Peerspace
No room to fit all your pirate party ideas in the house? Do the kids already know all the hiding spots you'd use for a treasure hunt? Looking to commandeer a boat for the party?! Whatever the case, Peerspace can help you find the perfect venue for the event! Just search birthday event venues in your area, and you'll be met with tons of options with tons of information, reviews, and photos for each venue. Narrow down your search by using keywords, and feel free to chat with the host before you book to make sure the space is a perfect fit!
3. Movie night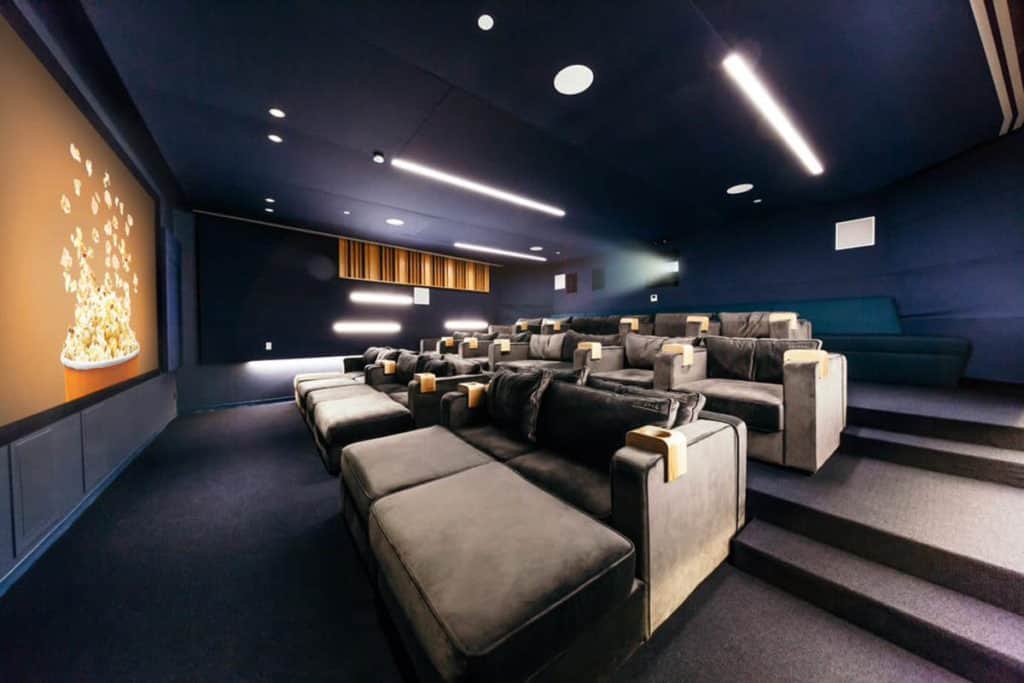 Celebrate the day with your closest maties, favorite foods, and the all-time best pirate movies! From Pirates of the Caribbean and The Princess Bride to Peter Pan and Treasure Island— there are so many great pirate movies you can theme your party after!
4. Treasure chest creations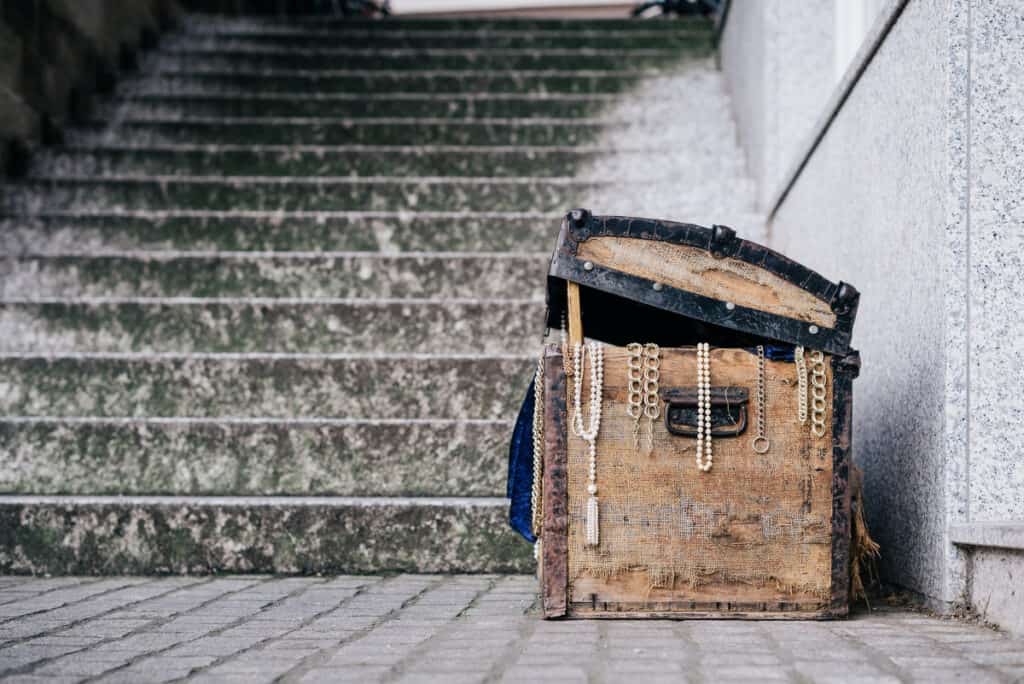 One of the best treasures is the art your children create on their own! Let the kiddos decorate their own treasure chests (out of boxes or egg cartons) and fill them with items they create and plunder! Provide the kiddos with beads and string to make necklaces, chocolate coins to collect (or eat), eye patches and bandanas to decorate, and more. This will make a fun birthday activity, but each child will walk away with a special birthday favor to bring home!
5. Visit a pirate ship
If you live in the South, we bet you can find a pirate exhibit near you to adventure to for the party! A few of our favorite options are Jean Lafitte National Historic Park and Preserve in New Orleans, LA (the only national park named after a pirate!), The St. Augustine Pirate & Treasure Museum in St. Augustine, FL (with the world's largest collection of pirate artifacts!), and Miss Hatteras Captain Clam's Children's Pirate Cruise (pirate costumes and play swords included!).
6. Go to a pirate festival
There is no need to come up with Pirate birthday ideas if someone has already done all the hard work of planning for you! Search for pirate festivals in your area, as the U.S. is home to tons of fun pirate-themed festivals. Lake Charles, Louisiana, hosts a two-week-long festival called Contraband Days, and Tampa, Florida's Pirate Festival features a huge parade complete with a 100-foot pirate ship. In other states, pirate festivals include: "Rusty Scupper's Pirate Daze" in Washington, "Palmyra Pirates Weekend" in New York, "Iowa-Minnesota Pirate Festival" in Iowa and Minnesota, and "Northern California Pirate Festival" in California, and many, many others!
7. Pirate invasion!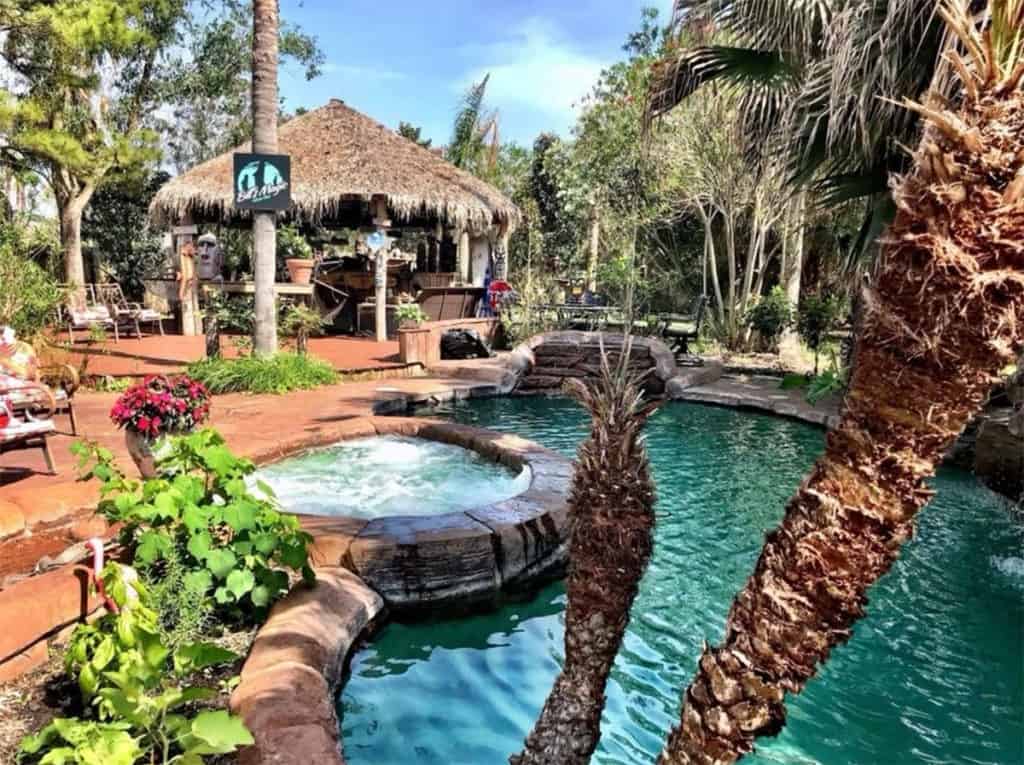 Protect your flag, and don't let anyone commandeer your ship! This easy-to-organize pirate party idea is just a pirate version of capture the flag! You can either have ready-made flags or have teams create their flag before the game. If you dare, spice up the game's difficulty by requiring it be played with eye patches on (with the two teams having different colored eye patches). Then, celebrate the end of the game with cake and ice cream!
8. Are you a real pirate?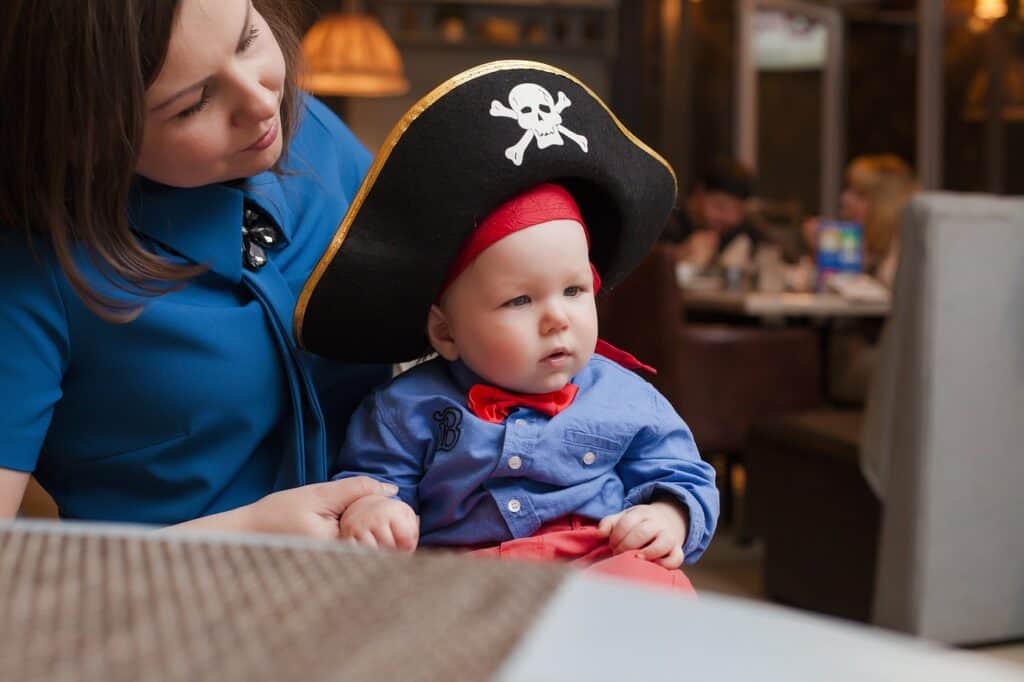 Let each guest show how well they can play the part of a pirate with a costume contest and photoshoot. You can ask each guest to come with attire already on or have activities around creating their costumes! Use cups and sticks to make "hooks," cut out and decorate eye patches from felt, tie bandanas on their heads and maybe even paint on some beards! Also, consider hiring a photographer to get some unforgettable pictures of each pirate at the party in their pirate attire!
9. All aboard!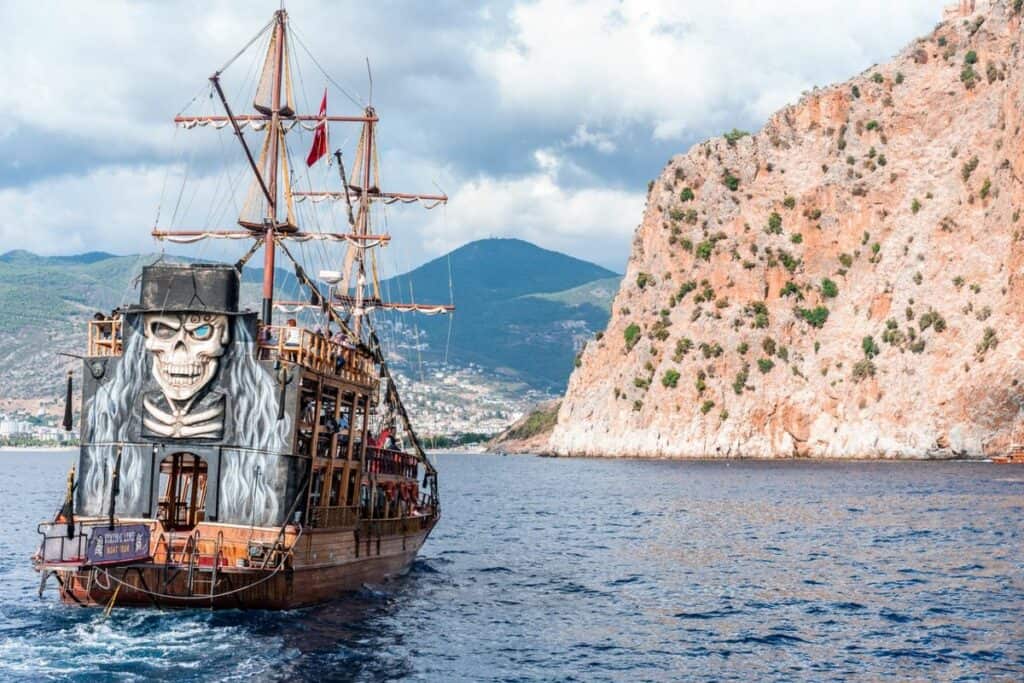 If your kids love building forts— put their creativity to the test with a pirate boat building activity! Supplies can be as simple as cardboard boxes, paint, and old sheets. Once they're done, fill the pirate ship fort with pillows and use it for all the kids to pile into for watching a pirate movie of their choosing.
10. Buried treasure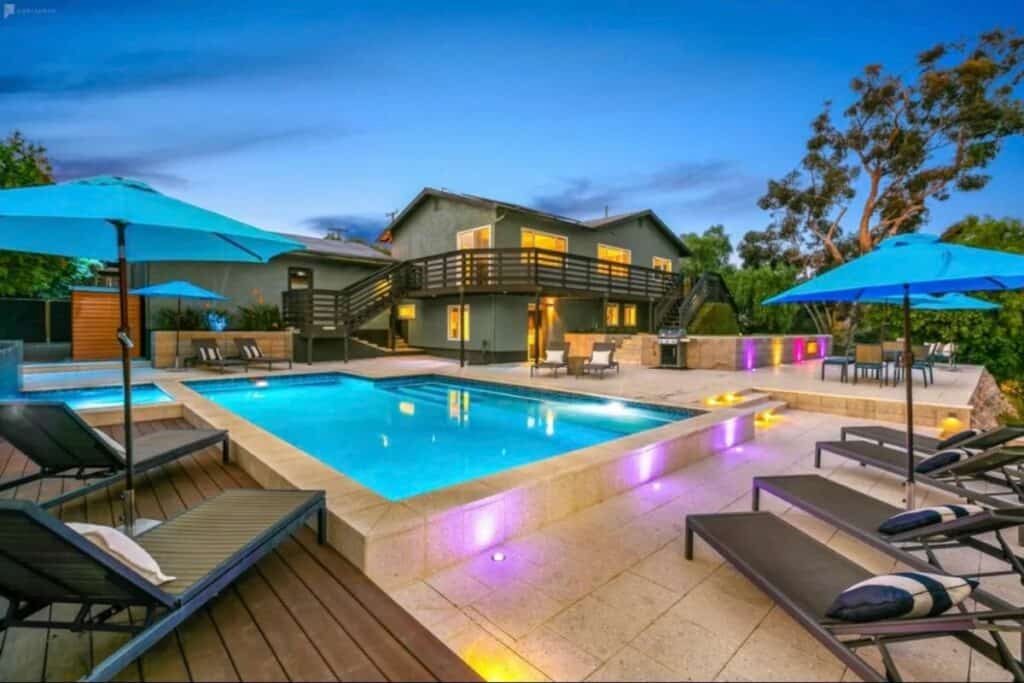 Oh no — all the treasure went overboard! Time to fish it out of the ocean. Fill a kiddie pool with coins, stick some magnets to old fishing rods (or just sticks and string) and let the kids fish out as much pirate booty as they can. Didn't get it all? Time to put on some goggles and go diving!
11. A pirate's life for me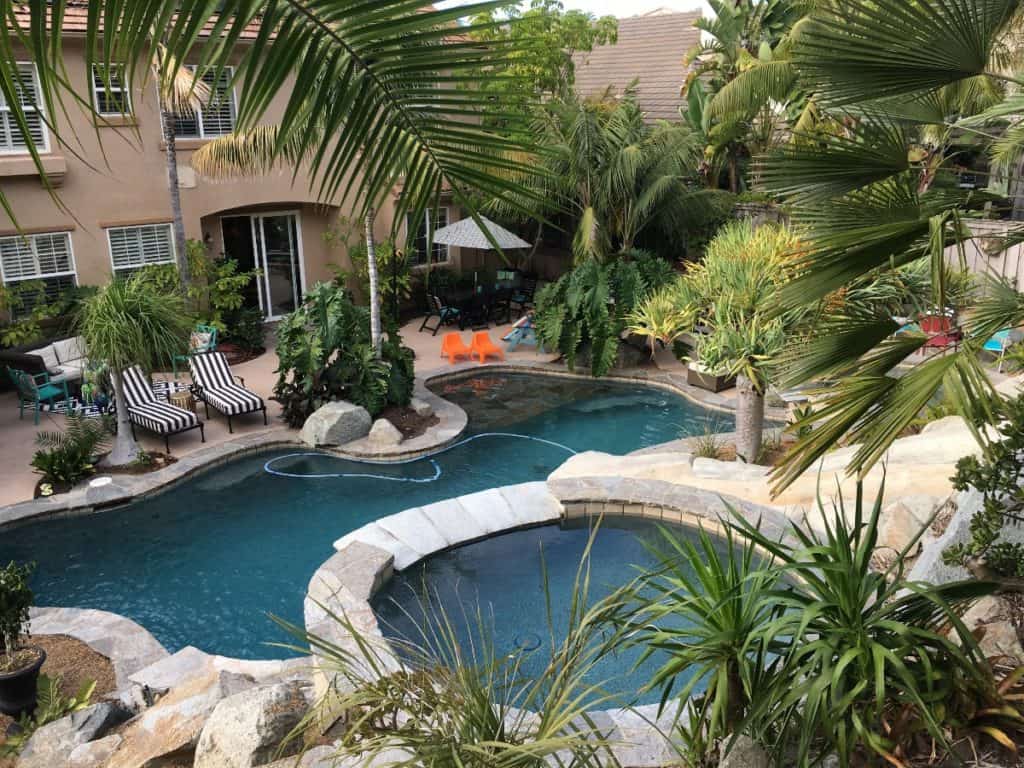 The camp game "Shipwreck" is a perfect fit for a pirate party!
Set a perimeter for the game and let kids know that anything in this perimeter is the "boat." Teach kids commands like, "if I say 'starboard,' run to the left of the boat." If someone does the wrong action, they are now "it" (the captain that has to call out commands). You can come up with your own commands or use these:
Port: run to the right side of the boat
Starboard: run to the left side of the boat
Swab the deck: pretend to be mopping
Drop anchor: sit cross legged and put your arms together in the air to look like an anchor
Row to shore: get four people together, sit down, pretend to paddle, and sign "row, row, row your boat" (if a team doesn't have four people, one of them is now "it"/the captain!)
Shark attack: the captain is now a shark and whoever he tags is now the new captain!
Get together somewhere better
Book thousands of unique spaces directly from local hosts.
Explore Spaces
Share your space and start earning
Join thousands of hosts renting their space for meetings, events, and photo shoots.
List Your Space