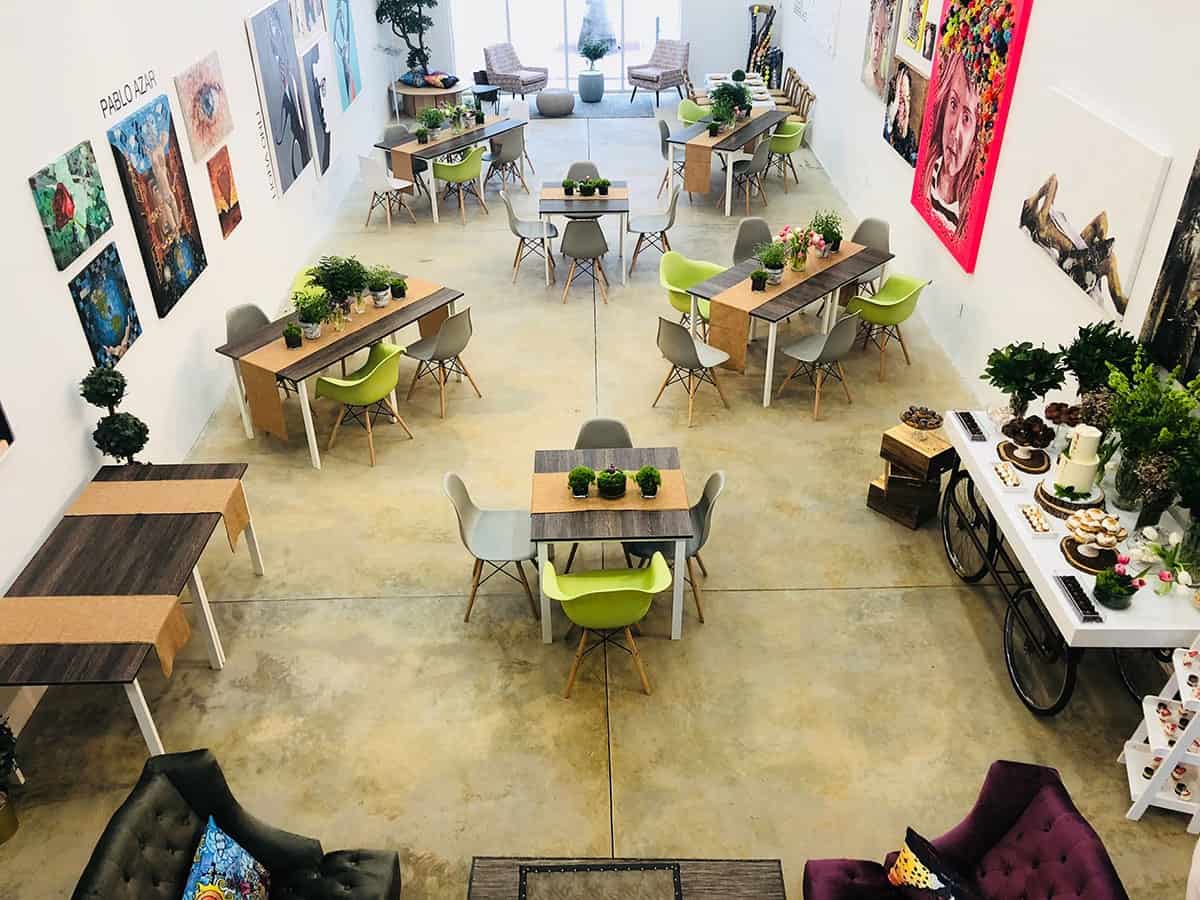 Trade shows play an important role in many industries, giving small and large businesses alike the opportunity to network, meet potential clients, and learn about new products and technologies. For first-timers, it may seem daunting to figure out how to plan a trade show on your own. Luckily, many of the basic steps will be the same regardless of your industry.
Whether you're hosting a traditional trade show like a book expo or something less conventional like a float tank conference, you'll be in charge of finding a venue, booking exhibitors, scheduling keynote speakers, arranging catering, and more. Let's walk through the essentials of how to plan a trade show.


What is a trade show?
To understand how to plan a trade show, you'll want to start by learning what sets them apart from similar events. Trade shows differ from conventions in that they're usually restricted to members of the industry and press.
Exhibitors rent booths where they can display their products, distribute promotional materials, and conduct press interviews. Some trade shows may be open to the public for a portion of the event, but that's not usually the primary focus.
Major trade shows take place in convention centers and attract people from all over the country — or the world. Smaller trade shows may focus on local businesses and take place in a local hotel or event venue. They can last for a single day, an entire week, or a weekend.
So, how do you go about putting one together?


Do your research
First, you should begin planning for your trade show up to a year in advance. You'll need time to find the right venue and spread the word about your event.
Do your research and estimate how many businesses are likely to attend your show. Are you in a major metropolitan area? Is your industry lucrative enough that people will travel from far away to attend your show? There's nothing worse than booking a major venue to find out no one's going to show up for it due to another event occurring the same weekend.
Get to know the industry and find out what pressing issues people want to see addressed at your show. Find out if similar events have taken place in other cities, and use that as a starting point to estimate your attendance. If you can get major brands to sign on as exhibitors or sponsors early on, you'll have an easier time drumming up interest for your event.
Find a venue
Once you have a rough estimate of your attendance and have selected the location and dates for your show, it's time to start looking for a venue. According to Mike Bruley, the SVP of Freeman, "Audiences increasingly seek nonconventional venues or spaces. These include airport hangars, castles, rooftops, and even parking lots."
Fortunately, you don't have to look far for a non-traditional event space for your trade show. On Peerspace, you can rent a variety of unique venues directly from hosts, such as this 1,900-square-foot contemporary event venue close to Warner Bros., which is situated in Burbank, CA.
In Portland, OR, you can rent a waterfront event space in a funky hotel and, in New York City, there are dozens of high-tech event spaces to choose from.
At some venues, you can arrange for catering and bar staff, as well as A/V and furniture rentals, directly from your host.
Customize your search filters for specific amenities or a certain capacity. Peerspace also offers a Concierge service if you need personalized help. In addition, the Concierge can connect you with local vendors who know how to plan a trade show and have all of the resources you need for your event to be a success.
Don't be afraid to start small — a modest venue that's packed with exhibitors gives off a better impression than a half-empty stadium. You can always increase the size of your show in future years.


Promote your event
Once you've booked your venue, it's time to spread the word. Landing a big-name speaker will help build some buzz, as will social media promotions and sponsorships. Getting a local radio station or newspaper to sponsor your event will help boost your visibility.
You may also want to plan additional activities, such as an opening or closing party. Some vendors may throw their own parties, but it's a good idea to have a few of your own events on the schedule, where you can control the branding and entertainment.
Consider hosting a ticketed dinner with a local chef or a performance by a major band, DJ, or stand-up comic. Arrange for local food trucks to be available outside the venue in the evenings. The more fun activities you can include, the more memorable your trade show will be.
Book exhibitors
As word of your trade show spreads, vendors will start renting out space for their exhibits. Start planning the layout of your show, and charge more for booths in high-traffic locations.
Release a map of your exhibition space and event calendar as soon as possible. This will help your exhibitors plan for the event. Send all of your vendors an info kit a month in advance so they know when and how to move their equipment in and set up their booths.
Plan to have a media room where bloggers and journalists can access snacks and press kits. If you'll be offering catering to attendees, arrange this in advance and let vendors know if food will be included.


Enjoy the show
Once your event begins, be sure to have enough staff on hand to keep things running smoothly. Consider offering volunteers free entry or gift bags in return for their support. Greet members of the press and your keynote speakers, and make sure they're well-fed and comfortable.
Remember: your vendors are paying a lot of money to attend and hoping to leave the event with new products, clients, or information to help them grow their business. Hopefully, you'll earn a profit on ticket sales, too, and be able to host the event again the following year.
Hosting a trade show is a lot of work, but successful trade shows take on a life of their own. For example, the Consumer Electronics Show (CES) attracts over 100,000 people each year. You don't have to aim that big, but now that you know how to plan a trade show, start browsing listings on Peerspace and find the perfect venue for your industry event!


Get together somewhere better
Book thousands of unique spaces directly from local hosts.
Explore Spaces
Share your space and start earning
Join thousands of hosts renting their space for meetings, events, and photo shoots.
List Your Space