---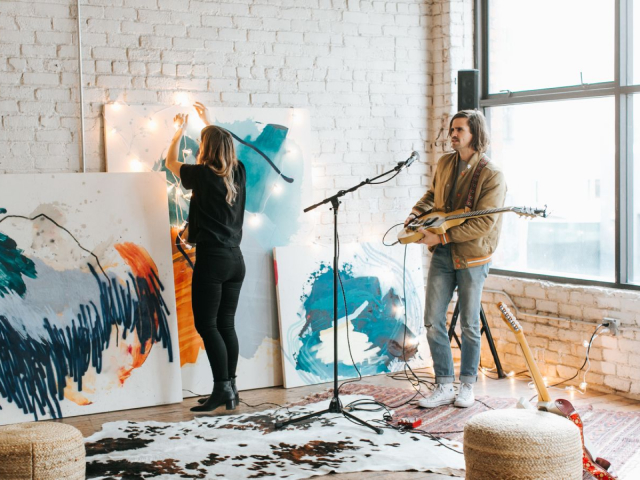 How fundraising event venues work on Peerspace
Peerspace is the easiest way to book unique spaces for meetings, events, film, and photo shoots.
The most locations
Every day we uncover new, creative spaces — from neighborhood galleries to hidden rooftops, and beyond.
Honest pricing
Our spaces are priced to fit your budget. Pay by the hour without worrying about hidden fees.
Smooth bookings
No more messy contracts. We build the tools to make booking a space as easy as the click of a button.
Discover Spaces
---
Popular fundraising event venues
---
Find fundraising event venues near me
---
LEED Certified Top Tier Silicon Valley Venture Office/Beautiful Grounds
Foundation Capital was the perfect space for our fundraiser. Paul & staff we extremely accommodating and were the perfect h
osts. They assisted our Foundation with set up, clean up and during the event. Sharon, the on site manager was absolutely fantastic and went above and beyond. All of our guests raved
...
Stunning Multi-Floor Indoor/Outdoor Loft w/ Luxe Amenities & Outstanding Service
The venue was perfect for our fundraiser. The open loft/patio layout gives so many options on how to host your event. Tha
nk you for being so accommodating. After our walk-through the day prior to our event, all the tables and chairs were in the set up that we wanted
...
6,000 ft² Spacious Industrial Event Gallery - Full Venue
Katie was fantastic! Helping us every bit of the way for our nonprofit fundraiser. The space was beautiful and perfect for
our event allowing a good flow for attendees throughout the night. Thank you so much! We will definitely be back
...
Funky, wide open loft space on Chicago's north side...think SoHo in Chicago.
but it is HUGE inside, and has wonderful ambiance! Scott answered all of my questions, made sure that we were set up for our fu
ndraiser, and made sure the evening ran smoothly. I can't recommend booking with Scott enough
...
Exquisite LA Modern w/ Open Floor Plan
The space was unbelievable. Looks exactly as pictured! I rented it for a fundraiser. Just make sure to contact host about h
eating the pool ahead of time
...
Downtown LA huge 7,500 sq. ft. space Hourly rent 24/7 for Private Events, Weddings, Dinner Parties, Film / Photo Shoots, Exhibits
Booked this beautiful space for a fundraiser a couple months ago. Had an amazing experience the host was able to provide ev
erything I needed. I will highly book this space again in the future
...
@dafstudios :Huge Eastside warehouse space/studio w/30' cyc wall
The space was wonderful! Ideal for us throwing a carnival-inspired fundraiser and party! Really enjoyed the space
West Loop Loft Space with Skyline View and Roof Top Farm
dream on site! Helpful and available without being in the center of it all. The space is wonderful, as well. Hosted a 50 person
>fundraiser for an LGBTQ non profit and our guests loved its rustic and yet urban feel. Highly recommend
...
Rooftoop Noho Artist Studio
celebrity charitable fundraiser