12 Best Boudoir Photographers in D.C.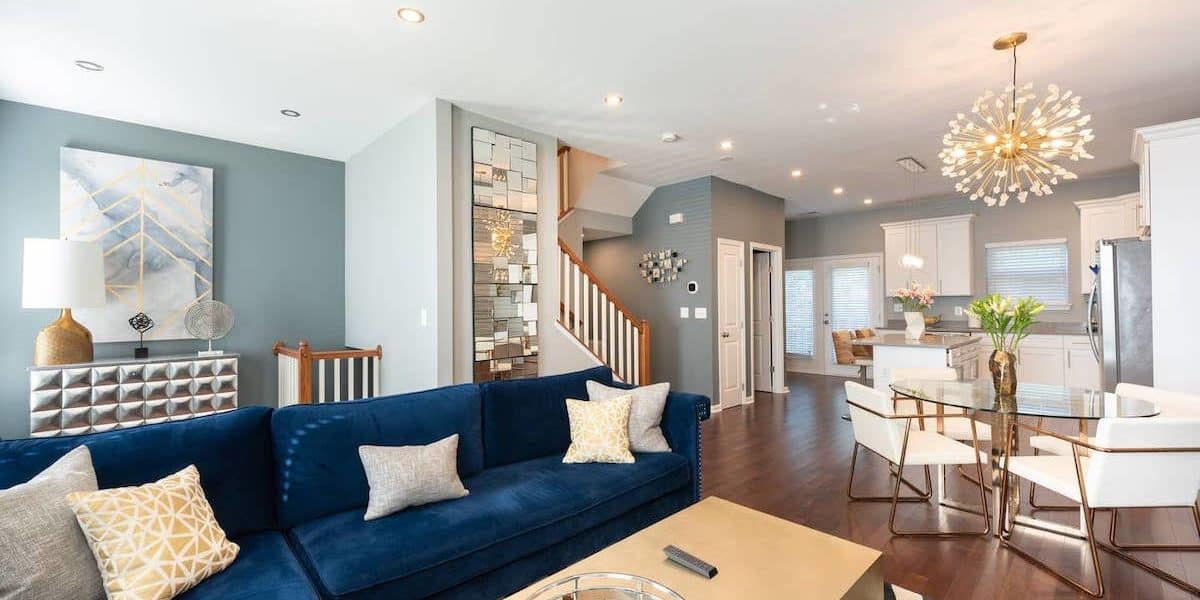 Washington D.C. is more than just the country's political hub. It's a bustling, historical city built on a backbone of arts and culture. After all, it's home to the National Portrait Gallery. No photographer is out of place in the D.C. area—it's chock-full of cool locations to have a photoshoot, including countless rooftops with city-wide views to make any kind of session pop.
Boudoir included.
If you're in the District and have toyed with the idea of booking a boudoir session for yourself, look no further. The following D.C. boudoir photographers are known for their ability to empower their subjects as they capture them.
Washington DC boudoir photographer Kate Andreya takes minimalistic portraits of her subjects. Her best shots involve her models in front of a backdrop, simply being themselves, with no distractions. But even shoots that do have a bed, a window, or a dresser (like the ones you'd find in this carriage house creative studio) give off the same solitary, emotive vibe. These intimate portraits are a refined window into the lives of her models, to celebrate the women for all that they are. We love her classy, fine art approach to boudoir, and we have a feeling you will, too.
Veronica Campbell is an intimate portrait artist you want on your side. She photographs everyday women helping them connect with their bodies in a sultry, empowering fashion. No matter your job, walk of life, body size, or sexuality, Veronica strives to create a comfortable place in front of her camera. With portraits that range from pin-up bombshells to moodily documentarian, her portfolio is full of women who genuinely look elated to be where they are. Now the owner of her very own Annapolis studio space, there's nothing stopping you from reaching out.
What first stood out to us about Stephanie Michelle's work was her command of light. In many of the portraits in her portfolio, natural light washes smoothly over her models' curves, accentuating and bringing the photographs to life. Her private, woman-only studio, The Babe Haven, is a place for women to let go of her inhibitions and to let loose of all the pressure she's ever put on herself. DC boudoir photoshoots with Stephanie include glamorous hair and makeup services, and an expansive client wardrobe. With all that in store, what are you waiting for?
Washington DC's boudoir photographers excite us in general, but Julie Socher is on another level. For the sought-after Julie, boudoir is an unapologetically empowering way for women to let go of their worries and self-doubt. It was this fact that drew her to the art of boudoir eight years ago, though her photographic career itself has lasted much longer. Her luxury color portraits are something quite special. Julie is a member of the Association of International Boudoir Photographers, and you might have also seen her work in Philosophie Magazine's Empowerment & Diversity Issue. We'd love to book some time with her in someplace like this uber-stylish loft and create a photoshoot concept to cherish for years to come.
Boudoir photography isn't just for one age group. It isn't for one body size, skin color, or even gender. Portrait photographer Phoebe Rust's portfolio is filled with people of all shapes and sizes looking as beautiful and as sexy as any Hollywood actor. Documentarian by nature, Phoebe's door to photography was personal, but it was also a way for her to hone her natural talents and pay it forward. We love the diversity in the women who trust in her and she captures them as stunningly as they look beyond the lens. Her thoughtful and technical approach to her work has cemented her position among the best boudoir photographers in Washington DC, whether she's shooting in a bedroom beside a window or a full-scale studio with lighting equipment.
At the helm of Evoke Boudoir is Danielle Tirserio, an award-winning feminine portrait photographer who specializes in boudoir. Instead of juggling niches, Danielle is wholly committed to luxury and contemporary boudoir. Photographing women exclusively since 2013, she was inspired by a conference with acclaimed portrait photographer, Sue Bryce. Since then, she's taken everything she's learned and masterfully threaded it into her Washington DC boudoir photography practice. We'd love to see her work her magic at this posh urban oasis.
With a background in Documentary Studies and Fine Art, Kir Tuben is a wedding photographer whose work has been featured in tons of top bridal publications. As well as shooting the happiest day of some people's lives, she also takes intimate portraits in her boudoir studio, Dogwood Lane. At Dogwood Lane, natural white light enters through its large windows and is reflected by the white, minimalist decor awaiting inside. This makes boudoir shoots possible at almost any time of day, which you can see in one peek of her delicious portfolio.
Like many boudoir photographers in Washington DC and beyond, Roosh Benham had a vision. That vision was to use her work to empower women, allowing them to connect with their inner goddess—or, since so many haven't—meet her for the first time. Besides this, she also takes boudoir portraits of men. Women aren't the only ones who struggle with their body and self-worth (or, on the other hand, want to celebrate it), and a boudoir shoot for men can reignite their masculinity and sex appeal, making them feel appreciated by themselves and their partners. We love Roosh's studio shots, especially the ones with splashes of color. Stripped-down minimalist surroundings are always a great fit for boudoir shoots, but we'd love to see more photographers experiment in colorful, bright spaces like this highly Instagrammable content studio.
Based in Richmond, VA, Sindy Cortese's passion for boudoir photography led her to create her own brand, Davine Boudoir. As wedding photographers, Sindy and her husband Angelo have documented many couples' special days. As an intimate portrait photographer, however, Sindy comes into her own. Her boudoir portfolio is jam packed with deep, moody, and sultry tones. She's a master of balance, showcasing shadowy blacks that never once swallow the details. Aiming to dismantle the false perfectionism of social media, Sindy is an artistic force to be reckoned with. The DC boudoir photography community is lucky to have her.
Lauren Louise is the creative director of The DC Boudoir Photographer, an inclusive studio for all genders that asks a provocative question: Who says the District is all work and no play? While compiling our curated list of DC boudoir babes, this photo stood out to us immediately. Every single goosebump is accounted for on film, the detail of which can't be ignored. The more we looked into Lauren's work, the more detail we saw. Cuttingly sharp clavicles, healing surgery scars, beauty marks, enticing dimples. She manages to capture every single one of these things in her portraits using the power of shadow, things a lot of other professionals edit out.
Who isn't wild about pin-up photography? It's an artform that, even if it had all the love in the world, it still wouldn't have enough. Playful, bold, colorful, and sexy, it takes talent and a special kind of eye to do. Luigi Crespo is a DC boudoir photographer who has pin-up down to a fine art. Alongside his all-female team of stylists, Capitol Bombshell is one of the standout luxury photography studios in the capital. All you need to be a bombshell is to take the leap. (And maybe some time in a gorgeous studio space, too.)
Amber Gillian is the best kind of DC boudoir photographer you can find. Not only does she take photographs, she's also a mental health therapist. Her fully-inclusive studio opens the doors for womxn to explore themselves, building the confidence, self-worth, and self-love everybody on earth deserves to have. Her photography serves as another means of therapy, bandaging any wounds doubtfulness has created within ourselves—that's why she refers to it specifically as "phototherapy." The Gillian Phototherapy experience is bold and authentic, and it's worth looking into if you're looking to not just love yourself, but accept, too.
Book a Boudoir Photographer in Washington D.C.
Opting to gift yourself with a boudoir session can be the best thing you'll do. Boudoir is about feeling good about yourself, whoever you are and wherever you come from. Whether you want photographs for your other half or to just feel fabulous, these D.C. boudoir photographers are ready, finger-on-shutter, to make them happen.