11 Boudoir Photoshoot Ideas in New York City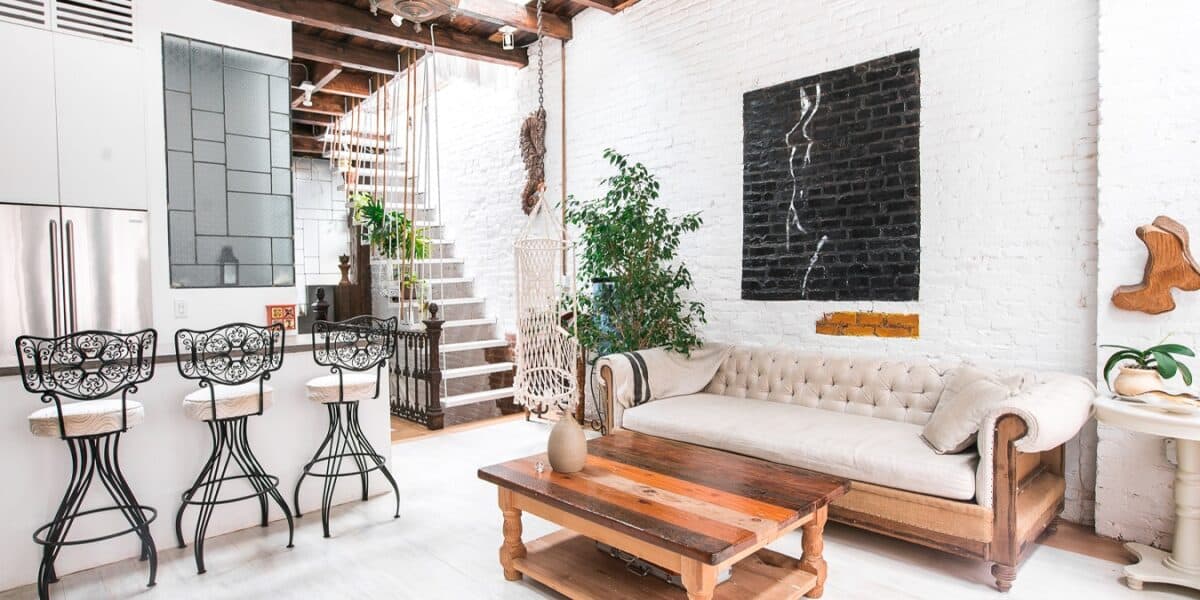 Everyone dreams of visiting New York City at least once in their lifetime. Why shouldn't they? It's one of the most lively cities in the world. The so-called Big Apple, with its skyline over the Hudson and the giant buildings reaching for the sky, is sure to bring out the artistic side of your soul. Such a magical city may compel you to take the plunge and have that fantastic boudoir photo session you've been dreaming of for so long. If you're worried about where to do it, though, don't—we've already picked some of the most beautiful boudoir photoshoot ideas in New York City. Neat, right?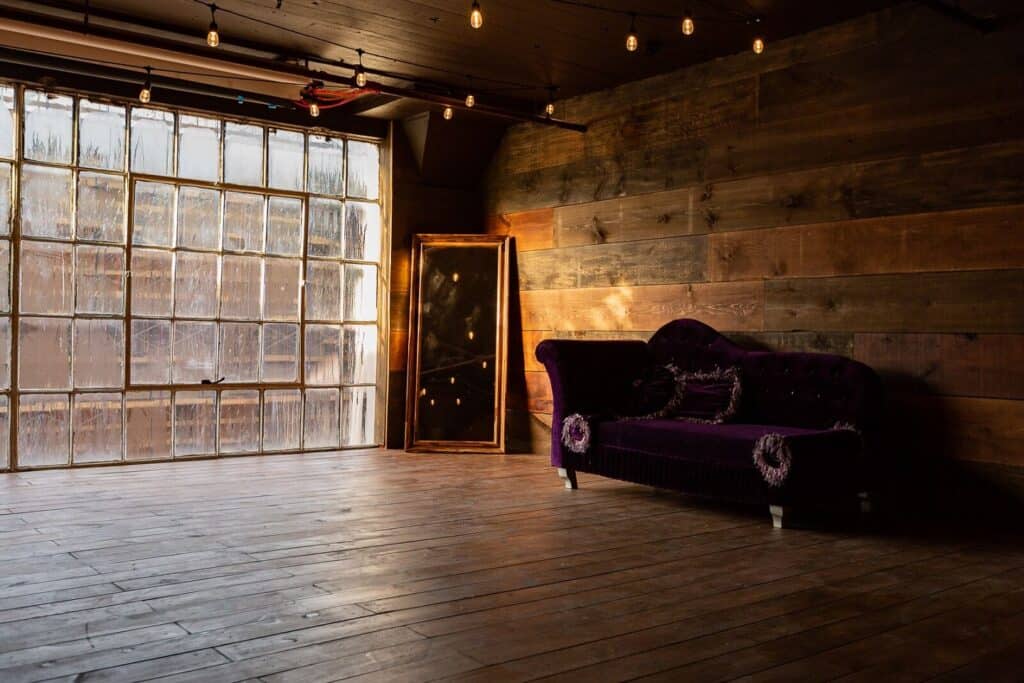 This loft, located near Queensbridge Park, in Dutch Kills, is the perfect location for shooting your boudoir photos. One of its main perks is its affordable price. And if you need a team of professionals, well, worry not! The host allows up to 10 people together on the premises.
You won't even have to worry about equipment and accessories—this location comes with everything that you may need for your boudoir photoshoot, ranging from extra strobe lights to a hanger rack to store all the costumes you may bring. As if that isn't enough to make this loft one of the best locations on this list, check that huge windowed wall! That alone is enough to fill the whole room with natural light.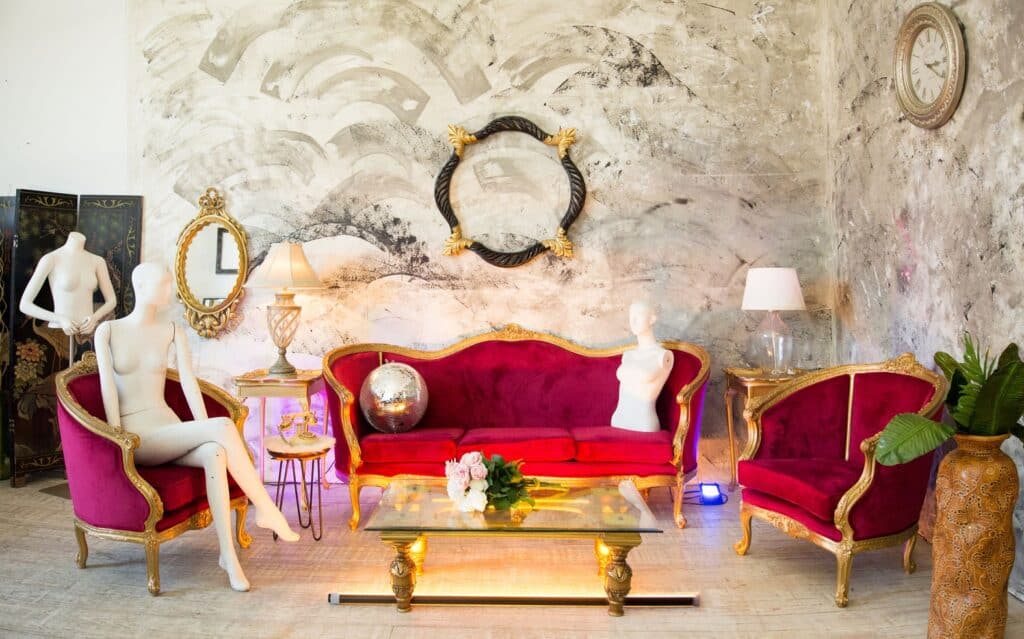 This little photo studio in East Williamsburg is truly over the top! The location is airy and luminous, thanks to the windows and the high ceiling. One of the strengths of this place is, of course, the fact that many accessories are included in the rental price. Forget everything about fog and wind machines—mannequins is where it's at! You won't find them anywhere else. They really can turn an okay-ish photoshoot into something unforgettable.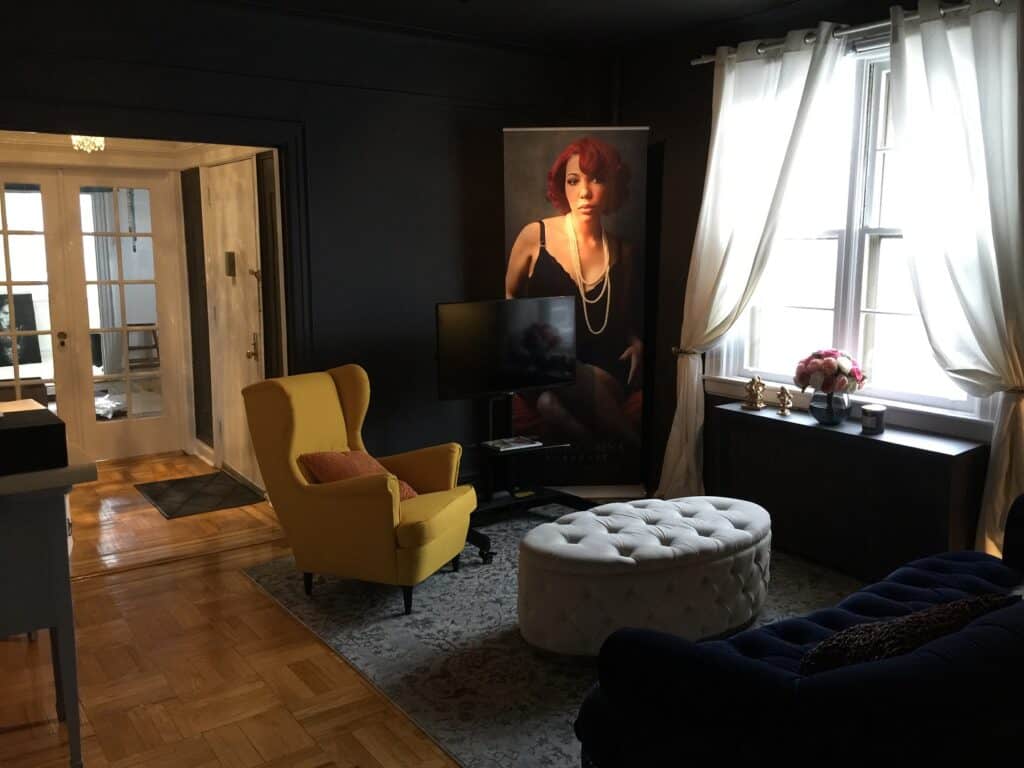 What's a boudoir photoshoot if there are no femme fatale vibes in it? This wonderful location, in East Bronx, offers everything that a boudoir photoshoot should—intimacy, sensuality, and women empowerment. It's full of state-of-the-arts furniture, but the matte black bathtub is what truly stands out the most.
According to the reviewers, it's the most appreciated feature of the location! Another pro of this premises is that it's possible to isolate each room so that more than one photoshoot can take place at the same time without disturbing each other. Maybe the time has come for you and your bestie to finally take that photoshoot you've been talking about for so long?
4. Wander around a decaying palace in Bushwick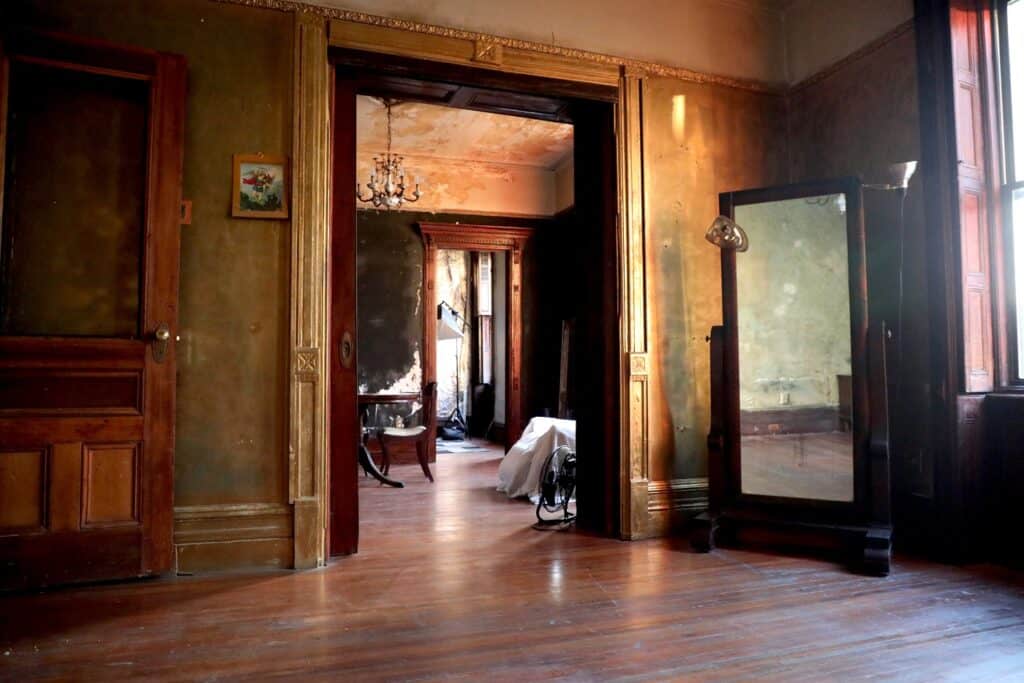 It wouldn't be fair to make a list of boudoir photoshoot ideas in New York City and not include this breathtaking location. A decaying frame is what makes the beauty of the subject stand out. These premises is located in Bushwick, the neighborhood in Brooklyn famous for its vibrant street art.
So, not only are you amongst one of the artsiest places on Earth, but the host also offers his clients the chance to use vintage props such as ancient paintings and tribal masks. Wanna take a horror-themed boudoir photoshoot? Search no further. 


5. Keep it classy at an elegant brownstone in Manhattan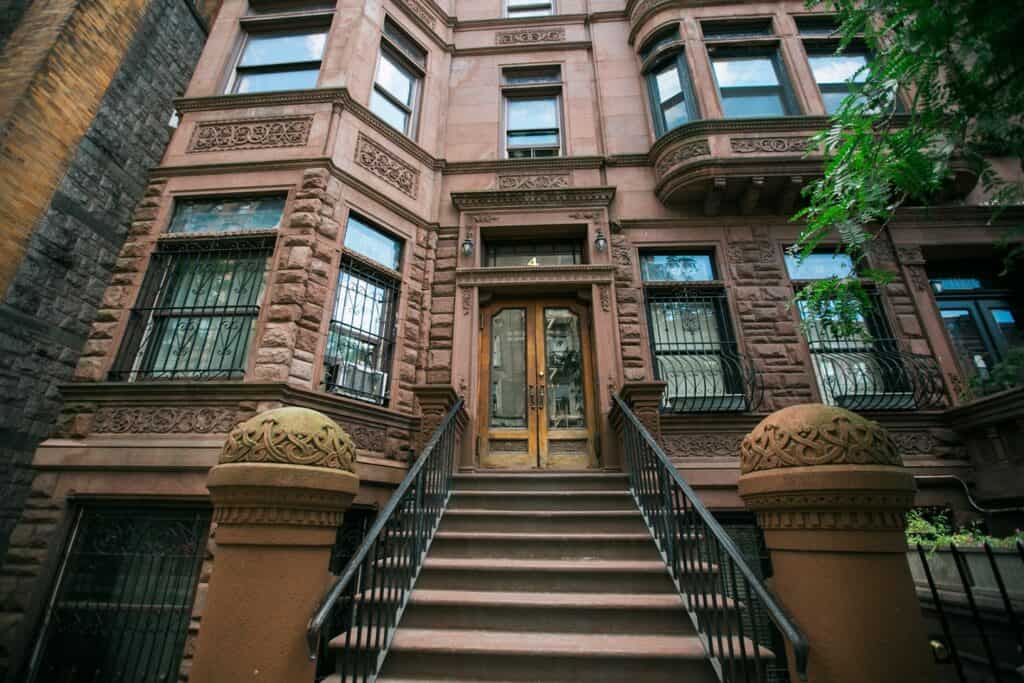 The elegance of Manhattan is perfectly enclosed in this turn-of-the-century house. Its pompous style is William Tuthill's work, the famous architect that designed the Carnegie Hall. The living room of this premises is the perfect environment for a black-themed boudoir photoshoot. Just take a look at that black leather sofa—doesn't it scream "sexy"? As if it wasn't just perfect the way it is, this mood is enhanced by the suffused lights that really bring out the best of this location.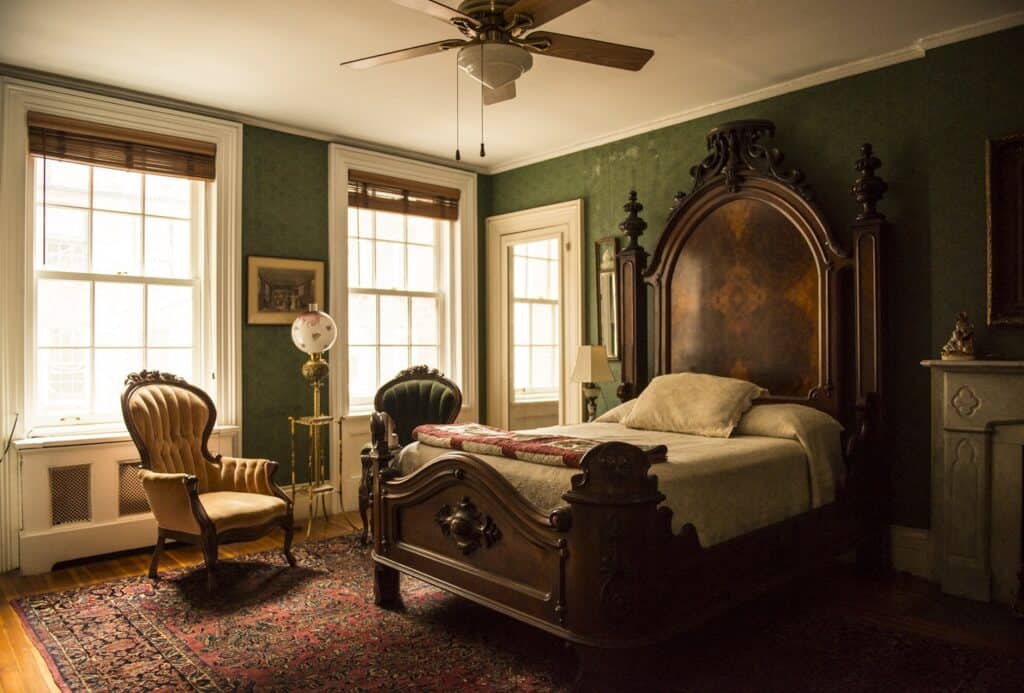 The Madison Avenue Greystone, located in Midtown Manhattan, can satisfy every need for a boudoir photo shoot. There's enough to suit all tastes. All the rooms have a feature in common—they all try to convey that vintage style – but each one has its own peculiar characteristic.
Here you will find large bedrooms with wallpapers, and if that's not your cup of tea, the living room is equipped with huge windows that—according to reviewers—imbue the premises with natural light. You're still not satisfied? This location also has an antique dining hall with beautiful crimson curtains and gothic furniture.


7. Bask in the sunlight of a naturally lit studio with a great view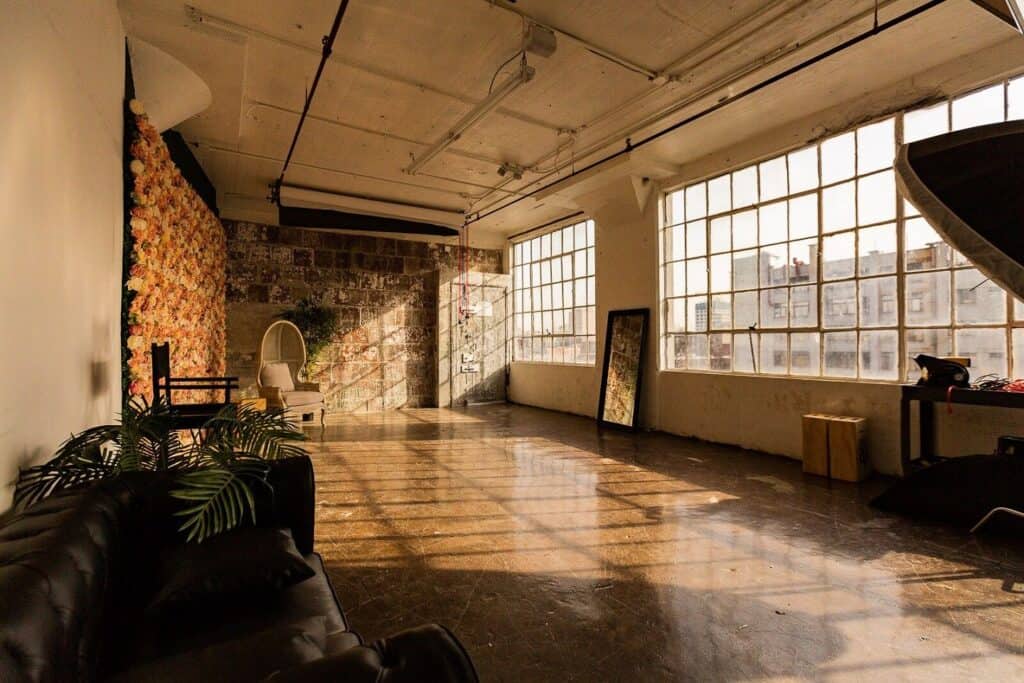 This photo study is located in Long Island, on the same floor as the first premises that we've described in the first point of our best boudoir photoshoot ideas in New York City list. Even if it's on the same floor, it's a whole 'nother story! This time around, the huge window overlooks the industrial skyline of New York.
The lack of natural light—at least, in comparison with the other flat—is balanced by the variety of settings that you can find here. apart from the good ol' white wall, this premise has a wall made of bricks and—hold your horses!—one full of flowers!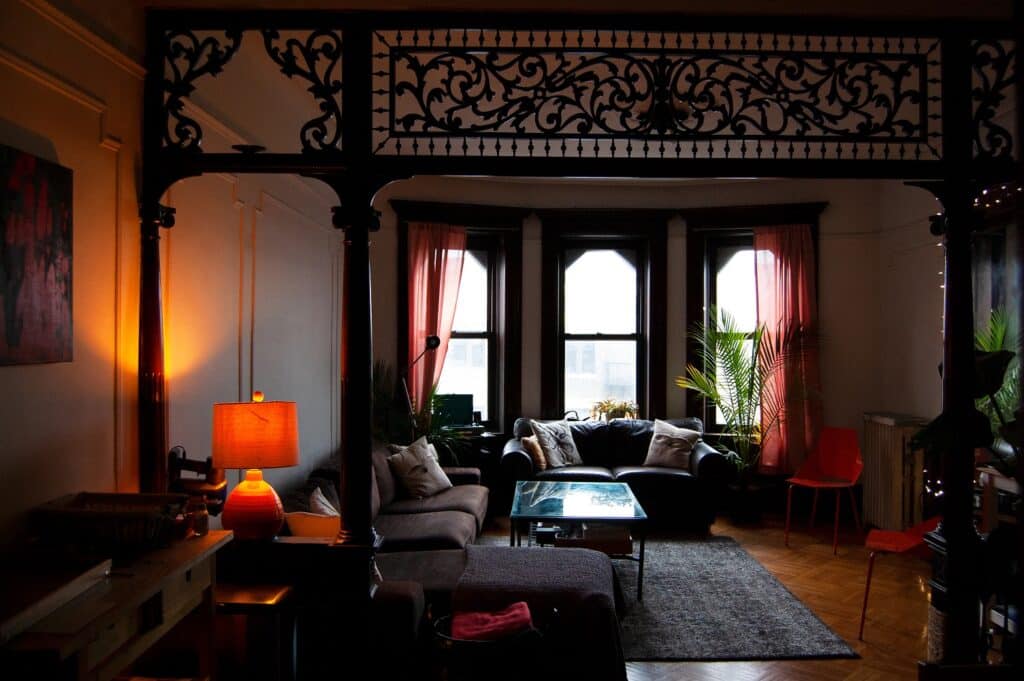 This house is located in the Historic District of Park Slope, near Prospect Park. Its full-black furniture is balanced by the bright green of the tropical plants scattered around the premises. According to more than one reviewer, the location is "really cozy with a nostalgic feel," and it's not hard to believe that.
The intricate woodwork—which creates an interesting play of light and shade—in the living room is a love letter to the bohemian tradition. This location is also pretty cheap.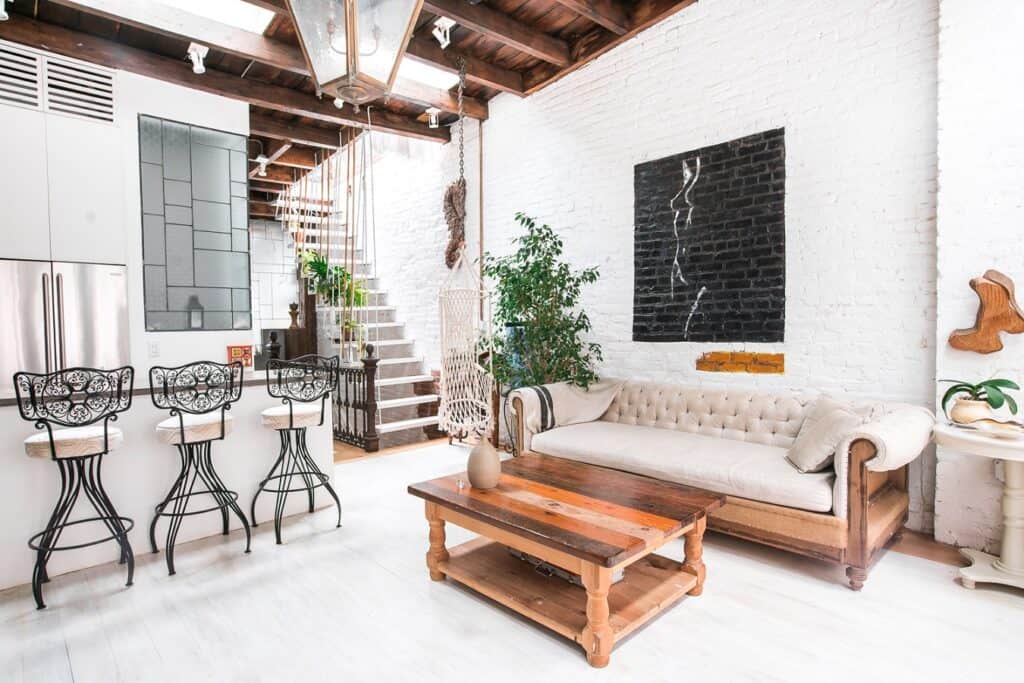 The purity of the stark white walls is a perfect match for the wooden furniture that dominates the entire penthouse, which is located in Williamsburg. The host defines it as "the photographer's dreamscape" and we couldn't agree more with that.
The location has two floors—the first one shows a predominance of that natural brown hue of the furniture, whereas the second one is a little piece of Heaven. On this floor, everything is dream-like—the three windows, covered by a thin curtain,  make the place shine with natural suffused light at all hours.


This sweet studio is located in North Bergen, in front of the Hudson River. Everything is made to look like a piece of Morocco has traveled to New York City! The Karama Studio features a unique Middle-Eastern theme with a twist—it's all in pink, from the frames to the beautiful Persian rugs in the living room.
If you want to dress up as a cute pastel goth Lolita, this premises is the best for sure. The huge windows in front of the sofa make it one of the best spots of this studio to take some pics!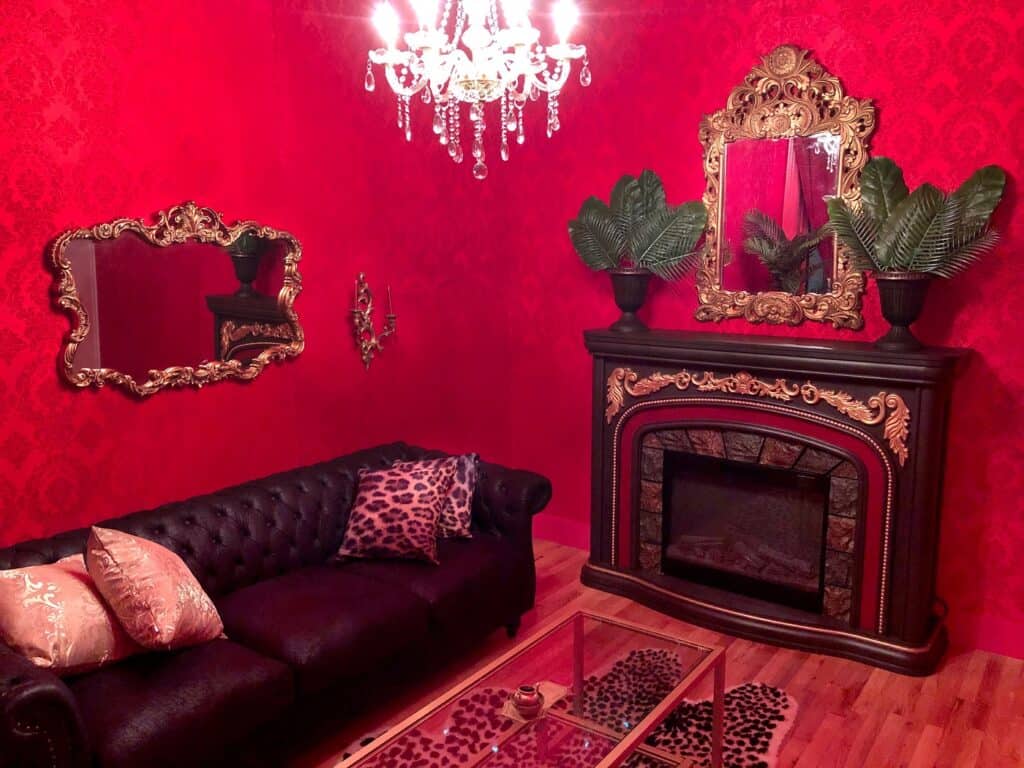 Let's end our best boudoir photoshoot ideas in New York City list with a more traditional location. This Renaissance studio features velvet baroque-style walls, which are perfect for a boudoir photoshoot! And it's huge—you can shoot in five different locations, each with a different predominant color. There's the living room, with its crimson walls; or you may prefer the bedroom in teal. Whatever color you like the best, you will be satisfied!



Get together somewhere better
Book thousands of unique spaces directly from local hosts.
Explore Spaces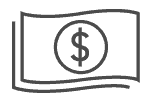 Share your space and start earning
Join thousands of hosts renting their space for meetings, events, and photo shoots.
List Your Space