How Much Does it Cost to Rent a Focus Group Room?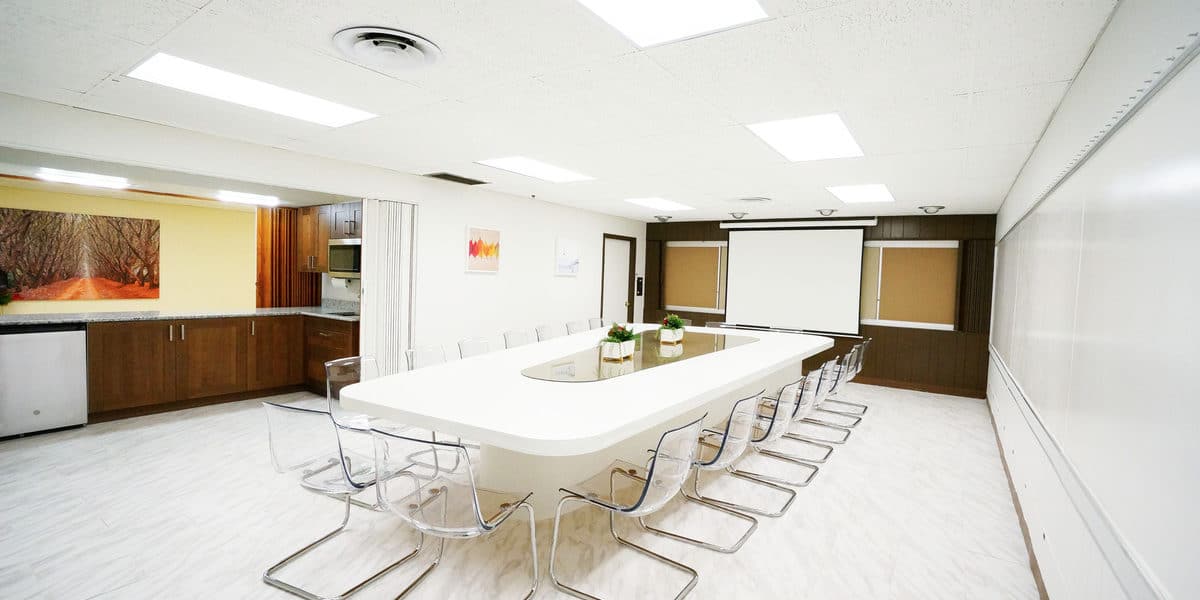 Answered
Focus Group Venues on Peerspace cost on average between $40 — $85 per hour.
A focus group can become quite expensive. There's the cost of paying each participant. There's the cost of drinks and snacks that are provided. There's the cost of the recording equipment, and the transportation, and of course, the focus group room rental. However, it doesn't have to be expensive. By finding the right focus group room, you can cover most, if not all of your needs in one fell swoop, saving you a lot of time and money.
Why rent a focus group room?
First things first, you'll need a space that feels safe and comfortable for the group of people participating in whatever marketing study they've signed up for. People are providing you with honest opinions, and that can only happen if they feel like they are in a professional space with people that take them seriously. Therefore, find a room with comfortable chairs, especially if your meeting is on the longer side. Make sure the room is spacious, if they are inside for too long it can cause restlessness or claustrophobia. An ideal focus group room can provide ease of mind for the participants and a professional environment.
Another key reason to rent a focus group room is ease of access. An ideal focus group is composed of people of different backgrounds and demographics. That includes a variety of locations they would be driving from to get to the focus group location. The focus group room rental you choose should be centrally located. It should also provide your participants with hassle free parking, and the option for public transit when possible. Commuting is a huge stressor for anyone, why not remove it from the equation all together and keep your group focused on the task at hand.
Finally, renting a focus group room provides you with additional amenities that will add to the professionalism and comfort of your meeting, whilst avoiding having to go through a third party for additional rentals. For example, A/V equipment, high-speed WIFI, drinks, and snacks. Most of the spaces found on Peerspace can provide you with the tools you need. In addition, you can contact the Peerspace Concierge team to let them know of any additional gear you might need for your focus group.
How to rent a Focus Group Room
Here on Peerspace we've made it simple to find the ideal focus group room for your needs. With thousands of options in a major city near you, it all starts with the search. Know the city you will be hosting in and you can filter your results through the location, the type of event, and the date of your event.
You can narrow things down by adjusting for budget and the amount of people that will be participating in the focus group – including the moderator! Usually focus groups range from 4 to 12 participants, therefore anything larger than a board room is usually not necessary.
You can also narrow things down by choosing the best type of room for you. We have options such as conference room spaces, flex spaces, lounges, houses, classrooms, and store fronts. Again, this takes into account the amount of people and making sure the place is easy to find.
Each option comes with it's own amenities and add on features. For example white board walls, writing pads, vending machines, printers, projectors, TVs, speaker systems, refreshments, and more. On Peerspace, all the options are laid out for you in a streamline format, any additional questions you might have can be addressed directly to the host of the space or to Peerspace.
Types of Focus Group Rooms
Since there is an abundance of options to choose from when it comes to picking your focus group room rental, it is important to be mindful of the business that the focus group is based on. With that in mind it can lend a hand into choosing your ideal room. The types of focus group rooms available can compliment a brand idea or image. Do you want a board room with high ceilings and powerful chairs? A sleek, white meeting space with vast windows? An intimate, dimly lit space with warm colored furniture?
Here are a few of the different types of focus group rooms you can find on Peerspace:
How much does it cost to rent a Focus Group Room
A focus group room rental charges by the hour so it's important to note how many focus groups you'll be doing in a day and how long each meeting will take. On average focus groups run 30 minutes to 2 hours. Another contributing factor is the size of the group. You'll need a bigger room if you are accommodating 13 people versus 4. And of course, take into account what you need in a room so that you make sure the space has it – recording equipment, a television, coffee supply – otherwise that's an additional fee.
The options on Peerspace are designed to not only give you a diverse range of locations but also give you that same range with pricing. For example the sleek boardroom in Park Ridge, IL, costs $25 per hour with a two hour minimum, which brings the total to at least $50. In contrast, the boardroom with a view in Chicago, IL, charges $120 per hour, with only an hour minimum. On average, a focus group room rental can cost $500 to $1,500 per day, with an average of $450 to $600 per group.
Peerspace is always available to help with any questions you might have about any focus group room that catches your eye. As you begin browsing for your ideal focus group room, remember that with the Peerspace Concierge services, it becomes very easy to get everything you desire out of a space and more, all you have to do is ask!