How Much Does it Cost to Rent a Green Screen Room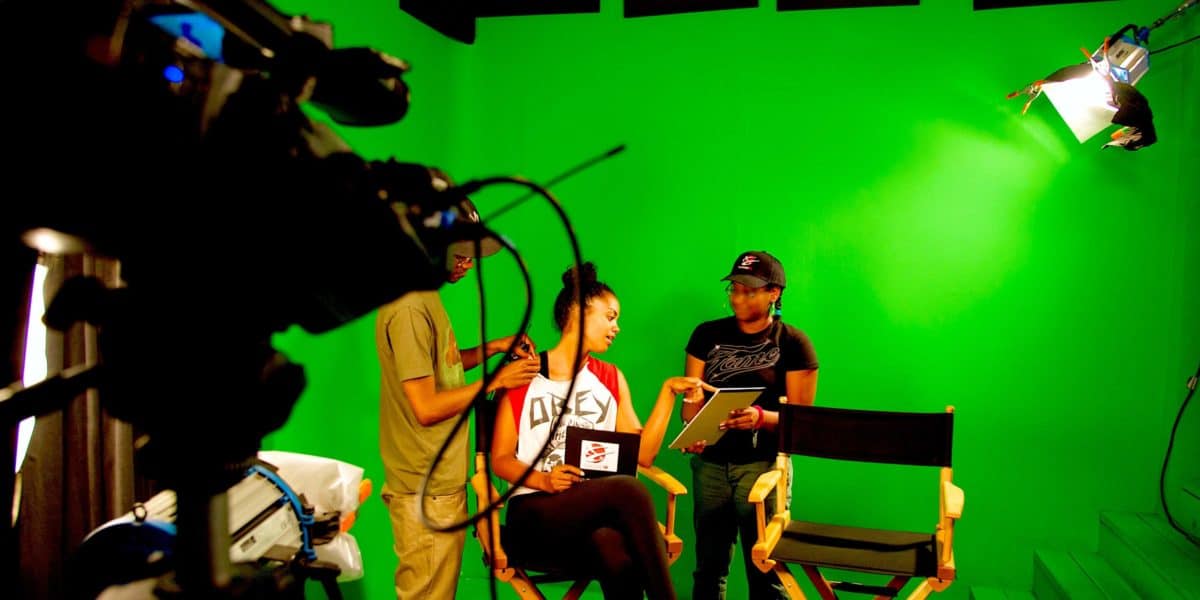 Answered
Green Screen Rooms on Peerspace cost on average between $55 — $250 per hour.
A green screen room rental is exactly what it sounds like—a space with a bright green background—but it is also more than that. The monotone background gives special effects artists the opportunity to let their imaginations run wild. It's with a green screen that some of the most fantastical scenes in modern cinema have been created—from seemingly endless armies to physical transformations. A well-equipped production team needs a reliable green screen space if they want to be able to fit the various desires of clients or their own projects but the cost of creating one for their exclusive use can be prohibitive–many turn to rentals but how much does a green screen room rental cost? Read on for help in planning your budget.
Why Rent a Green Screen Room
If you have put a lot of time, energy and money into your script you will need an amazing place to bring it all together. A green screen room can give you the space and equipment you will need. You will be free from distractions, including passers-by, that may interfere with your shoot. The green screen will allow you to create a scene that is bound only by your imagination.
You may think it's easier to set up your own space, but it very likely isn't. In addition to needing a precise color screen (making it easier for special effects artists to insert the effects), there's a big problem with creating your own green screen room–the cost to fully equip and maintain it. In a big city, the rent for an empty, unequipped studio space can run thousands of dollars a month on its own and when combined with the equipment and operators, it is simply not worth it for those seeking one-time or intermittent use. If you do decide you want to set up your own space, be sure to check out this producer's secrets to running a production studio.
With a green screen room rental, you can have all of the benefits of the space while keeping your costs reasonable. Most are completely sound-proof sound stages to give you the audio reliability you will need when filming. Almost all are also professionally lit, and have additional lighting and camera equipment available to rent so you won't have the hassle of setting everything up yourself. You will save hours of production time and the costs associated with them when you choose a rental.
As a bonus, some green screen room rentals have great extras like dressing rooms and kitchen space for the cast and crew. More importantly, a rental host can put you into contact with the professionals you will need to make your vision come to life–many even have experienced, in-house camera operators and grips if needed. Renting a green screen room is more simple and cost-effective than creating your own.
How to Rent a Green Screen Room
Peerspace makes the rental process itself fairly straightforward: search production spaces, find one you like, read the fine print regarding use, and book it! However, after putting in all of the work necessary to pull off a production it's important to pay attention to the details.
Green screen room rentals sometimes have professional grade equipment included in the price but some don't, be sure to clarify exactly what is included with the rental and what is extra before booking so you're not surprised on the day of the shoot. Make sure you know the dimensions of the rental space and its limitations of use. A few of the larger studio stages have extra space that can be joined to your green screen rental, at an additional cost. If you require a different color screen, like white or grey, make sure it's available in that space before booking. If you need complete sound proofing, make sure the space is exactly what you need, as some of the smaller rentals are not one hundred percent sound-proofed.
Many hosts are experienced in production and have contacts in hair, makeup, camera operators etc, so if you are still looking for exactly the right professional just ask. Be sure to clarify the costs of these if they are add-ons.
Types of Green Screen Rooms
Green screen room rentals vary widely, from a simple backdrop to large, twenty foot cyclorama spaces. Many cities, especially those known for filmmaking, have a wide variety of green screen rooms on offer.
Here are a few of the different types of Green Screen Rooms you can find on Peerspace:
How much does it cost to rent a Green Screen Room
The cost of green screen room rentals varies depending on the services included or added on. A simple green screen, without a camera crew, can cost as little as $45 an hour. This pre-lit photo/video/film stage and green screen studio should be perfect for smaller productions.
Some of the more upmarket rentals, including cyclorama spaces and complete soundproofing, can be up to $650 an hour. This large, 15,000 sq ft premier photo and video studio in Chelsea includes three cyc walls and a grip, all for $175 an hour.
A good average cost is $250 an hour, with a three or four hour minimum.
If you need a production crew, full equipment rental and an in-house photographer or videographer, the cost of a green screen room can go up another $300-$1,000 an hour. Many hosts offer a discount for daily rental, so if you have a large production, you can bring the cost of a green screen room down, sometimes by as much as thirty percent.