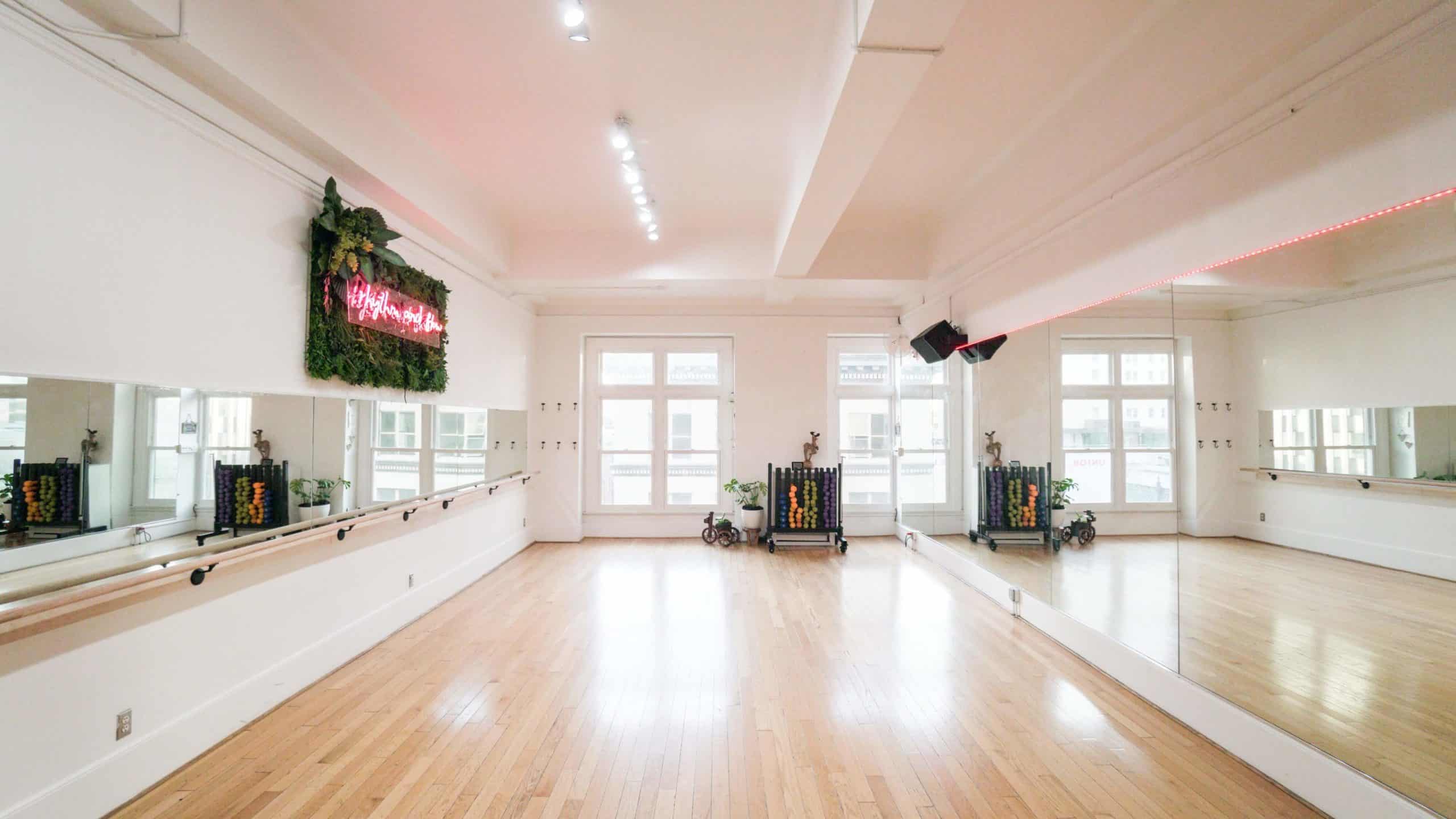 Answered
Yoga Studios on Peerspace cost on average between $50 — $120 per hour.
Yoga studios can be used for more than getting zen—they can be great spaces to host wellness related events or retreats—some can even be used as performance venues. A yoga studio room rental may be perfect for you if you want to run a class on a consistent basis but don't want all of the costs associated with running your own studio. As a bonus, if you're a photographer these blissed out spaces usually have loads of natural light and minimal clutter so they tick the boxes for a great photo studio as well! If you're planning an event, whether one-time or continuing, and are attracted to the idea of a yoga space but are wondering "how much does it cost to rent a yoga studio?", wonder no more, we've got you covered.
Why rent a yoga studio

The most obvious reason to rent a studio space is its cost-effectiveness. A yoga studio rental cost can be considerably lower than most of the other options. If you're a yoga or wellness teacher, paying all of the overhead costs to run your own yoga studio can be prohibitive. Paying the rent of a commercial studio space does not make sense if you only want to teach a class or two or host a one time workshop. Plus, if you're teaching classes, the fee structures of some established studios can render your class non-profitable. It is simply easier to rent out a space for the exact amount of time you will need it, on the days you will need it, rather than pay monthly rent for a space you aren't using. Plus, since most yoga room rentals include the use of mats and bolsters, you're saving the cost of buying them on your own.
As a photographer
For photographers, the previously mentioned lighting is another good reason to rent. You can think outside of the standard use of fitness photography and create great indoor photos. If you are doing any kind of portrait photography work, the diffuPeerspace is the easiest way to book the perfect production space. Enjoy the largest location library and hassle-free bookings today.sed window light will be perfect. As a bonus to those photographers on a budget—yoga studios are often the most affordable spaces around and they are often available during daylight hours since most classes are in the evenings.

As a wellness host
If you are hosting any kind of wellness event, a yoga studio room rental is an easy choice—the clean lines and open floor plans are designed to promote a feeling of calm and relaxation. Most also have equipment for use—aerial silks, bolsters, etc—that participants may need but that would be difficult or impossible to rent separately and very expensive to buy on your own. To jumpstart your creativity for your offering and stand out from the crowd, check out our yoga workshop ideas.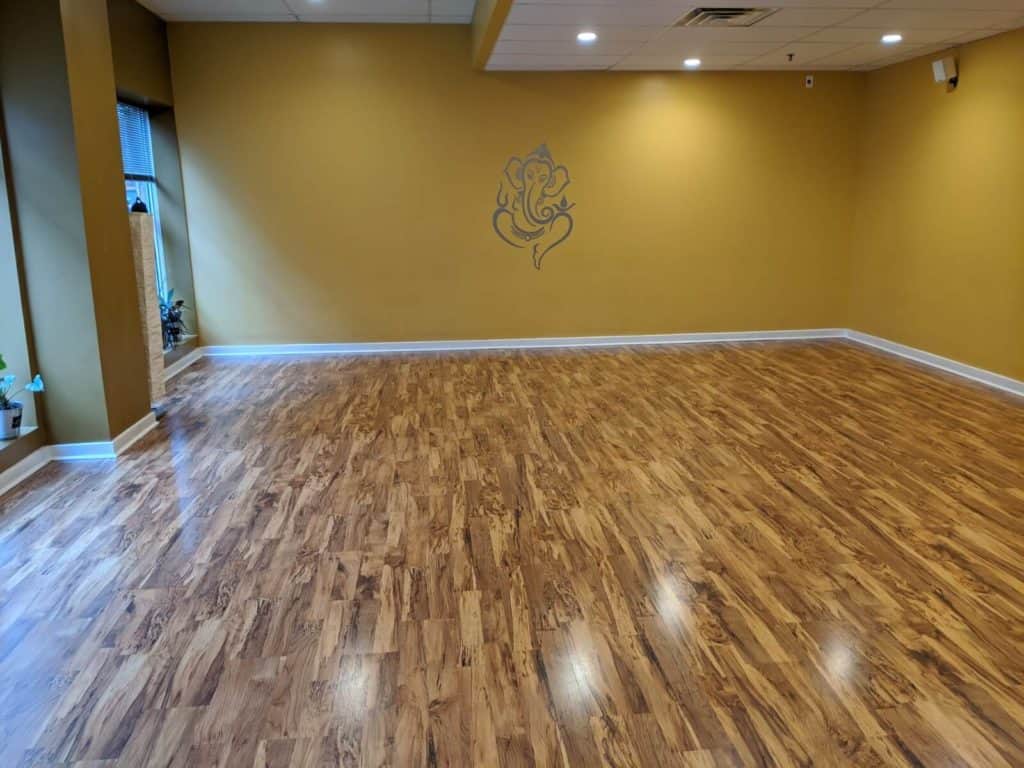 How to rent a yoga studio
While it's usually very straightforward to rent a studio space on our site, you may need to keep a few things in mind. First of all when whittling down your choices, note any blackout times the host may have, as yoga studio room rentals often have regular classes booked in certain, unchangeable, blocks. If you are hosting a workshop or event and will need considerable time for set up or break down, factor that into your rental time as most hosts charge time and half for overtime rentals, with no exceptions.
Our hosts are, for the most part, excellent about listing what amenities they include with their rentals but if you can't find the answer easily, ask before booking for clarity's sake. If you are planning a class that requires specialized equipment, like aerial silks, it is important to find a place that has them included, or at least the ceiling hooks for that purpose, due to safety concerns. It's reasonable to assume that mats and blocks come included in your yoga room rental, but double check to prevent surprises.
If you're renting a yoga studio as an event venue, ensure that your event is allowed per the host's policy. Although some have sound systems, large, loud events may be frowned upon. In short, take a look around, find your dream space, read the fine print, check for added bonuses, and book!
Types of yoga studios
There are many different styles of yoga studios, from completely functional to fantastically cozy so you may be spoiled for choice if you live or are planning an event in even a moderately sized city. Yoga studio room rentals tend to be full of light and some are outfitted with a wall of mirrors so people can check their postures. Even if these factors aren't important to you, you're sure to find a yoga studio room rental that works for you.
Here are a few of the different types of yoga studios you can find on Peerspace:
How much does it cost to rent a yoga studio
A good rule of thumb for a yoga studio rental cost is between $45-$100 an hour with a one to two hour minimum. Some particularly large studios with specialty equipment, or those that accommodate corporate retreats can run more, usually with an upper limit of $450. Occasionally, you'll find a deluxe space with jaw-dropping amenities that will run more, but these are delightful exceptions and not the rule. This stunning Artist Loft, Gallery, Creative and Holistic Healing Space in Central LA is perfectly suited to intimate wellness events and even includes a rain shower, all for the affordable price of $65 an hour.
While zen is important, If you're looking for something different than a standard yoga class, these energizing fitness class ideas will bring some zest to your event.