How to Photograph Christmas Lights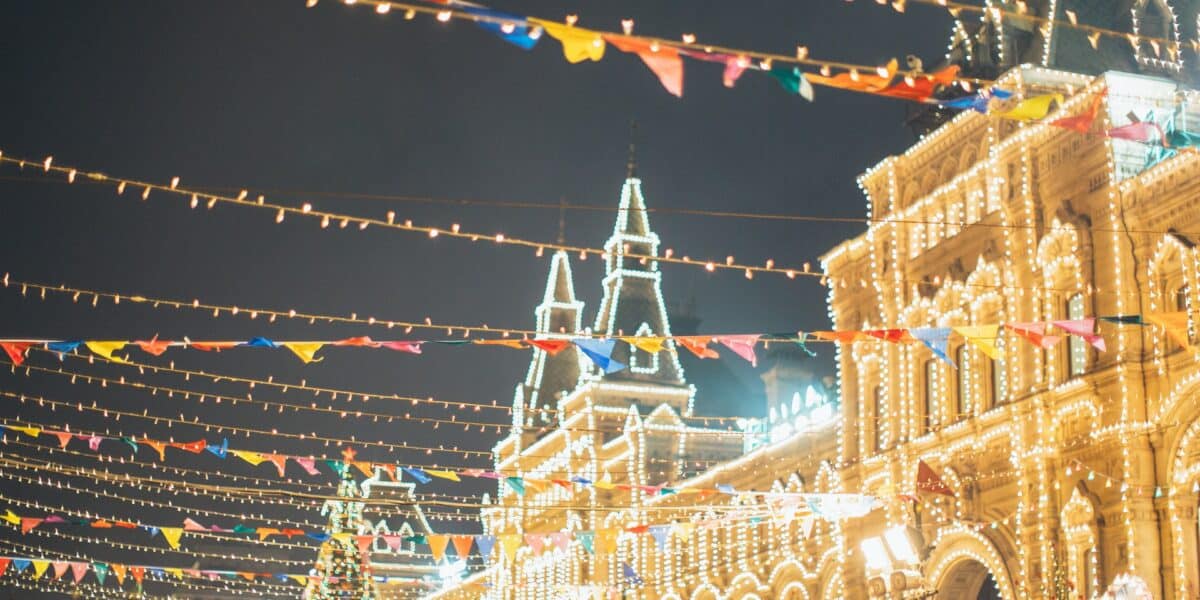 Survey the scene. Take out the camera. Point. Focus. Click! It doesn't take a holiday miracle to learn how to photograph Christmas lights, but it's not the easiest thing to do well. Given that we're talking about Christmas, we request all of you to be a bit charitable and have a little more patience with your authors, as it'll take some extra effort to really nail these shots. Christmas is the season of winter nights brightly lit across streets, of caroling and gigantic festive trees and displays, of warm homes, sparkling lights and festivity.
There are two pretty different environments we have to account for, though! The first is the gigantic outdoor displays of lights and festivities at night, often on the streets. This contrasts sharply with the warm, well-lit indoors scenes: the fireplace, candles, and nativity scenes, as well as the Christmas tree and the people beside it. These different environments have different light and color, and you'll want to approach them differently.


Survey the scene
Before you take your camera out, what you need to watch out for is lighting and timing. Are you photographing indoors, or outdoors?
When you're shooting outdoors, be prepared for low ambient light. It is a no-brainer that night time shooting should ideally start from the golden hour of dusk or sunset. Considering your region and the type of light you get, position yourself in some likely places outside where you can plan the sequence of your clicks once the evening begins. 
Understanding the light outdoors
Another reason to begin at the golden hour as festivities begin, is to help set your camera's exposure and ISO adjustments such that they not only capture the display lights themselves, but also the context—the Christmas tree they're hung on, the people, the space, the elements out there.
Set your exposure to work with the lights, not the sky. Because once it gets really dark, you'll waste precious time in readjusting your settings to night, and your lights will begin to look ghostly in a black setting.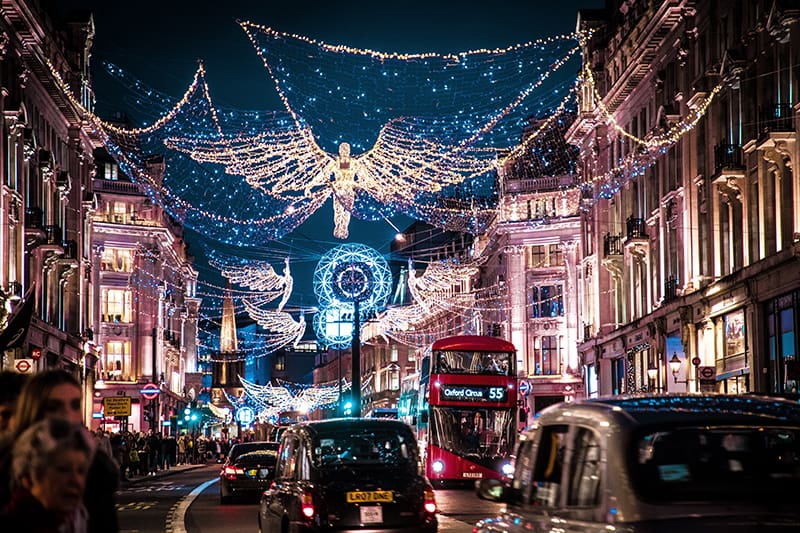 Understanding the light indoors
If you're figuring out how to photograph Christmas lights indoors, you probably have a bit more leeway in terms of ambient light, but your task remains the same—managing to balance lighting between the house, and the lights of the Christmas tree and any other light sources in the scene.
People decorate their houses based on personal taste, not photography, so you may not always have the luxury of dragging in heavy gear to interrupt the festivities. A good thing to do would be to test some angles, and turn ambient lights on and off in the space, until you are able to get a good frame to work with. Take advantage of your ability to control the scene by experimenting.


Take out the camera
When you're photographing on a dark evening, the only light around you may be from the twinkling Christmas decorations themselves, which should give you a hint of how you need to set up your camera. 


Getting camera settings in place
Begin with an ISO of around 400, and go from there. An f/8 aperture, and a slow shutter speed will help you fill your frame with light even in dark settings. In the hustle and bustle of festivities, sometimes you may need stability, and sometimes you may need to move quickly, in which case you'd make the shutter speed faster. If you find that the Christmas lights are getting too blown out and overly bright, choose a faster shutter speed.
Planning your shots will help decide when to use a tripod and cable release to get rid of shakes at low shutter speeds. If you're planning to move around, find places you can perch yourself with stability, or hold the camera steady and eliminate shake. If you're tempted to use your on-camera flash, don't. Seriously.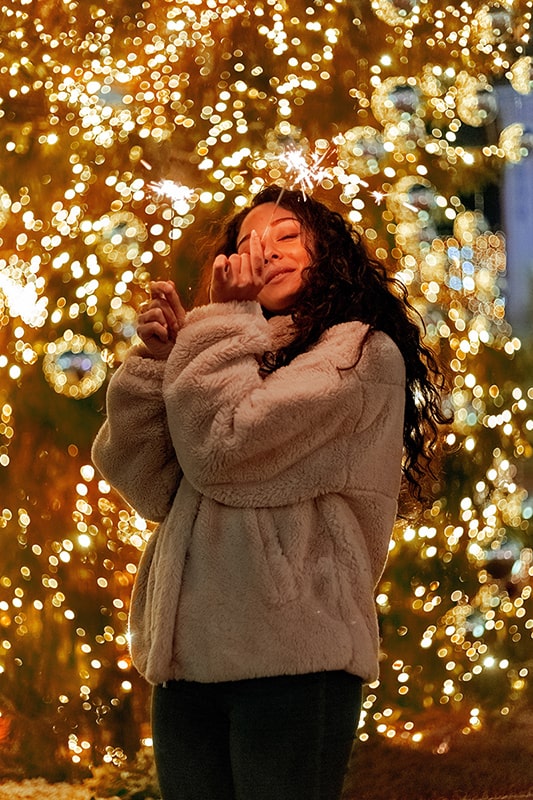 Test shots and adjustments
When you're on the move to find good shots, use your camera's automatic light metering settings to figure out optimally lit frames. Try center-metering your camera in the settings, and do a trial run of periodic clicks every few minutes, known as exposure bracketing, as the evening passes, to get to a point where the light looks good to you. And from here on, post-sunset, there's a small window of timing and light available as the Christmas lights come on!


Adjustments for indoor setups
When you are shooting indoors, there may be many light sources to consider apart from Christmas lights themselves—the space's ambient lighting, or a fireplace and decorative elements as well. Here, the same principle of testing exposure shots applies, though the settings may be slightly different.
Try to set a white balance similar to incandescent lighting, so that there is some warmth in your pictures. But ensure this doesn't add more warmth to what the lights create. In this context, it's easy for your photos to come out looking pretty yellow.
When your frame is over/underexposed, regulate light by changing shutter speed, not aperture and ISO. Remember that there needs to be a balance of light and shadow for lights to sparkle well and for the surroundings to be gently visible. 
To make things interesting, play with another lamp or light source nearby. It's Christmas, and there will be no shortage of lighting décor and ornaments to play with! 


Point and focus: How to create bright, Christmasy clicks
Ensure that you fill your frame with the lighting installation—you're shooting in a darker environment, and this will help you compositionally. A key challenge of how to photograph Christmas lights indoors is framing them well. No two frames will be the same.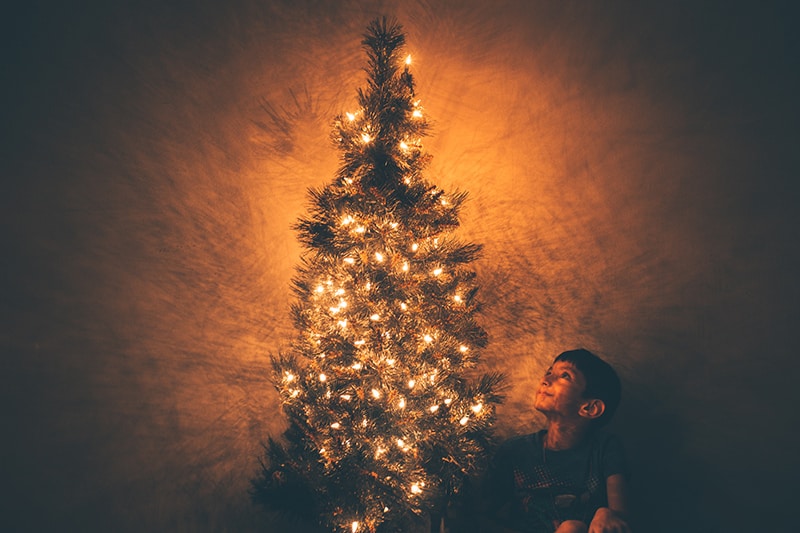 In dark spaces especially indoors, try to get sufficient light in, with a suitable ISO beginning at 400, and a starting aperture around f/5.6 can help. Again, do not use flash. It will flatten your images, and overrule the lighting of the space and the decorations. 
The bokeh effect
One wonderful thing that you can always attempt when you're shooting Christmas lights, is the ever popular bokeh effect. This takes a little adjustment to be ready, so make sure you've got your other shots down, before changing settings to make bokeh possible. 
Pick a wide aperture—like f/2, which can get your background out of focus, making the bokeh balls of light visible, and get close to your subject. Again, play with shutter speed to ensure a good exposure without burn.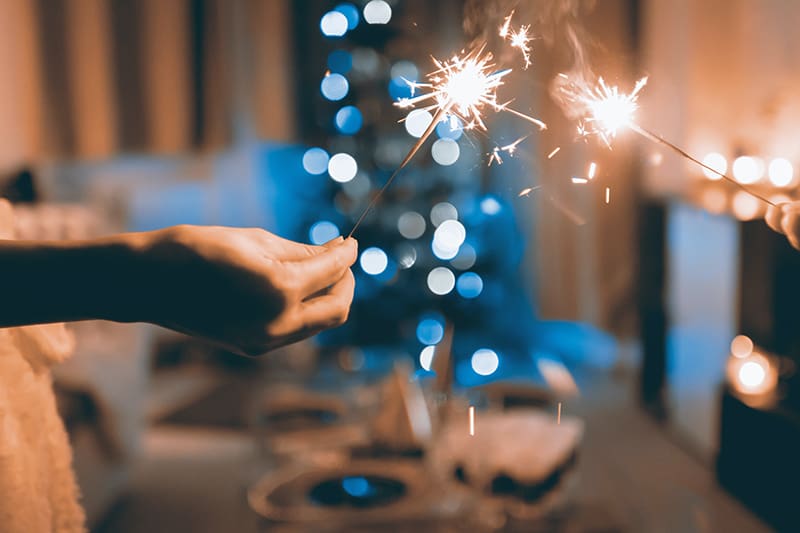 If you want a dreamy macro shot, bring some hyperfocus to one set of lighting, while creating a dreamy blurred out bokeh in the background, a shallow depth of field with a large focal length and the right aperture settings will help you achieve that. 


Auto-settings on the go! 
When you're figuring out how to photograph Christmas lights, you may need to move around, making the camera's automatic settings your friend—autofocus and auto white balance. They can prevent shots from going wrong when you're in a hurry. Setting a shutter priority in your camera lets the other lighting settings go undisturbed, so you can focus on one thing at a time.  If you're photographing blinking lights, increase your shutter speed to capture the blink timing.
When capturing the beauty of Christmas lights, go in an order of priority, both in terms of timing and effects. Light fades fast at dusk and blue hour, and festivities change as well. So decide which order you will photograph your space and lights in, and how to adjust your settings easily.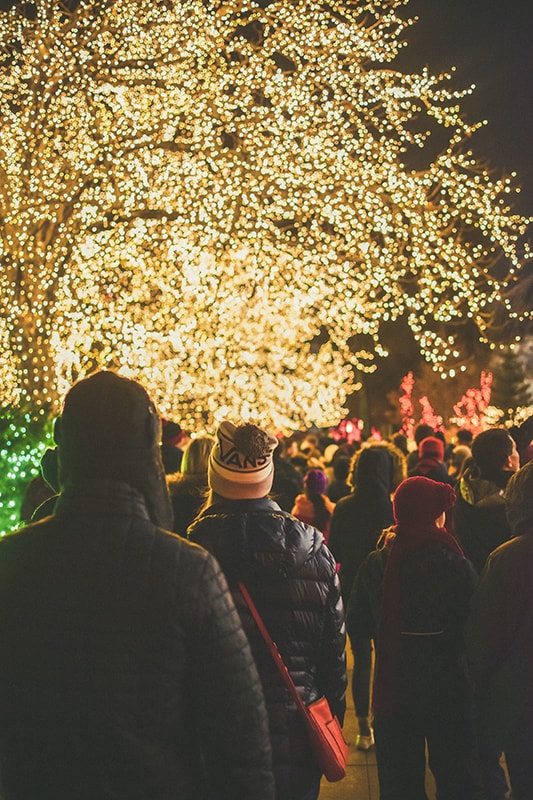 Ultimately, capturing Christmas lights is as much an artistic exercise as it is technical. Some amount of practice and planning goes a long way in an enjoyable shooting experience. The experience of playing with lighting to capture lighting well, and experimenting is an exercise that will definitely prove to be a photographer's challenge to relish. Merry practice for Christmas! 



Get together somewhere better
Book thousands of unique spaces directly from local hosts.
Explore Spaces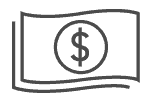 Share your space and start earning
Join thousands of hosts renting their space for meetings, events, and photo shoots.
List Your Space