How Much Does It Cost to Rent a Meeting Room?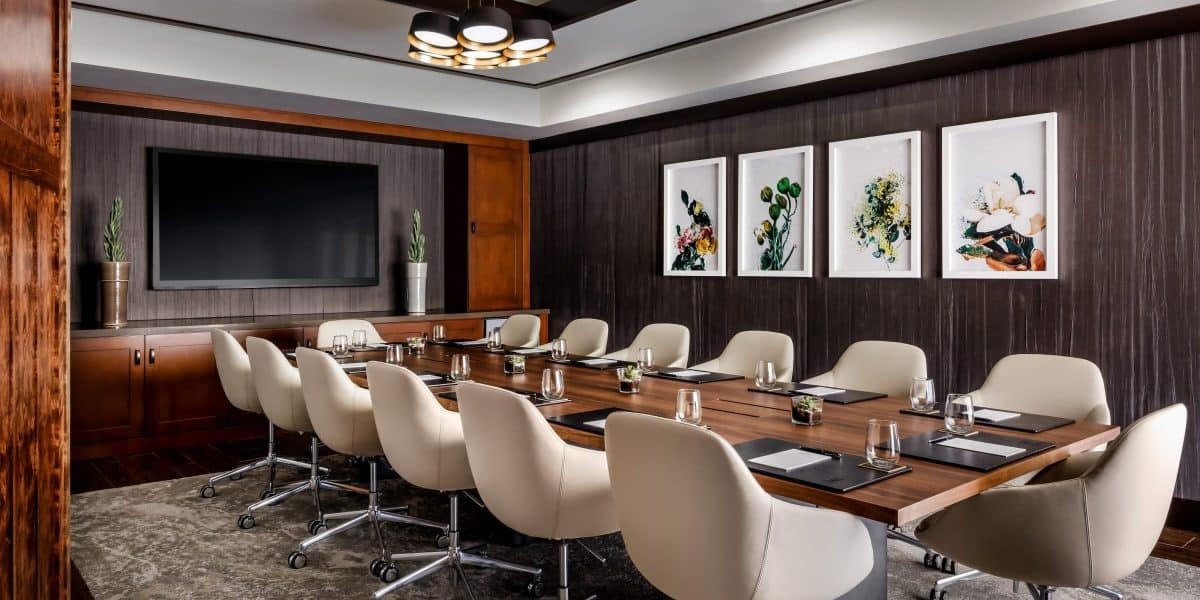 Answered
Meeting rooms on Peerspace cost on average $75 per hour.
Have you ever wondered, "how much does it cost to rent a meeting room?" If so, you're not alone! Along with the price, there are several essential factors that go into holding a successful meeting. You have to plan the agenda, the list of attendees, and, of course, the catering. But perhaps most crucial is where you hold the meeting. Luckily, you've landed on Peerspace, the largest online marketplace for hourly venue rentals. And yes, stylish and practical meeting rooms are our forte.
Anyone who's planning a meeting should put a fair amount of effort, as well as resources (i.e., time, money, and energy), into renting the right space. It can make the difference between a gathering that's uncomfortable and full of distractions — think traffic blasting from outside or people talking in nearby rooms — and a meeting where everyone is able to get down to business, communicate effectively, and creatively collaborate to solve problems and come up with answers. 
And again, if it's your task to book a meeting room that is both comfortable and has what you need, Peerspace is your best option. Most meeting rooms available on Peerspace have all the amenities you need to make your meeting a success. High-speed internet, state-of-the-art A/V equipment, and tons of style are the norm around here. But if you need anything extra for your meeting, you also have the full support of the Concierge service. These logistical pros can source anything you need — be it furnishings, catering, or staff — and deliver it to your venue.
Regardless of how large your budget is, you're likely to be wondering: "How much does it cost to rent a meeting room?" As we're about to show you, there's no set amount, as the most upscale meeting rooms can run hundreds of dollars more than the most reasonably priced. But this article will help you establish a general range as you begin to plan out your budget. And we will also be recommending some of our favorite Peerspace meetings rooms to help you find the perfect meeting venue in your city. Read on to learn more!
How much does it cost to rent a meeting room?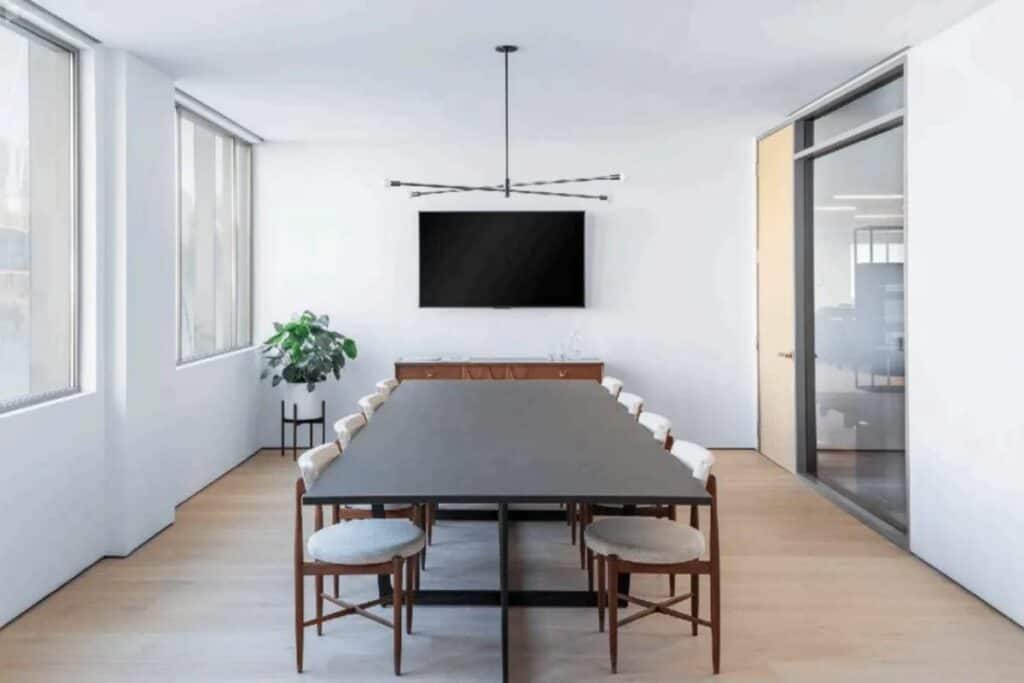 Several factors will affect the price you pay to book a meeting room. The cost is heavily dependent on where you are planning the meeting and the size and features of the space.
Location
That means if you're in a big metro — or an especially expensive city like New York City — the price will be higher. If you're in a smaller, more affordable city like Cincinnati, OH, the price you're likely to pay is going to be lower. But it's not just the city. The particular neighborhood within the city also makes a major difference.
For example, a meeting room in Midtown, NY, will be much more expensive, on average, than one in, say, Inwood, at Manhattan's northern tip. And in Cincinnati, the wealthiest neighborhood is called California (also known as Grove Park). Its meeting spaces will be much costlier than those in the more affordable neighborhood of Madisonville, for instance.
Size
Another major factor in meeting room pricing is size. A meeting room that can comfortably accommodate just six to eight people will be significantly more affordable than a larger space with a capacity of 20 to 40 people.
This is understandable, considering the larger the space, the more likely there will be additional seating and other costly resources,
Amenities
If the room includes additional features, this will also drive up the cost. Think about the type of features likely to be in a meeting room. Things like A/V hookups, projector, catering services, technical and administrative support, parking, and so forth are common. Venues without these will cost less than those with all of them.
Meeting rooms and pricing examples
With those details established, let's get into the nitty-gritty of pricing! In the country as a whole, the average meeting room costs around $30 at the low end to $250 at the high end. If you rent the space for a full day, rather than by the hour, the hourly price may be cheaper — you might end up paying around $400 to $700 for a small room or $1,000 to $1,500 for a larger room.
Here are a few examples of the kind of meeting room spaces that are available across a range of budget levels:
How do you find the right meeting room?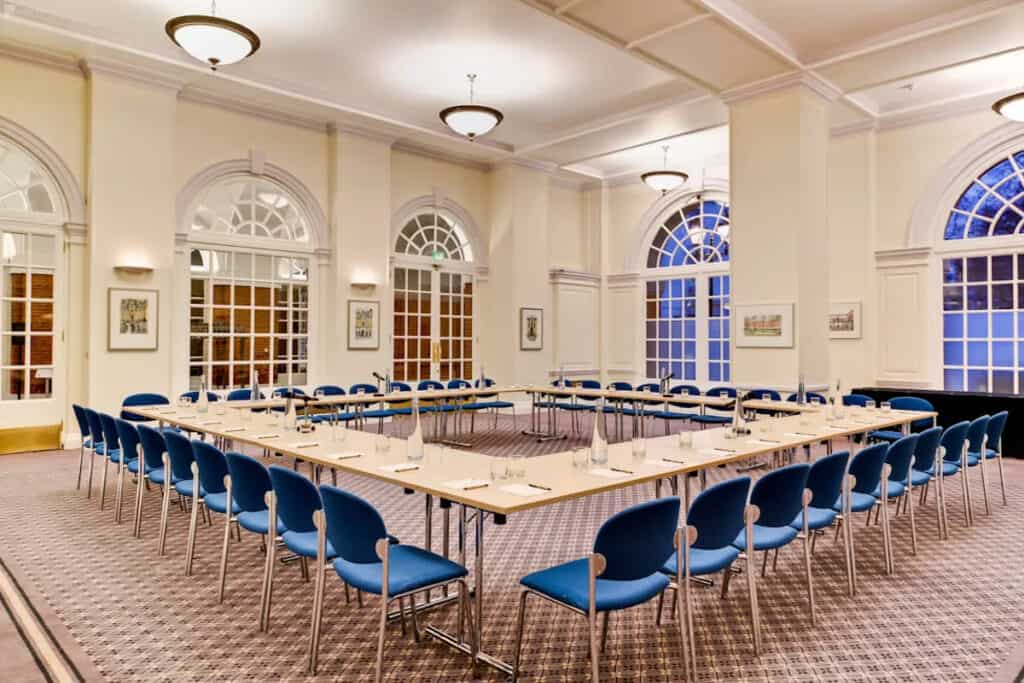 To get an even clearer and more specific sense of what renting a meeting room will cost in your intended city, do a quick search on Peerspace and scroll through the various options.
Peerspace is an ideal place to locate the right room for your next meeting. Across hundreds of cities in North America and beyond, you'll find thousands of venue options. And these aren't just your traditional —and, frankly, often boring — meeting spaces, either.
There is also an awe-inspiring number of exciting, unique spaces available, too, if you'd like your meeting to take place in a more memorable location than a standard hotel conference room. You're likely to find that a more attractive, distinctive space will inspire your group's creativity.
Peerspace meeting rooms all include photos, upfront pricing, and thorough details of what your booking will include. You can also read real reviews from people like you who have booked the space.
For example, the meeting room in Chelsea has hundreds of five-star reviews, including this one from a business owner:
"The most pleasant experience ever. Rudy had an answer for every question I had. I'm definitely going to book this spot again for the near future."
And a reviewer who booked the medium-sized meeting room in Chicago's Wicker Park shared the following:
"Laura was so helpful and professional throughout the whole process. She was very responsive and even allowed us to add more time and extend our booking because we were not done yet! The space is beautiful and even features all the utensils, music, furniture, etc…needed to host a get together. Would highly recommend to anyone looking for a space for a small to mid sized group."
The elegant and colorful multi-level meeting space in Santa Monica is also popular with past guests. Here's what one reviewer had to say after their time there:
"Super cool location! I booked this place for a relaxed meeting with my team. Everything was perfect! I had a reserved parking spot and a code to enter the building. The host met me downstairs and gave me a quick tour. The loft was clean and bright! Thank goodness the host did walkthrough at the end, as he discovered one of my colleagues left his keys and another left their cell charger. He's very friendly. I'll be booking again!"
And let's not forget this review, which comes courtesy of a past renter of the creative space in Dallas:
"Five stars all around!! Mr. Lee and his team were very pleasant and accommodating! This location is very roomy, yet intimate, very clean! I would definitely recommend and book this space again."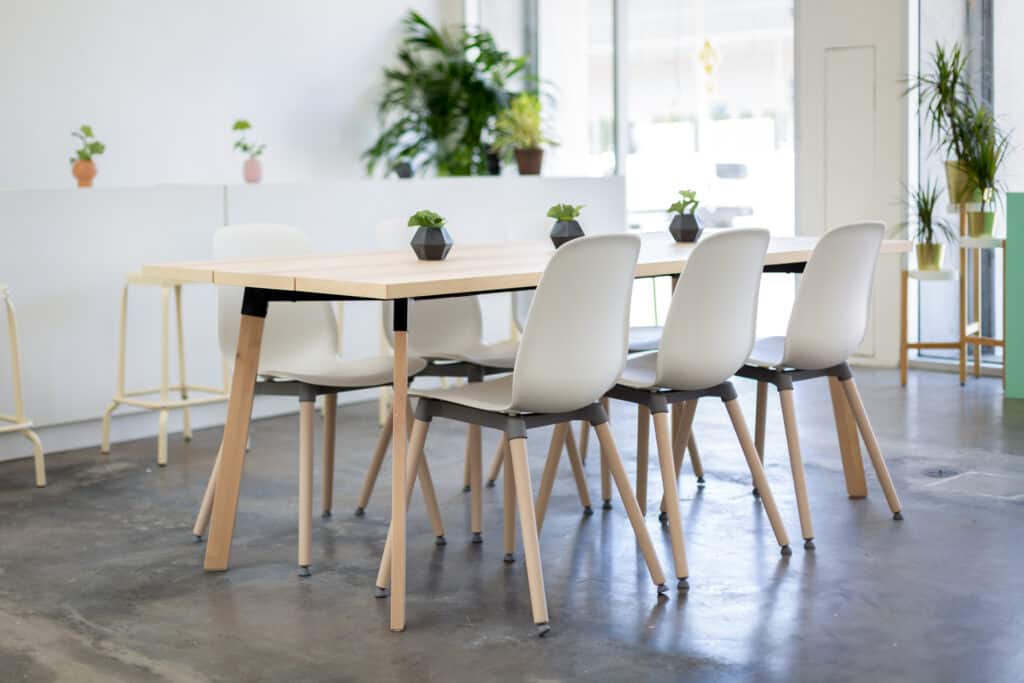 Yes! Peerspace is also incredibly easy to use. Just enter your city and event type (in this case, "meeting"), and all the options are right at your fingertips. You can filter your search so that only the venues that fit within your budget will come up.
Plus, you can also filter the results by space type, features, keyword, and more. When you click on listings, you'll find in-depth descriptions, high-quality photos, and space reviews. 

And remember, Peerspace's Concierge team can even help you with other elements of event planning beyond selecting the meeting location. They'll take on aspects like catering, furniture, A/V rentals, and more, streamlining the process and saving you a ton of time and energy. Need fresh coffee and bagels for that 7 a.m. meeting at your sunny Peerspace meeting room? Arrange it with the Concierge ahead of time and you can hit the snooze button at least once that morning!



Get together somewhere better
Book thousands of unique spaces directly from local hosts.
Explore Spaces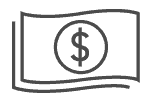 Share your space and start earning
Join thousands of hosts renting their space for meetings, events, and photo shoots.
List Your Space