13 Special 50th Birthday Photoshoot Ideas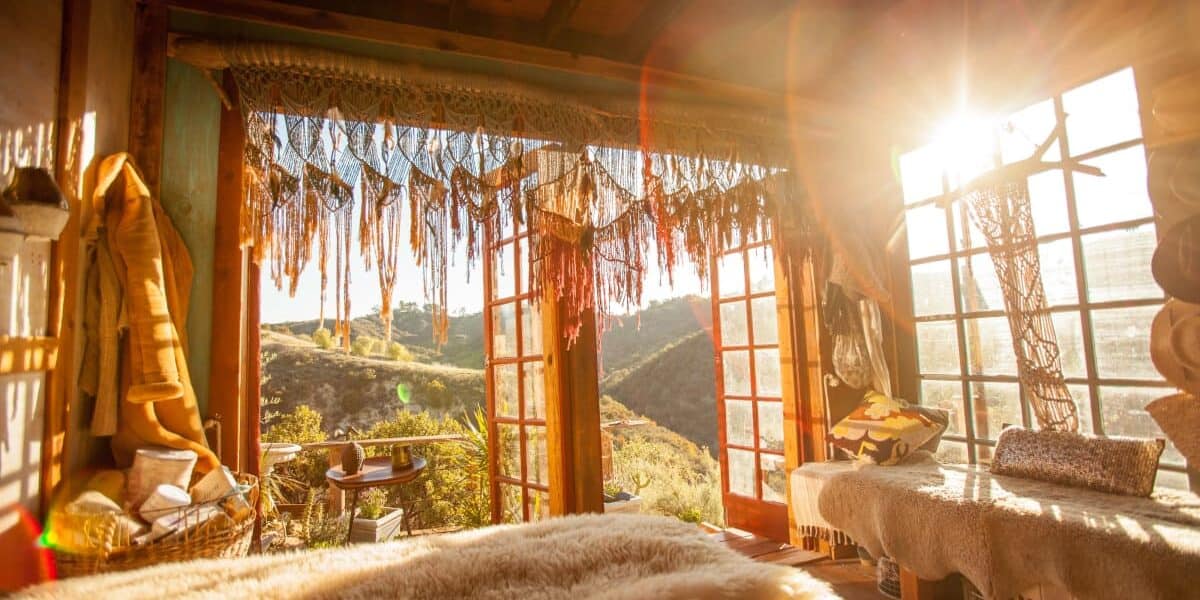 Searching for truly special 50th birthday photoshoot ideas? We understand! At Peerspace, we are all about finding you the perfect setting when it comes to your birthday, photoshoot, or other events. We're the largest online marketplace for hourly venue rentals, with spaces available in thousands of locations across North America, the UK, parts of Europe, and Australia.
And remember, reaching 50 is a milestone to celebrate! You've officially lived through half a century, and you're not slowing down any time soon. This calls for a special birthday photoshoot to mark the occasion!  Luckily, our amazing Peerspace hosts have you covered. We've rounded up a few of our favorite 50th birthday photoshoot ideas to help you celebrate this once-in-a-lifetime birthday.
1. Feel sophisticated at a stylish loft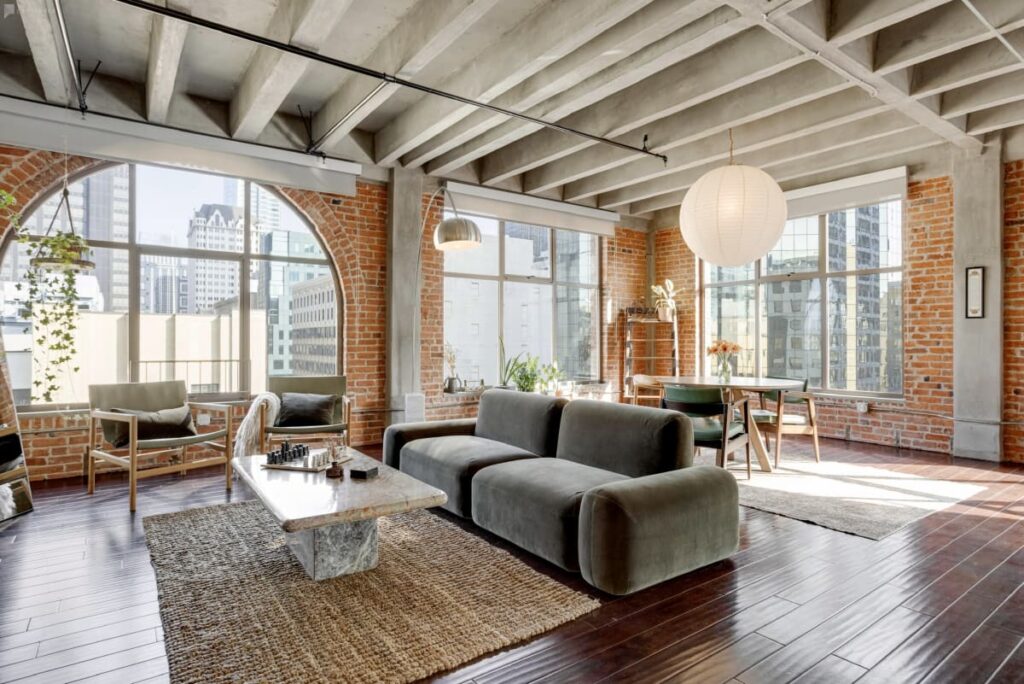 This stunning loft in central Los Angeles has plenty of gorgeous features, perfect for your birthday photoshoot. The stunning high ceilings and industrial features add visual interest and a sense of grandeur. Plus, the massive windows provide plenty of natural light for your shoot. There are tons of areas within the loft tjat you can use to create different vibes in your photos. Check out the full picture on Peerspace.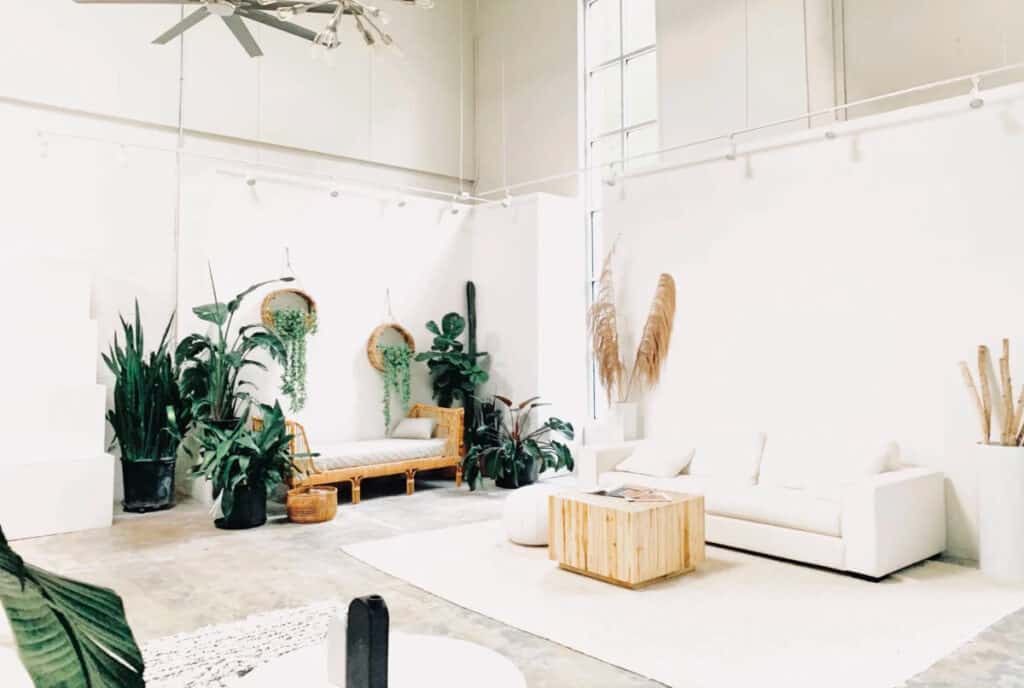 This 50th birthday photoshoot idea is clean, bright, and has just the right amount of boho flair. Located in Atlanta, GA, this loft-style photo studio is both beautiful and sophisticated. And the natural lighting can't be beaten, according to Peerspace reviewer Kiera C.
"Absolutely beautiful!!! The natural lighting is gorgeous," Kiera says in her review. "The vibe of the loft gives you modern with a mix of boho chic… My photographer didn't even have to use their lights." Want to enjoy that gorgeous natural light in your birthday photos? Head to Peerspace and make it happen.
3. Take a trip to the French Country by way of Tampa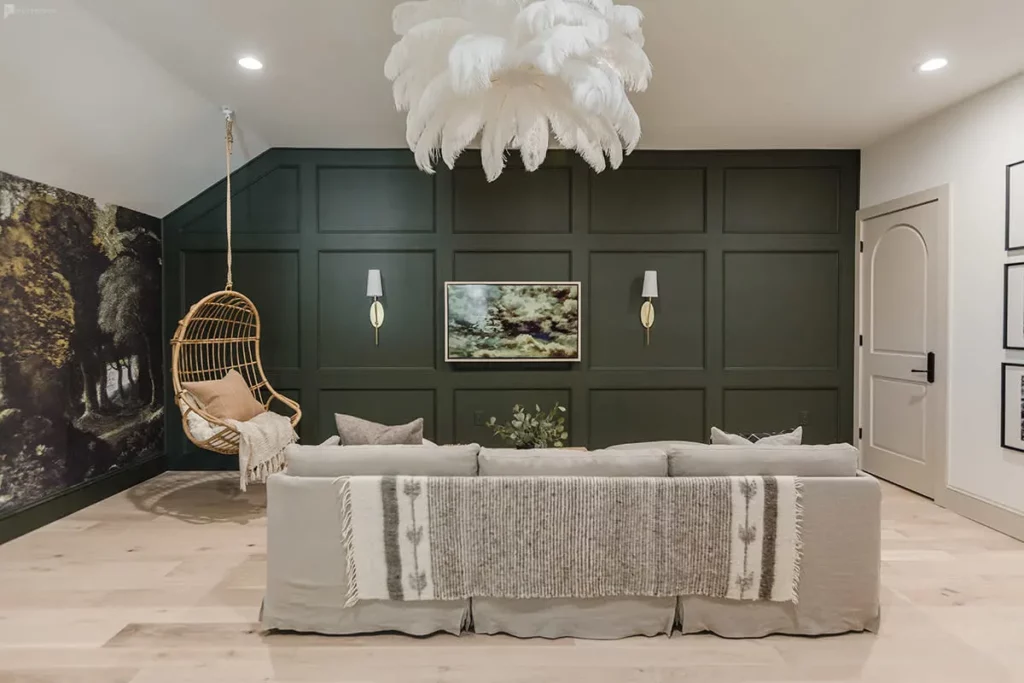 Located in Tampa, FL, this French country home combines the best of modern elegance and farmhouse charm. The Tudor-style home has a clean and bright color scheme, accented with pops of sophisticated color to set the scene. There's even a stunning mural that's like walking into a French painting. It's perfect for a classy birthday photoshoot for those with an affinity for European charm.
A photographer who booked this home for her project shares: "This space was absolutely gorgeous! Had a fabulous time shooting there. Tons of variety and the space is decorated so nicely. A lot of it is DIY and the owner is nice. She stays there and keeps to herself and let us do our thing. Wonderful experience."
Photoshoots are all well and good, but you also need to see our 50th birthday party ideas to celebrate the milestone in style!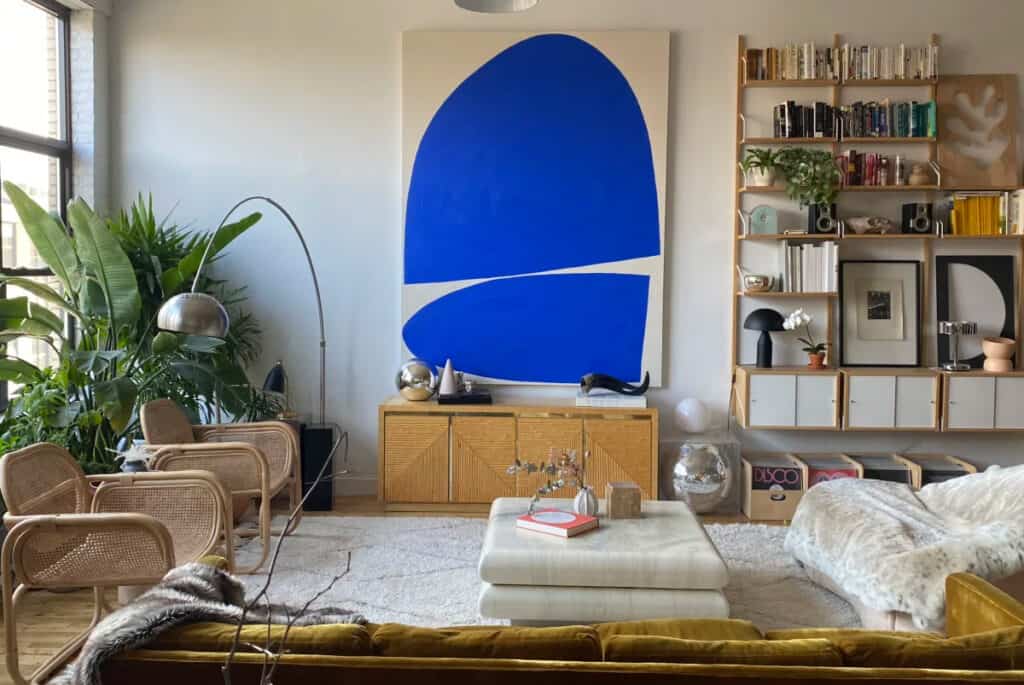 This retro-inspired loft in Brooklyn, NYC, is perfect for birthday photos with a vintage edge. Since you're celebrating your 50th birthday, that means you were born in the early 1970s. And that's precisely the era this loft pays homage to! The space has vintage designer furnishings, geometric artwork, and plenty of lush green plant life.
"Space is as described and Patrick is so easy to coordinate and work with," says Peerspace reviewer Jillian I. "The loft is gorgeous with great furniture and easily accessible via a freight elevator. Great light all day too. Would definitely book again."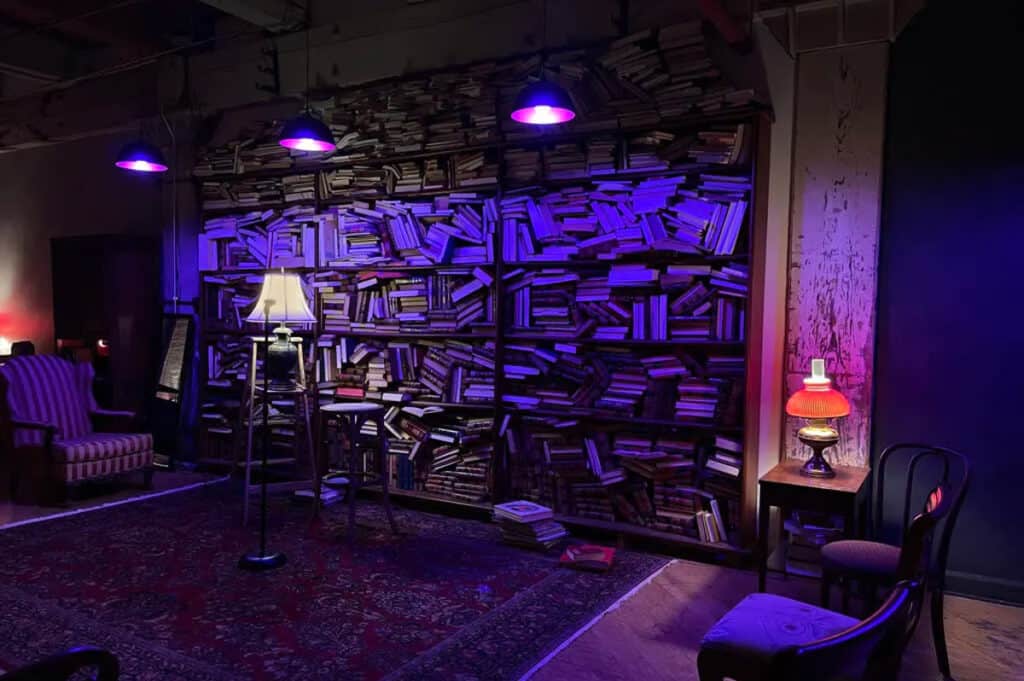 This 50th birthday photoshoot idea is sure to make your inner bibliophile swoon. Located in Chicago, IL, The Library is a photo studio unlike any other. In addition to the breathtaking full wall of bookshelves, there's also a selection of neutral-toned furniture that's both sophisticated and elegant. Book this private library for your special birthday photoshoot on Peerspace.
According to a photographer who booked this Peerspace studio: "The host Sarah and Dan were both very responsive and made booking this reservation very easy. The location itself is amazing. The pictures in the listing really don't do it justice. I was taken back when I seen how beautiful the location was. I used this location for a photoshoot. I'm glad I chose this place. I would definitely choose it again."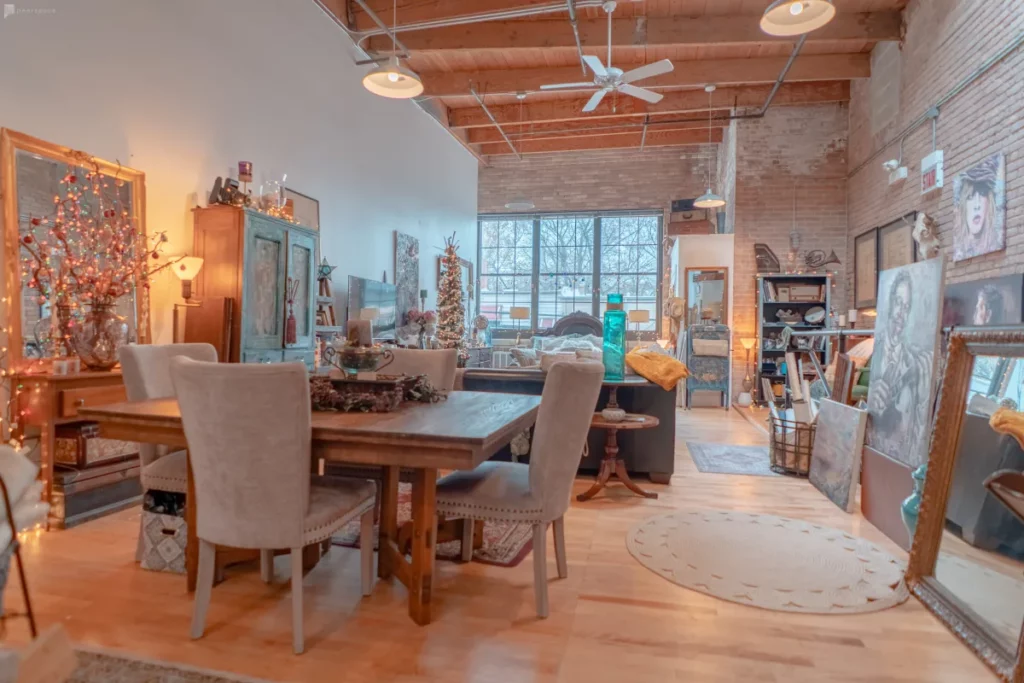 Nestled in a quiet neighborhood in Chicago, IL, this artist's loft boasts a raw, industrial vibe that's perfect for an eclectic birthday photoshoot. It also lets in plenty of natural light on sunny days, thanks to massive windows and multiple skylights. Along with all the antique furnishings, you can also utilize the kitchen, alleyway, and rooftop deck in your photoshoot.
"[This] studio space is absolutely magical and one of my favorite places we have shot," says Peerspace reviewer Maddie V. "There are many different elements laid out on the floor plan that help create endless photo opportunities."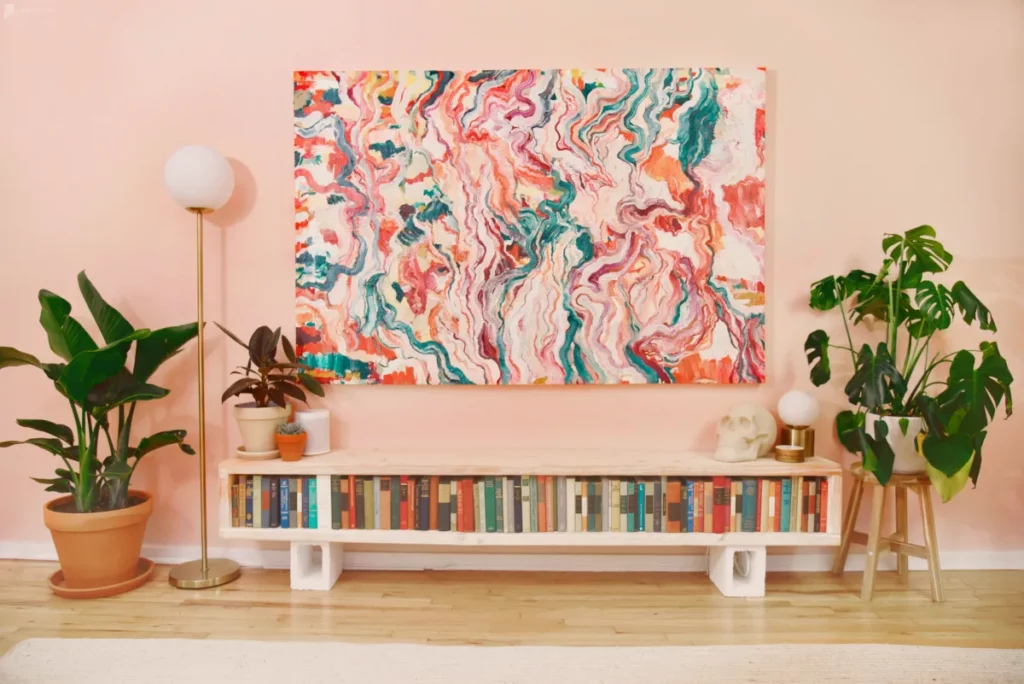 This boho bungalow in Venice, CA, combines a sweet pink color palette with a refined design sense. The soft pink walls provide femininity and airiness to the space, while an abundance of plants creates an earthy atmosphere. This is an amazing chance to show off your unique style on your special birthday photoshoot. Some gold birthday balloons would pop against that pastel pink wall!
It also boasts tons of five-star reviews, including one from a Peerspace reviewer who wants to keep it all for herself! "I loved the house, it fulfilled all my needs. Great location! Very accommodating hosts. I hesitate in singing too many praises as I want to have the space available for my next visit."
8. Keep it sophisticated with neutral tones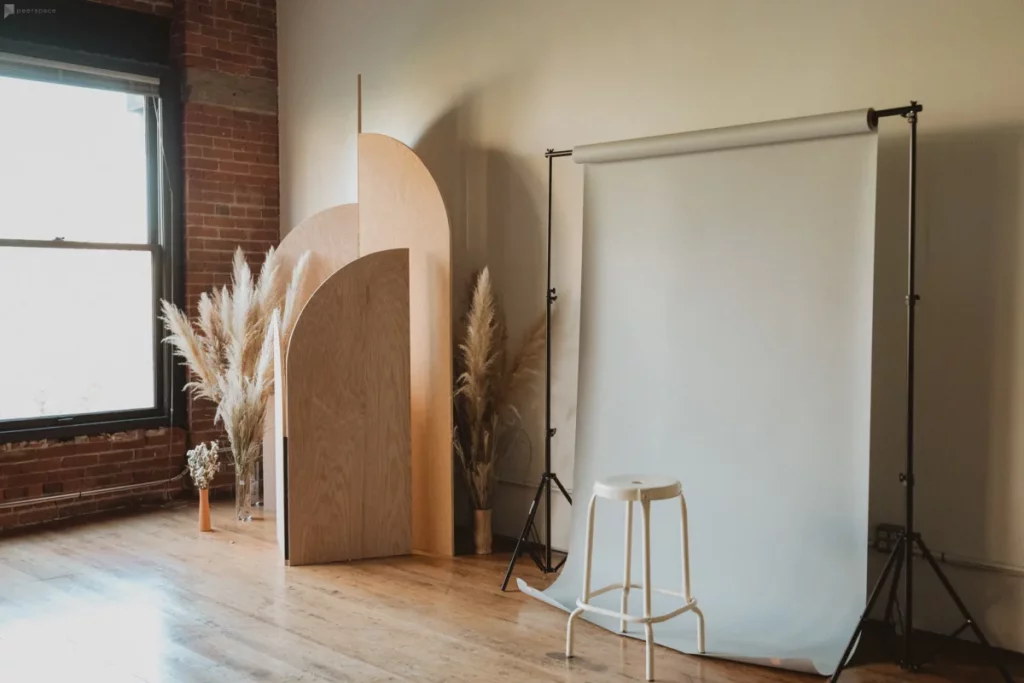 Located in Seattle, WA, this elegant loft combines raw, industrial style with warm and welcoming design choices. While there, make use of the custom wood backdrops, lush plant life, and adorable add-on options. It's perfect for anyone who wants to shoot editorial-style birthday photos straight out of a fashion magazine.
"This studio is probably the cutest I've ever photographed in," says photographer Gaoli W. "[They] always have the best decorations and setup… I always recommend this one to all my clients who are looking for an indoor space."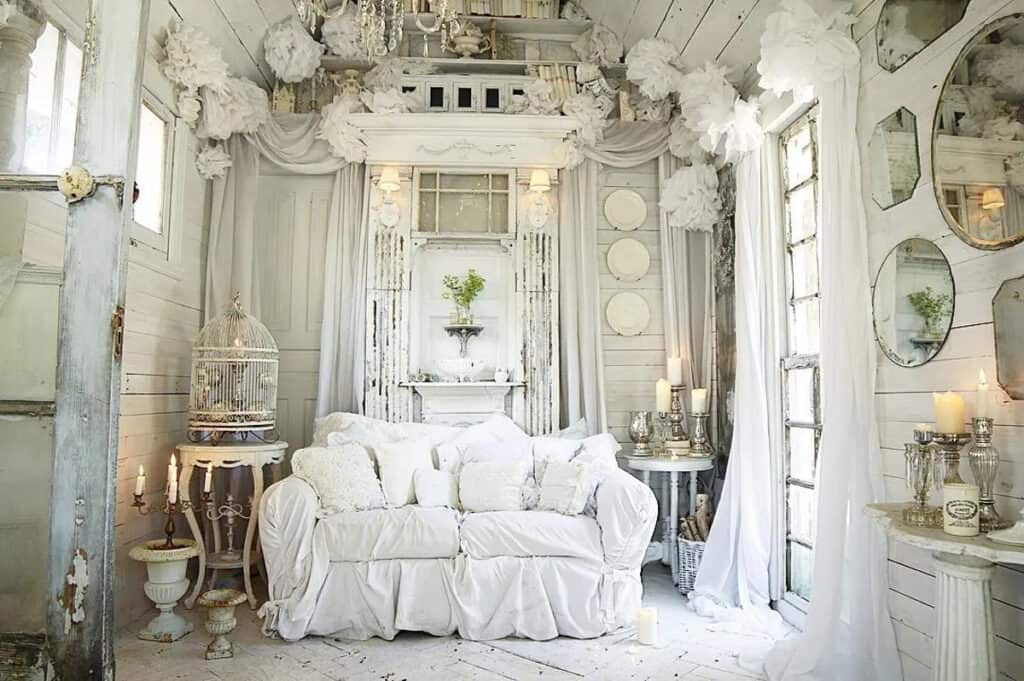 Nestled in Seattle, Washington, this little white house is a hidden gem. It's filled with charming antiques and elegant design touches, all of which are a crisp, shabby-chic white color. We think it is the ideal spot for an elegant birthday photoshoot full of whimsy and grace. 
"This space is beautiful and peaceful," says singer DANIEL L., who shared his approval on Peerspace. "The little house is literally a dream house, especially at this time of the year with all the stunning color trees when you look outside the windows." Good news for those who have a fall birthday!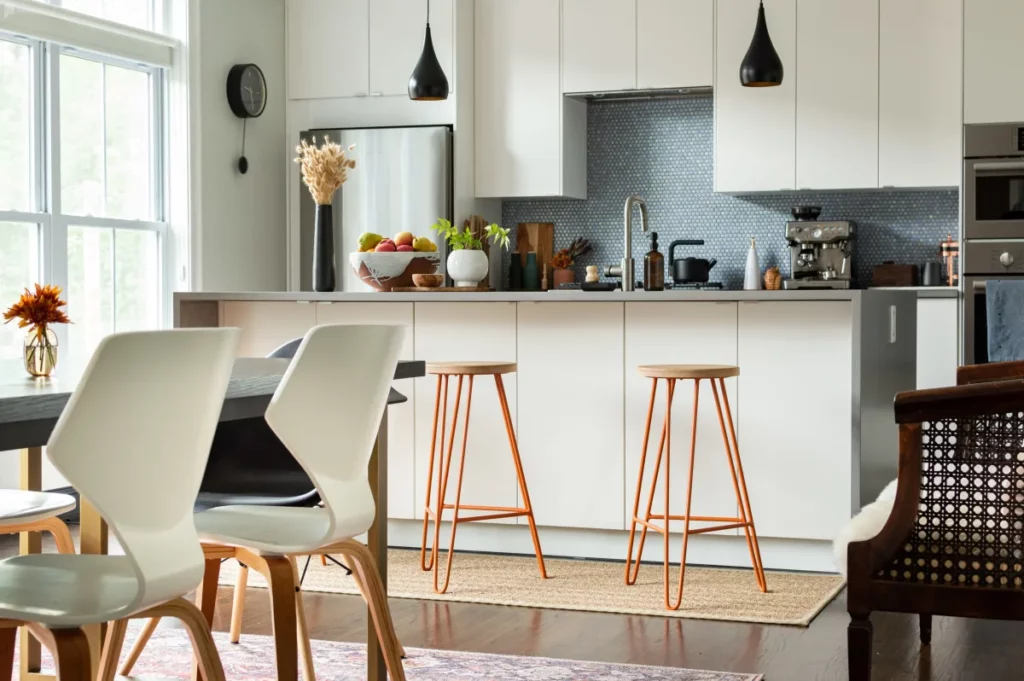 This Boston townhome is perfect for birthday photoshoots with a modern touch. The space is both charming and modern. Simple but colorful. The color palette consists of cool blues and greens, with pops of shiny gold throughout. Imagine making your entrance on that grand staircase or posing for a sophisticated shot by the gorgeous fireplace. We love the idea of adding a lifestyle element to your photos here. If you love to cook, pose in the kitchen while in the midst of cooking something delicious. If you're a writer, curl up on the couch while reading the newspaper.
Perhaps unsurprisingly, this home is also popular for video shoots. "Lisa was wonderful! Incredibly responsive and helpful while we were onsite. Her space is beautiful – charming with stunning finishes. It was perfect for our video shoot. Look forward to booking again for another one!"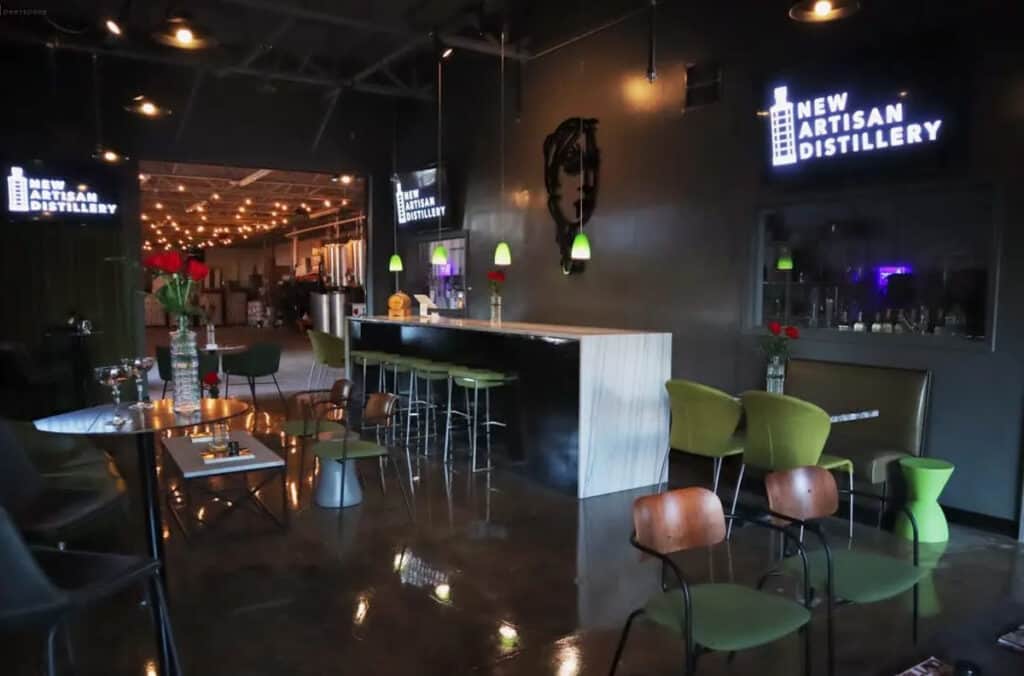 Here's a 50th birthday photoshoot idea ideal for those who love unique settings. Located 10 minutes from downtown Dallas, TX, this Distillery boasts an industrial yet cozy vibe, perfect for your birthday photos. The shiny distilling equipment would make an amazing and interesting backdrop for your pics. The overhead twinkle lights provide soft and magical lighting. Plus, there's also a lounge and tasting room attached, where you can sample the distillery's wares.
You can combine your birthday photoshoot and birthday party at this versatile Peerspace venue. When you're finished snapping your birthday photos, you can enjoy some delicious drinks with friends and family! 
A brand CEO who booked a photoshoot here shared the following Peerspace review: "The staff is friendly, the setup is great. I used the location for a photo shoot and loved how everything turned out. The location is as advertised and easy to find."
Check out our creative 50th birthday decoration ideas to enhance your venue for the special occasion!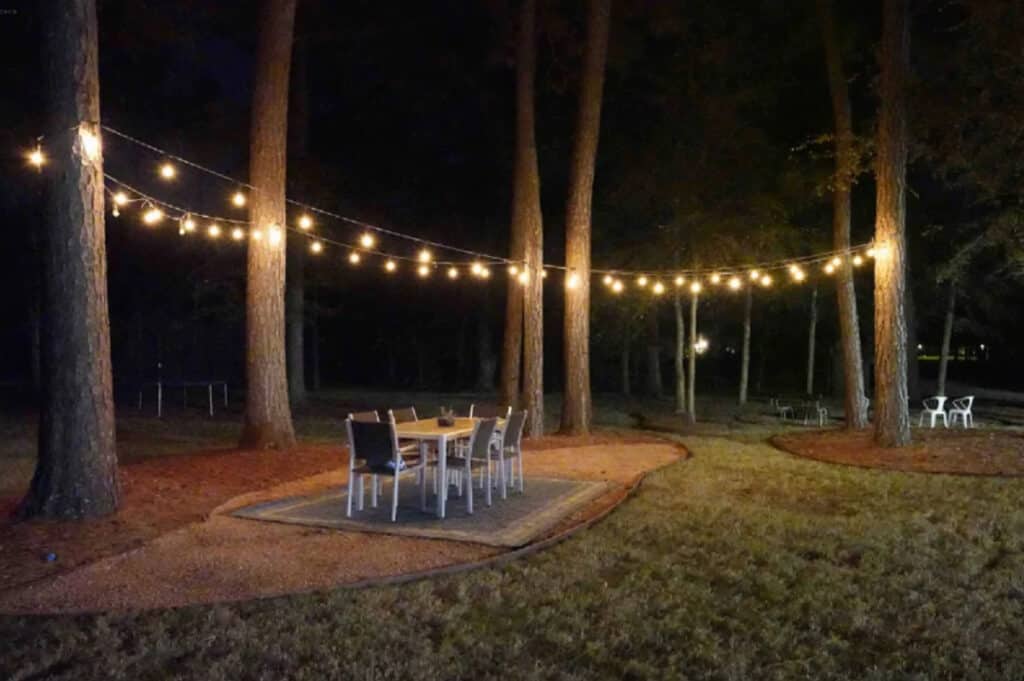 Looking for outdoor 50th birthday photoshoot ideas? At this suburban home in Hockley, TX, you can enjoy stunning natural beauty without having to battle crowds at a public park. The home is surrounded by 3 acres of pine forest and features some beautiful natural landscaping. You can snap some wonderful birthday photos here on a clear day.
But if it does rain on your birthday parade, not to worry. The interior of the modern home is just as stunning as the exterior. It has a clean and contemporary aesthetic that comes across beautifully in photos. See for yourself on Peerspace. 
50th birthday photoshoot ideas like this next one might be small in square footage, but the view is incredible. This tiny house is located in Topanga, CA. The adorable tiny space is rustic and warm, with outdoor living areas that overlook the jaw-dropping canyon. You'll feel like a queen when you shoot your birthday photos on the top of the hill, standing on the peak of a whole new adventure.
A Peerspace reviewer who booked a photoshoot here shared: "Amazing place! 10/10 would recommend staying or shooting here!!" As always, you can book this tiny house for your birthday photoshoot on Peerspace.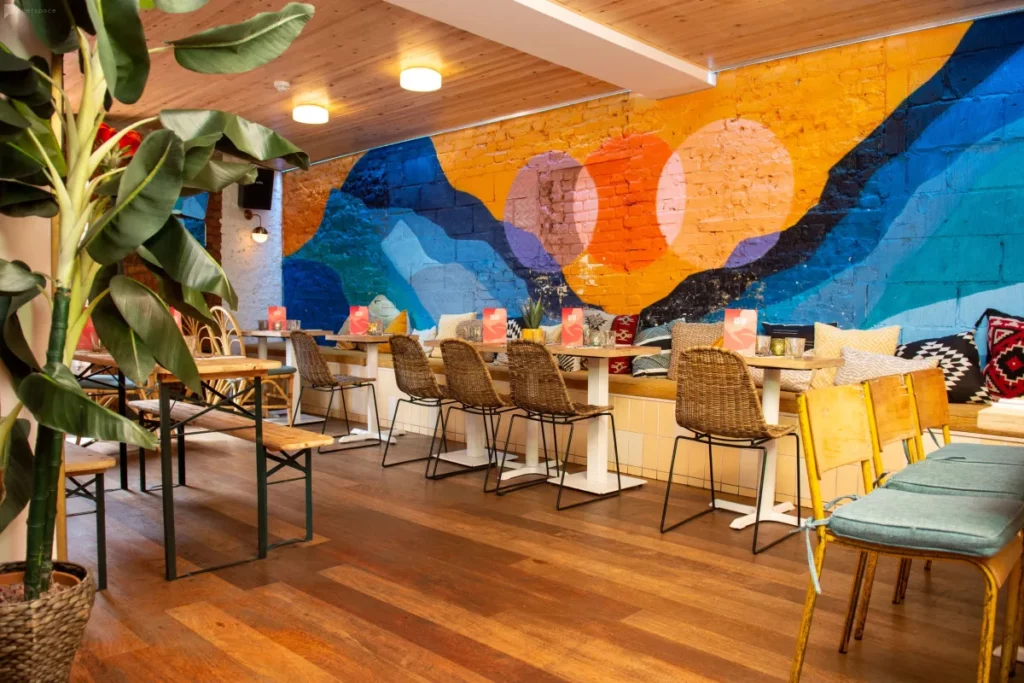 For 50th birthday photoshoot ideas for those in London, we highly recommend booking time at this fun and sunny Palm Springs-inspired bar in Camden. It is a 2,000-square-foot venue that features colorful murals, vintage-boho decor, neon lights, and charming greenery. You will look stunning while posing near any of these unique features. And you can stick around for celebratory birthday drinks, post-shoot!
50th birthday photoshoot ideas come to life with Peerspace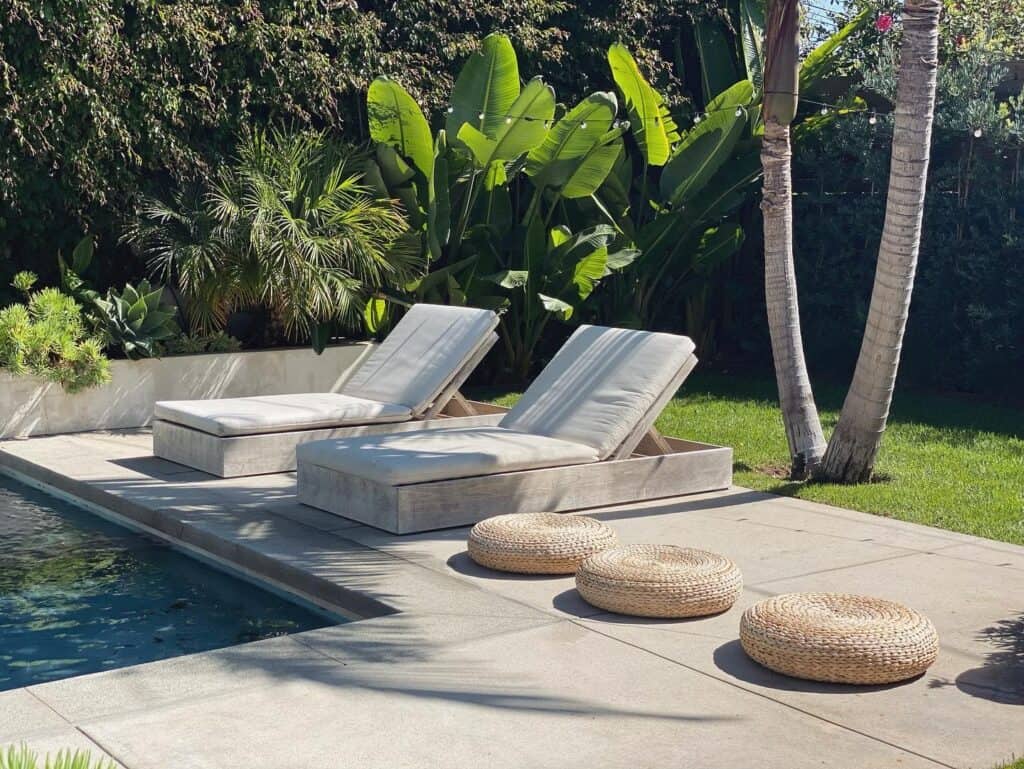 Celebrate turning the big 5-0 by treating yourself to a photoshoot at one of these stunning Peerspace venues! You can also click the link to check out even more incredible photoshoot locations and other hourly venue rentals near you.
With new spaces added daily, it's best to bookmark Peerspace and explore what's new on offer when you get a chance. Have fun, and happy birthday!

Get together somewhere better
Book thousands of unique spaces directly from local hosts.
Explore Spaces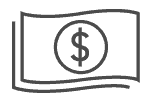 Share your space and start earning
Join thousands of hosts renting their space for meetings, events, and photo shoots.
List Your Space