10 Awesome Vintage Photoshoot Ideas
Bring old-school vibes to life with a fabulous photoshoot! These awesome vintage photoshoot ideas have no time to deal with the tedious and bland. In fact, they are all about fun and unique takes on the looks of decades past! These spaces have it all, from 1960s-style and '50s classics to vibrant collections and tasteful antique touches.
And as you'll soon see, you can book any one of them with ease using Peerspace, the largest online marketplace for hourly venue rentals. No matter what you're planning, be it a photoshoot, a film shoot, a corporate meeting, a wedding, etc., Peerspace offers you access to the most jaw-dropping hidden gem venues that you can call your own for a few hours. And, we're in cities across the globe, so your location doesn't have to hinder your creativity. But for now, let's get on to our vintage photoshoot ideas…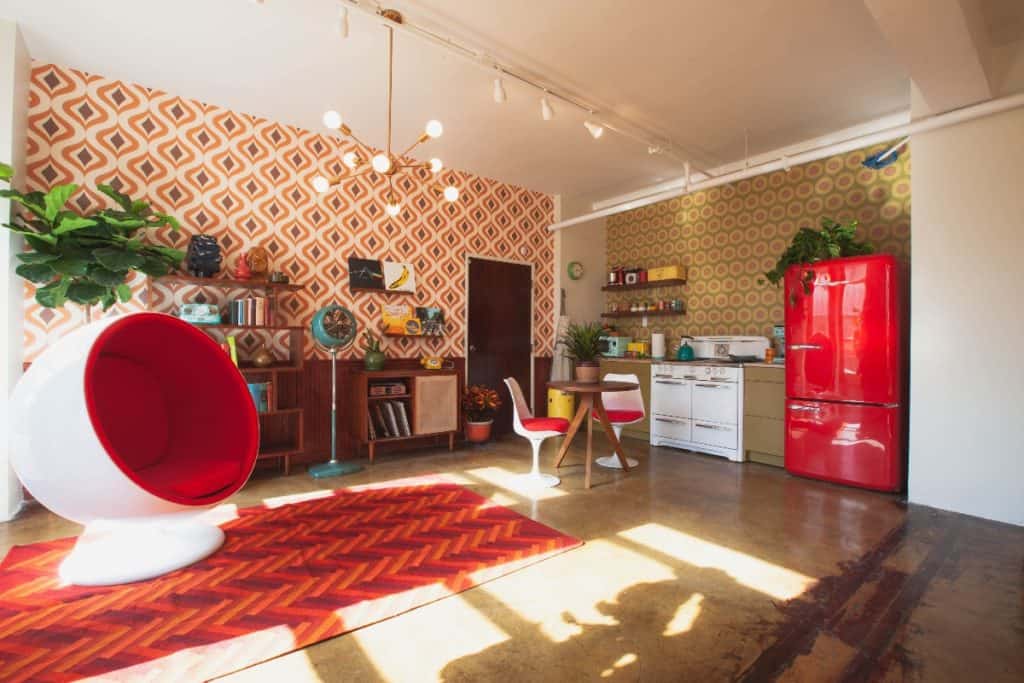 Vintage chic wallpaper for a photoshoot background? Yes, please! Fabulous décor and stylish retro backdrops are a must for any vintage photoshoot! This fun loft in the heart of downtown LA offers just that and more. You'll love the kitchen aesthetics, unique furniture, and three different one-of-a-kind wallpapers! Take a look at all the angles of this room by exploring the pics on Peerspace.
Also, don't forget to check out this loft's reviews, like this one from a content creator: "Incredible space, with great props and amazing natural lighting! The Host was so quick to respond and very helpful."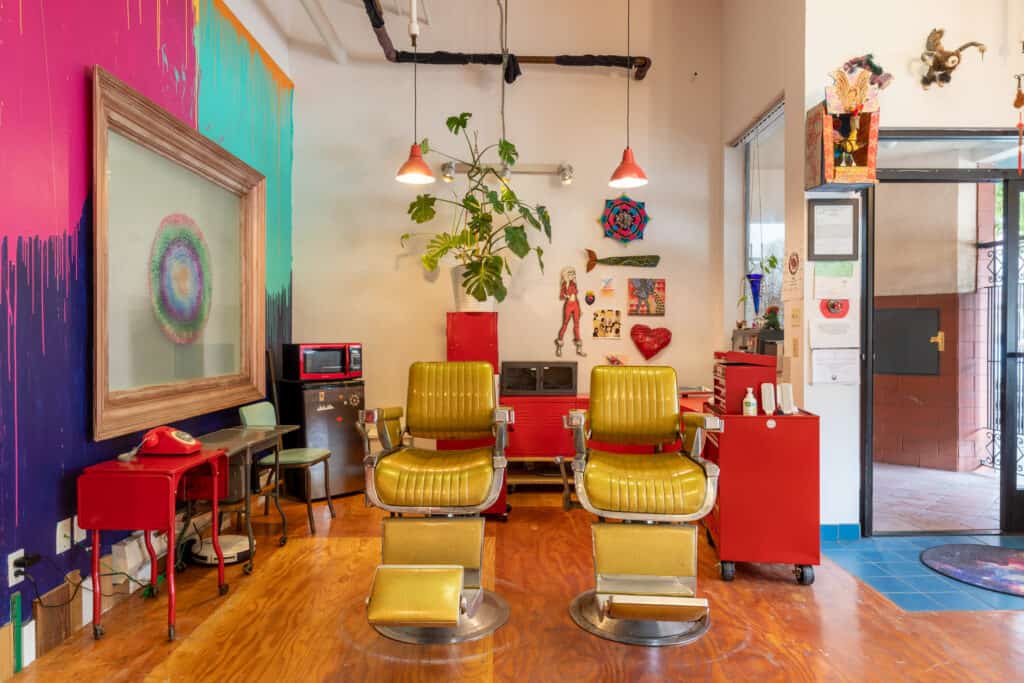 Vintage isn't just about "things," it's also about "looks" — and who doesn't love the look of a voluminous and sleek vintage hairstyle? Get all done up and bring your vintage photoshoot to the next level at a fun and vibrant salon! This Peerspace venue in the Mission neighborhood of San Francisco is an ideal spot to show off your beehive or bob and provides plenty of natural light for stunning photos.
As one Peerspace reviewer puts it: "Ana's salon is amazing. The decor is so well done, she thought of each detail to make it funky and artsy like advertised. But in person is even more stunning! Ana is adorable, very responsive and helpful. I did a photo shoot and film and looking forward to do more at her incredible space."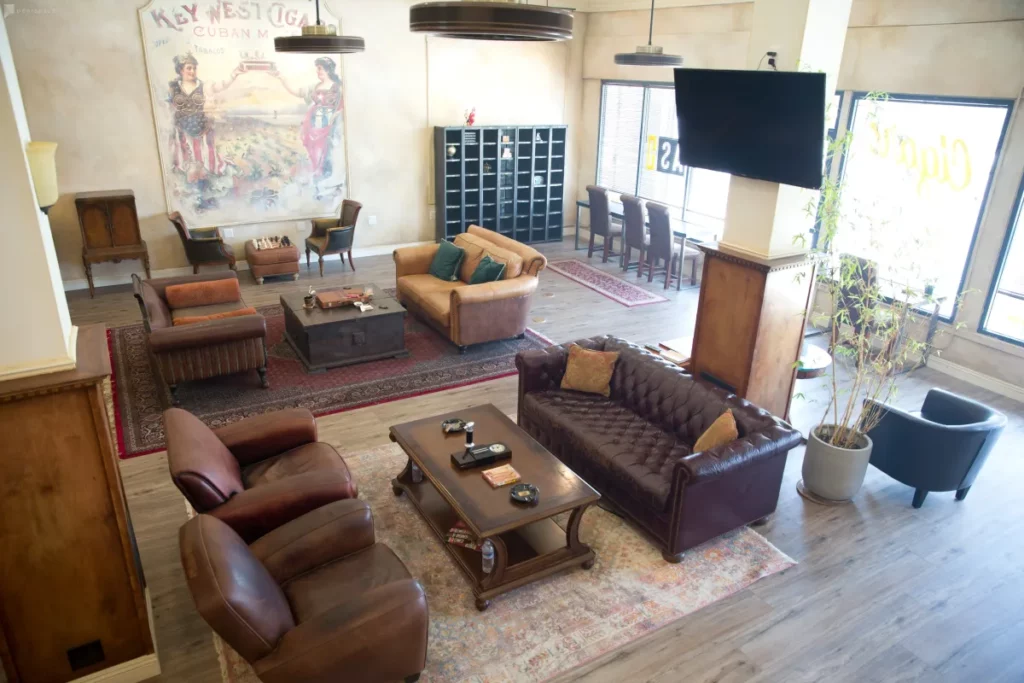 Throw some culture in with your retro look — say a vintage Miami hotel meets old Havana look! This eclectic Los Angeles cigar club combines rustic, old-world woods and plush brown leather seats for a cozy shoot straight out of a vintage Havana hotel.
It's still vintage to us! Check out these awesome throwback 90s photoshoot ideas!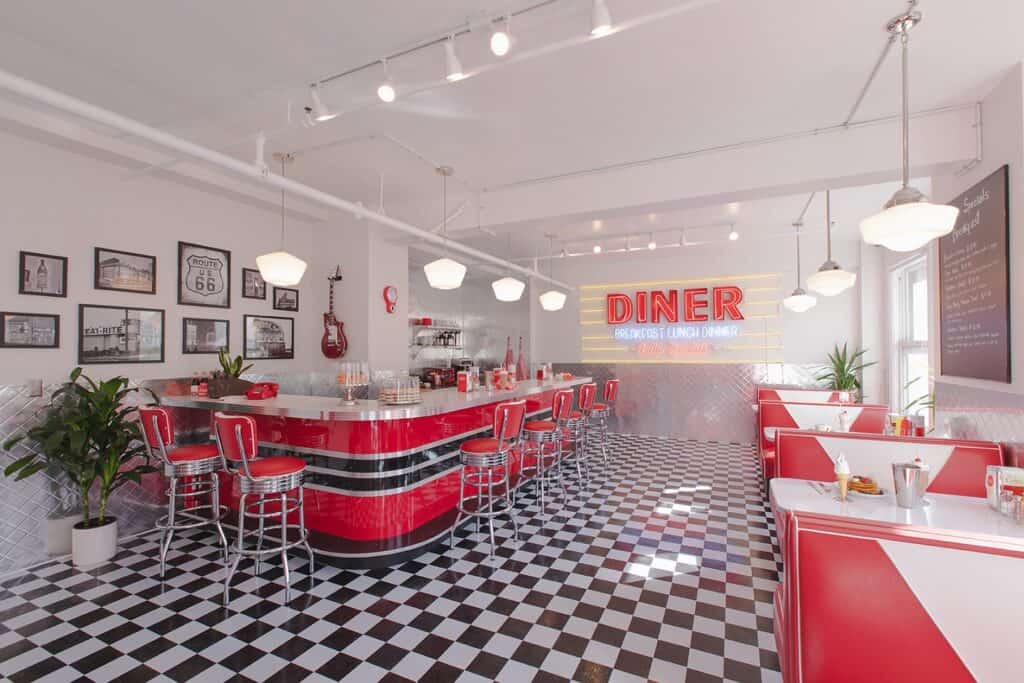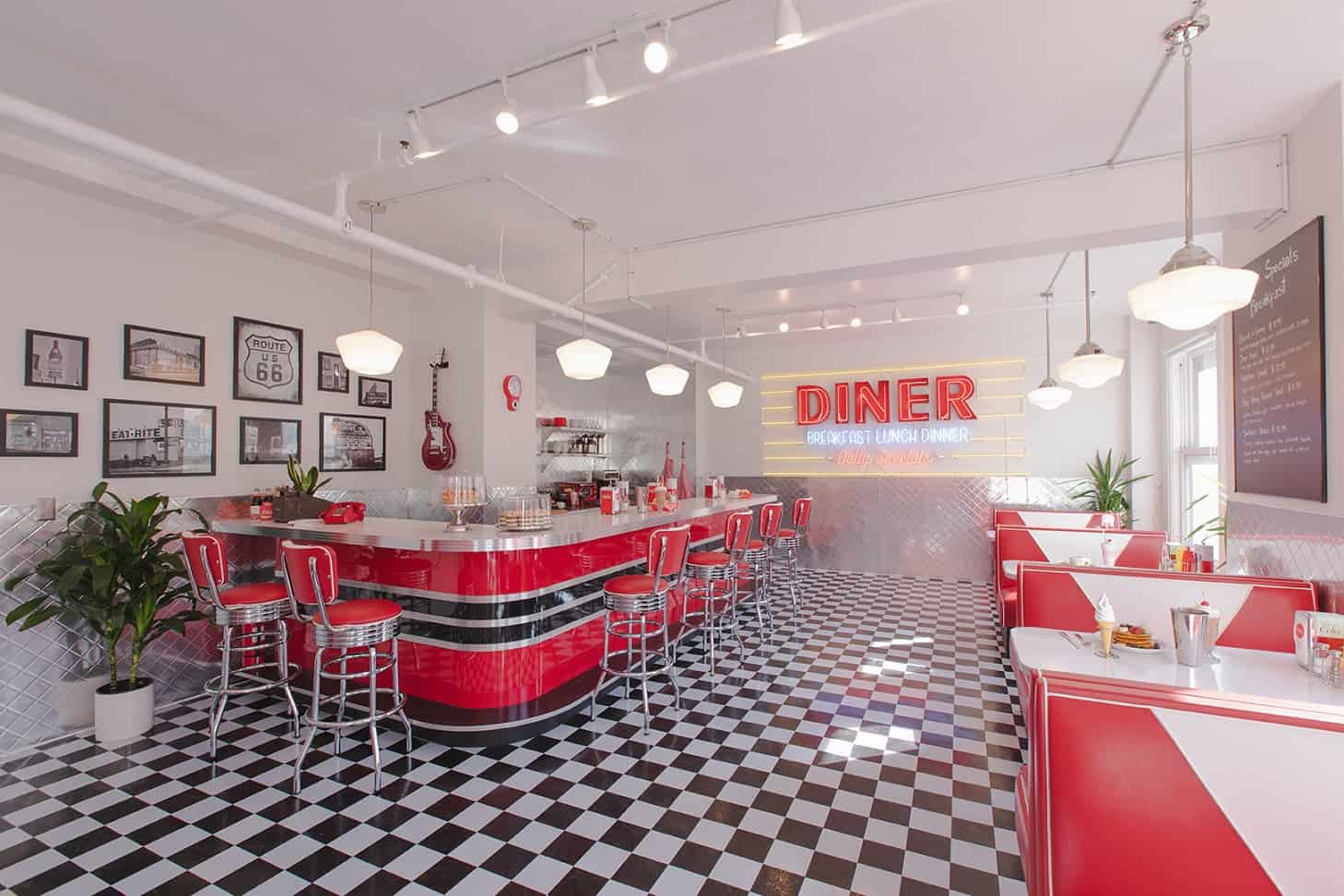 A list of iconic vintage photoshoot ideas would be amiss without the inclusion of this classic American eatery — the diner! And you can't go wrong with booking this downtown LA diner for your photoshoot. It's perfectly decorated and even has hundreds of five-star reviews on Peerspace!
One reviewer explains, "the venue had authentic and well cared for furniture and props. Once you enter, it is like you are transported to that era."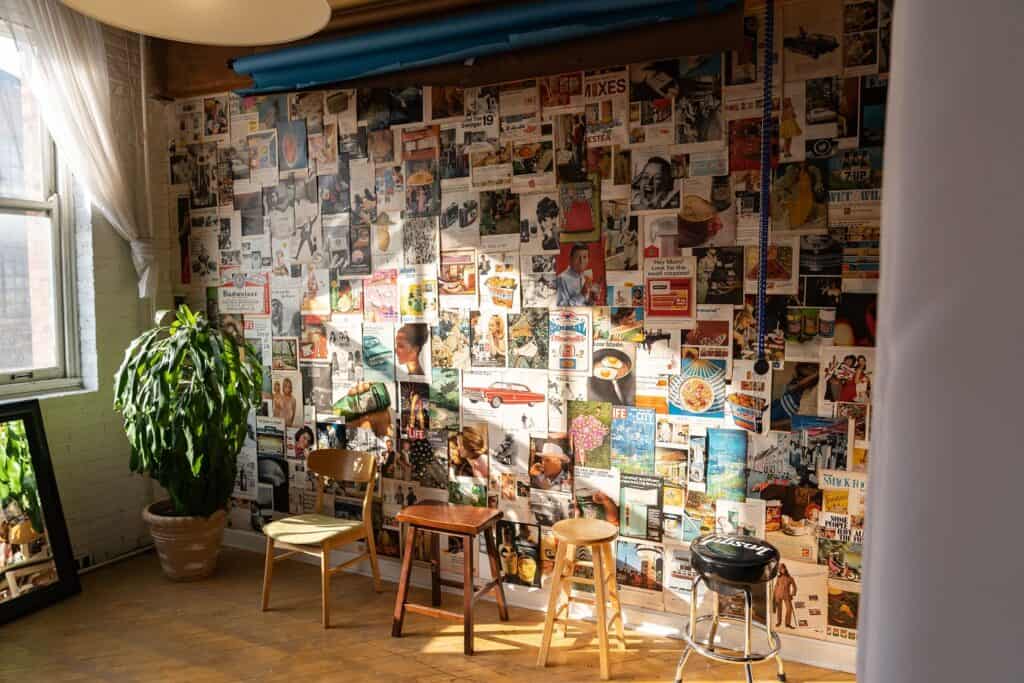 Rock out to your favorite tunes in a music-themed vintage photoshoot! Treat yourself to a photoshoot in a space adorned with your favorite vinyl records and magazine cover throwbacks. This Chicago venue offers just that, plus large industrial windows that provide soft natural light throughout the day and into the warm golden hour. When you book on Peerspace, you can choose from an array of video equipment for your shoot or hire a photographer directly through the venue!
According to one Peerspace reviewer: "The studio is great and has much to offer: lights, backdrops, accessories etc! Big thank you to the owner of the place who helped us to set up the stage and lights! It literally saved us another 20-30 min."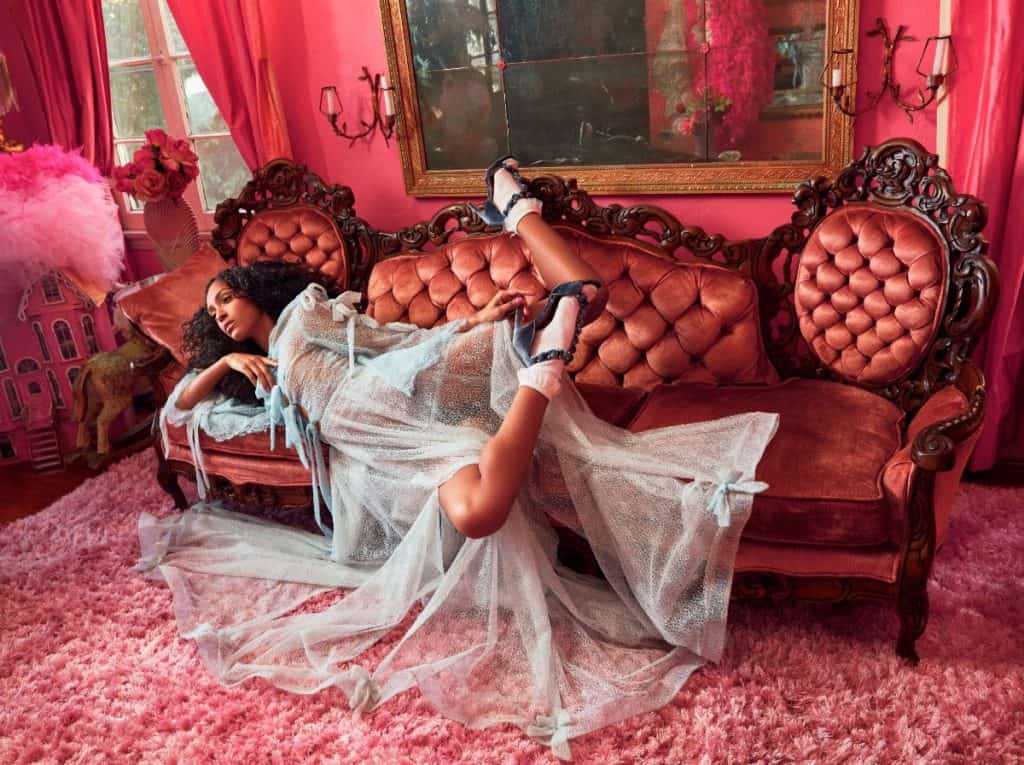 Looking for vintage photoshoot ideas that give you an excuse to get all dolled up? Then you've met your match with this life-sized dollhouse! It's an adult playground, complete with vintage costumes and props, antique décor, crystal chandeliers, and lots of roses.
Our favorite room? The "Heather Pink Princess Bedroom" — it's the room you always dreamed of having as a kid! This Peerspace host also changes up the rooms, so you can have a unique experience every time you visit. Shoot her a Peerspace message and ask for the latest pics.
And don't forget to check out the dollhouses' hundreds of five-star reviews! When you do, you'll see raves like this: "Amazing space! Nice and air conditioned, with lots of different rooms and sooo many cool props :)! Will for sure be back!" and "Carol is so kind and accommodating .The space is somehow even better in person (if that's possible!) I am 100% coming back!"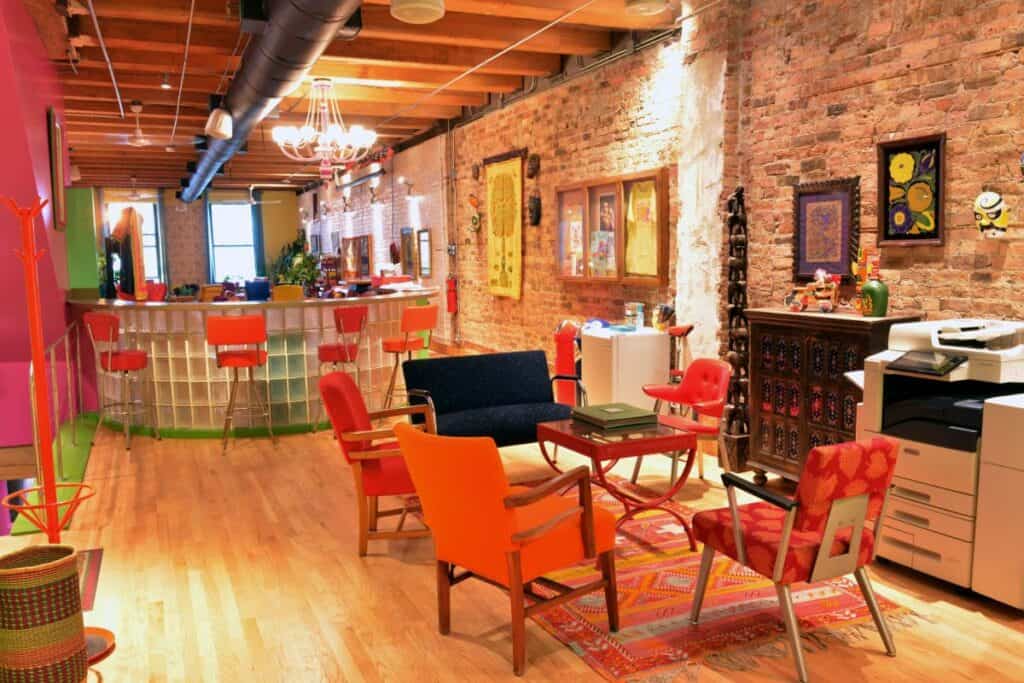 A vintage space isn't thrown together in a day — find a space that's been carefully curated with fun, beautiful knick-knacks that will make your heart smile! This Chicago Peerspace host took years collecting and curating the furniture and artifacts in his apartment, and some of the pieces are custom designed and built for the space. A space this unique is also sure to provide you with some jaw-dropping shots!
One delighted reviewer summed up the space well: "The place blew me away. It was gorgeous in every way and fit my theme in every way. I loved how big it was and how creative every corner was. There was an on staff team which was awesome. I'd def book again. Thank you so very much."
Be undeniably groovy with our 70s photoshoot ideas!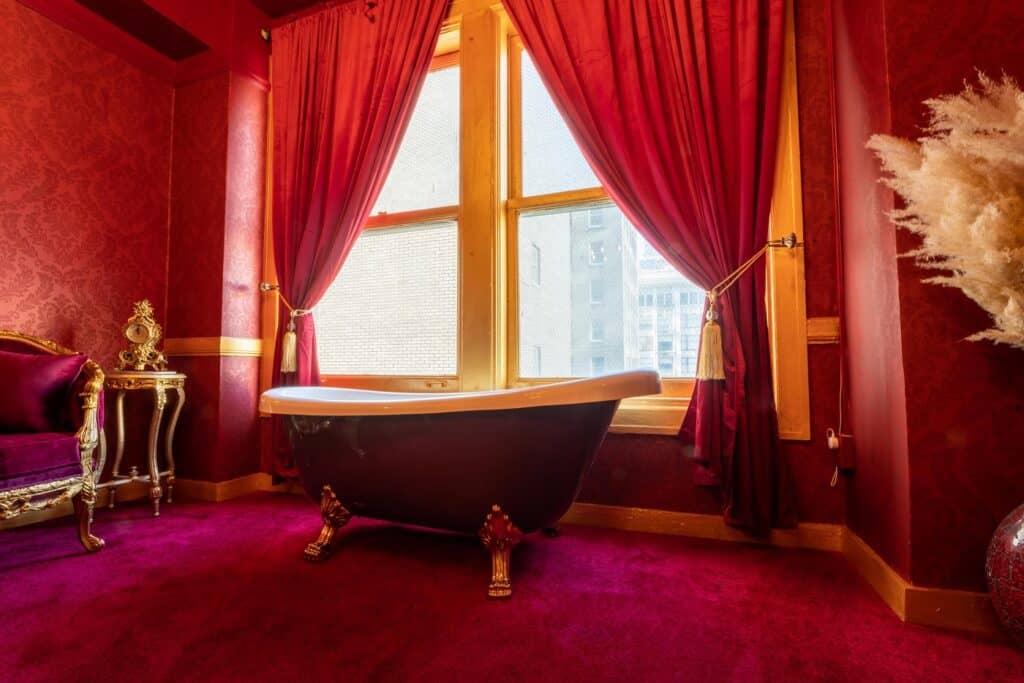 Old-fashioned doesn't mean lacking in luxury! Vintage photoshoot ideas should combine elegance, beauty, and history, and it's a plus if you can get a jaw-dropping color scheme! This luxury Peerspace venue offers all of the above. The Red Luxury Room exudes crimson with its red walls accented with shimmering gold to make your vintage photos pop.
In addition, soft pastel blues and hints of gold and pink in the adjacent room make you feel like you're in heaven. And this space doesn't skimp on amenities—luxurious furniture and props, beautiful natural lighting, a vanity, chandeliers, a bed, and a bathtub all come with your booking!
According to just one of the hundreds of five-star reviews: "What an incredible space!!! Dream come true for us vintage junkies!!! Thank you for being so communicative and coming to say hi to us! Would definitely rent again!"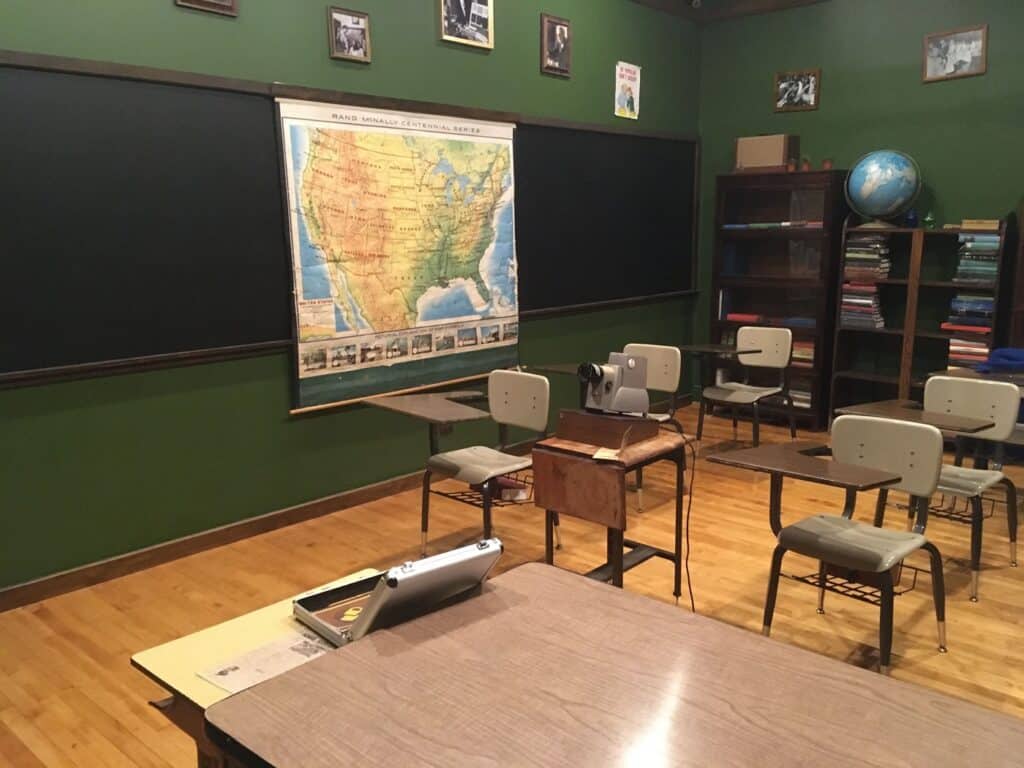 Give your photoshoot a nostalgic edge with this fun venue mimicking a 1954 Midwestern classroom. Created by Chicago film and theater workers, this Peerspace bookable venue is unlike any other space you'll find online! It includes desks, chairs, a projector, and other retro classroom goodies. Not only that, this venue has several other retro photoshoot setups, including a 1930's detective's office and a 1980's cheesy dollhouse horror shop! And you can book them all on Peerspace today.
Just take it from one content creator who used this space for her project: "Okay, this place is amazing. The staff is super friendly and supportive. The set was absolutely amazing. I love how my project turned and I can't wait to come back for future projects!"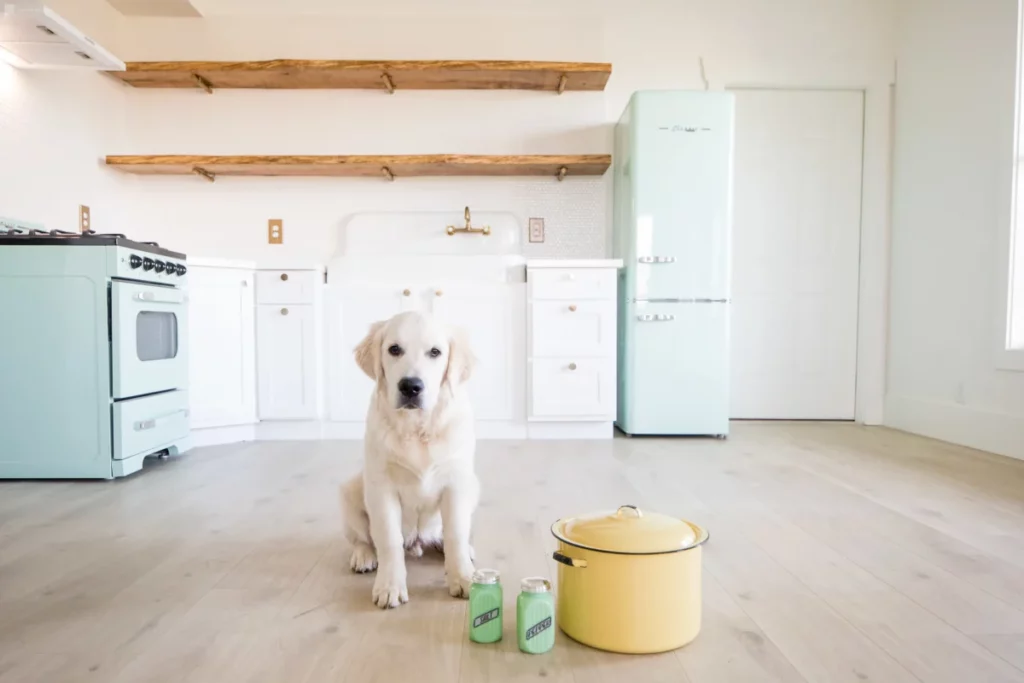 This pristine retro photo studio in Goodlettsville, TN, provides you with everything you need for your vintage photoshoot ideas. In fact, it features a cyclorama and an array of retro-inspired rooms! Not only can you take advantage of the sleek, vintage kitchen for your shoot, but you can take the fun outside to the porch swing. 
But don't just take our word for it! Check out what a photographer shared in a Peerspace review of this sweet studio: "This is the most amazing and beautiful space! The photos do not even begin to show the beauty! Host was very accommodating, replied very timely and went above and beyond to be sure I had what I needed during my photo sessions."
Bonus: take a Time Machine to this multi-set studio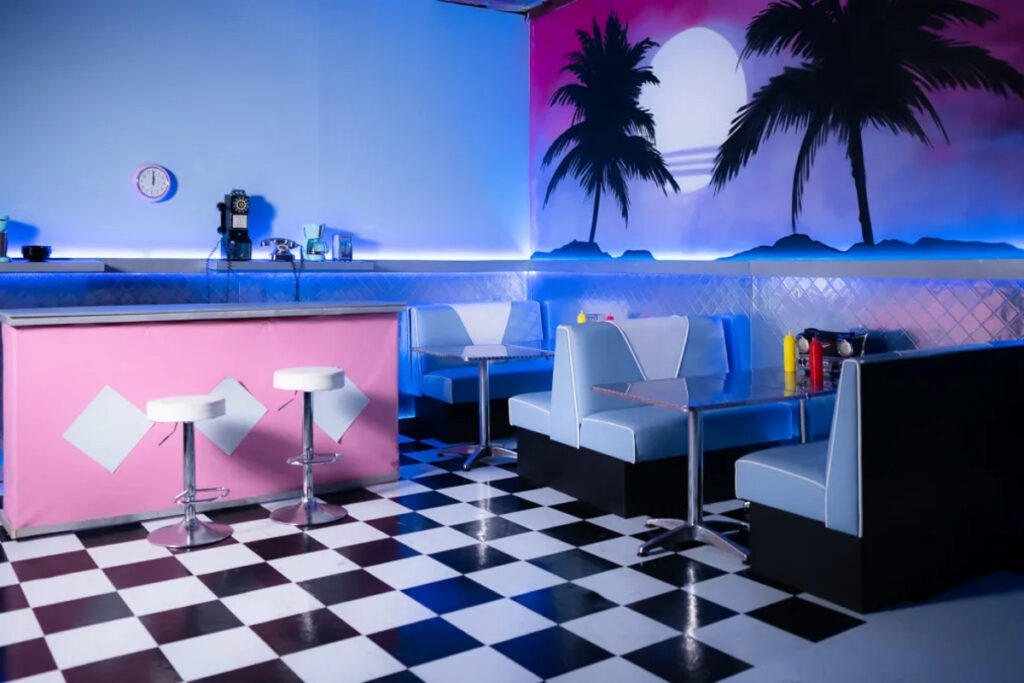 We're obsessing over this Los Angeles studio that brings together futuristic tech with a retro sensibility. The Time Machine comprises five sets, including a neon tropical diner, a 70s golden room, and a disco club. You can take tons of incredible, distinct vintage-inspired shots here that will not only look amazing, but that will transport your viewers to another era.
Unsurprisingly, this studio gets a lot of love from the Peerspace community! Here is just one of its many glowing reviews as an example: "This was the best experience I have ever had. Thank you so much for having us because this space is PERFECT!" See if for yourself on Peerspace!
Get your nostalgia on with these vintage photoshoot ideas!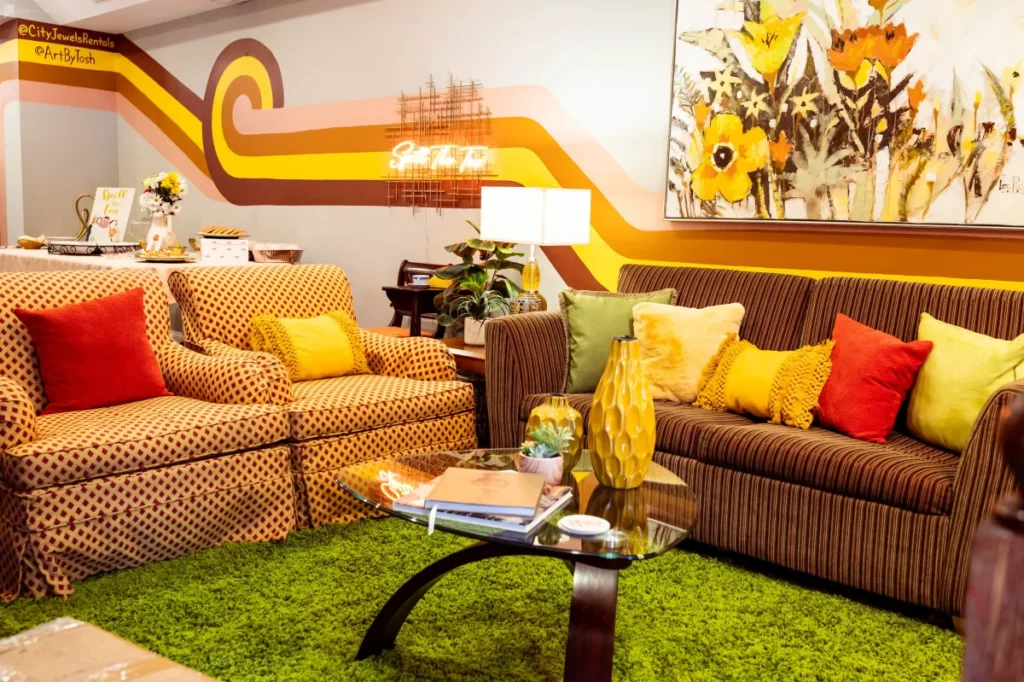 How fun are these vintage photoshoot ideas and amazing venues? And this just scratches the surface of all the vintage vibes we have awaiting you. Find a gorgeous vintage venue that fits your style and is close to home on Peerspace!
You can browse spaces near you that have their own dedicated listings that include upfront pricing, photos, a list of amenities, and those helpful reviews from past renters. Whether you want to go glam or grungy, sweet or spicy, our venues and helpful local hosts always deliver. Peerspace makes it easy to find spaces that fulfill all your creative needs, so check us out today!



Get together somewhere better
Book thousands of unique spaces directly from local hosts.
Explore Spaces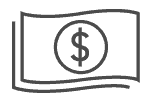 Share your space and start earning
Join thousands of hosts renting their space for meetings, events, and photo shoots.
List Your Space