10 Groovy 70s Photoshoot Ideas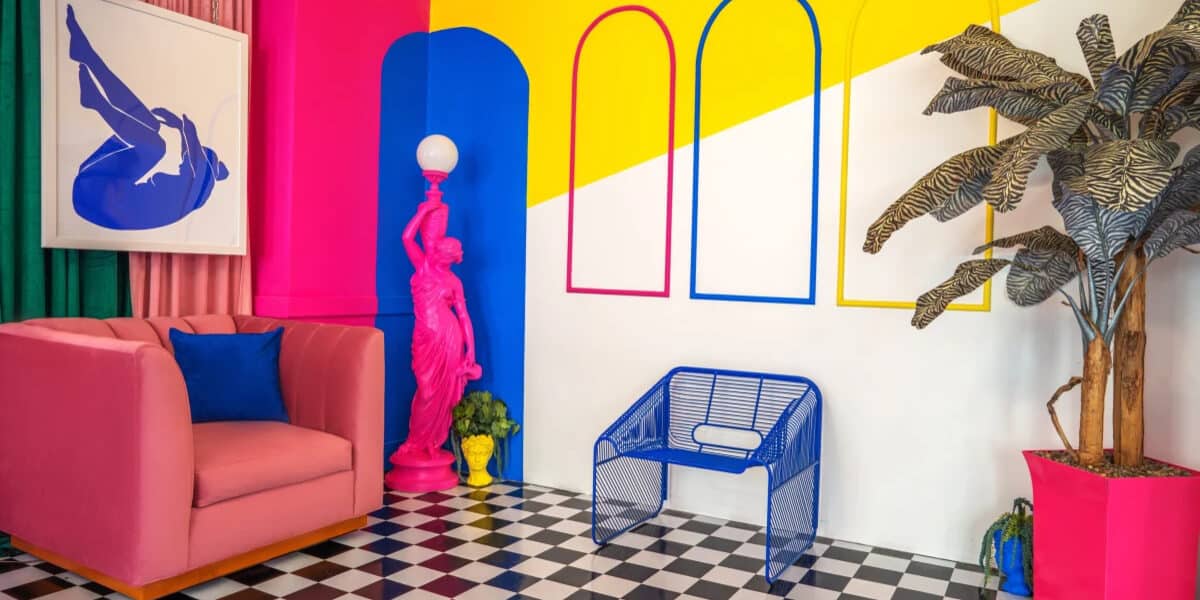 A 70s photoshoot theme has so much to offer! It was a time of contradictions — austerity and luxury, futurism and a disdain for modernism, tie-dye, and questionable carpet choices. Whatever parts of the 70s you love, you deserve to enjoy the best of it during your photoshoot! Here are our 10 groovy 70s photoshoot ideas to make your funky fresh pictures a reality.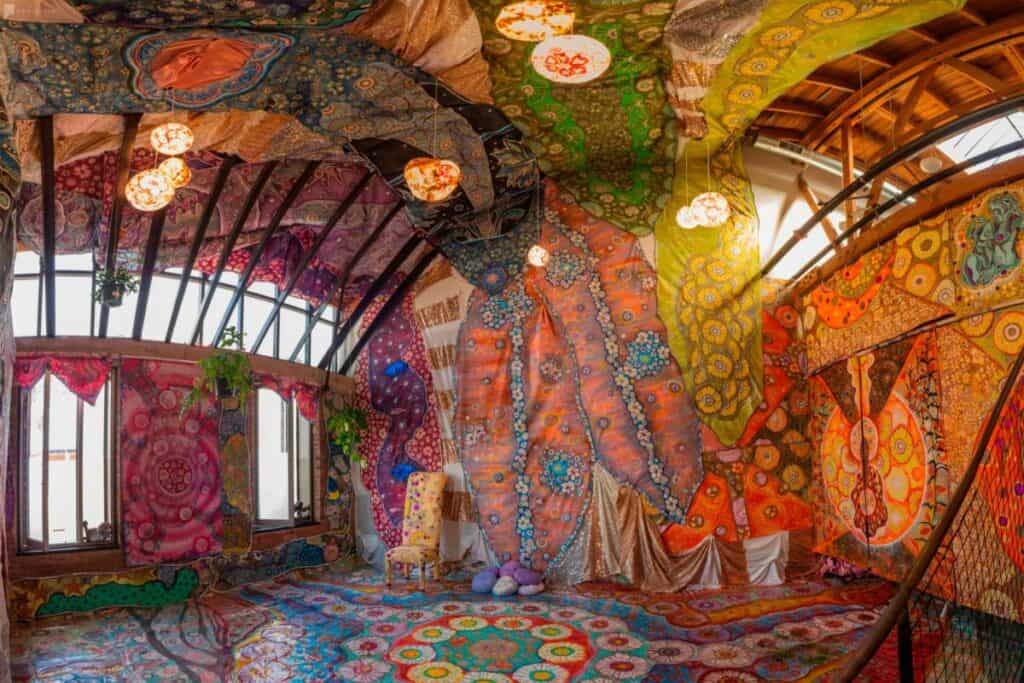 This magic fairy dreamland is absolutely divine! For 70s photoshoot ideas that aren't only funky and fun but also unique and mind-blowingly beautiful — check out what your city has to offer on Peerspace. This psychedelic, trippy, original, colorful immersive art venue is a must-book if you are lucky enough to be in the LA area for your photoshoot. According to LA Weekly, it features 1300-square-feet of original art that "resembles a fantastic dream, luminous and alive," according to LA Weekly.
Check out its Peerspace reviews and you will see that previous renters adore the host as much as the space! In the words of one such visitor: "Laurie is the best. She helped us set up the space as we needed it before we even got there. She was very quick with her responses and helpful on set. The space itself is beautiful. Laurie is a talented artist. Would definitely recommend filming here." Book it here!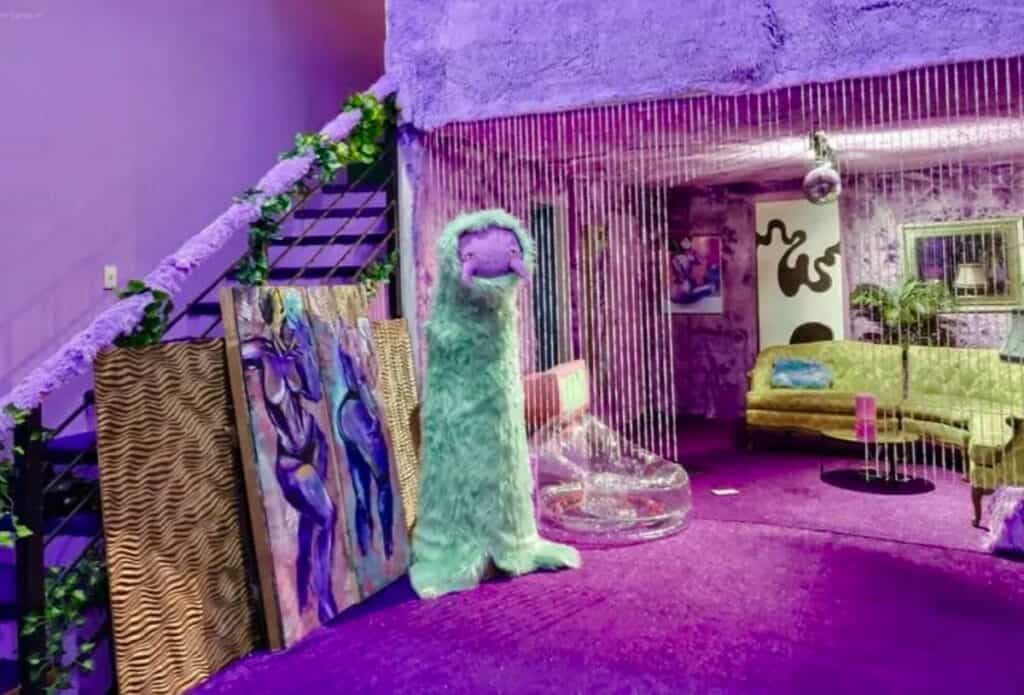 Too much carpet? Never! This 70s classic has purple faux fur lining the walls and ceilings, a disco ball, and a vintage couch — so many 70s photoshoots ideas and opportunities, you won't know where to start! And for added fun, head upstairs to the hand-painted Palm Springs/Hollywood Hills pool scene mural with fake grass, flamingos, and chaise lounge. With 60+ 5-star reviews on Peerspace, this space is sure to be everything you dreamed of and more.
According to one Peerspace reviewer: "This is an amazing space full of beautiful, colorful art! Great lighting options and extremely reliable wifi connection for anyone doing any live streams etc. There are two different themed areas which is great and even a cool desk area for those needing it. Would recommend for art show, photo shoot, recording space et"
Looking for 70s vibes but love 80s colors? There is no need to feel limited to brown and orange hues — book a space with 70s looks with 80s flair! The geometric shapes and lines in this space pop beautifully with the fun, neon fabrics. Who doesn't love a little color with their flower power?!
A model who utilized this space for a shoot shared the following experience: "The space was so cute and neat! The hosts were very kind and explained the lighting & showed us around. Lovely experience 💖" Read all the reviews, check out the pics, and book this venue on Peerspace!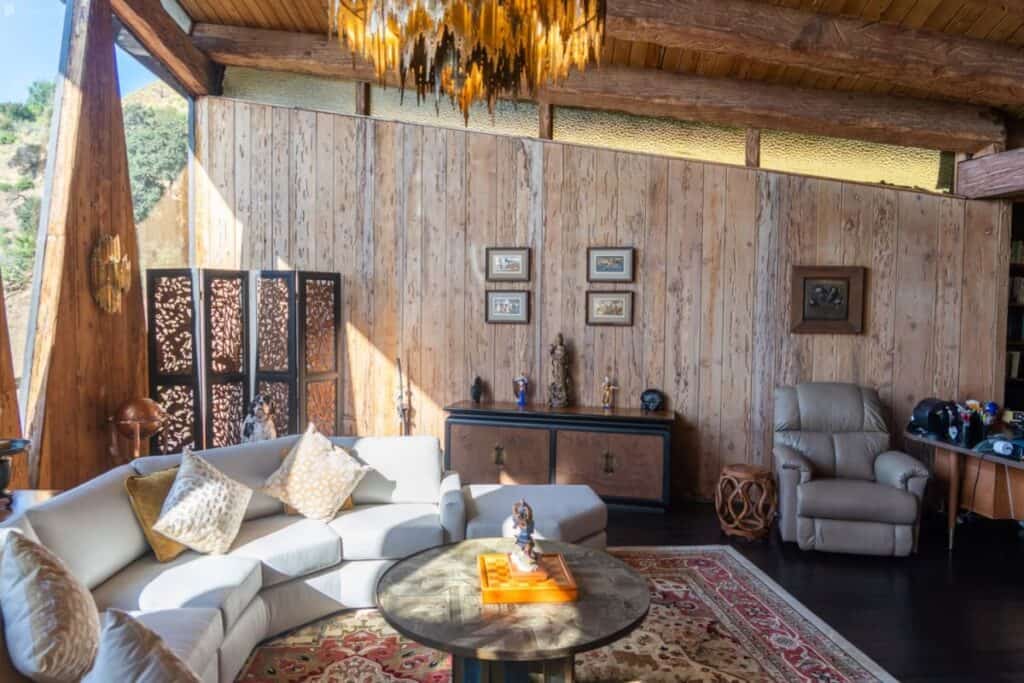 The 70s gets a bad rap for being drab — but your 70s photoshoot can be anything but. Get the best of the 70s by finding a space that has stylish wood paneling, timbered ceiling beams, a gorgeous fireplace, and indoor garden space so that you can feel the true luxury of this underrated decade. This Peerspace venue also offers the best 70s amenities you can imagine with a pool table, in-home bar, swimming pool, hot tub, and incredible city views!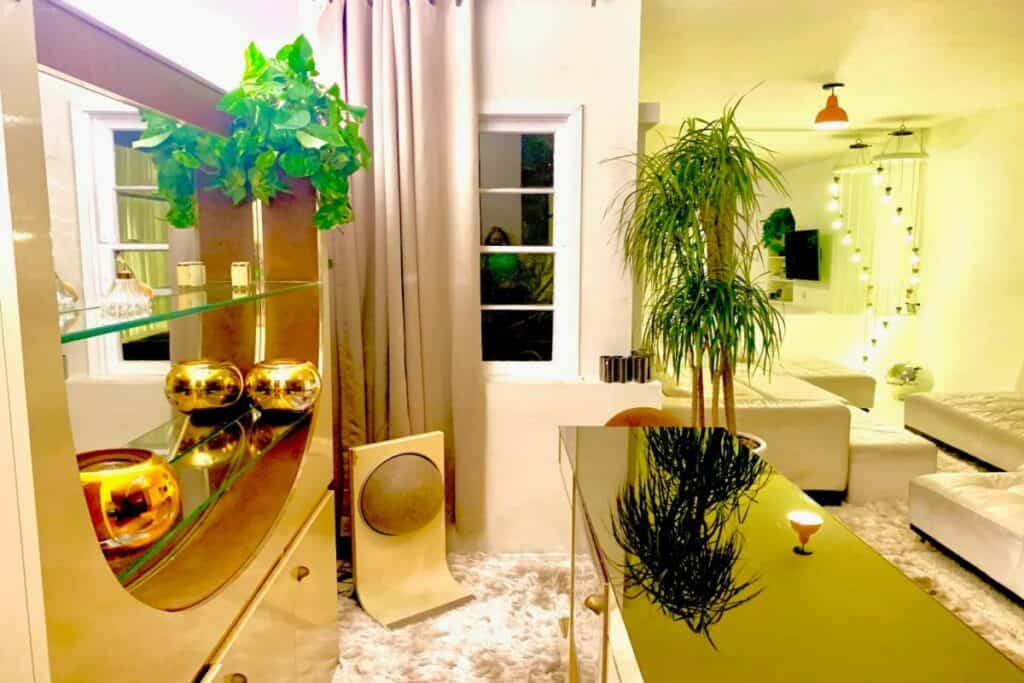 Find a space with futuristic 70s furniture that would make the Jetsons proud! We love the futuristic Italian bar with a mirrored counter in this Peerspace venue — a centerpiece sure to make your photos pop! You'll also find tons of fun shots under the floor-to-ceiling waterfall light fixture in this venue. Its placement next to a large mirror makes it perfect for unique angles and composition!
Unsurprisingly, this space has tons of five-star reviews. Including the following: "Our overall experience with this space and host was amazing!! So easy to coordinate and communicate with Nicola and her space is absolutely beautiful. I would 100% book again. Everything went so smoothly from the time we booked to the time we left."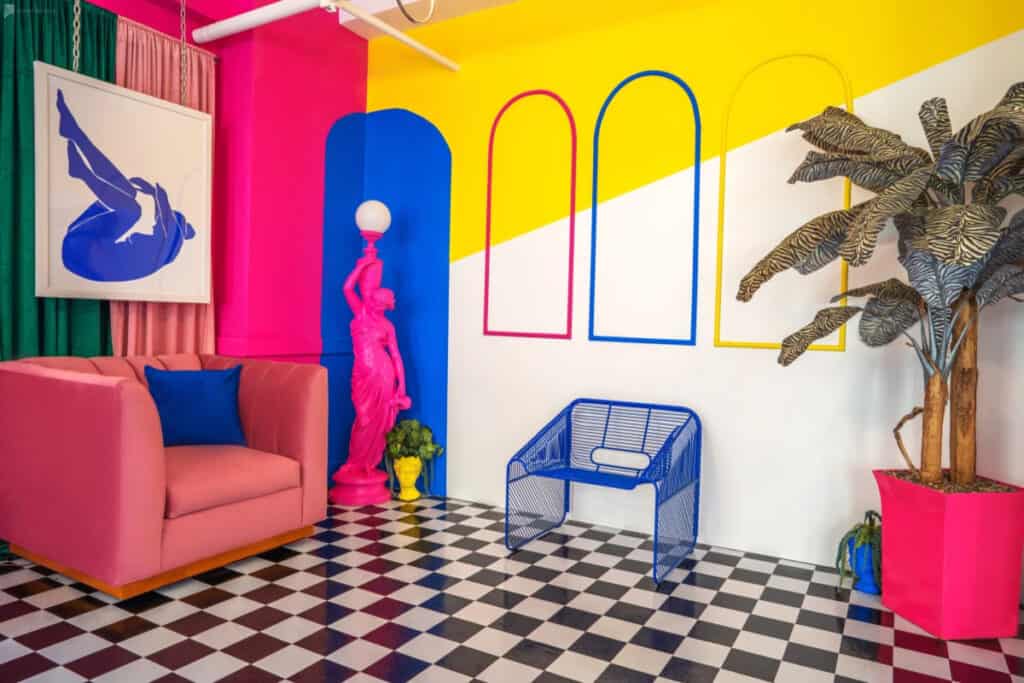 Andy Warhol shot to fame in the 1960s, but the early 1970s was still a time of pop art popularity! If you are looking to celebrate this fun art movement of the 60s and early 70s in your photoshoot, try out a space with vibrant, stylized walls and unique, bright furniture. This Peerspace venue offers fun statues, a lip couch, and gorgeous wall murals that are sure to make your photos POP!
According to a producer who booked the venue for a photoshoot: "I had such an incredible time shooting here today. It was clean, colorful, and so stimulating to the eye. Highly recommend! x"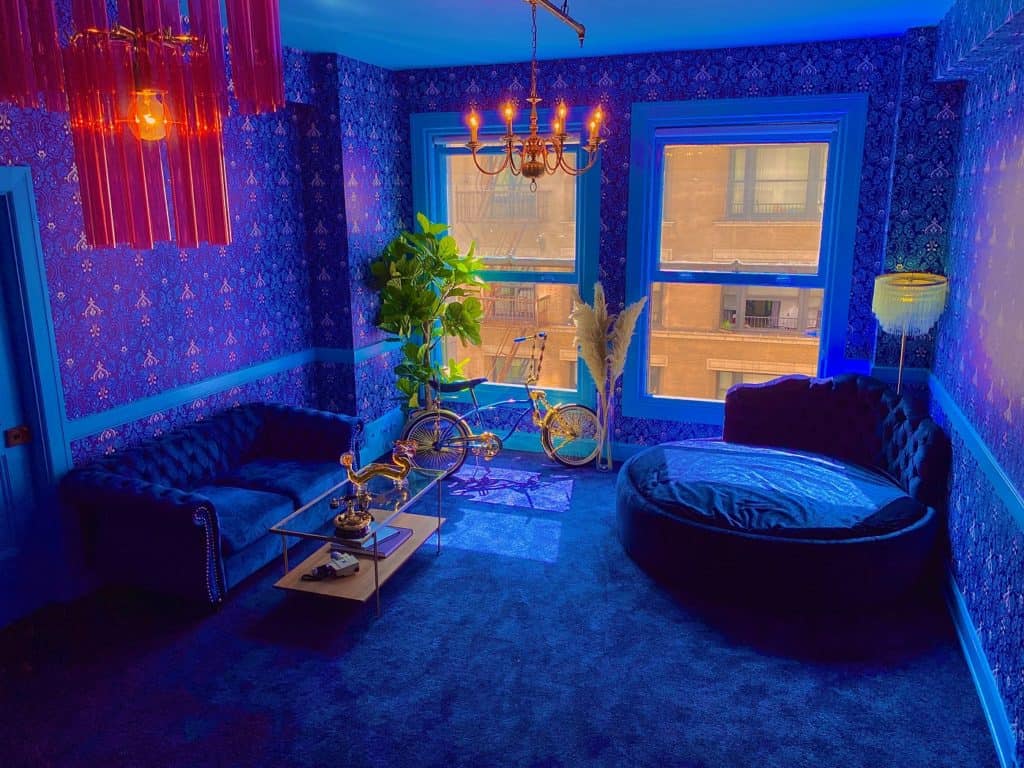 Travel back in time and escape into the rich and warm feels of the "Blue Wave Room." This 1970s themed room is sheathed in tones of blue to contrast the stylish gold furniture, and the vintage gold and blue low rider bike are all yours to use when you book this venue! Plus, you know you can't go wrong booking this space when it already has over 350 5-star reviews on Peerspace!
A Peerspace reviewer sums up their time at the loft well: "This place is epic talk about a wild trip down at blue rabbit hole 10 out of 10 would definitely recommend this place and also will rent it again." Need we say more?!
Looking for 70s photoshoot ideas that come with a variety of fun props? This Dallas, Texas space has everything from the old school video cameras and records to an ironing board and shag rug!
As one Peerspace reviewer put it, "This space is genius, the decor is amazing, so much variety and character." We can't wait to see all the fun uses for these fab props in your photoshoot!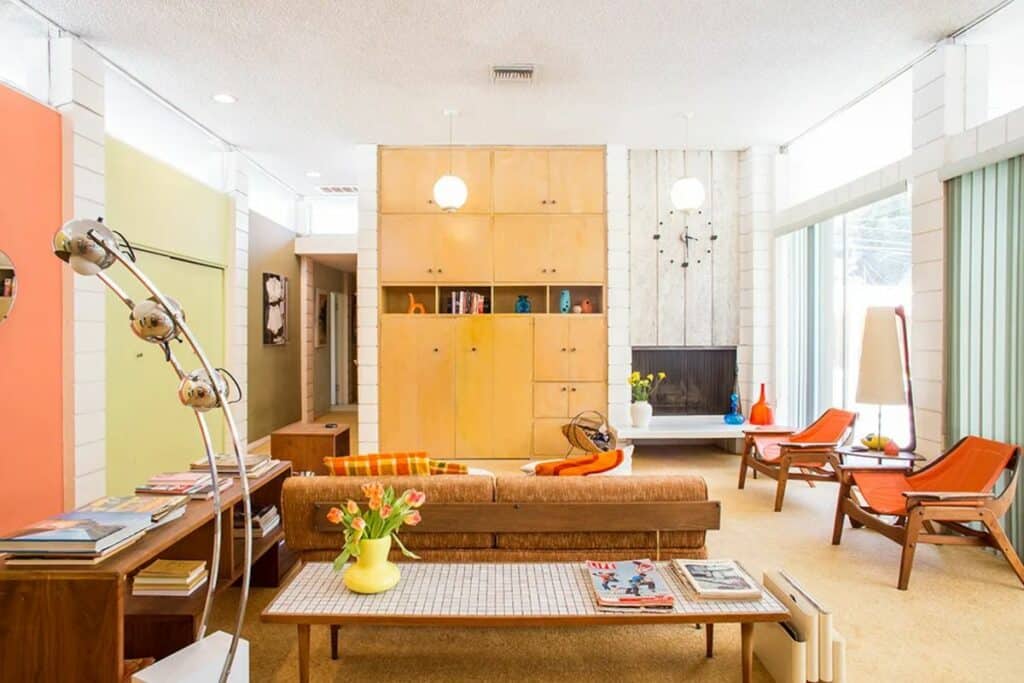 Your photoshoot should pair 70s avocado, brown, and orange hues with bright natural light to make your photos pop! We absolutely love all the sunshine streaming into this Peerspace bookable pool house. This home comes with plenty of funky and fun 70s accessories to accentuate your shoot, like dice-themed ottomans, fab pool toys, and orange and brown-hued pillows and art!
And as one Peerspace reviewer points out: "This location was stunning! Location was better than expected. House rep and host were so attentive and helpful. Would definitely rent again!"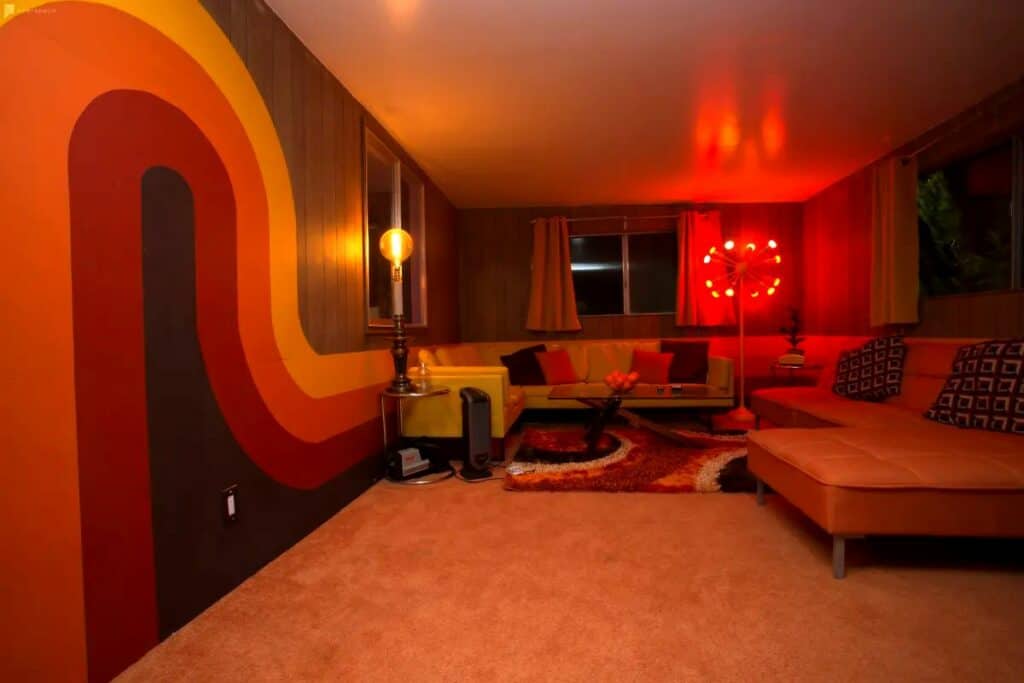 The glamour and glitz of early Hollywood in the 70s meets wild desert oasis in this Peerspace gem. Shoot in the outdoor backyard sitting area with a view of the Joshua trees or step inside and let the dramatic color palettes and retro styles blow you away. Every room has a different theme with unique colors, fun, and flavors!
A photographer who booked this Peerspace venue shared the following: "There are so many spots to shoot at here. Every inch of it is photogenic. I can't wait to come back here sometime!"
If you are looking for more inspiration or different vibes, you can find the perfect space for you on Peerspace! Just type in the type of event you are looking for (like, photoshoot) and what city or town you want to book a space in— Peerspace will give you all the options you're looking for! Want to narrow it down? No problem, just add your keywords into the search. Happy hunting!

Get together somewhere better
Book thousands of unique spaces directly from local hosts.
Explore Spaces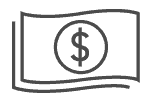 Share your space and start earning
Join thousands of hosts renting their space for meetings, events, and photo shoots.
List Your Space