Our 5 Favorite Wedding Podcasts (2021)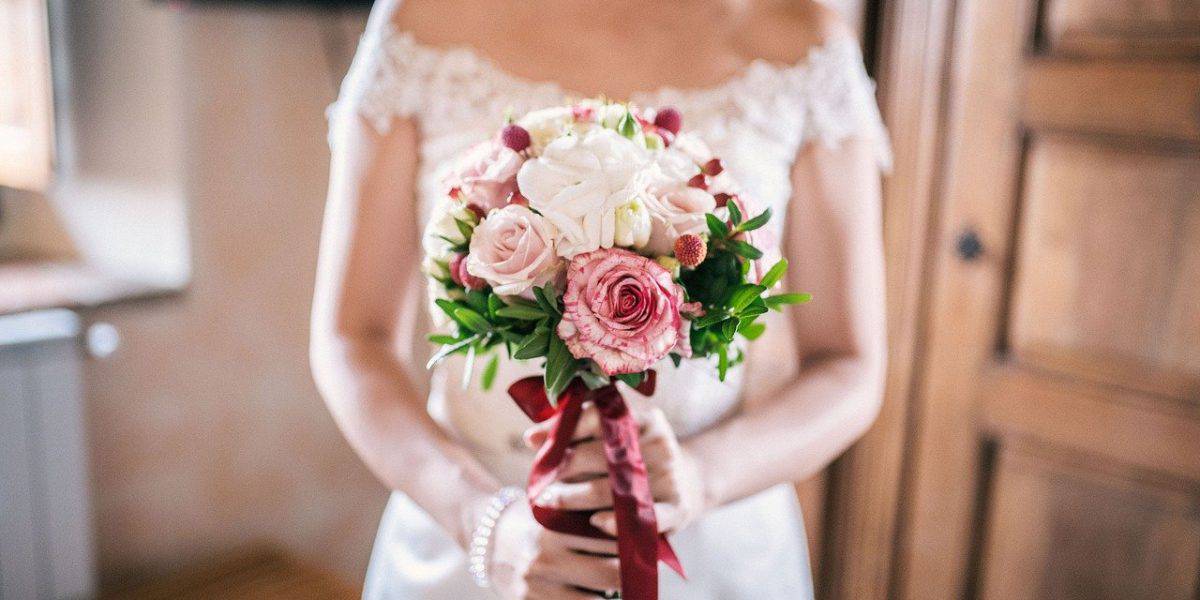 So you — or your soon-to-be spouse — did the thing and finally put a ring on it. Once you've celebrated and shared the news with everyone, it's time to scope out your wedding venue. The process of finding the perfect place can be daunting. There are so many site visits, so little time — and don't even get started on the prices! But there's a better way than scouring Google for the ideal spot, and chances are that your wedding planner doesn't even know about this key resource yet.
Check out Peerspace — like an Airbnb for wedding venues, as well as other types of events spaces — and find a breathtaking location. Individual and corporate hosts in your local area will rent out their restaurant, rooftop terrace, estate, outdoor garden, or any space they own by the hour, and you can make it your wedding venue. The process of wedding planning can be overwhelming and, on occasion, a little lonely. It doesn't have to be, however.
Take a break from writing in your planner and scrolling through Pinterest by switching it up. Listen to these entertaining — and, most importantly, illuminating — wedding podcasts while on your morning and evening commutes, and you'll become an expert in all the ins and outs of wedding planning and etiquette. Enjoy!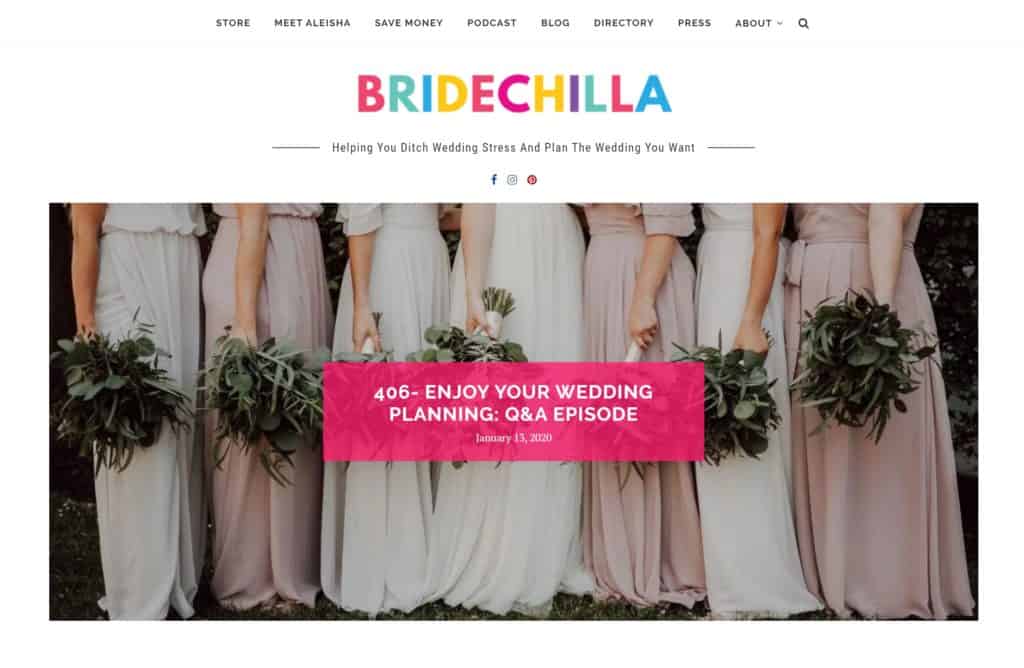 The host of Bridechilla is author and comedian Aleisha McCormack, so you can be sure you'll be laughing and learning the whole way through. There are over 300 episodes available to help you through the wedding planning process. The website even highlights the popular episodes, so you don't have to hunt through them all.

Described as "BS-free," the show covers everything weddings from A to Z, including the logistics and emotional impact of wedding planning. Plus, the Q&A episodes are invaluable — chances are that if you have a question, someone has probably asked it before! McCormack sells planning guides in her online store, so you can follow along on paper as you listen to the episodes. She makes wedding planning as stress-free as possible — this way, you can be a bridechilla, not bridezilla.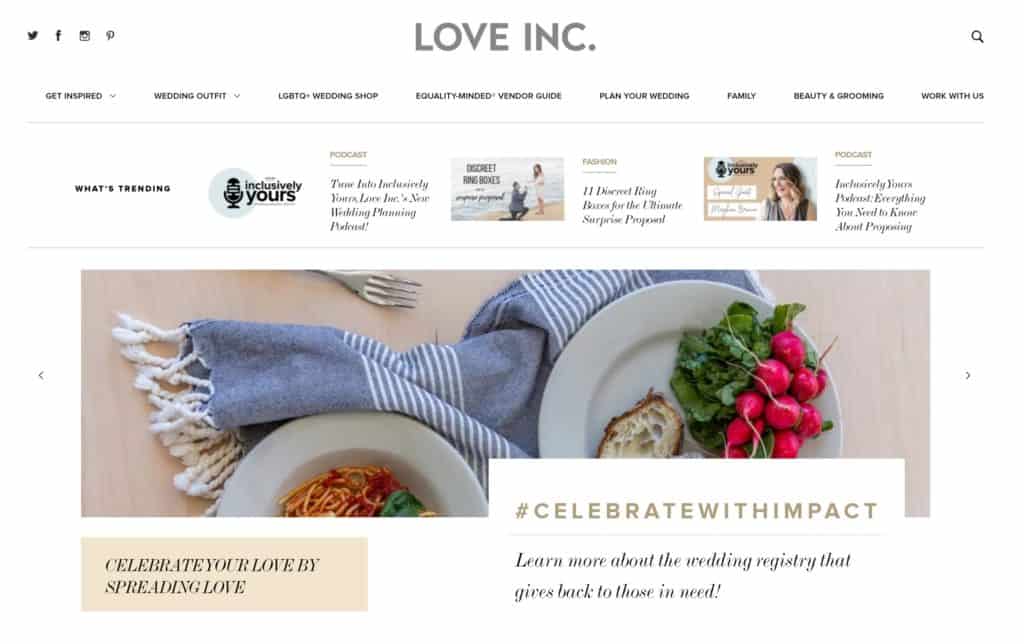 Is the conventional wedding industry mold not for you? If you're planning on breaking wedding traditions and celebrating in your own way, give Inclusively Yours a listen. This podcast is produced by Love Inc. magazine. One of the most refreshing wedding resources out there, Love Inc. is a print magazine and online blog that specializes in inclusivity. The publication recognizes that not every engaged couple fits the traditional "bride and groom" roles, and that many wedding traditions are antiquated and may not work for everyone.

Founded by writer Brittny Drye in 2013, Love Inc. is leading the way for more inclusivity and gender-neutral language in the wedding space. Drye even works with other wedding professionals and companies to help them become more inclusive. On the show, Drye and wedding professionals share real wedding stories from couples of all kinds, as well as money saving tips, ideas for elopements and proposals, and more. It's a fairly new podcast with only a handful of released episodes at the time of this writing, but Love Inc. is a fabulous brand, so there will surely be lots of exciting episodes to come.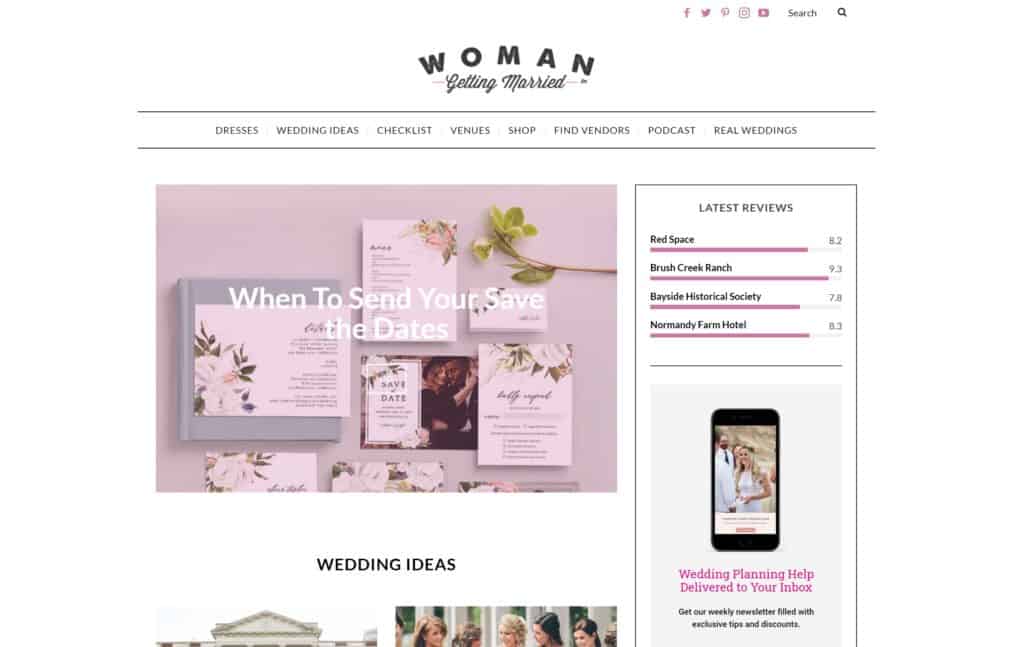 Hosted by wife-and-husband team Lindsay and Cory, the Woman Getting Married podcast is a part of the popular blog of the same name. Lindsay and Cory talk wedding guest lists, budgeting, trends, registries, floral design, destination weddings, stress-busting tips, and so much more. There aren't any details too small for them to cover! They also host Q&A sessions featuring questions from listeners, so you can get clarity on anything that's still confusing you. Get advice from a couple who has been there and done that. Tune into Woman Getting Married every Thursday for new advice and inspiration.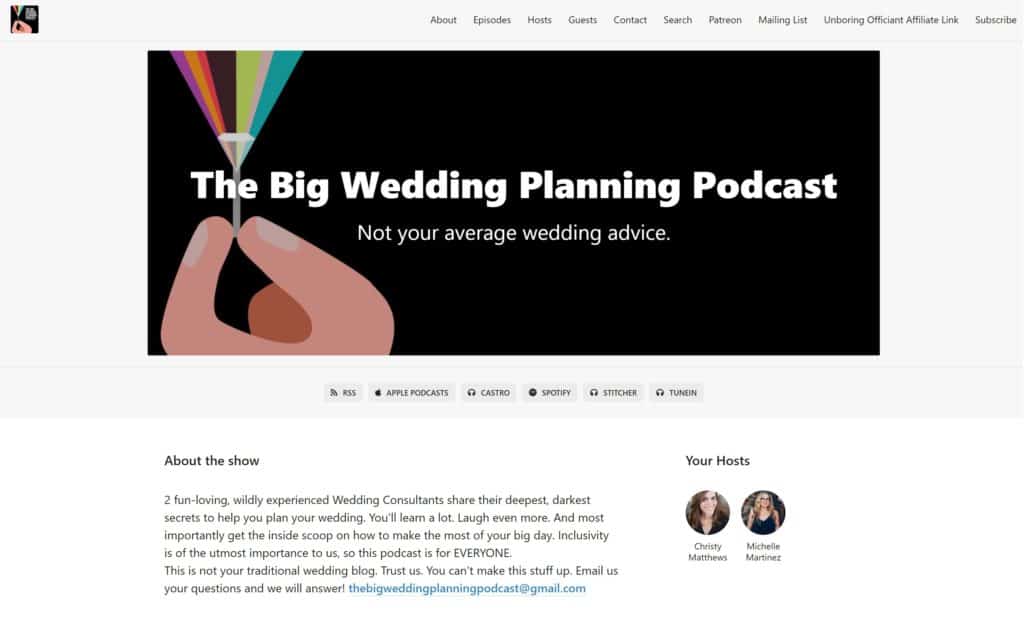 The Big Wedding Planning Podcast is hosted by two wedding planners, Christy Matthews and Michelle Martinez, so you know you'll be learning from the best. The show features new guests in every episode, including wedding vendors, industry experts, and real-life couples. Among wedding podcasts, this one is unique in that it boldly tackles topics like activism, nontraditional families, body positivity, religion, race, and representation in the wedding industry.
Matthews and Martinez go in-depth during every episode, sharing engaging stories that will inspire you throughout your wedding planning journey. Everyone's wedding story is different, but this podcast will show that you aren't alone. There are almost 200 episodes available on any platform where you can listen to podcasts.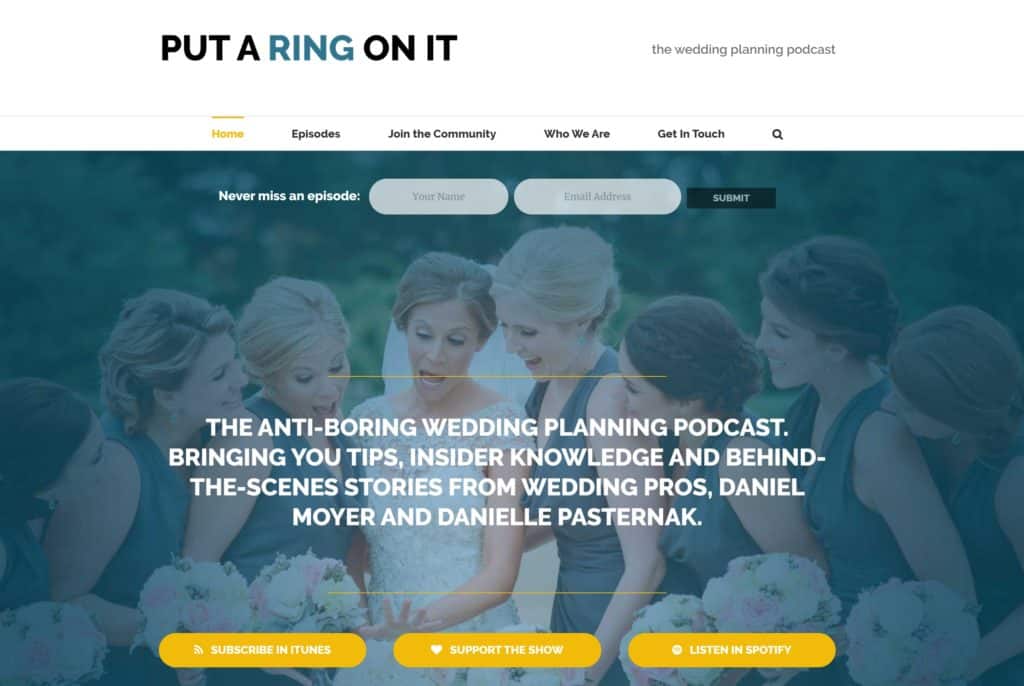 Created by wedding pros Daniel Moyer (a wedding photographer) and Danielle Pasternak (a wedding planner), this podcast is described as "anti-boring" and, best of all, it's full of hilarious dad jokes. Put a Ring on It features enlightening interviews with guests like wedding videographers, venue owners, wedding bloggers, and fellow wedding planners and photographers, as well as other industry professionals with various areas of expertise.

The hosts take a holistic view of the wedding planning process. They consider the emotional and financial impact of orchestrating the big day. Moyer and Pasternak know that wedding planning goes far beyond the logistics of booking vendors and sending out invitations. In every episode, they go beneath the surface and tackle topics like body image, sustainability, marriage advice, setting boundaries, and family wedding drama. No topic is off limits on Put A Ring on It!


Wedding planning can take a toll on your emotional well-being. The stress and intense pressure to please everyone, as well as the millions of details that must be determined all add up to make one overwhelming endeavor. If you aren't best friends with a wedding planner, wedding podcasts are the next best thing.
No matter where you are at in your wedding planning process, it's helpful to have a friendly voice of reason to listen to along the way. Whenever you have downtime, tune into these wedding podcasts on iTunes or Spotify. Enjoy practical advice delivered in an entertaining format.



Get together somewhere better
Book thousands of unique spaces directly from local hosts.
Explore Spaces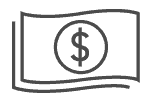 Share your space and start earning
Join thousands of hosts renting their space for meetings, events, and photo shoots.
List Your Space