The 10 Best Wedding Videographers in Milwaukee, WI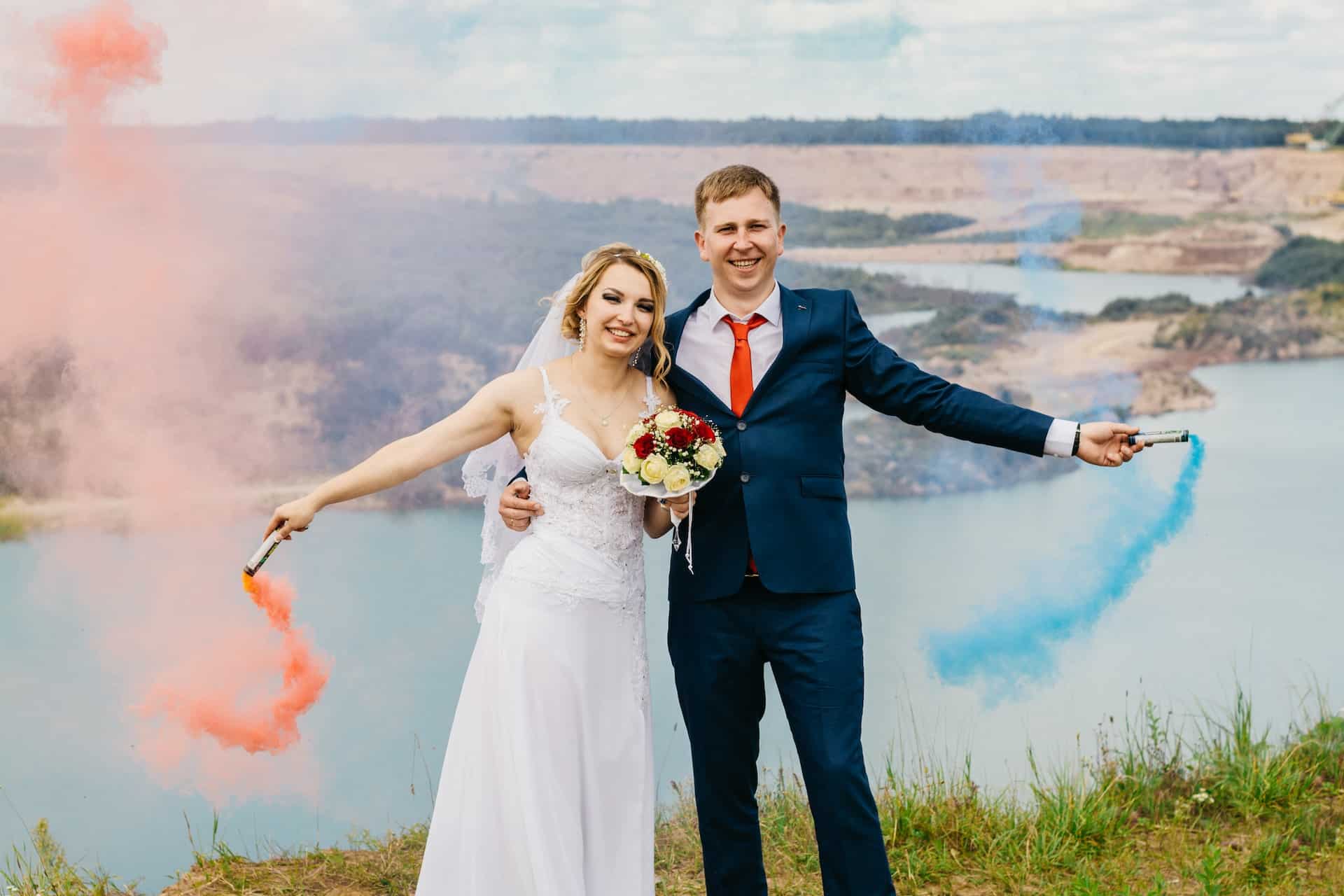 Hoping to work with one of the best Milwaukee wedding videographers? At Peerspace, we get it! Your wedding day will be one of the most unforgettable days of your life. When planned properly, it can be ethereal and magical. Don't forget the wedding videographer! We're in a video-centric world now, and great wedding videos are much more readily available than they used to be.
If you're getting married in Milwaukee, Wisconsin, you're in luck! Here are some of the renowned Milwaukee wedding videographers who craft incredible films every day.
Clear Vision Videography's films aren't short on beauty and authenticity. No wonder they're often listed as one of the best wedding videographers in Milwaukee. The company has a team of highly talented videographers and editors who can make your wedding memento as lovely as possible. Plus, they're committed to immortalizing your big day and all of its glorious moments.
The visual storytellers at Clear Vision have a tasteful way of capturing candid, emotional moments, which they achieve using cutting-edge technology. By understanding the client's unique story, they're able to produce a wedding film that perfectly fits each client's personality and style.
Milwaukee wedding videographers Josh and Kelly are the husband-wife team behind Memento Video & Design. As their brand name suggests, they vow to create cinematic, unique, and affordable wedding mementos for the bride- and groom-to-be. In their words, "we want to provide Mementos!"
Their passion, coupled with state-of-the-art technology, artistic design, and various videography styles, gives them the capability to craft beautiful wedding films. A quick scroll on their portfolio, and you'll see why they're one of the best wedding videographers in Wisconsin.
Started by Travis and Shane Garski, Impulse Productions offers photography and videography services for weddings, live events, and more. They craft timeless masterpieces, from wedding films and music videos to commercial videos.
This company also provides a range of documentation services, including engagement shoots, rehearsal dinners, and next-day celebrations. You'll notice some next-level camera and editing work, including creative pans and transitions that you don't see every day. Their videos also have some of the most buttery-smooth slow motion we've ever seen in wedding videos.
Ward 3 Media has a whopping 33-person team of Milwaukee wedding videographers and photographers, adding up to a combined 80+ years of experience. And they're more than a little sentimental about weddings. "Your wedding marks the end of one journey and the beautiful beginning of another," they say — and that inspires them. Their artistic eye is focused on the little moments others miss, as well as the joy of two families coming together to become one.
Their wedding videos are slick and fashionable, with stylish editing that wouldn't be out of place in the pages of a magazine. These videos have expert pacing and true emotion, and you'll love every second of them.
Lauren, the woman behind Schofield Films, has an immense love for the creative process of filming and editing, and it shows. Right away, you'll notice her color grading: it's vivid, bold, and high-contrast. That's refreshing in a wedding videography creative landscape that's full of rather desaturated films that might not hold up a decade from now.
Lauren says she "relishes finding innovative angles and perspectives while shooting," and she shoots in a shot that's "modern, with a twist." The goal is to be cutting-edge and creative but still keep one foot planted in traditional techniques so that the videos stand up to the test of time.
Regarded as some of the finest Milwaukee wedding videographers you can find, the team behind Dogwood Studios focuses on capturing beautiful moments of love and laughter on your special day.
Their creative approach guarantees they document, shoot, and edit everything with absolute precision. When it comes to the film style, they make sure it harmonizes with the couple's personalities. By incorporating dramatic shots that capture emotions, the team will immortalize your special day in the most cinematic way.
Brad Cisewski does all sorts of video, from commercial productions to documentaries and event promotions. But it's his wedding films that take our breath away. Just by watching his beautiful productions, you can already feel the love emanating from the screen.
We love the smooth editing, the lovely bokeh from his shallow depth of field, and the way he directs couples on just how to nail the shot in those non-candid sequences. But don't just take our word for it. Try scrolling through his Instagram and website, and see for yourself!
His passion for visual creativity compels Thomas Houting, the guy behind Character D Films, to make awe-inspiring wedding films. His videos have all the elements of a perfect wedding memento that'll last for a lifetime — they're atmospheric, nostalgic, and emotional.
Through his unique style, he can shape your special day into a beautiful narrative. Thomas will capture every moment, from the night of the engagement to the wedding day, to weave lasting wedding memories.
Fun-loving. Aesthetic. That's how we'd describe the work of Josh Palasz of Parrot Films. There's a cinematic quality to all of it, a product of Palasz's genuine creativity. Interesting angles and tracking shots, exceptional drone use, and hyper-smooth editing result in the kind of wedding video that will have your social media followers swooning.
Ally & Sam describe themselves as old-fashioned "camera people." To us, that's saying something. That speaks to a love of the craft and a desire to film for its own sake. In other words, the camera isn't a means to an end. And that spontaneous creativity makes for genuine art.
Take a look at their work, and we think you'll see the authenticity in action. We love the color grading and the quick, energetic editing style that boosts the sense of fun and joy.
Romance is alive and well in Cream City!
These Milwaukee wedding videographers have unparalleled experience in the wedding industry, and it shows in the work. If you're from Wisconsin, give them a shout. With a little collaboration and planning, they'll help you bring your dream wedding video to life, and we promise you'll adore looking back on it again and again.