Where Was "Silverado" Filmed?
If you've been looking for answers to the question 'where was "Silverado" filmed?' — look no further! We've got you covered. Not only do we have information on where this iconic Western was filmed, we also have some top-notch suggestions for how to re-create the "Silverado" look for your own production, photoshoot, or event with the help of Peerspace.
Peerspace is the go-to, online hub to find event and production spaces. Choose from gorgeous Western-themed spaces to rustic countryside venues across the United States that you can rent out without having to negotiate rates. Before you get to booking your own "Silverado" themed space, let's take a look at where the 1985 movie was originally filmed!
Where was the opening scene of "Silverado" filmed?
In the opening scene of "Silverado," Emmett is ambushed while he sleeps in a rickety, abandoned shack. After a short lived gunfight, Emmett stands up, opens the door and what does he see? Turns out what he is looking at is probably a gorgeous view over White Rock, New Mexico.
As the New Mexico Magazine puts it, "You could tack [a stop at the White Rock Overlook] onto a visit to Los Alamos, just for the view." Watch the opening scene yourself and see just how similar the shot looks to the photo of the White Rock Overlook in New Mexico Magazine.
Was all of "Silverado" filmed in New Mexico?
The crew filmed the entirety of "Silverado" in New Mexico, according to IMDB. Which, if you consider "Silverado" was filmed in less than 100 days, it makes sense the crew wouldn't want to waste time moving around to different states.
That didn't stop the film crew from using a variety of different locations around the state, though. Scene were shot in Galisteo, Nambe, Abiquiu, and Los Alamos, among other locations.
Is "Silverado" a real place?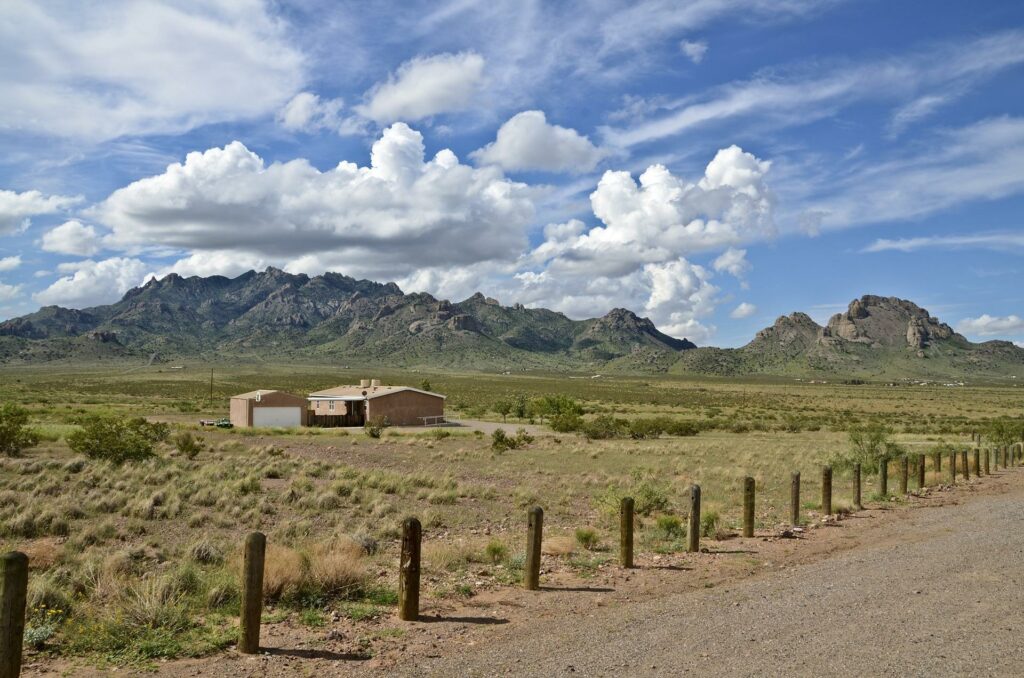 You might have noticed the name "Silverado" was left of the list of town names where "Silverado" was filmed. But that doesn't mean "Silverado" isn't a real place. In fact, "Silverado" just goes by a different name in real life — the Cerro Pelon Ranch.
However, this ranch originally went by the name of the Cook Ranch when the filming took place. According to the archives of the New Mexico tourism website, the film crew found the ranch while flying over the area in a helicopter. They thought the location would be a perfect fit for the movie, so they sent out the location manager to knock on the door of Bill and Marian Cook.
The Cooks agreed to the location manager's proposal to let the crew build a few structures on the property. Cook said in the New Mexico archive article, "It just grew from that into a big budget movie and the Silverado set was built." And that's how the town of Silverado was born!
Can you visit the town of "Silverado"?
Unfortunately, the Cerro Pelon Ranch is privately owned and not open to the public. While the town of Silverado does appear to be intact (by the looks of helicopter flyover photos), the private ranch isn't currently advertising it's open to movie productions either.
For now, it looks like the only ways to visit the ranch are to fly over it or to buy it. The ranch was sold in the 2021 for $48 million dollars, according to the Santa Fe New Mexican. That means you need pretty deep pockets if you are interested in buying the acclaimed "Silverado" property next time it goes up for sale!
Are there other Western-themed towns to visit or rent out?
Just because you can't visit the original "Silverado" sets doesn't mean you can't have an authentic "Silverado"-themed party, production, or photoshoot! On Peerspace, you can find a variety of beautiful, Western-themed venues across the US. Check out a few highlights.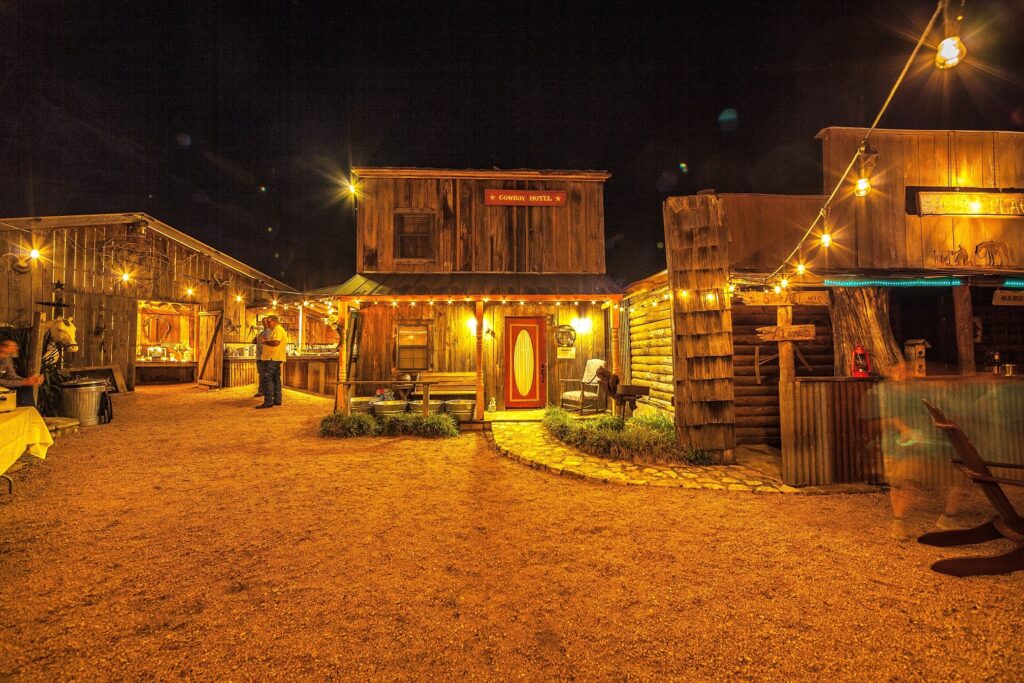 New Mexico isn't the only home of the cowboys — check out this amazing Old Western town, saloon, and log cabin in Cleburne, Texas! This unique Peerspace venue is ideal for a "Silverado"-themed wedding or event, as it has a four-bedroom guesthouse with a bridal suite, a "jail" for the groomsmen to get ready in, a beautiful event barn, and an outdoor covered pavilion.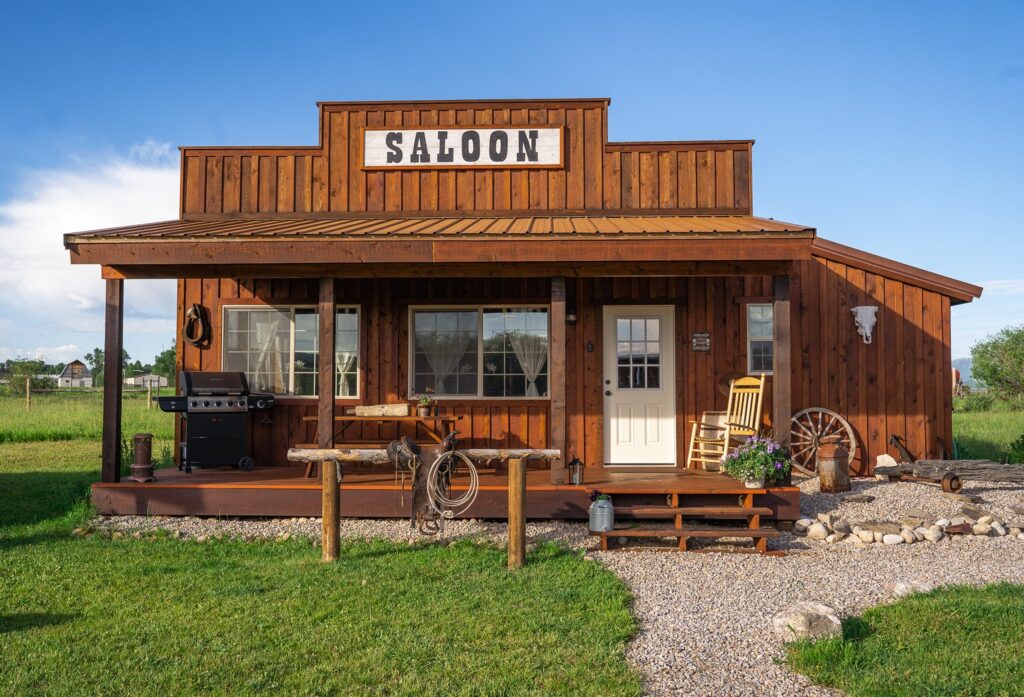 Just a few short miles from Driggs, Idaho, you'll find this gorgeous saloon space on a beautifully landscaped piece of Idaho heaven. This Peerspace venue comes complete with a creek, footbridge, sheep camp wagon, hot tub, and firepit — ideal for an outdoor photoshoot. But the photo options don't end there! Make sure to check out the Western-themed décor throughout the inside of this space, too.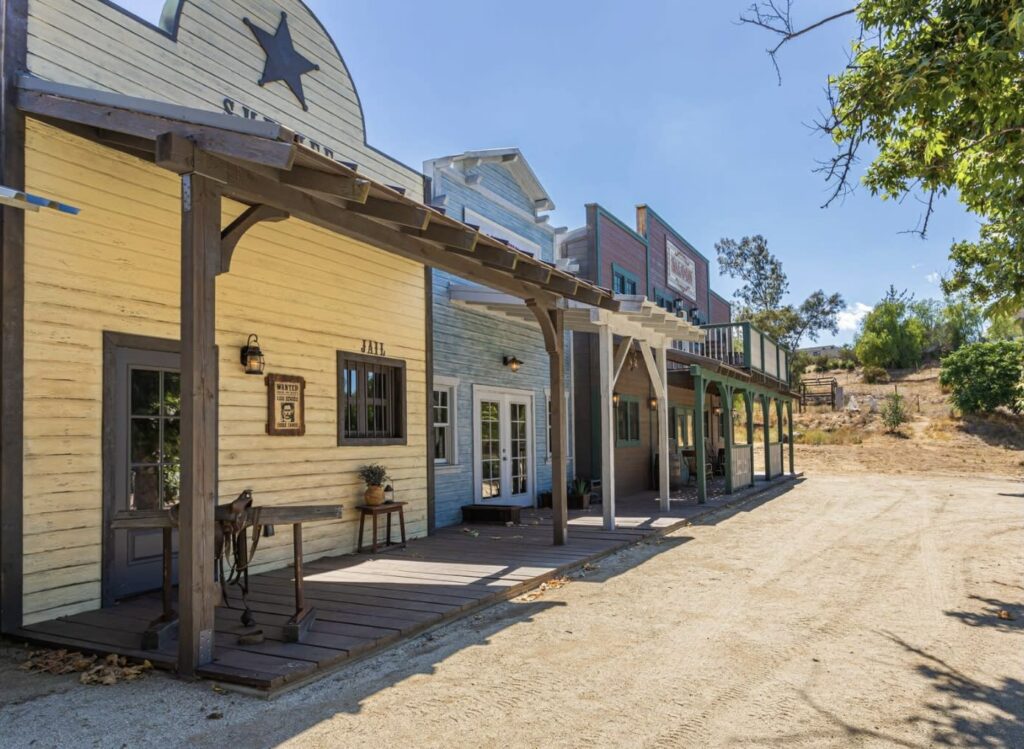 Need an entire Western town for a video production? We think you'll love this space in Temecula, California. When you book this Peerspace venue, you'll have access to an authentically decorated two-story saloon, a bank with a teller window, a sheriff's office with jail cell and bunk beds, a sluice, a water tower, a gold mine shaft, and more!
This venue also gives the option to rent overnight stays for multi-day productions, so you can both stay and film on location. "We filmed and stayed overnight which was extremely efficient on our production," said one Peerspace reviewer. "What a unique place, well crafted, and [the host] was super communicative." 

Get together somewhere better
Book thousands of unique spaces directly from local hosts.
Explore Spaces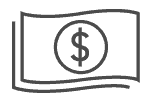 Share your space and start earning
Join thousands of hosts renting their space for meetings, events, and photo shoots.
List Your Space