12 Best Boudoir Photographers in Atlanta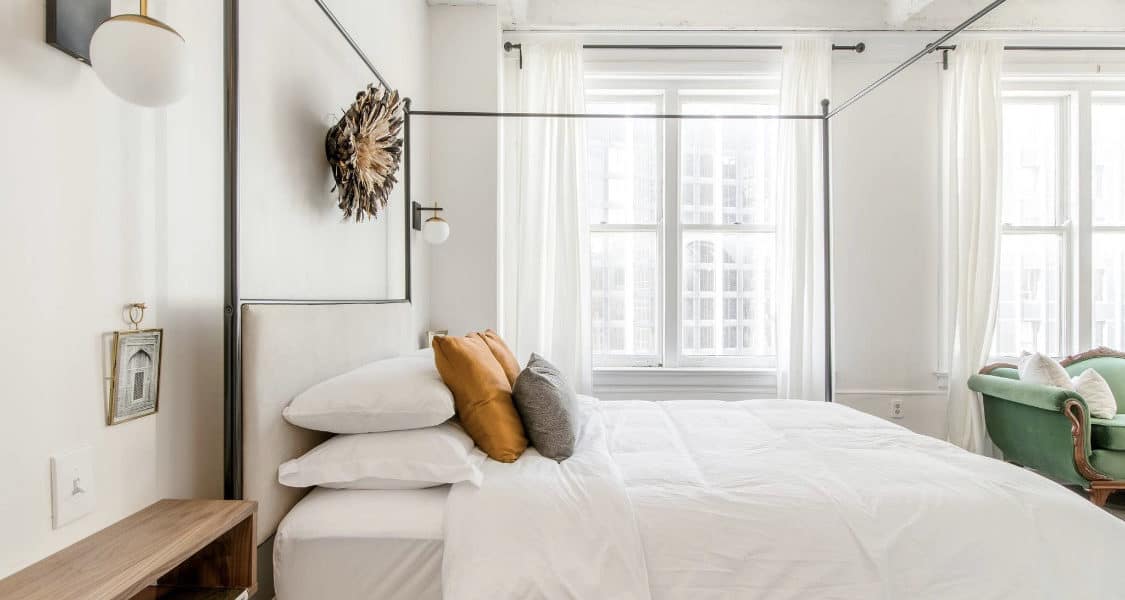 Deciding to do a boudoir photoshoot takes a lot of confidence. You can't hire just any photographer for the occasion. Whether you're booking the shoot to commemorate a major life milestone or create an unforgettable gift for the love of your life, you need to find a photographer who can help you discover your sexiest self. We've rounded up the best boudoir photographers in Atlanta to help you on your search. These talented women love what they do and cannot wait to capture your beauty. Read more about what they have to offer and get ready for the most glamorous, empowering photoshoot of your life.
OWN Boudoir owner Sarah is so passionate about boudoir photography in Atlanta, she's even modeled in a few shoots herself! Her work is all about celebrating the unique beauty in everyone. She is so dedicated to making sure every client feels their sexiest, she'll even help you shop for the perfect outfit before the shoot. And her commitment shows, because every photo in the OWN photography portfolio is lingerie catalog-worthy. Sarah gets up close and personal and doesn't shy away from experimenting with fun concepts like shower shots.
As a former model and actress, top Atlanta boudoir photographer Jilian McLendon knows what it's like to be in front of the camera, too. Her expertise and unique artistry shows in every sultry shot. When you book with her, you'll be given the royal treatment with a shoot that includes a makeover and light refreshments to keep you energized while you unleash your sexy inner rebel. As a special touch, Rebel offers several elegant options for preserving your gorgeous session for you or your partner. You can boldly display your photos on canvas or aluminum or keep them discreet in a keepsake box or viewfinder. We think Jilian's style pairs perfectly with this perfectly styled apartment near Piedmont Park.
It should go without saying that a boudoir photographer's work is personal, but for Meagan, it really is about the connections she makes with her clients. Just like a best friend, you can call her up for outfit opinions while you're out shopping for lingerie for your session. From posing guidance to an included makeover, Meagan will make sure everything comes together to produce the perfect images. Even the sunlight that floods through the windows of her spacious, modern studio will give your photos a dreamy look. You also have the option to do a destination shoot in a location of your choice. We suggest this downtown studio.
Join Lotus & Lace Boudoir owner Savannah Ellis in her home studio for a fun and flirty shoot where you can bare it all. She's a firm believer in freeing the nipple, and loves doing steamy couples' shoots. When you arrive for your session, you can choose from the closet full of lingerie (including angel wings!) or bring your own pieces. Stay cozy inside or, if you're feeling adventurous, go for an outdoor shoot. Savannah is one of the most creative boudoir photographers in Atlanta, so Lotus & Lace is the place to truly let your imagination run wild.
If you're nervous about working with a boudoir photographer for the first time, let Lizzie put your fears at ease. One of the most involved boudoir photographers in Atlanta, she's got a vision for every shoot. With her "bossy" (her words!) guidance, even the most camera shy models will receive the dreamiest photos. Lizzie's bold and bright work is all about empowerment, both for individuals and couples. Book with her and you'll receive everything from a a full makeover and style consultation to snacks and bubbly while on set.
Thanks to her background in the fashion industry, Atlanta boudoir photographer Kaia Lola can turn anyone into a Victoria's Secret model. Her work begins long before you come in to pose for the camera. She's dedicated to dreaming up a vision for your shoot that will perfectly capture your provocative side in bright, playful photos. Her studio location offers an unbeatable view of the city, so you can think of your shoot as a mini staycation. And when it's over, the fun and empowerment don't stop. As an advocate for uplifting women on all levels, Kaia also runs a Facebook group for her clients where they can talk anything and everything and offer support to each other.
Stripping down for the camera is an empowering and body-positive way to build confidence, and no one knows that better than Nova Boudoir owner, Vania. She's a proud plus-size woman who loves to capture the beauty of all bodies. Her outdoor photography option sets her apart from other boudoir photographers in Atlanta, so if you're looking to go au natural in nature, Vania is your gal. In addition to shooting boudoir photography in Atlanta for everyday clients, she's also done a romance novel cover shoot, so you know her work is top notch. Be the star of your own romance when you book with Vania!
If you're planning a boudoir shoot as a wedding gift, book with Dawn Johnson. Styling bridal boudoir shoots is her specialty. She knows all the best booty angles and works magic when playing with shadows in her photography. Dawn is one of the only boudoir photographers in Atlanta who offers tease video shoots so you can be the star of your own sexy music video. If you want the full supermodel experience, snag a Paperdolls session.
Ria is a boudoir photographer in Atlanta who's on a mission to show women what they're made of. No matter where you are at in life, she believes the time is always right to treat yourself to a boudoir shoot. Through her bold and beautiful black and white photography, she helps women "find their way back to their magic." She's worked with moms, divorcees and everyone in between. Embrace your sensuality, reclaim your fierceness, and honor a new beginning by booking with Ria.
Although Denise is featured in The Knot for her wedding photography, she's also one of the top boudoir photographers in Atlanta. She's a master of the soft and cozy bedroom shoot, so you'll love working with her if you're looking for something more down to earth. Most of her clients are brides-to-be who want to create an extra special wedding gift for their partners. She books most of her boudoir shoots in Airbnbs, but the possibilities are endless. We think this townhome would be the perfect location.
Atlanta boudoir photographer Olivia Yee believes a boudoir shoot is a gift you give yourself. So why not go all out? Book an ultra glamorous boudoir photo session at her gorgeous studio staged with vintage details. For added luxury, top your outfit off with angel wings. And when it's all said and done, showcase your collection in one of several beautiful photo display options handcrafted in Italy.
Award-winning portrait photographer Jacqueline Carlton believes every woman deserves to honor their beauty with a boudoir photoshoot. Yes, even if you feel like a hot mess or a broken work in progress, Jacqueline wants you to embrace where you are in your journey. Her elegant, yet down-to-earth photography style will capture your essence and bring out the seductress in you. Each boudoir package includes hair and makeup, wardrobe options, and posing guidance, so all you have to bring is yourself.
Book a Boudoir Photographer in Atlanta
Now that you've found a photographer who suits your style, it's time to start envisioning your shoot! Hair and makeup will be covered during the session, and we can help with the setting. Check out our blog for photoshoot inspiration and find the perfect photo shoot locations in Atlanta. Cheers to you for taking the leap and booking this photoshoot! You're going to rock it.