11 Beautiful, Cheap Wedding Venues near San Francisco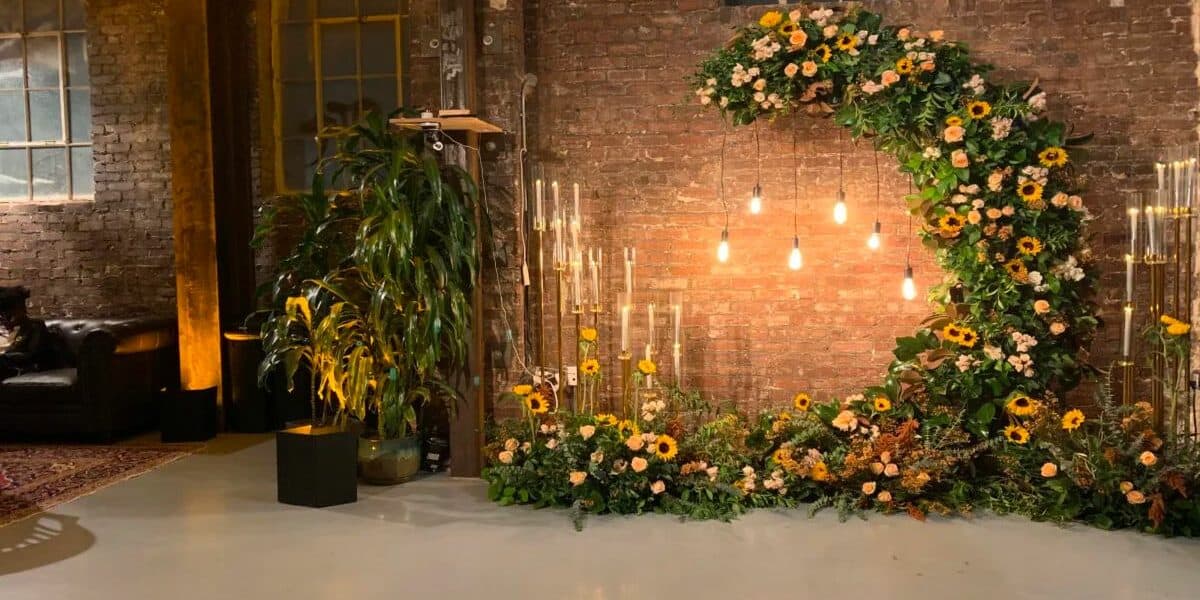 When you think "San Francisco," the notion of bargain rental rates probably doesn't come to mind. But we're about to show you that cheap wedding venues near San Francisco do exist!
In fact, we've compiled our most stylish yet thrifty venues, all starting at under $300. Not only are these venues cheap and gorgeous, but they're also available to book on Peerspace for your big day!
On the hunt for an outdoor vibe in an indoor space? Then this unique urban greenhouse is everything you dreamed of! It is filled with beautiful plants and features 22-foot high exposed lofted ceilings with enormous skylights, exposed concrete walls, and a dramatic steel staircase that opens to the roof. Cheap wedding venues near San Francisco aren't always easy to find, but this amazing venue is available on Peerspace for $150 an hour and can host up to 49 guests!
A filmmaker used this space for his production and shared the following about his experience: "This space is truly unique. Naz and John Mateu are first rate hosts. We were lucky to have them. Cannot recommend this space enough. Amazing natural light throughout the day into the evening. Beautiful design and colors. Well worth the $."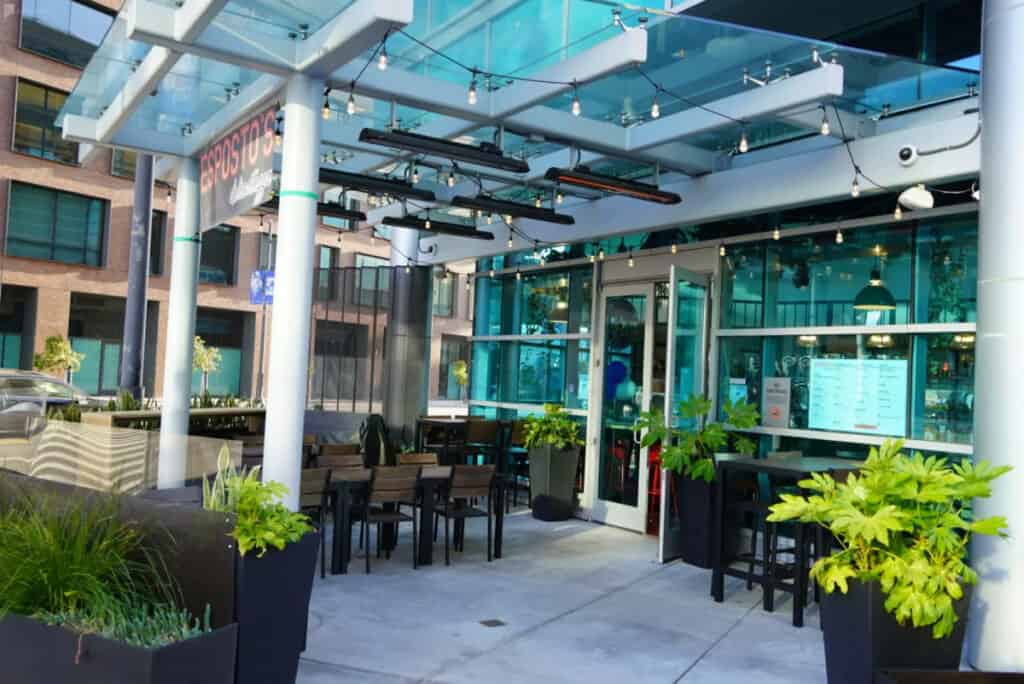 Wine and dine your wedding guests at this fabulous urban winery! This casual yet elegant space features on-site catering and add-on features, like bottomless mimosas and an open beer and wine bar.
At 1,500 square feet, this venue can seat up to 40 guests and is ideal for anyone who prefers the convenience of indoor and outdoor options.
In the word of a Peerspace reviewer: "The space was everything we wanted and more. The people who assisted with food and beverage were exceptionally helpful and friendly. Not to mention, the food was delicious! Our family gathering was the BEST thanks to this perfect spot!" You can see all the pictures, read the reviews, message the host, and book this venue quickly and seamlessly on Peerspace!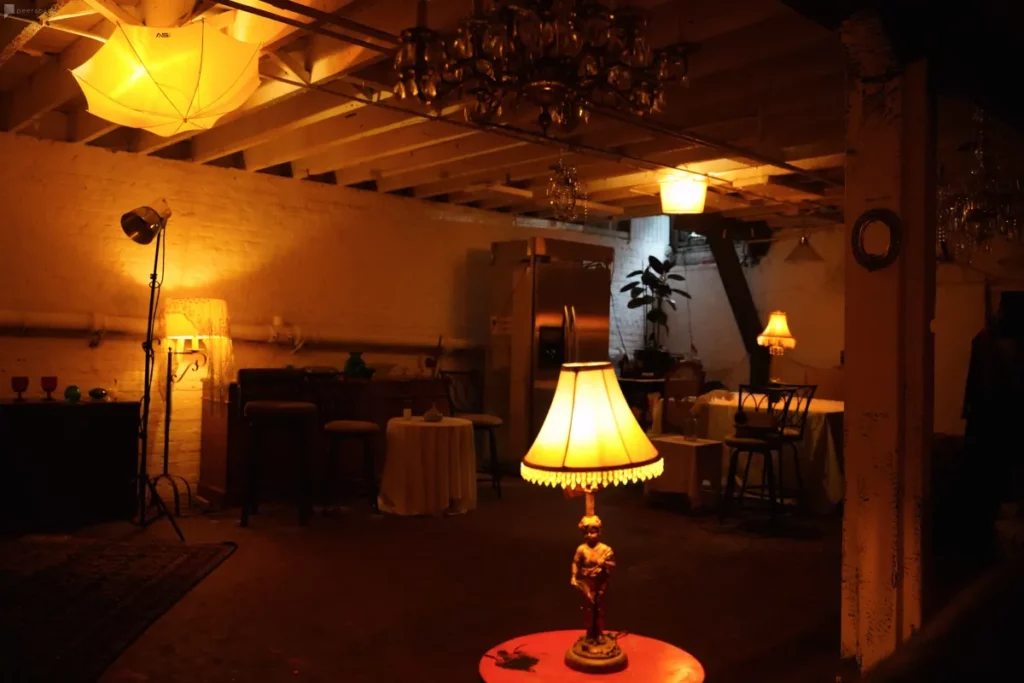 If you and your loved one have a special appreciation for vintage spaces, we wholeheartedly recommend this unique North Shore venue! This 2,200 square foot space consists of an art gallery storefront, a classic speakeasy in its basement, and a charming outdoor garden. It also offers tons of amenities ideal for a wedding, like an A/V system, a kitchen, tables and chairs, and catering services.
Check out all the neat details a Peerspace reviewer shares about their own experience here: "We had a great time with our booking here for our wedding welcome party! Tibor was attentive and kind. The space was as advertised and our party really enjoyed the patio. We had a great jazz pianist and then they provided a speaker for us for our own playlist. We ordered pizza from next door and the speakeasy provided drinks. Everyone had a really fun time 🙂 especially the out of town guests who were excited to explore the neighborhood!"
Not sure where your budget stands at this point? Then indulge your senses by discovering our most unique event venues in San Francisco!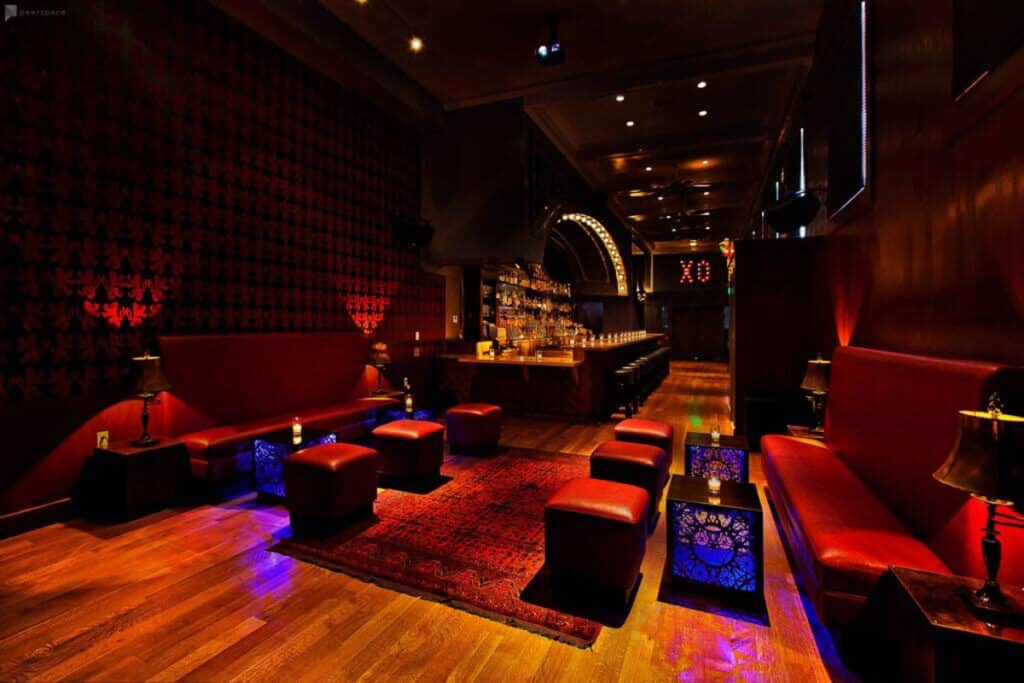 This venue is not only fun and lively — it also has a rich history! This property was built in the late 1800s as a single-story brick building, making it one of the oldest developed parcels in the City. After the 1906 earthquake, the property was rebuilt as the Hotel Rondel. It then operated as a hotel and brothel until The Great Depression, when it was shuttered.
In 1976 the hotel was operated as the Sincere Hotel when a fire hit the upper two floors. Instead of rebuilding— the structure became the bar you can rent out today!  There are still bits of char at the top of the steps left in place for history, and now, you can rent out the space to make this bar part of your own personal history as well!
The space features a photo booth, seating for 40, a flexible layout (with moving tables), and a sound system. Ready to book this historic piece of San Francisco and leave your own personal story imprinted on it as well? Head over to Peerspace and get to booking!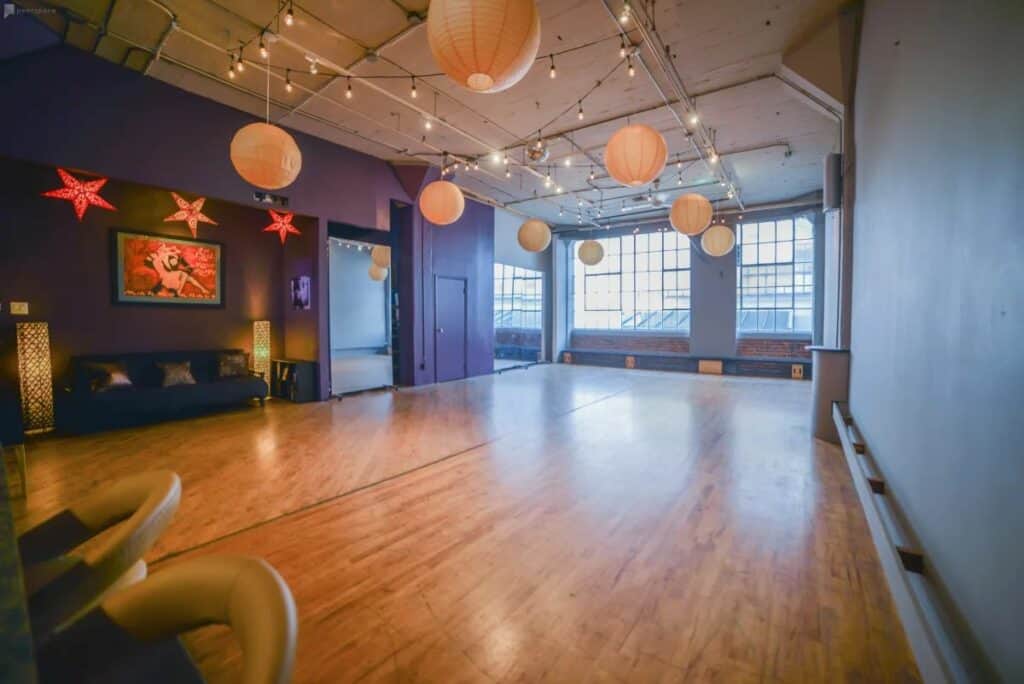 Modern, roomy, and with tons of natural light — this stunning loft space is an absolute gem. We love the chic rustic style of the venue, for one thing. But it also includes an A/V system and optional add-on features. Explore the pictures of this space's exposed brick, 16-foot ceilings, full kitchen, and gorgeous hardwood floors on Peerspace — and don't forget to read all the reviews for more info, too.
According to one pleased visitor: "Beautiful space with literally everything you need and more! Val is amazing to work with and ensures your event goes swimmingly."
6. A historic venue in the heart of San Francisco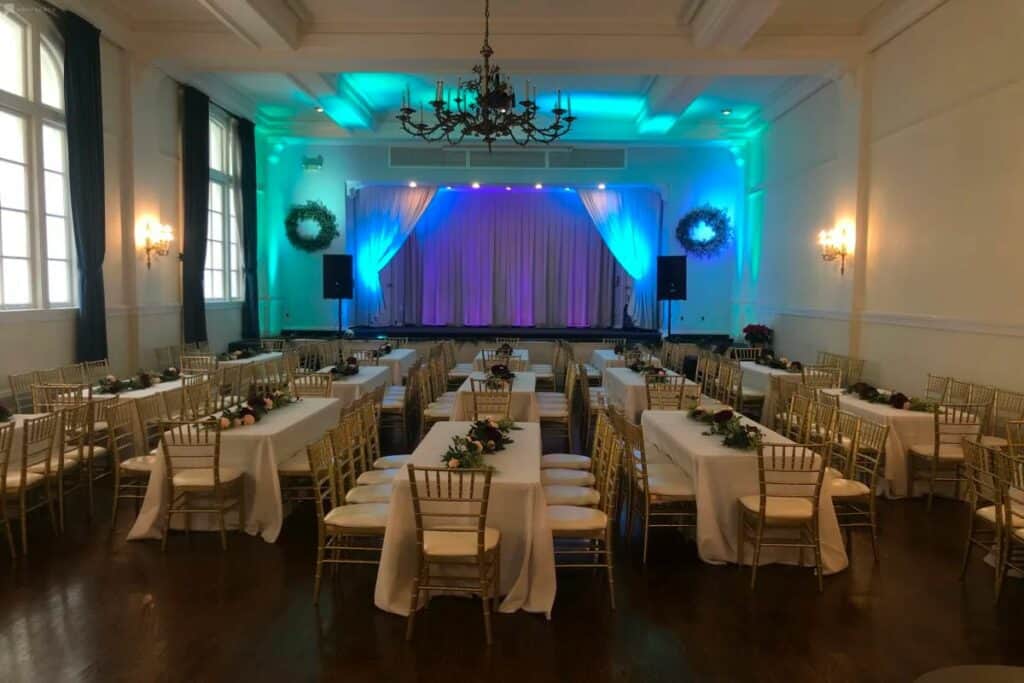 If you are looking for cheap wedding venues near San Francisco that still ooze luxury and class, then you're going to love this space in the heart of the city! This Peerspace venue has a stage, full sound system, 200 chairs, 20 tables, and gorgeous high ceilings. The host also allows outside food and beverage so you can have a meal catered by your favorite restaurant in the city.
Just check out what a Peerspace user shared after booking this venue. "Outstanding! Expectations exceeded. Deborah was awesome, the place was clean and comfortable. My family could not say enough positive things about the venue and I will plan my next even with Deborah. Thank you for everything."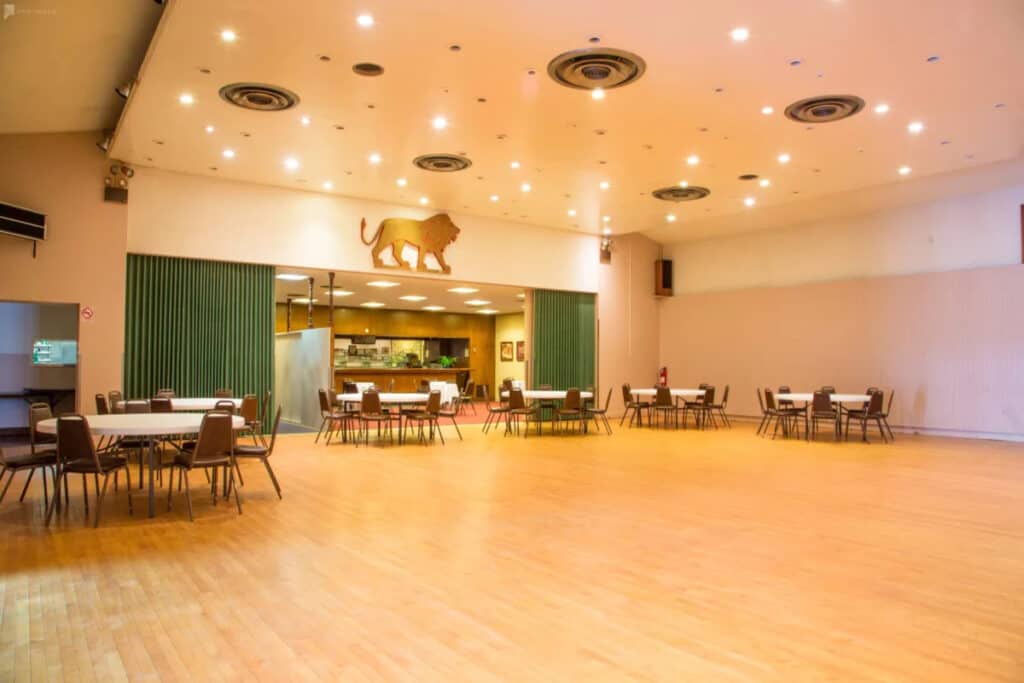 Just because you are looking for cheap wedding venues near San Francisco doesn't mean you can't find a large space! This 5,000-square-foot hall is perfect for a large wedding of up to 325 people. The space includes a fun 400-square-foot lounge with a 1950s full bar, a stage, three bathrooms, a dressing room, and a full commercial kitchen.
This has been a venue for dancing, dining, and socializing for nearly half a century. Join in on the years of good times and book this venue on Peerspace today!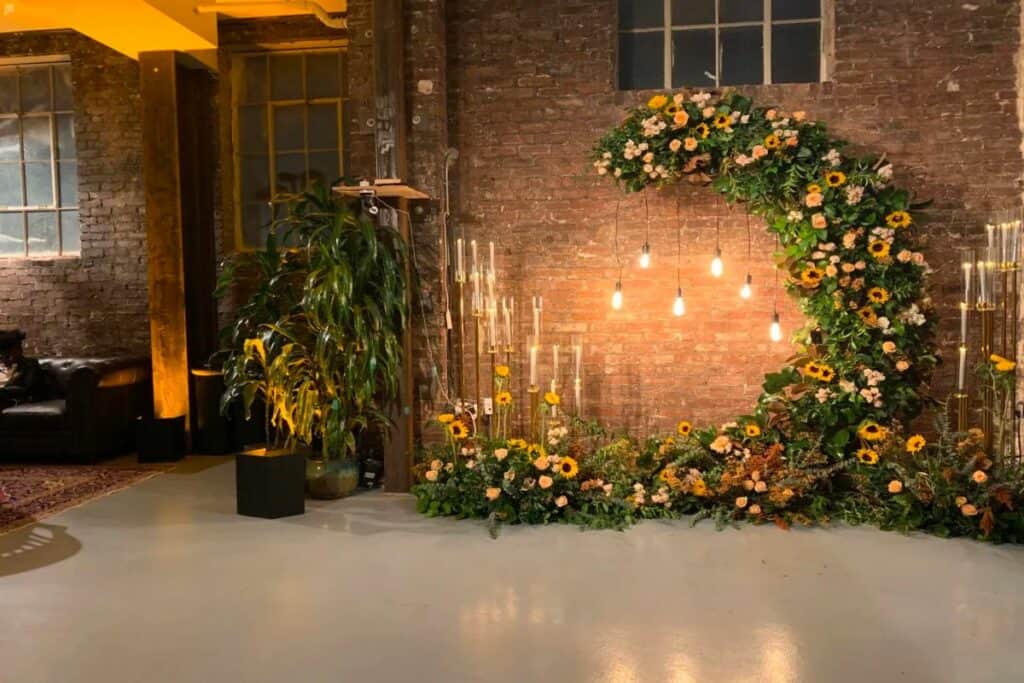 Coffee shop and art gallery vibes fuse in this fun, bright industrial-style space available for rent on Peerspace. This fun and vibrant art gallery and café features exposed brick and reclaimed wood. You'll also have access to a full-service café at the front of the gallery, which can be converted to a beer and wine bar as well!
A Peerspace reviewer who booked this industrial space for an event had this to say about the experience: "Our guests loved the decor, warmth and character of the room. The layout and the flow made it easy for people to chat and mingle without being cramped. Katie was a joy to deal with: she was very easy to communicate with, very responsive and accomodating to our various queries and requests and offered lots of practical advice and solutions. I wholeheardly recommend it!"
First things first: check out the most fabulous bridal shower venues in San Francisco next!
9. Sunlit studios with panoramic city views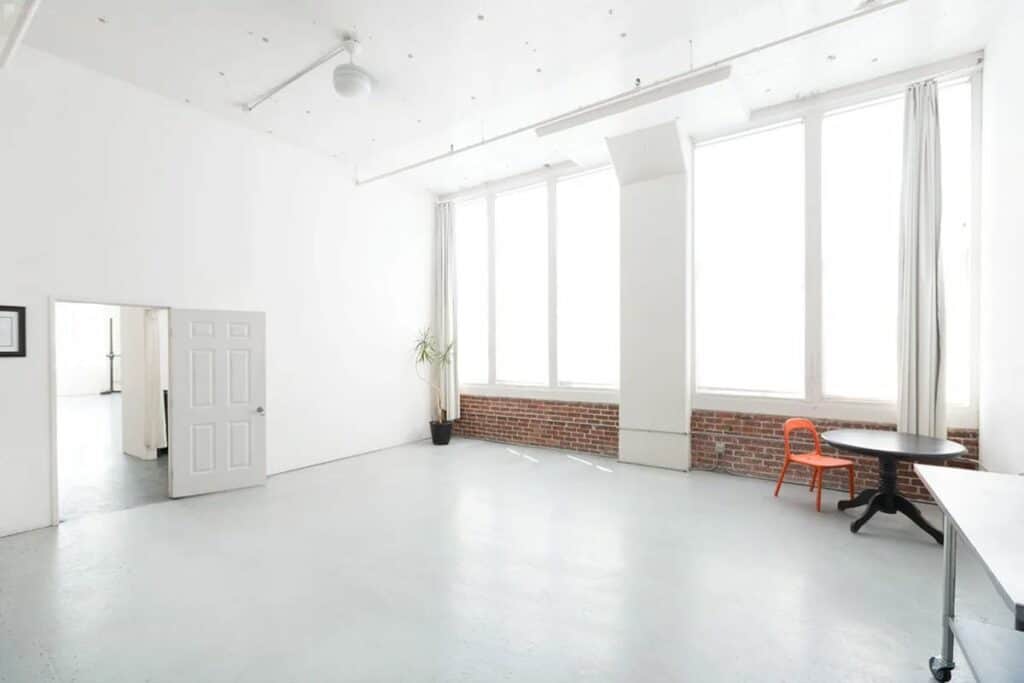 Why settle for one space when you can have three? Hold your ceremony in one studio, reception in another, and use the last room to get ready for your big day! These airy, private spaces offer panoramic views of Pier 70 and the Bay.
You can also make use of the kitchen, freight elevators, tables and chairs, and A/V equipment while here. Check out all the pictures of this gorgeous space and its views on Peerspace today.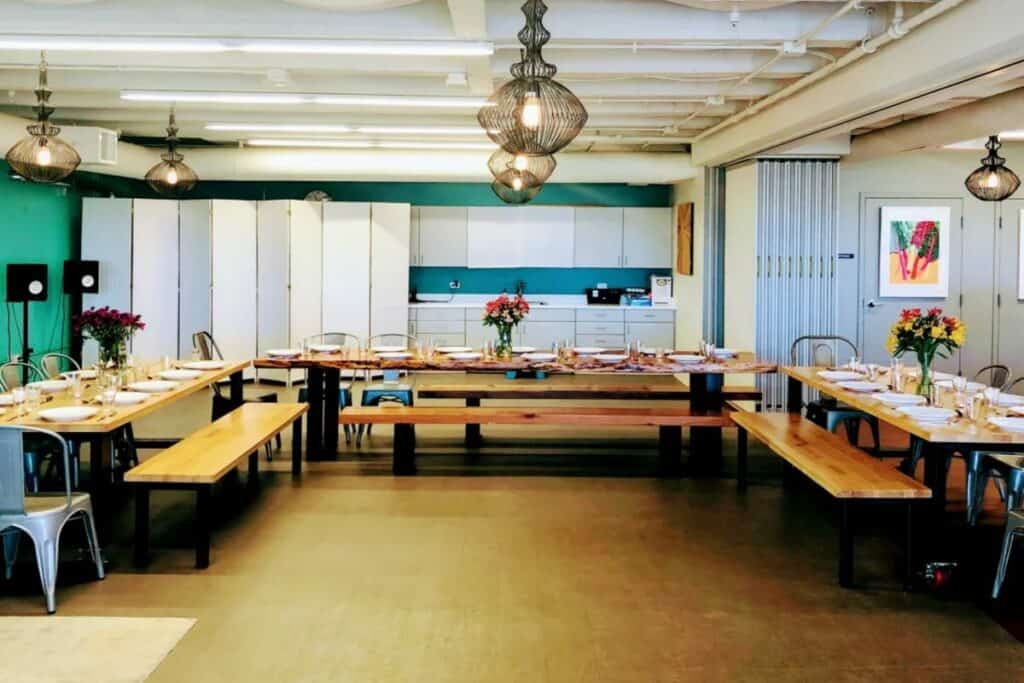 If you're looking for style, value, and views, we may have found the cream of the crop concerning wedding venues near San Francisco! This massive studio has a full commercial kitchen, tons of private parking, beautiful lighting installments, and floor-to-ceiling windows.
There is also plenty of lounge and dining seating options, and BYOB is a-okay with the host. With this Peerspace venue, you'll have enough seating for up to 80 guests, with prices starting at about $195 an hour.
And check out what a previous renter shared about their experience here: "Great and spacious venue! Beautiful water front view of Alcatraz! The venue was very neat and tidy with a lot of luscious green house plants through out. Since it's a culinary school, there are plenty of kitchen appliances and utensils to use. Our coordinator, Jessie, was very responsive and efficient. Great place for a fairly large event! Thank you for everything!"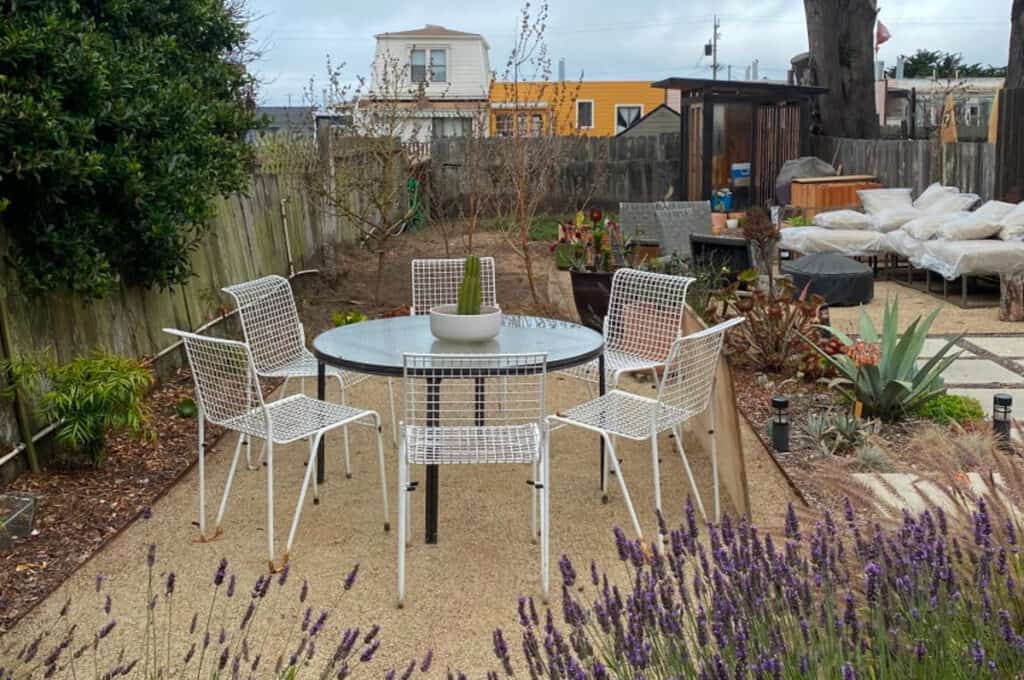 Looking for more intimate cheap wedding venues near San Francisco? Then we think you'll love this Outer Sunset retreat home! Though petite, it offers a beachside chic style that is impossible to resist. And, it actually is only four blocks from the beach (talk about perfect for oceanside wedding portraits!)
This home has updated furnishings within as well as a charming private backyard. It is landscaped, has a charming cacti garden, and includes fun amenities like a fire pit, a propane grill, and lounge seating.
Cheap wedding venues near San Francisco: conclusion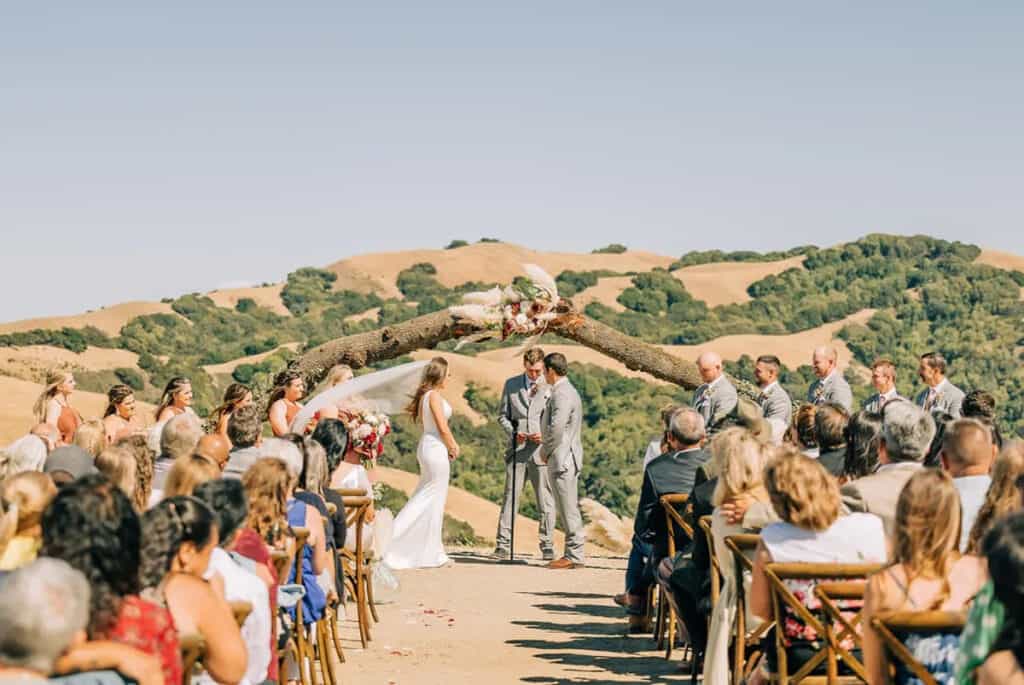 As you can see, finding cheap wedding venues near San Francisco isn't only possible — it's easy with Peerspace! Simply book one of the beauts above or click the link to discover dozens of other spaces for yourself.
And if you need help planning, the Peerspace Concierge service can help you track down deals on catering, photographers and videographers, and so much more.

Get together somewhere better
Book thousands of unique spaces directly from local hosts.
Explore Spaces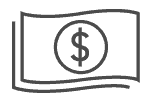 Share your space and start earning
Join thousands of hosts renting their space for meetings, events, and photo shoots.
List Your Space