10 Dope Places to Take Pictures Near Philadelphia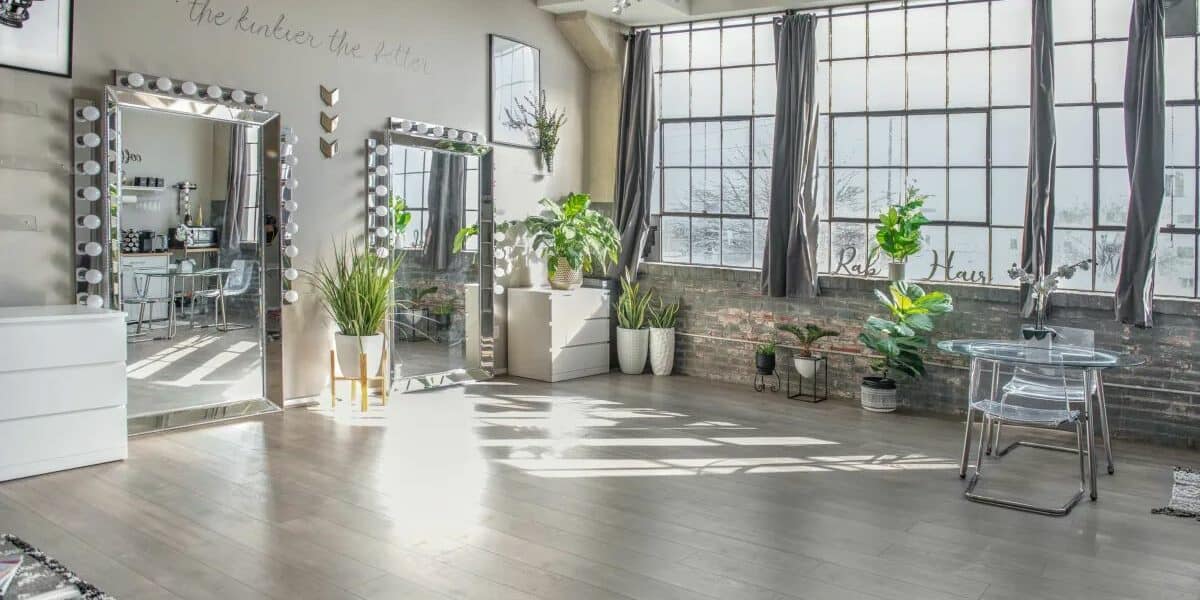 Philly has quite a place in United States history as the birthplace of American independence in 1776 and beyond. Home to lakes, forests, and a subtropical environment, Philadelphia has many beautiful scenes to offer. Its architecture and design are based upon colonial-era history, with most of the modern-era buildings drawing inspiration from Georgian architecture such as City Hall and Liberty Center.
Due to its relationship with the American Revolution, Philadelphia has many important historical sites and museums that portray the events unfolding the creation of the United States. Therefore, if you are a student of history or want to explore the origin of this great country, Philly has a lot to offer. Besides a history lesson, Philadelphia can offer magnanimous places to shoot creative content or snaps of famous places. While you are at it, let's go through 10 dope places to take pictures near Philadelphia.
1. A picturesque house in Melrose Park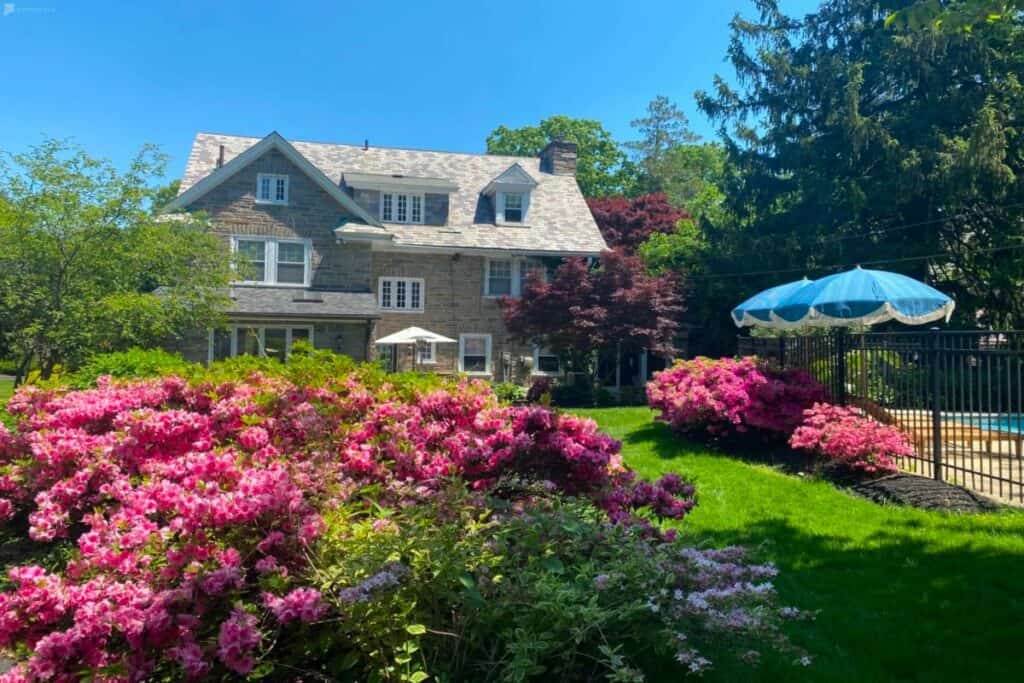 This 4000-square-foot property boasts amazing views and a luxurious interior. With a combination of mosaic tile flooring, pool area, and fire pit, it is going to boom your online reach. Having both indoor and outdoor settings with pleasant views of the surrounding landscapes makes this house an ideal place for a photoshoot and random photography. Social media influencers will find this Peerspace bookable home most suited to their needs as it can serve as a recording studio for podcasts.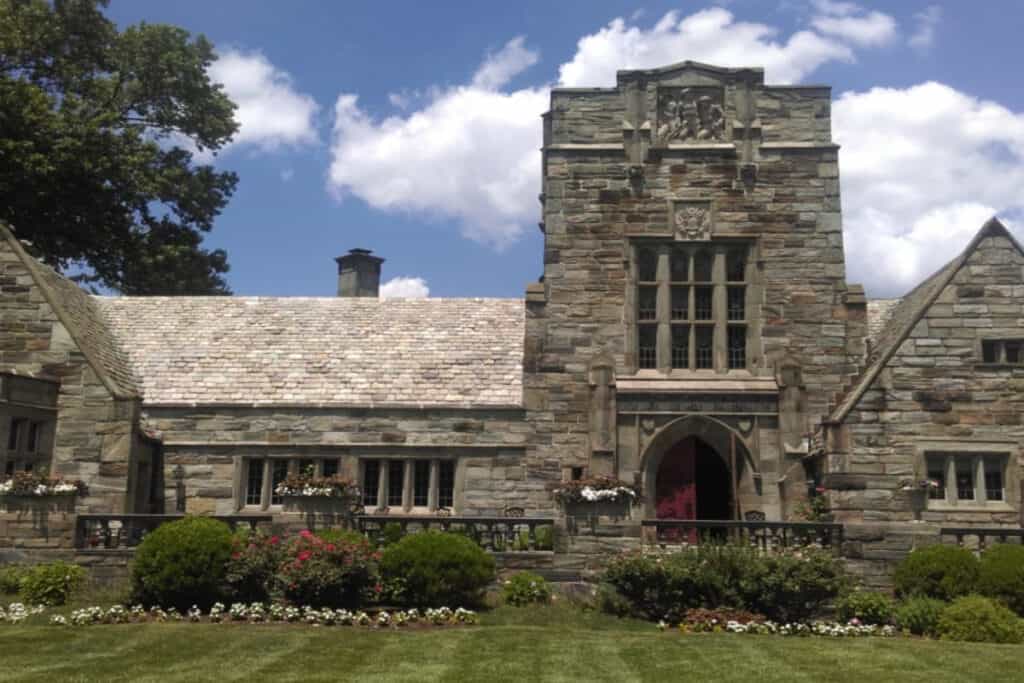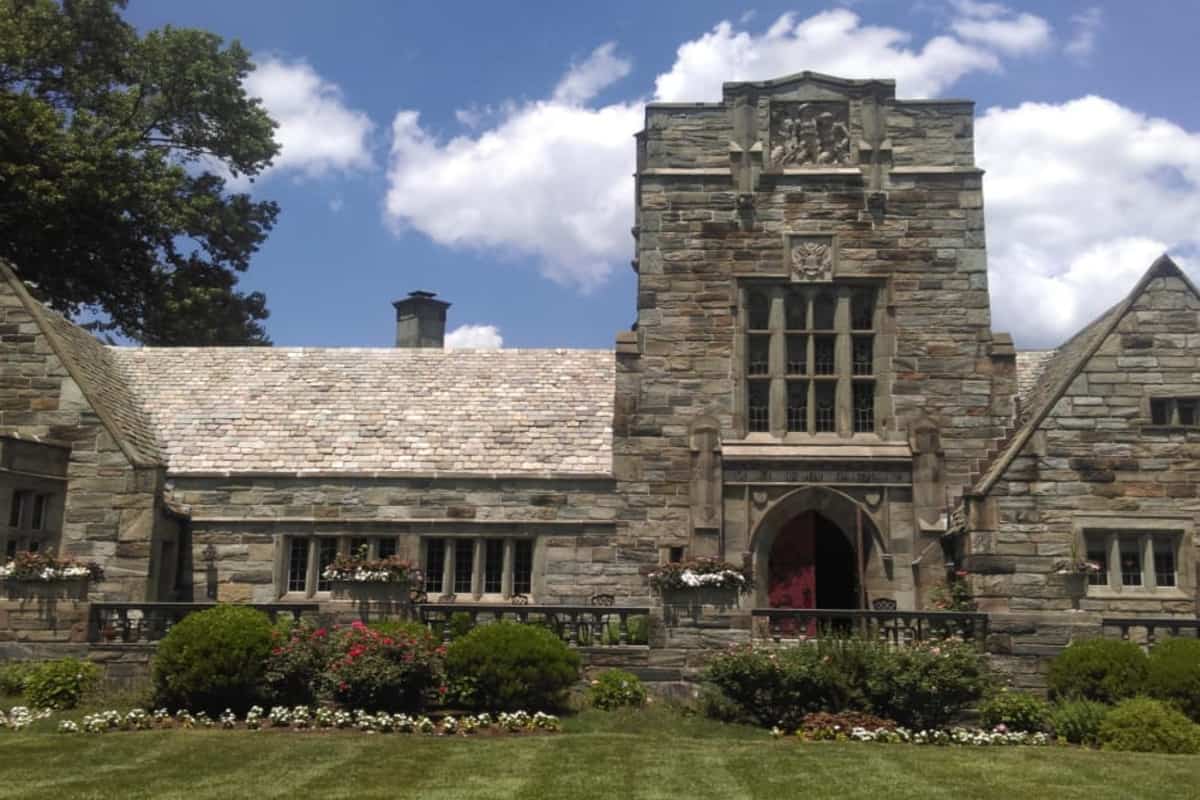 Those who have a strong affinity with medieval-themed movies and shows are in for a treat. From barrooms to bedrooms, commercial kitchens to eight acres of outdoor space, this 1920s castle will give you some of the most splendid spots for a photoshoot and shooting podcasts. Explore how the kings lived in the past and share that experience with your followers. And, it's available to book on Peerspace right now!
This 1421-square-foot penthouse apartment sits in Philly's famous Logan square. Due to its distinct position in the heart of Philadelphia, you can observe panoramic views of the city skyline and take some stunning photos of the nighttime cityscape. In addition, the apartment also has many other luxuries, such as the spa, an outdoor swimming pool, and a beautiful interior, which makes it even better as you can use this for photoshoots and movie production too. Check out all its amazing photos on its Peerspace page.
4. Explore this mesmerizing spot for content creation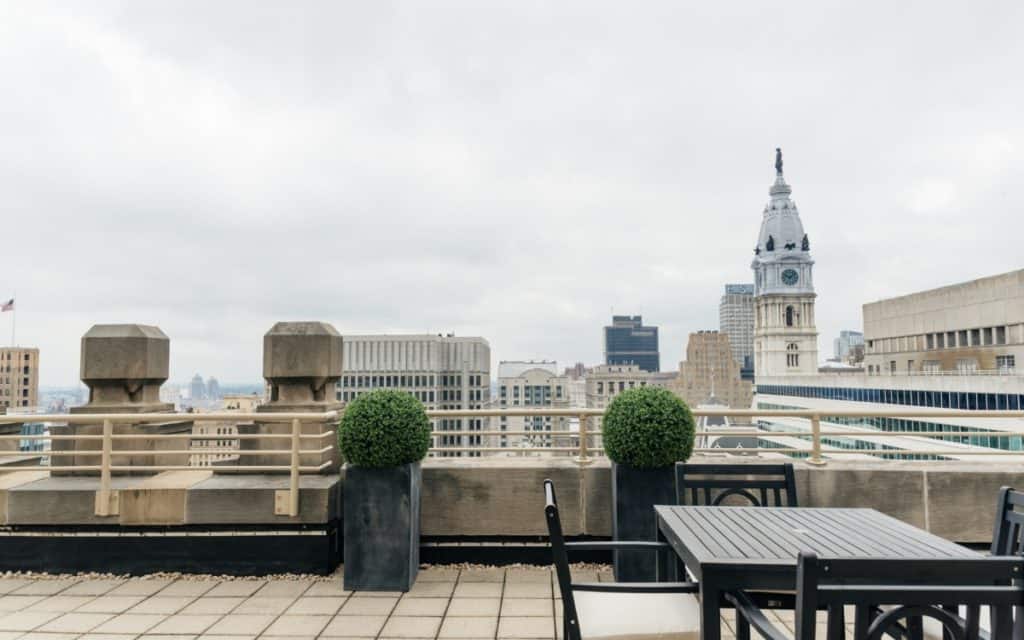 Jump to the rooftop of City Hall and shoot beautiful views of downtown Philadelphia. This vantage point will provide you with private access to City Hall, and for social media influencers, it serves as a fantastic point for podcasts and shooting videos. But most importantly, this place also comes with a co-working space having all the amenities from restrooms to lounges. And you can book it right here on Peerspace!
5. Fairy tale boathouses on the shores of Schuylkill river
Boathouse Row offers a beautiful nighttime display consisting of 19th-century boathouses along the banks of the Schuylkill River. Additionally, you will find the Philadelphia Museum of Art to the west of it. The national landmark of Fairmount Waterworks is also within walking distance of the boathouse. Both daytime and nighttime offer exquisite scenes at this place. Photo enthusiasts should keep this in their bucket list of 10 dope places to take pictures near Philadelphia.
6. An indoor garden for shooting a podcast!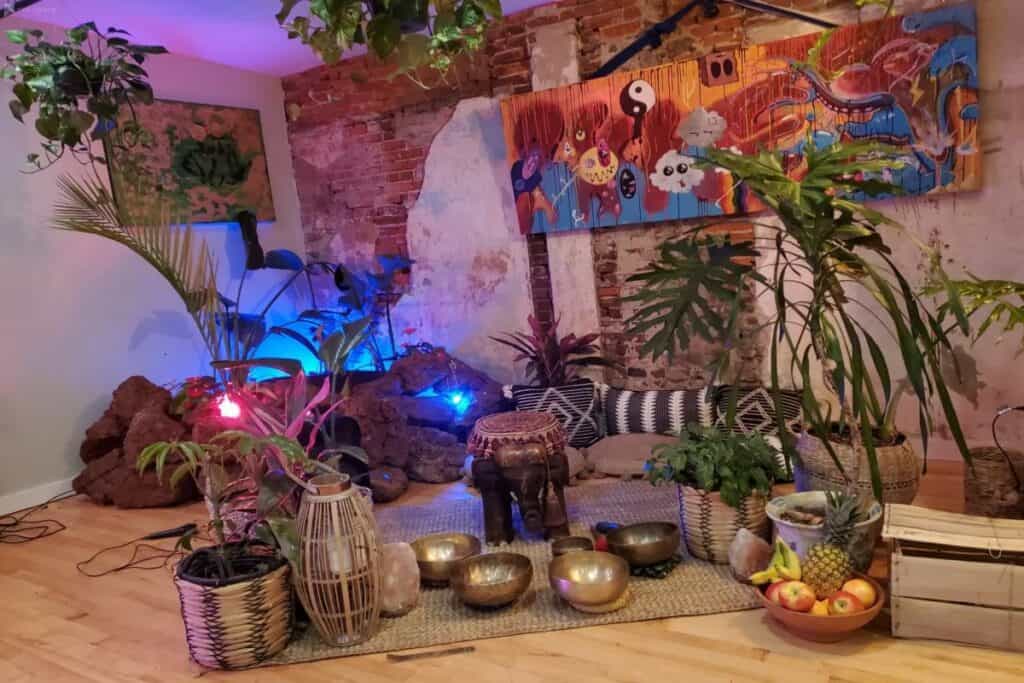 This 2000-square-foot space has the theme of botanical gardens in the heart of Philadelphia. Beautifully embellished with a wide variety of plant species, many people have reviewed this as a place of healing and opening the mind to the hidden reality. It boasts more than 100 plants and a beautiful seating arrangement, so people who have a fondness for taking snaps and photos must include this in their list of 10 dope places to take pictures near Philadelphia.
7. Take your online following to new heights on the Schuylkill River boardwalk
One of the most visited places to visit in Philadelphia is the Schuylkill Bank Boardwalk. This 2000-foot Schuylkill bank boardwalk takes you through some very scenic views of the city skyline through every step of the journey. This place is filled with bicycler's, pedestrians, runners, and photographers alike on a regular day. Consider visiting this place at both daylight and nighttime hours each time, and you will surely get to see a unique vibe associated with this place. Make sure to check out the South Street bridge at the end of the boardwalk that gives you a fantastic spot for taking panoramic shots of the entire path.
At this beautiful indoor and outdoor space near Fairmount park, you can experience the essence of Japanese architecture and way of life. Due to the surreal nature of this place, you must include this place to be among the top 10 dope places to take pictures near Philadelphia. The Zen school of thought practitioners often come here for introspection and to embrace the tranquillity of these gardens. In April, when the cherries blossoms bloom, many social media influencers and photographers come here. Take some snaps at this place to send your following online skyrocketing.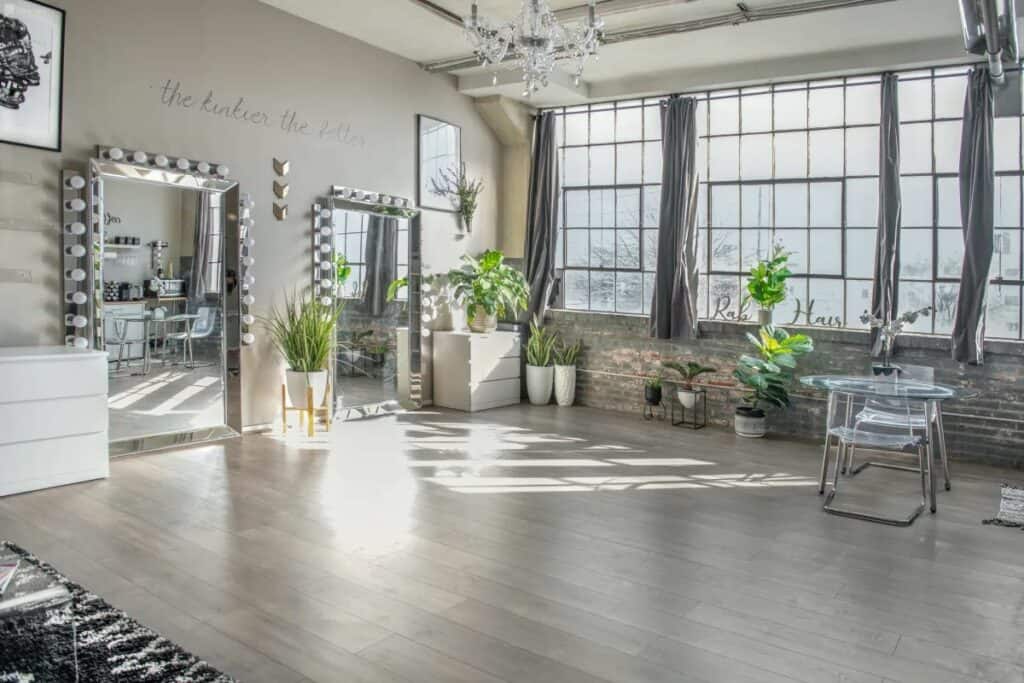 Located in Frankford, this urban studio has a magnificent vibe associated with it. You will find it extremely captivating for indoor photography and photoshoots with a sun-drenched interior and floor-to-ceiling windows. This place also has some cool features that make it highly desirable for a mini content shoot or recording podcasts. A coffee station, desk area, and comfortable sitting area adds more value to this urban studio, which is available to book on Peerspace today!
10. Arcade Bar for a night photoshoot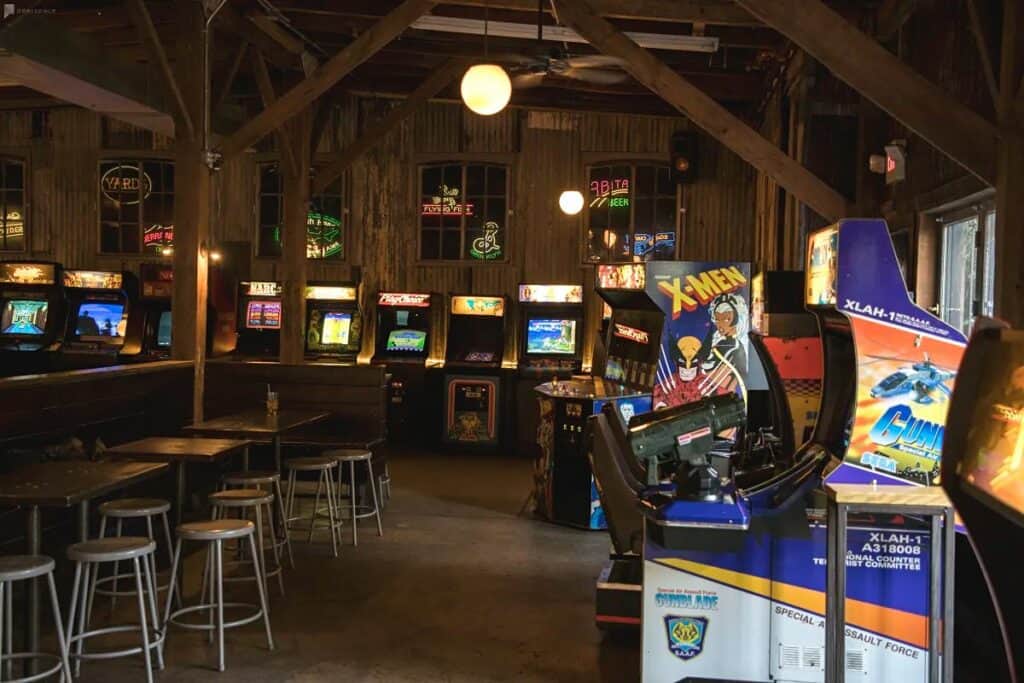 The last spot on our list of 10 dope places to take pictures near Philadelphia is this 2000 square-foot bar in Fishtown. Since it was once an industrial workhouse, you will find steel beam ceilings and corrugated walls. Most of the persona of this place is due to wooden beams that were renovated after the workshop was converted into an arcade bar. One of many features of this bar is arcade games, like pinball. At night, due to ambient light, you will find this place much more attractive for some incredible snaps for your online followers. Check it out here on Peerspace!

Get together somewhere better
Book thousands of unique spaces directly from local hosts.
Explore Spaces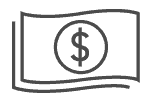 Share your space and start earning
Join thousands of hosts renting their space for meetings, events, and photo shoots.
List Your Space