How Much Does it Cost to Rent an Art Gallery Space?
Answered
Art Gallery Spaces on Peerspace cost on average between $80 — $135 per hour.
If you're an artist and you want to host an exhibition, an art show room rental is a must. Even if you aren't the artistic type, and you simply want a creative space to host your event, art galleries probably come to mind—they are perfectly curated spaces for soirees, funky backgrounds for photoshoots or productions—there are few events that wouldn't be enhanced by a gallery backdrop. If you've seen pictures of parties in show spaces and wonder just how much an art gallery venue costs, you've come to the right place.
Why rent an art gallery space
The best reason to rent an art gallery space is the ambiance—they are often chic, minimalist spaces with interesting wall art and pieces that invite conversation scattered throughout. In addition to their obvious uses for artists, art galleries tend to be versatile spaces, great for hosting all kinds of events including birthday parties, workshops, pop-up shows, and even wedding receptions. They often have separate, open spaces for events where you can really tailor the space to your desired look— the walls of these spaces are often intentionally left blank, awaiting your personal touch.
If you are choosing an art show room rental in order to show your work, the professional lighting could not be better—most spaces feature movable track lights with adjustable brightness to customize to your taste and highlight your favorite pieces. These are spaces that are literally designed to showcase pieces and create drama and intrigue. Many venues are made even more customizable with movable walls, feature pedestals, tables, and chairs, making them even more suitable for art shows. Finding a space that works with your aesthetic is more important than you might think. Galleries often have a signature style and when it works with your own, it can give your show a more cohesive presence. Hosting your show in a space specially designed for showing art feels more professional so it can help you be seen as a serious artist in the art scene in your city. For more information on how to display your art in an impactful manner, check out our art show display ideas.
The old adage of location location location is important when considering where to host your event. Galleries are often centrally located on well-trafficked streets, which is ideal if you're hosting a show or pop-up or even an art workshop. Since they are often found in downtown areas, hosting your event in a gallery ensures easy access to public transportation and they are often near large parking lots or garages. Some galleries even include parking for a limited number of vehicles.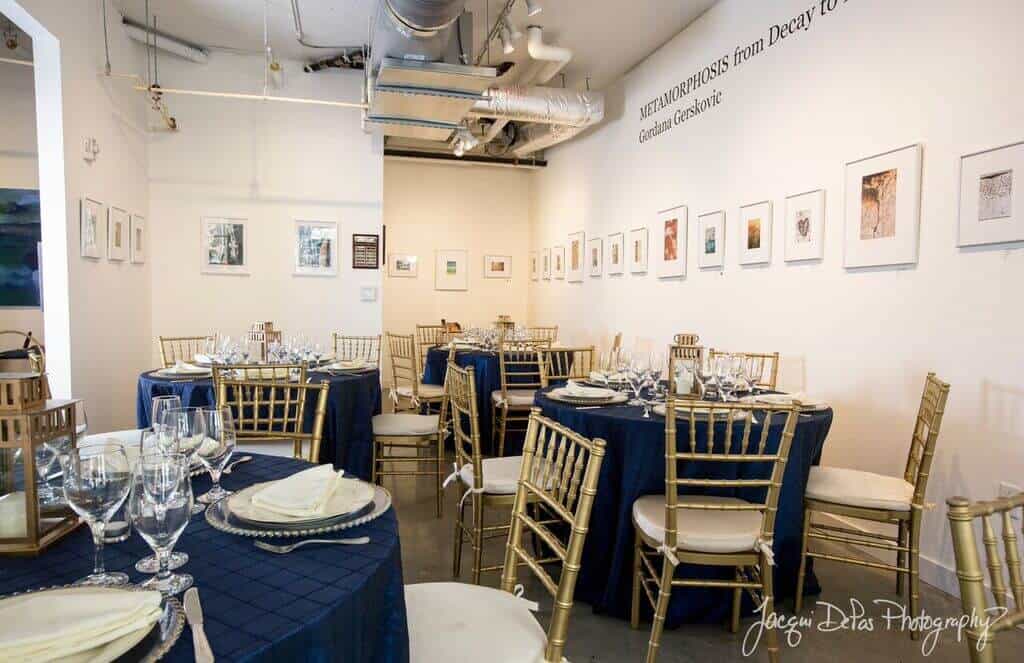 How to rent an art gallery space
There are some aspects of renting art galleries that are specific to this type of venue. Given the fact that the art is often original, for sale, or irreplaceable, quite a few galleries will require event insurance in case of unfortunate accidents. When dealing with high-end gallery spaces, note that some rooms or spaces may be unavailable in order to protect the art so if you have a certain room in mind, or if the space also functions as a museum, be sure to check that it is available for hosting events.
It's important to be sure you vibe with the art on display. If you're interested in having the art be the main feature of your event, be sure to clarify if it is included with the rental as some art galleries charge a rental fee for the art. Conversely, if you don't want it displayed, most galleries will charge an un-hanging fee. It is also important to note that while galleries can be some of the most flexible spaces available, some furniture or installations may be immovable so be sure to clarify what can or cannot be changed if you have a very specific arrangement in mind.
If you are trying to find the best value, factor into your art gallery rental cost the fact that some galleries include an event manager in their rental price, to facilitate your event and help it flow more smoothly. Having more available hands will always save you time and money.
Usually, hosts have experience hosting events and will have their rules clearly spelled out in their descriptions, making it easy to pare down what spaces can accommodate your requests. We make it easy with upfront pricing and simple contracts so you can focus on what really matters—your event.
Types of art gallery spaces
There are as many kinds of art galleries as there is art—modern, traditional, industrial—so you're really only limited by what's available in your area and your type of event. While some industrial street art style galleries may be better suited to birthday parties than a cocktail wedding reception, it is purely up to taste and the theme of your day.
Here are a few of the different types of art gallery spaces you can find on Peerspace: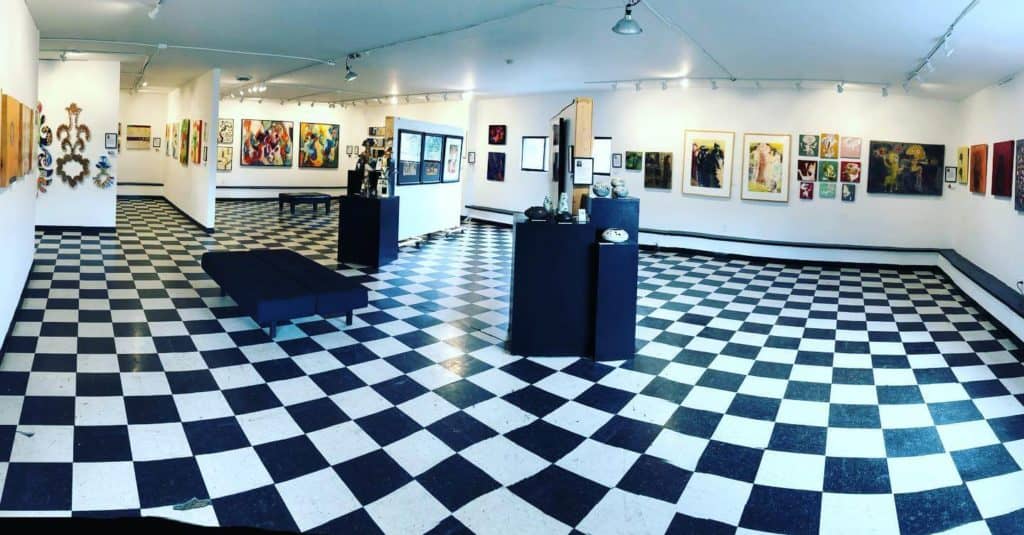 How much does it cost to rent an art gallery space
Art gallery rental rates are not the lowest as far as venues go but you get a lot of atmosphere and amenities for your money. Most spaces in most large cities run between $200-$400 an hour with a four hour minimum. Large or famous spaces can easily command $1,000 an hour. This large SoMa gallery with an industrial feel and great lighting is $750 an hour with a four-hour minimum and it is perfect for large events of up to 250 people. If you are planning your event in a smaller city the average price is between $90-$150 with a three or four hour minimum. This industrial art gallery and loft in Seattle is an excellent place for a small party.
The price may change with the event. For example, weddings often require considerable time for set up and break down so galleries may charge a flat fee as opposed to an hourly rate—this should be stated clearly on the hosts' information page.
Art gallery rentals can enhance the theme of your event and their often convenient locations make them a great choice for a variety of occasions.