Here's Where to Rent a Daylight Studio in New York City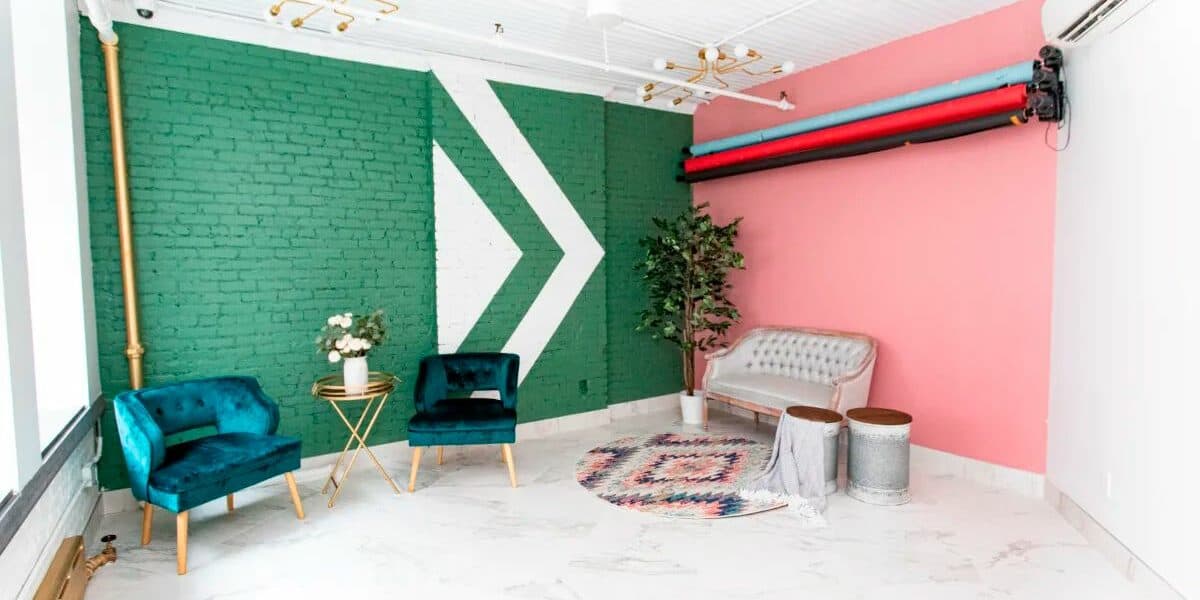 The golden hour is that special time frame where you can capture crisp and clean photos without them looking grainy. Natural lighting is hard to come by, especially when you wish to take your photoshoots indoors. Fortunately, New York City is bustling with studios that are built to attract natural daylight. Take advantage of their open space and large windows to produce some amazing photos. We've compiled a list of where you can rent the perfect daylight studio in New York City.
This 753-square-foot loft comes with large open windows and 12-foot high ceilings to bring in as much natural light as possible. The warm brown tones of the space, the Scandinavian furnishings, and the subtle pop of color from indoor plants create this cozy atmosphere perfect for your lifestyle content.
Located in the heart of Soho, you can never run out of inspiration with the slew of architecture, art galleries, and museums nearby. Getting to this location can easily be done by car, bus, or subway. However, keep in mind that this loft is not soundproofed but additional equipment can be provided upon request. Book it here!
This spacious property with generous southern lighting is furnished with modern accents, original artworks, and contemporary designs. It also includes a wardrobe space and two bathrooms. What's great about this studio is the 10-foot floor-to-ceiling windows! So you are guaranteed to have perfect lighting throughout your photo session.
Spending time at this stylish studio is easy because the parking is free! If you ever get lost in the building, there is a doorman available to assist you if needed. There is a lot of equipment you can rent, just make sure to send the final lists before your arrival.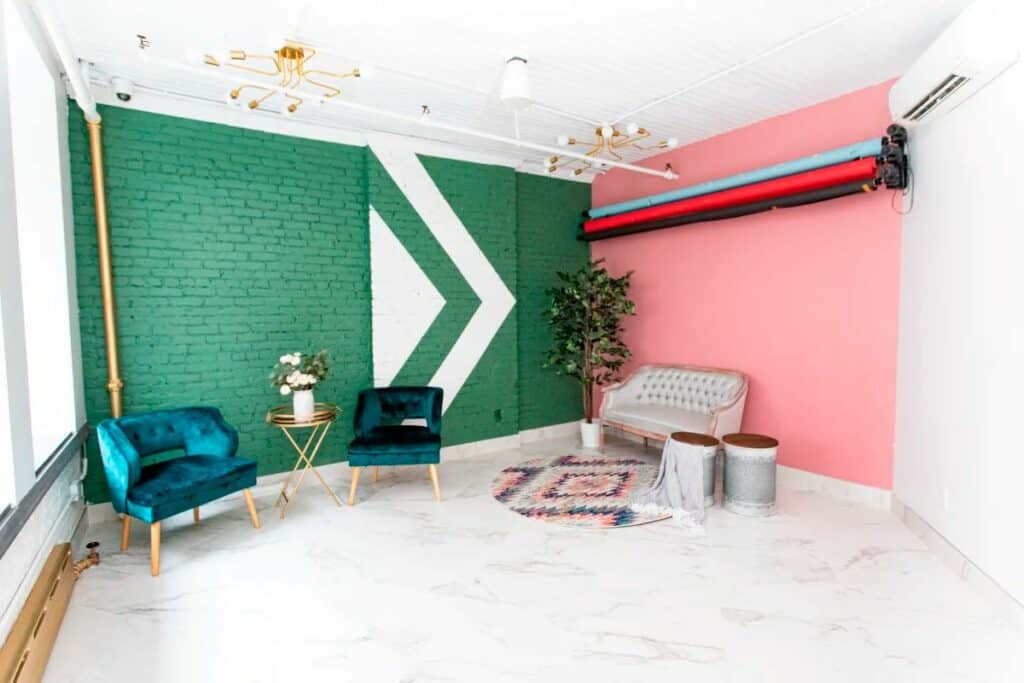 Located in the lower east side of New York City is this vibrant and cozy 301-square-foot studio. Once you set foot in this space, you are greeted with colorfully painted walls and glamorous velvet chairs. You do not need to worry about certain equipment because it comes with two monolights, an LED light, two softboxes, a beauty dish, and a ring light. Plus, a few reflectors, umbrellas, and a V-Flat.
If you are a small group looking for a place with natural lighting, then this spot is meant for you! You can take portrait sessions with the exposed brick wall as the background or record an interview with the vibrant setup.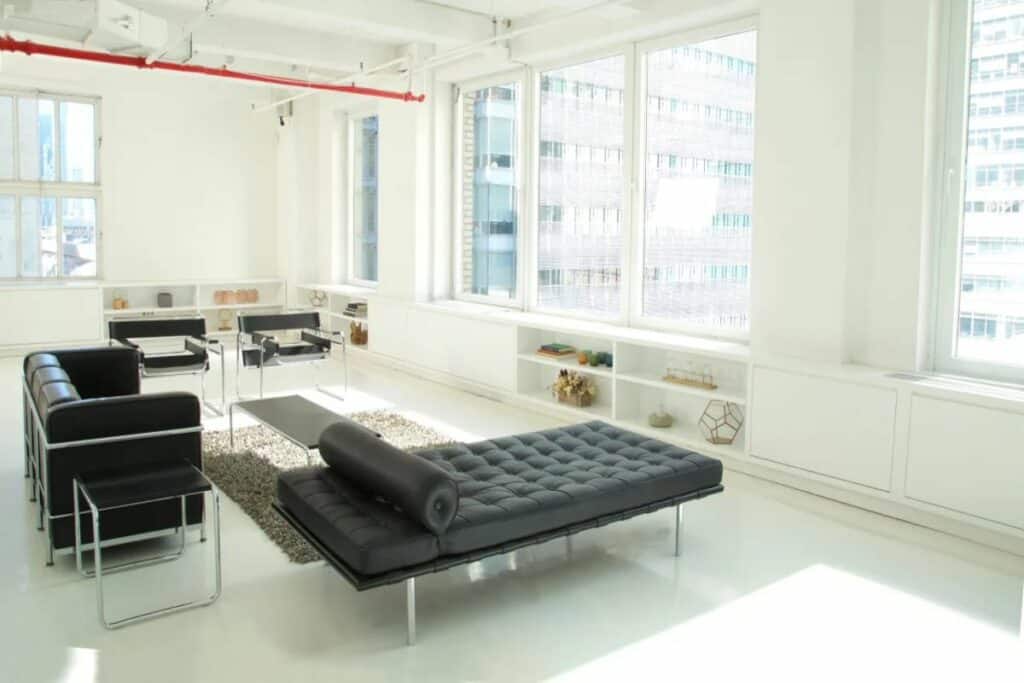 Take sophistication to the next level with this production studio located right across the street from the famous New York Times Building. The large, floor-to-ceiling windows provide enough natural light and an unobstructed city view. The sleek modern chairs with geometric interior designs create a professional setting. Your photos will end up looking elegant and classy.
Equipment is available for you to rent, and you have access to its modern kitchen and en-suite bathrooms. Be sure to check out the New York Times Building and take the subway (conveniently around the corner) to explore what the city has to offer.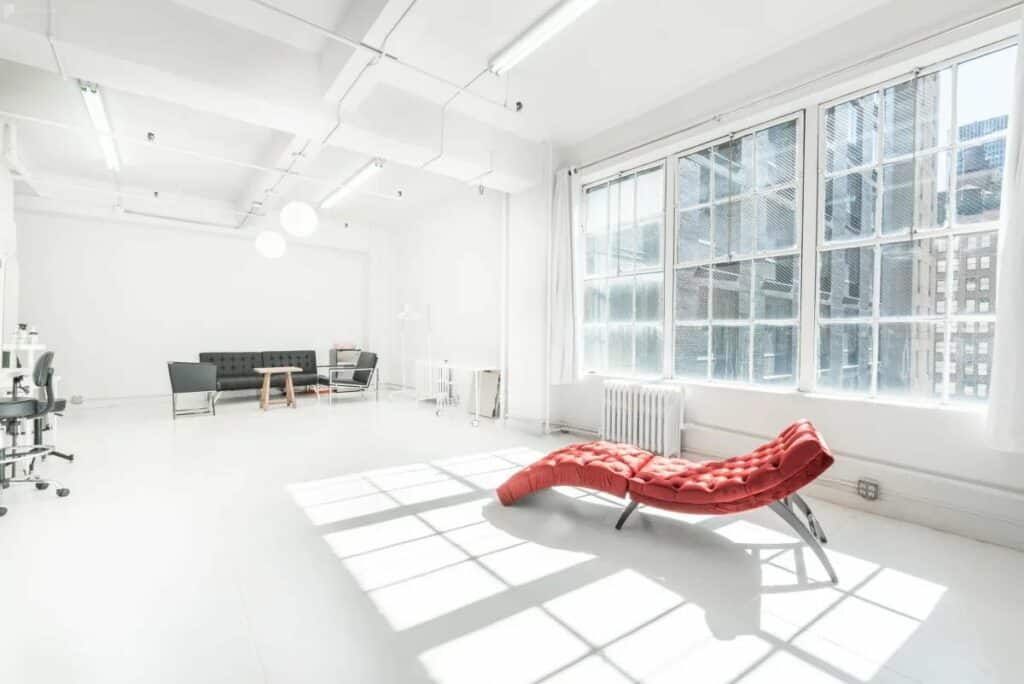 Hitch a subway to midtown and be greeted by an incredibly spacious daylight studio. This 670-square-feet studio comes with contemporary furniture that you can use for your photographic needs, including the red chaise lounger! Groups with a maximum of 10 people can fit into this area and use the standard equipment available.
With massive windows facing east and south, you can catch the best exposure between 10 a.m.-12 p.m. Affordable, spacious, and perfectly well lit, you can rent this daylight studio in New York City right here!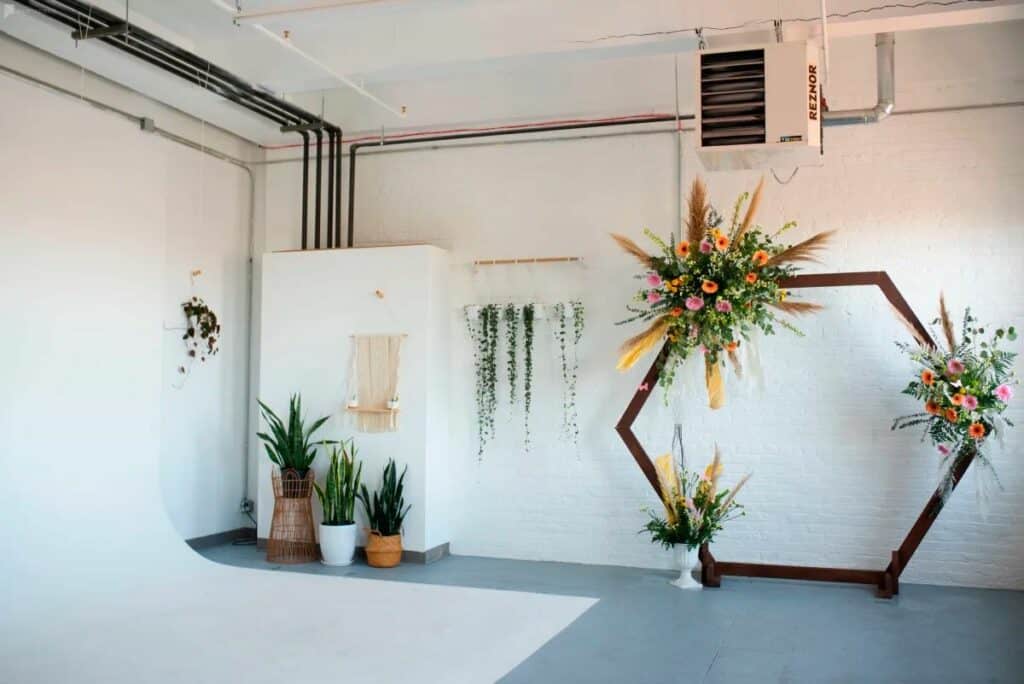 What can make your photographs exude a dreamy vibe? A chic boho studio with aesthetic floral arrangements. This 1,000-square-foot space comes with a 10-foot CYC wall. The white brick walls and dual-sided walls can be used as the perfect backdrop for your next project. To add that dreamy effect, use the potted plants and floral designs available. The white bricked walls and floors bring in enough natural lighting to make your subject radiate.
There are plenty of restaurants nearby with the option for delivery if you ever feel hungry and need a lunch break. For any additional assistance, a studio manager is available on site.
7. Studio 7 with open space
Rent a daylight studio in New York City like this one! It comes with an open floor plan that is fully equipped for all your creative needs. A makeup room with vanity lights is included in the rental along with free Wi-Fi. Add texture to your image by having these exposed brick walls as your background. You do not need to worry about lighting because the windows are large enough to engulf the whole space with sunlight.
Brighten your snapshots with the orange tinge brick wall or keep it somber with the textured black shower tiles. This studio is versatile for any project and your ideas will be brimming with infinite possibilities!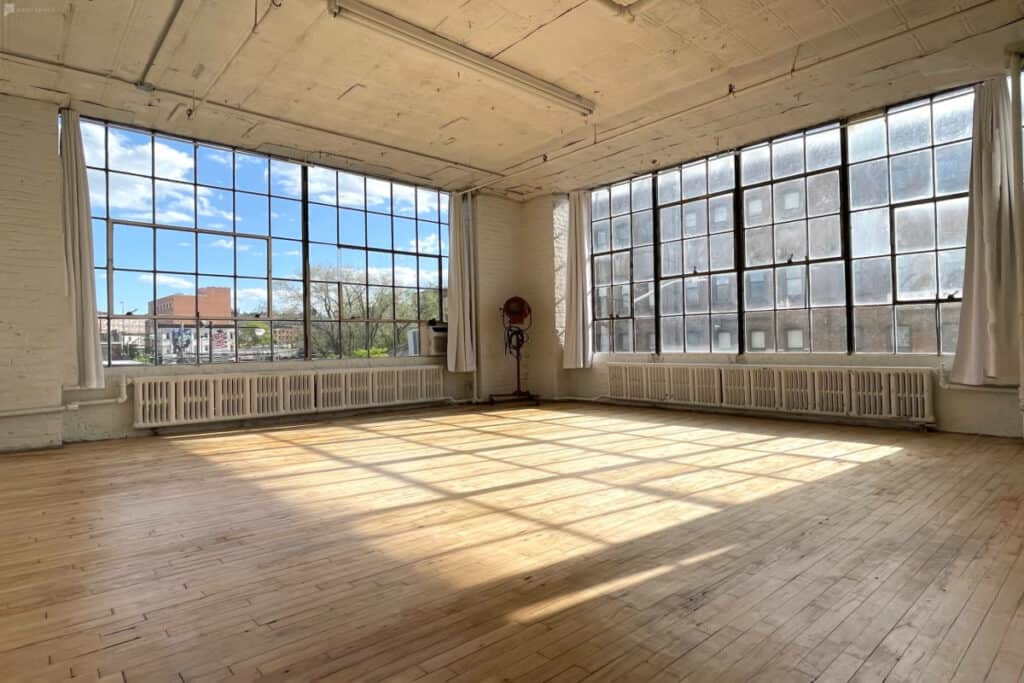 You may notice the brick jack arches and weathered concrete as you walked in. Originally a canning factory, this building was renovated to now become an industrial loft. The multi-cultural furniture adds a touch of finesse to your images as you capture it in the open chambers. You can also catch a glimpse of the skyline through its rooftop.
Explore the beautiful city from here by taking a five-minute stroll to the waterfront or dining in any of the nearby restaurants. There are various live entertainments, museums, music, and arts to participate in during your stay. Book this stunning Brooklyn industrial loft on Peerspace today!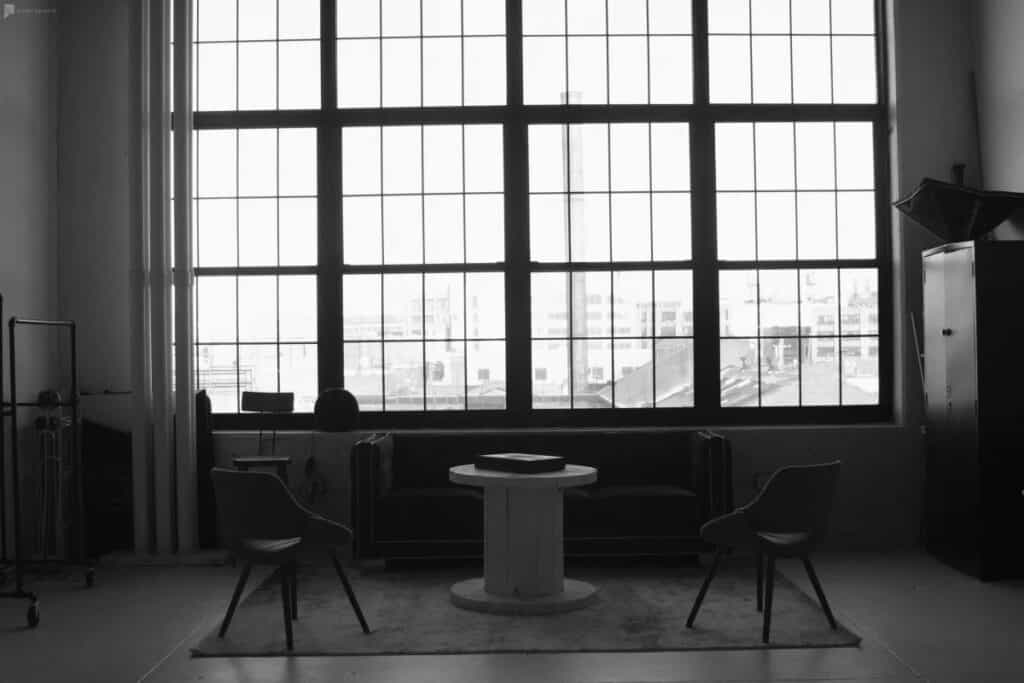 This sun-drenched space is conveniently located in Williamsburg, which is 10-15 minutes away from the Lower East Side, Queens, and Union Square. The parking lot is free so you can easily access this loft without spending a dime on parking. This amazing space comes with two seating areas, a CYC wall, a makeup station, and free Wi-Fi.
The tall open windows that illuminate one of the seating areas are perfect for your next photo project if you rely on natural lighting to keep your images looking high-class. You can even do a retro vibe by using the second seating area with its satin couch and vintage table.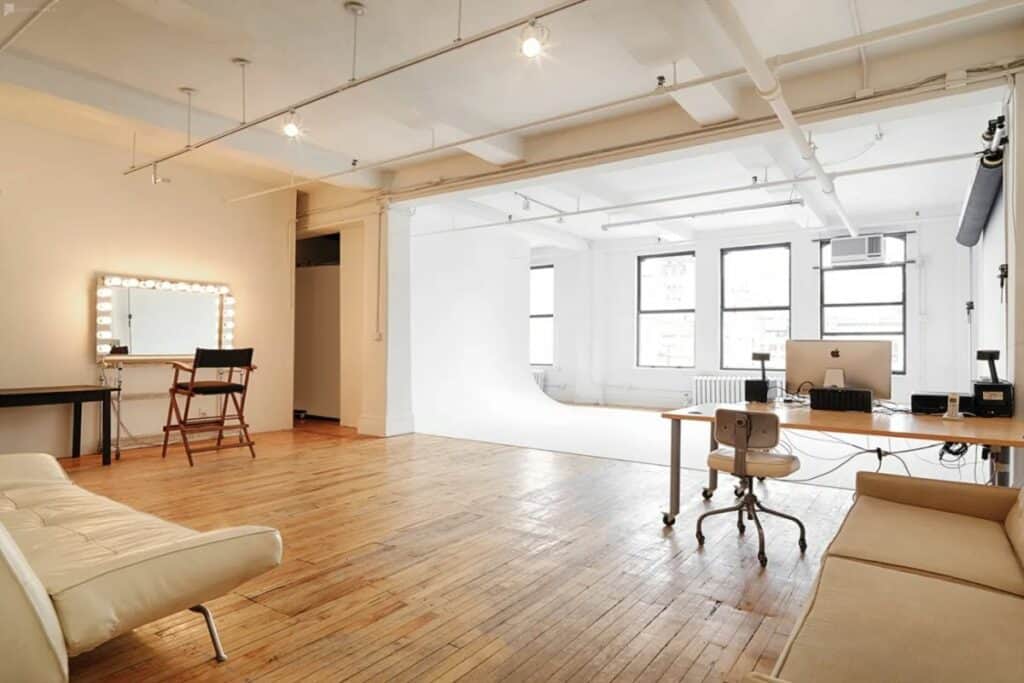 The biggest highlight when you rent this daylight studio in New York City is its 14′ x 28′ CYC wall. It's perfectly nestled in an open chamber where three north-facing windows engulf the high ceiling area with sunlight. You have a blank canvas all to yourself that is spacious enough to fit any of your equipment. If you are looking to drive towards this simple midtown studio there is a parking lot nearby and a parking garage that is 100 yards away.
Rent this daylight studio in New York City to enhance your next photo project with an ample amount of natural lighting to produce high-quality images.

Get together somewhere better
Book thousands of unique spaces directly from local hosts.
Explore Spaces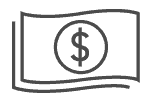 Share your space and start earning
Join thousands of hosts renting their space for meetings, events, and photo shoots.
List Your Space