How Much Does It Cost to Rent Space in a Mall Food Court?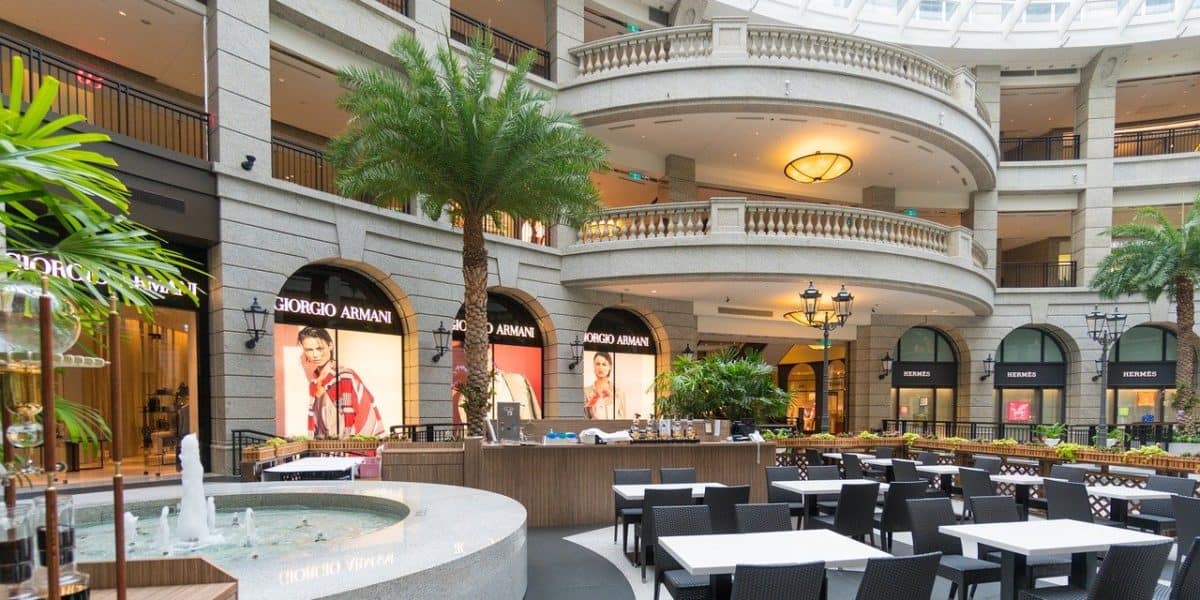 If you'd like to establish your own prepared food operation in a mall and run a lucrative business for years to come, here are the key details on renting a space in a mall food court. We'll tell you why it's worth renting space in a mall food court, how you go about the rental process, and most importantly, the answer to the titular question: "How much does it cost to rent space in a mall food court?" In addition to malls, we'll provide a number of appealing alternative options when it comes to having your own restaurant.
For instance, you can rent a retail space or a commercial kitchen on Peerspace that has everything you need, minus the lease and other legal documents that go with renting a space in a mall food court.
So then, we will also present the question: How much does it cost to rent these spaces on Peerspace?
Answered
Retail spaces and commercial kitchens on Peerspace cost about $95-$125 per hour.
Why should you rent space in a mall food court?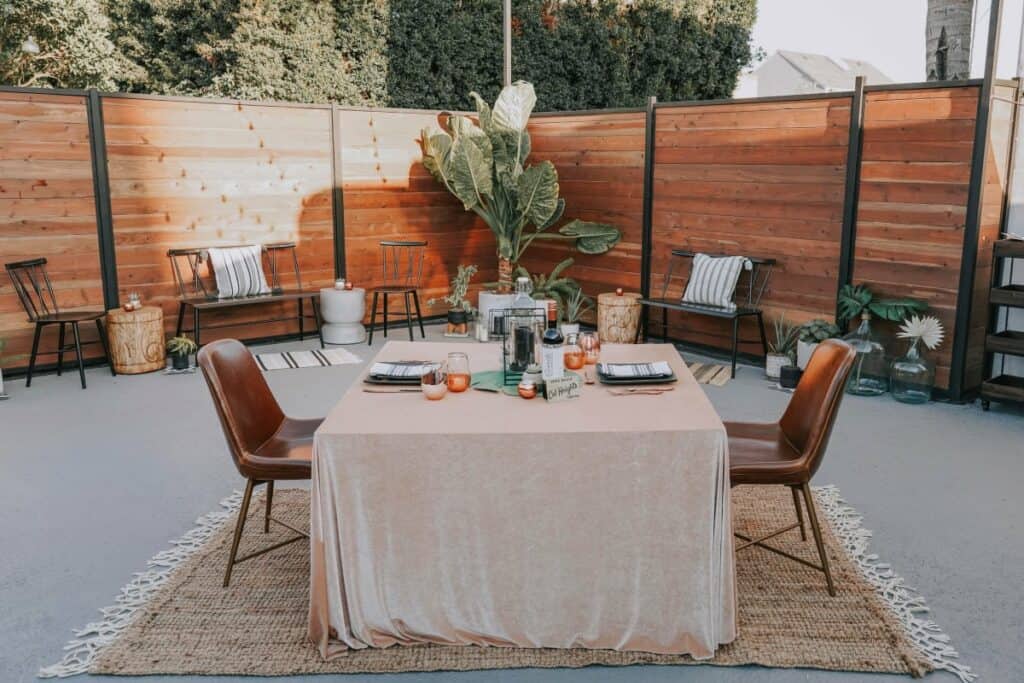 Malls can be incredibly lucrative locations for restauranteurs. Typically, they constantly have visitors at the various stores throughout the building, who are bound to get hungry at some point during their day of shopping. Rather than having your restaurant in some out-of-the-way location, particularly one where people have to drive to get there or else locate scant street parking, it's much better to situate yourself in a high-traffic area such as a mall food court.
That way, visitors will spot your restaurant as they're getting hungry and be drawn to it, helping you to make big profits. If they're happy with their food, they may also seek out your restaurant next time they're at the mall (and even bring their friends!), earning you return customers as well as new ones. Likewise, in bustling cities like Los Angeles, foodies can often discover underrated and hidden culinary gems in assuming strip malls and food courts.
How do you rent space in a mall food court?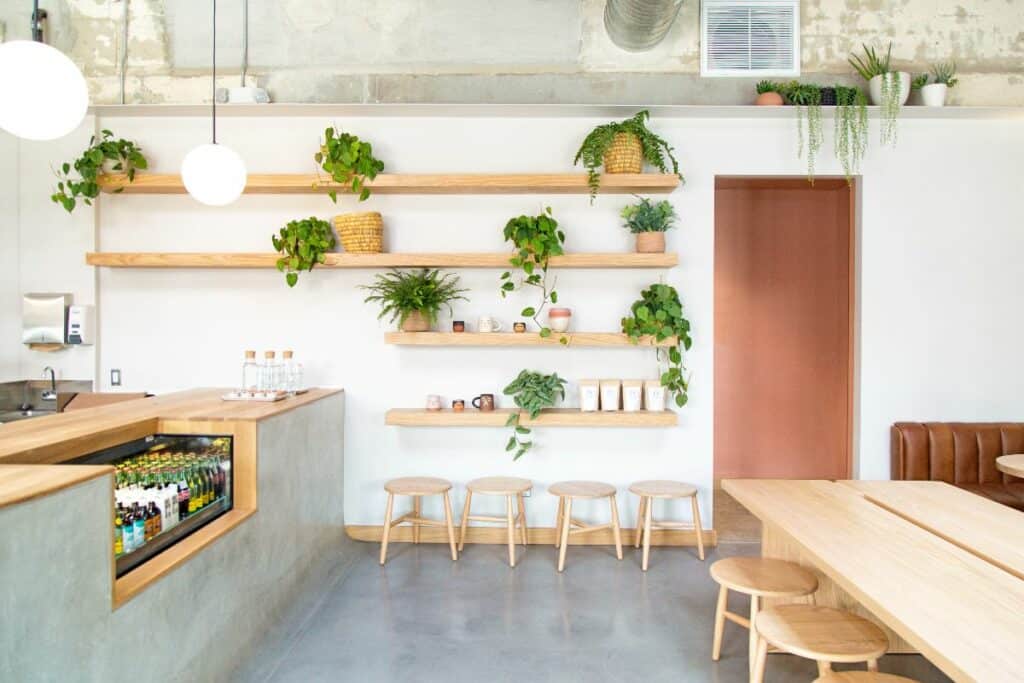 To start, do some online research into spaces at malls in your area. Unfortunately, we can't give any specific advice on this aspect of the process, since every local region will be different. But make sure you keep tabs on what the prices are per square foot, so you can compare your options. Then ask for a tenant information package from the mall, which includes all the info you'll need to prepare for renting a space — everything from building permits to security, to trash removal, and more.
As you're comparing options, keep a particular eye out for whether or not restaurants, as well as other stores in the mall, appear to be getting a lot of business and doing well; this will tell you if you're likely to find business success there, too. 
Consider the lease and its terms
Once you've chosen a space, be sure to be very careful in reviewing the lease. How much will you have to pay — just a flat payment or also a share of the income you make from your restaurant, for instance? How much are the security deposit and other initial payments? And how long does the lease extend?
There are benefits and drawbacks to a more extended lease; with a lease lasting a few years, you know that you're going to have plenty of time to lay the groundwork for a long-lasting business. At the same time, you also lose the possibility to change locations if your mall location becomes less lucrative. Be mindful of up-and-coming places that may not seem bustling at first, but may eventually draw in a larger crowd as the neighborhood becomes more popular.
Once you've decided where you're going to establish your new food court restaurant, be sure to advertise the opening to get a lot of new customers at the beginning and set your business on the right track!
How much does it cost to rent a space in a mall food court?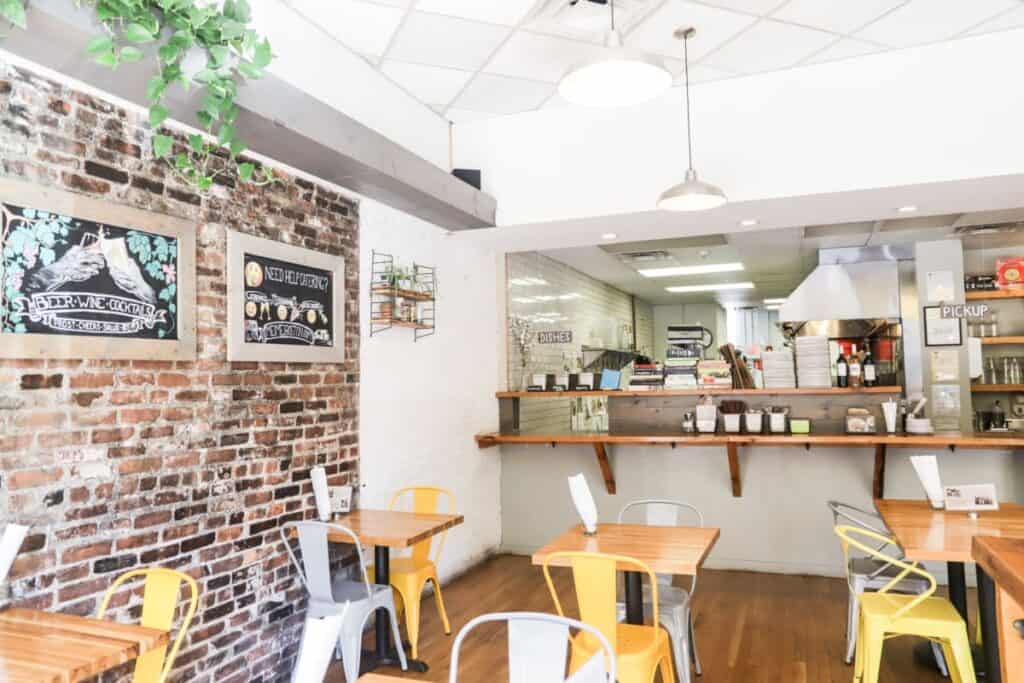 We can't make a broad generalization, as spaces in mall food courts will vary enormously in price depending on a number of factors. This includes where the mall is located, as space in a mall in a city with a higher cost of living (such as Los Angeles, CA, or Boston, MA) is typically going to cost more than in a mall in a very affordable city (for instance, Fort Wayne, IN, or Cleveland, OH).
In addition, a mall that's very popular with lots of visitors will be able to command higher rental prices for its spaces. Finally, some malls are significantly more high-end than others and tend to sell costly luxury products and draw wealthier visitors — this allows them to charge higher rental prices as well. An example of these types of malls include South Coast Plaza in the city of Costa Mesa, CA, just south of Los Angeles, which is home to famed fashion houses like Louis Vuitton, Hermès, and Christian Louboutin.
All these factors and more are why prices vary so widely. However, we can say that the average mall rent is now at least $800 per month as of 2021. At a smaller shopping mall, that price drops lower to about $20 to $25 per square foot. Among the leading mall property real estate companies, prices per square foot range from about $29 to $62.
That may seem quite high, but the reason that retail space at malls may cost so much more than at a separate store is that they also tend to get significantly more consistent visitors and foot traffic.
What alternatives are there to mall food courts?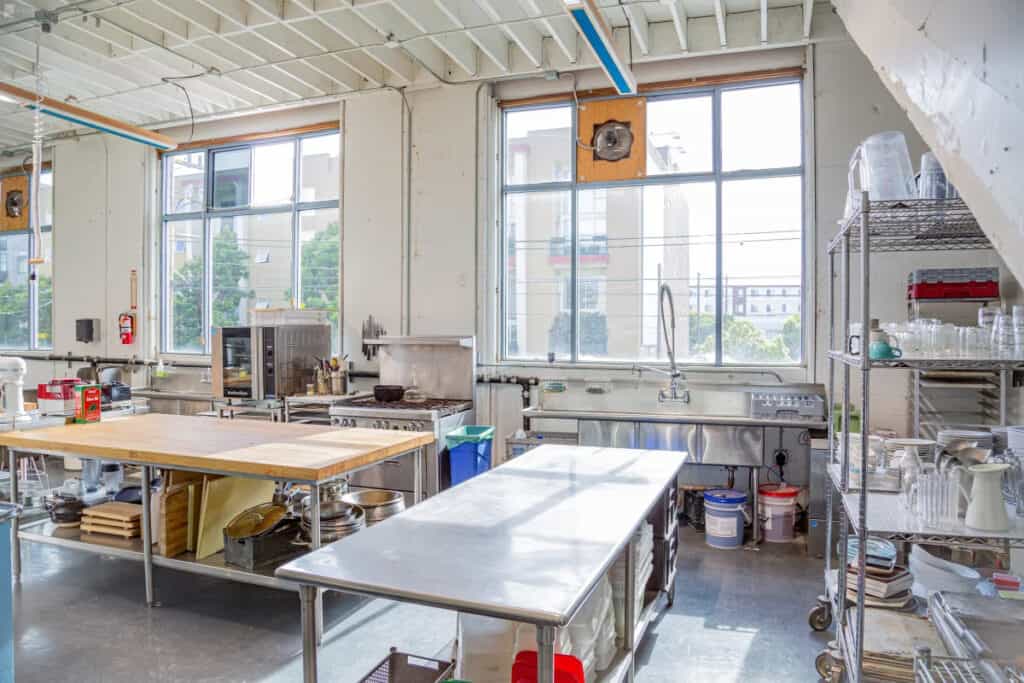 There are numerous other kinds of rental spaces with kitchens for food preparation. These can make great locations for things like popup restaurants, where you build buzz for your brand by drawing in customers with delicious short-term offerings. When people know a restaurant's offerings won't be available in a location for the long run, they're more likely to try to get to them when they can.
Chefs often use popup restaurants as a means of testing out longer-term possibilities, showcasing their skills for a gourmet-leaning audience, or just temporarily providing exciting, unique, and/or high-end offerings at a more affordable price (since long-term rent isn't contributing to the cost of the food). To keep up with the dizzying array of popup events, helpful resources like Popup Restaurants help track different ones across the country, so you can make your own popup easy to find and book.
You can host a popup at pretty much any location as long as it has a kitchen and is sufficiently safe and clean. To locate spaces with commercial kitchens, search on Peerspace, the most comprehensive marketplace for event spaces on the internet. Easy to search, and easy to browse, the site offers thousands of event spaces for rent across hundreds of cities throughout the country.
Which type of event spaces can I rent?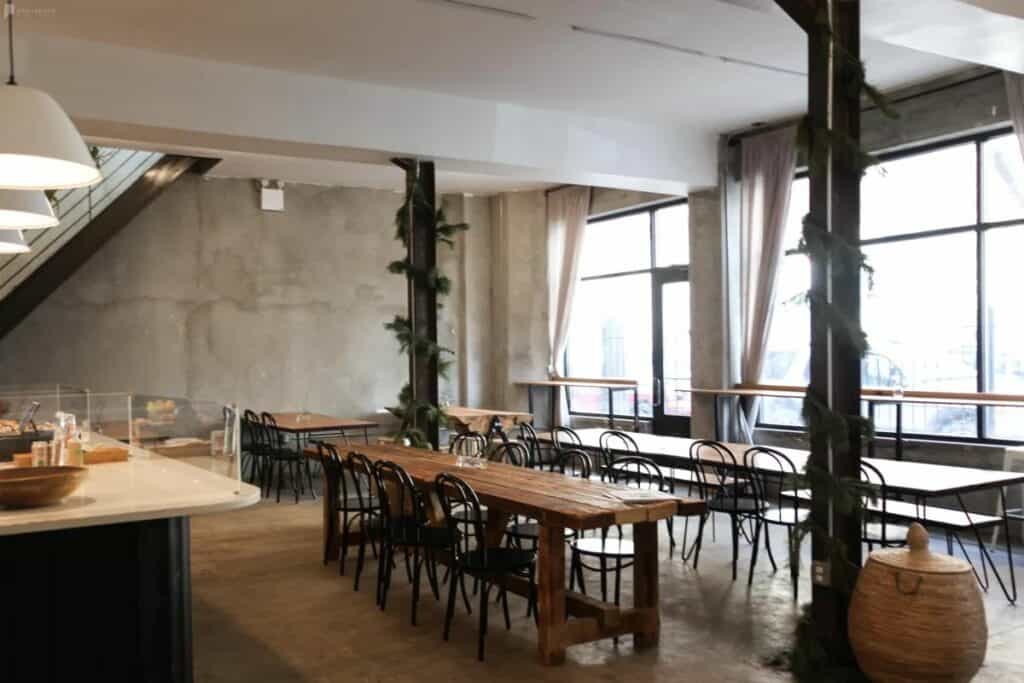 Here are some great examples of event spaces with commercial kitchens: How about this cool street-level studio event venue in Midtown Manhattan? It's perfect for pop-up restaurants and shops and includes tons of seating and A/V equipment.
Just check out what a business owner like yourself had to say about their experience here: "This space was great, it was extremely clean and looked exactly as described. The host Hanna was AMAZING, he set up tables for me and the chairs, he answered all questions and was very accommodating, my Welcoming Dinner was amazing and everyone loved it, I will definitely recommend and book this space again. Thank you Hanna I really appreciate everything."
Looking for a spacious event venue steeped in vibes? Then how about this beautiful and historic church in Bethesda, MD? Along with a commercial kitchen, you can make use the space's large hall, lobby, stage, speakers, and seating equipment.
Are you located in the Midwest? Then how about this chic, intimate space perfect for tastings, popup events, and demos in the greater Chicago area? It comes with a state-of-the-art commercial kitchen, high-tech gadgets for demonstrations and presentations, and event staff! Overall, one Peerspace reviewer summed up her experience here as: "Amazing space and wonderful host! Very responsive and helpful. 10/10 would book again!"
How much does it cost to rent space in a mall food court: conclusion
Now you know everything about renting space in a mall food court and its alternatives. And don't forget about the option that offers you more versatility and less of a lasting commitment – a stunning Peerspace rental! After all, there are so many fabulous spaces to be found on Peerspace — the only limit is your imagination.



Get together somewhere better
Book thousands of unique spaces directly from local hosts.
Explore Spaces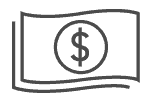 Share your space and start earning
Join thousands of hosts renting their space for meetings, events, and photo shoots.
List Your Space