33 Unique Catering Ideas to Try at Your Next Event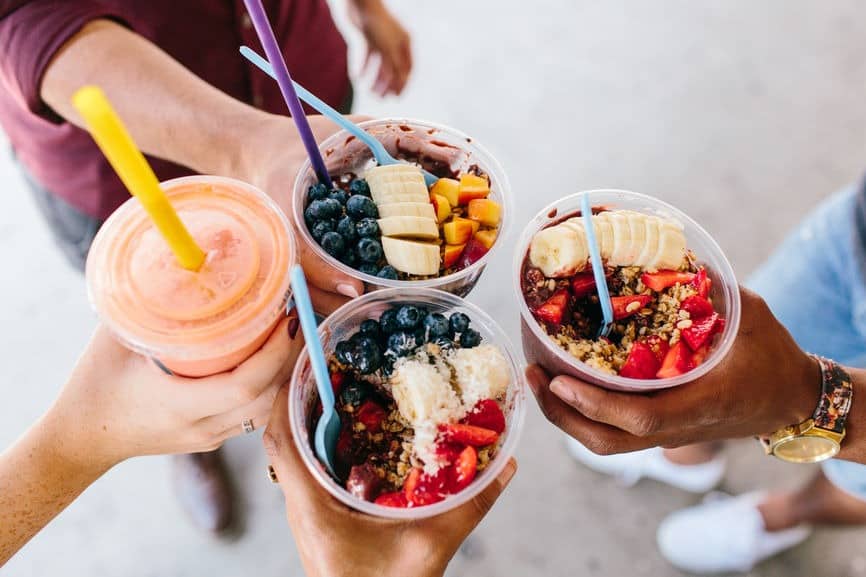 Food is the best motivator. Whether you're providing lunch for a corporate event or simply feeding a large group, unique catering ideas can really make any meal a memorable one. After all, food is a personal experience. A shared meal is a conduit between people, turning strangers into friends. And don't forget about the nutritional aspect of eating. The right food can increase productivity, particularly important for business meetings.
Before settling on a catering menu idea, there are a few factors to consider including the event space. You also want to ensure you have options for every dietary consideration. And, be sure to use a catering calculator to determine how many mouths you're feed.
Here are the most unique catering menu ideas for corporate retreats, cocktail parties, team workshops, lunch meetings, or any other type of event you are organizing.
Top of the morning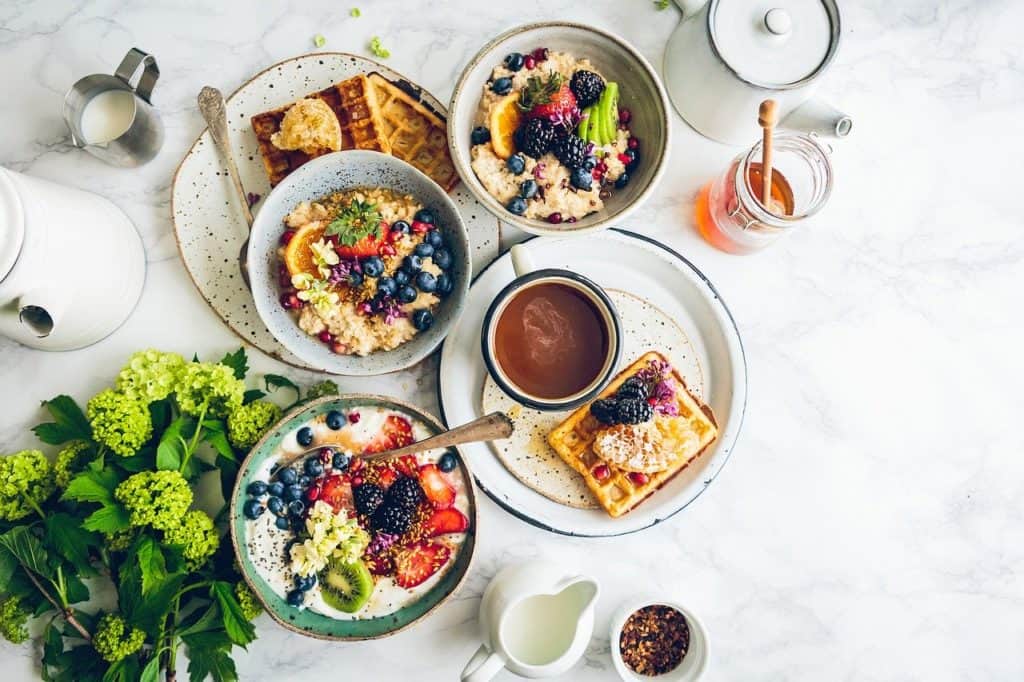 They say breakfast is the most important meal of the day. And rightfully so. When thinking of catering menu ideas, get creative with breakfast. It really sets the tone for the events of the day. Look at the schedule and overall theme of the event when contemplating catering design ideas for options that fit the bills.
Here are some of our favorite unique catering ideas for breakfast:
Power Breakfast of Smoothies and Acai Bowls — Your guests will surely get an energy kick from this fun catering idea.

All-American Breakfast of Biscuits, Meats and Eggs — Serve comfort food like this to get people talking.

Waffle Bar with Sweet and Savory Toppings — This one requires several stations to keep the lines moving but guests will gush over the variety of toppings.

French Toast and Sausage Kebabs — Cute, savory and easy to eat will on the go.

Miniature Breakfast Skillets — If you're serving a more buffet-style meal, consider mini skillets over the tired scoops of rubbery, scrambled eggs.

Avocado Toast with Toppings — This trendy food is popular for good reason. Topped with flavored salts, radishes and cucumbers make this cold option ideal.

Carb-free Stuffed Breakfast Tomatoes — For restrictive diets, stuffed roasted veggies are equally filling as a bagel.
Nibbles on the go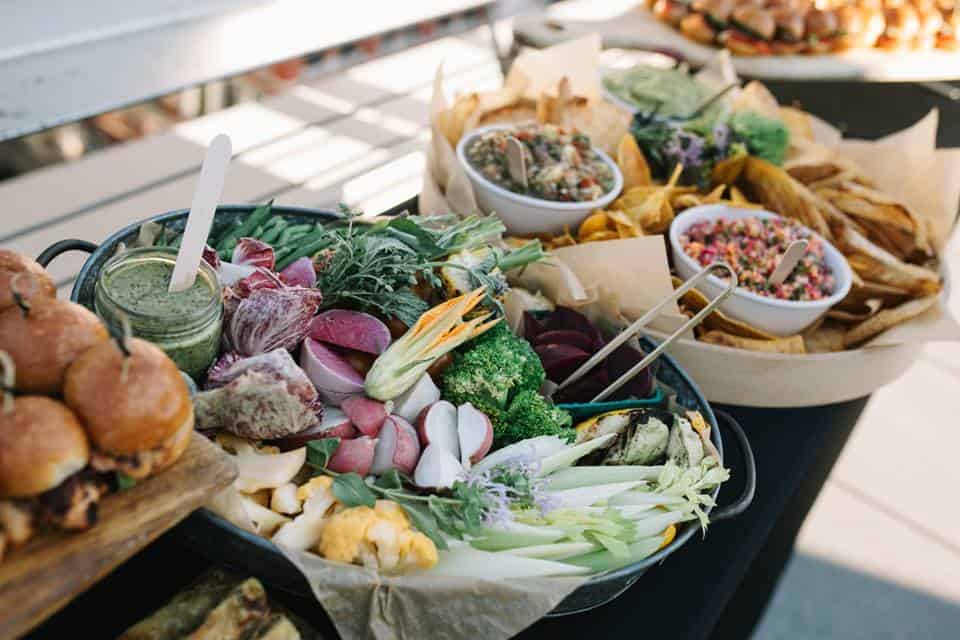 When planning food catering for events, don't worry about sticking to three square meals. Use pockets of time between meetings, seminars, or workshops to give guests a chance to catch their breath. This is a great time to offer small snacks they can eat while preparing for the next item on the itinerary.
Here are some of our favorite unique catering ideas for portable bites:
Trail Mix — If your guests have 10 minutes or less to replenish themselves, offer this energy-packed snack.

Soft Pretzel Bar — Give guests the opportunity to refuel with warm savory and sweet pretzel bits.

Grilled Cheese Spears and Tomato Soup Shooters — A fun version of a childhood staple

Carb-free Lettuce Boats with Salsa or Hummus — This satisfying snack will feel like an indulgence.

Fruit Cups — Never underestimate this easy and budget-friendly option.

Crunchy Kale Chips and Chickpeas — Crunchy snacks have an appeal that's so enjoyable it will have your guests reaching for more.
Customize dishes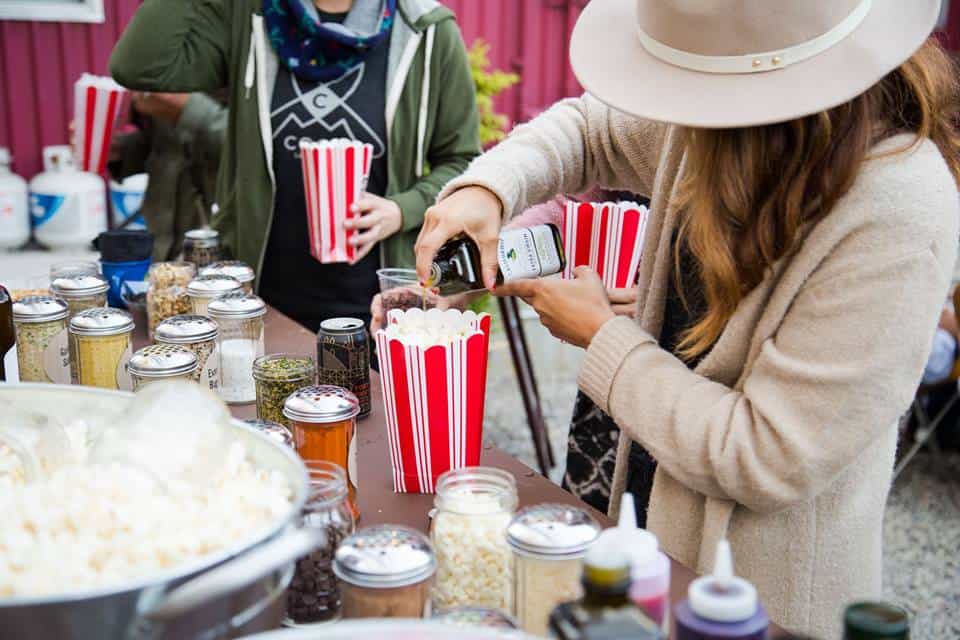 When looking at fun and unique catering ideas, customization is key. People love having the opportunity to think about toppings and make their own flavorful creations. The creative aspect is also a built-in conversation starter for guests. You'll soon enough have people mingling as they discuss what they'll be eating.
Here are some of our favorite unique catering ideas for customizable dishes:
Taco Trucks — Half the fun in serving this is watching guests ooh and aww over fresh salsa and tacos.

Mac and Cheese with Mix-Ins — This unique catering idea will have guests talking about their favorite combinations.

Poke — Add edamame and crispy seaweed strips over your favorite raw fish and sushi rice. What's not to love?

Nacho bar — This bar food staple is sure to have your guests let their hair down and relax in the company of others.

Massive Charcuterie Board — One look at this visually appealing smorgasbord and your guests will happily eat it up.
Mass favorites
When you're feeding the masses, keeping your catering menu ideas for large groups on the simpler side is a good rule of thumb. Instead of having customization, serve a variety of well-labeled options and keep your condiments on a separate table. This helps navigate the flow of people huddled around the food.
Here are some of our favorite unique catering ideas for crowd pleasers:
Mini Sliders — Whether its hamburgers, chicken parm or crab cakes, mini sliders are delightful and delicious way to feed crowds.

Festival-inspired food — Add a carnival effect to your event with unique (and sometimes fried) combinations like corn dogs, fried peanut butter and jelly sandwiches and the like.

Wraps Buffet — Easier to eat than sandwiches, wraps make for great lunch fare.

Salads on Skewers — Serve up on veggies on a stick. Without a fork, guests can use their other hand to hold drinks and shake hands.

Bruschetta — Diced heirloom and roma tomatoes with fresh garlic, onions, basil, and olive oil make the start to a wonderful meal. Guests will have fun trying a variety of topped bruschetta.

Tapas — If you're pouring sangria, a Spanish-style catering menu is absolutely necessary. Serve up tiny croquettes, wedges of tortilla and ham and cheese over hard toast.

Steamed Buns — Have your guests eating savory pork or veggie steamed buns for a meal that's delectable.

Indoor picnic — Think little jars of potato salad, deviled eggs and bite-size chicken salad sandwiches. All that's missing is a blanket on the ground to make yourself comfortable.

Seafood bar — Serve up a variety of shellfish for your guests. It's a pricey catering menu idea that definitely gets noticed.
Sweet treats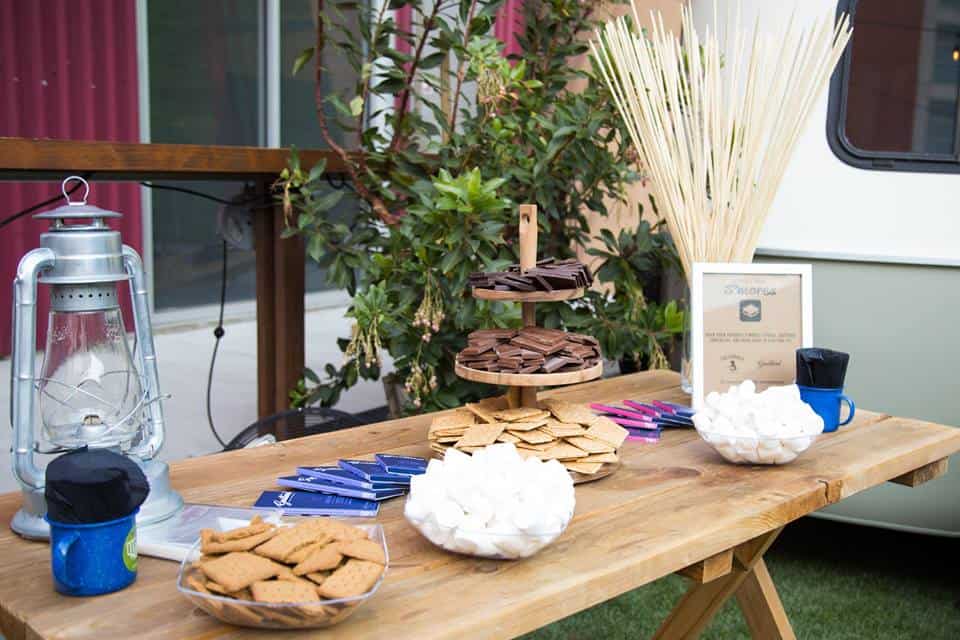 Saving the best for last. When it comes to unique catering menu ideas for dessert, keep in mind to offer dairy-free options as well. It's easy to overlook dietary restrictions when you've got dessert on the mind. But trust me, your guests will appreciate inclusive menu options.
Here are some of our favorite unique catering ideas for desserts:
Rice Pudding — Serving up this sweet treat will be a return to childhood for many guests. Have dried fruit, nuts and cookie crumbles to serve as a topping.

Sweet waffle sandwiches — A Belgium delight, bite-size waffles go well with just about anything.

Mini Milkshake Shooters — When you can't go to the soda shop, bring it to your guests. Spoons and straws are a must if you're serving up thick, creamy milkshakes.

Sno Cones — Eyes will light up as guests get rainbow-colored snow cones. Expect to see these on Instagram!

Mini Bags of Cookies — Make dessert double as a goodie bag with tiny satchels of cookies guests can enjoy now or later.

S'mores Bar — Who doesn't love a DIY s'mores bar? All you need are marshmallows, graham crackers, chocolate, and some fire.
After you've found the perfect event venue, our Peerspace Concierge team makes life simpler by taking care of any additional services you might need. From ordering catering to finding a bartender, our team works with hand-selected vendors giving you one less piece of the puzzle to worry about.

Get together somewhere better
Book thousands of unique spaces directly from local hosts.
Explore Spaces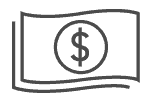 Share your space and start earning
Join thousands of hosts renting their space for meetings, events, and photo shoots.
List Your Space