12 Best Boudoir Photographers in Denver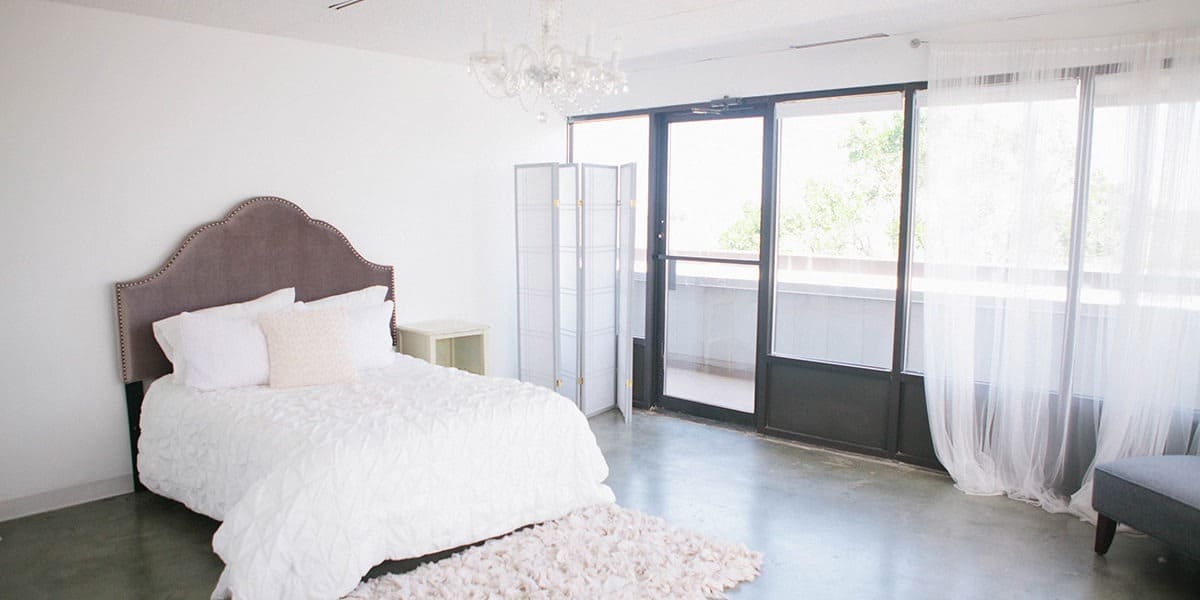 Booking a boudoir photoshoot is a bold move. For a liberating experience that's unlike any other, you'll want to work with the perfect photographer. To make it easy for you to find your dream collaborator, we've rounded up all the best boudoir photographers in Denver.
You can be daring and soak up the beauty of Denver while basking in your own with an outdoor boudoir photoshoot, or, if you're more of a homebody, you can stick to a cozy studio. There's a match for every personality on this list. No matter what style you choose, these photographers will ensure that the results will be stunning.
A former hairdresser, Ginny Haupert brought her passion for making people look and feel amazing to her second career as a boudoir photographer in Denver. Ginny is a self-love advocate and people person who is excited to befriend every client who walks into her studio. Whether she's shooting maternity photos, portraits, glamour shots, or boudoir, her work is all about celebrating women. She loves to get creative and craft themed sets for every shoot, and the results are dazzling, elegant, one-of-a-kind photos. Her vibrant photography has been featured in magazines and on billboards.
When you work with Josie, her goal is to capture your personality and reflect your beauty back to you. If getting all dolled up isn't what makes you feel most beautiful, honor that! Josie believes cozy and relaxed boudoir shoots are just as empowering and sexy as ultra glamorous productions. She's even shot boudoir photos in this style for Instagram influencer Julia (who uses the handle @fitfatandallthat). One of several LGBTQ+-friendly boudoir photographers in Denver, Josie herself is a proud lesbian.
Some wedding photographers tack on boudoir as an added service, but for a few boudoir photographers in Denver, boudoir is their main gig. Blue Flame Studio Co.owner Mackenzie is one of them. It's no wonder then, that she is a master at posing her clients. Every steamy shot has magazine and billboard potential. Mackenzie's style fluctuates between bright and playful and dramatic and dark. If you share her affinity for house plants, you can be the ultimate plant mom and incorporate some greenery into your shoot in her homey, modern studio.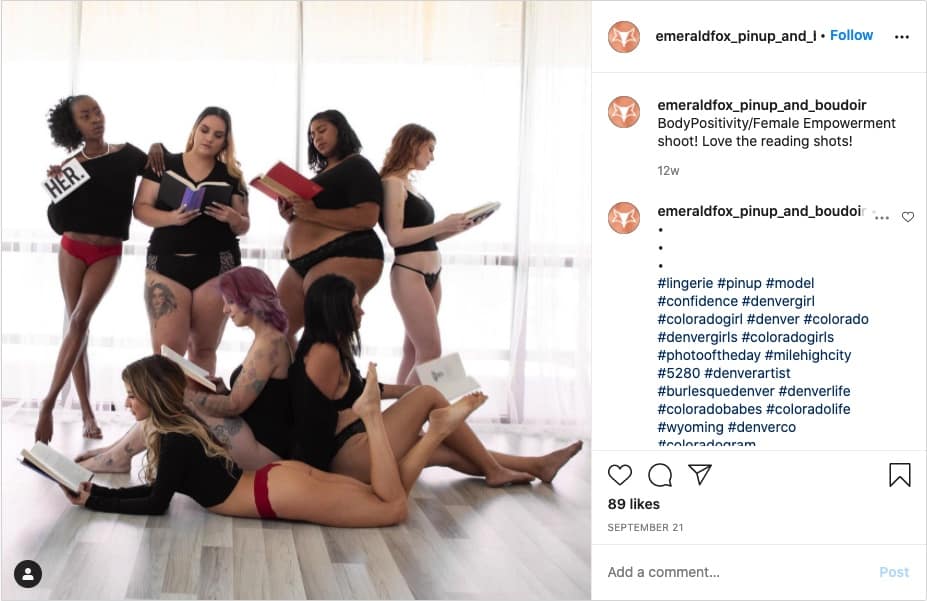 If Bettie Page is your style icon, you'll want to call Annette Hullender. Her business Emerald Fox originated as a pin-up studio and then branched out to offer boudoir photography. Each boudoir package includes four outfit changes, so you can model all of your favorite lingerie sets.
Unlike the photos in her pin-up portfolio, Annette's boudoir work is often dramatic, with moody lighting. She is also a fan of group shots, so if you want to gather your gal pals for an empowering event, Annette is the boudoir photographer in Denver to book!
Brooke Summer is an award-winning photographer who has been dubbed the "queen" of boudoir photography in Denver. Her work is elegant, dreamy, and deeply original. Clients have even brought musical instruments into their shoots to showcase their love of music.
Although she has a studio, Brooke also offers outdoor and destination boudoir shoots so you can use Colorado's natural beauty as a backdrop.
If you want to break out of the traditional studio, this light-filled historic mansion would make a stunning alternative destination for your shoot.
For Emily Brault, boudoir is all about the experience. She believes every woman deserves to feel gorgeous and empowered through a photoshoot that celebrates their sexiness. Emily is one of the more specialized boudoir photographers in Denver, offering bridal, maternity, and traditional boudoir sessions. Her portfolio leans toward the moodier side, with a lot of low lighting and dramatic shadows. Whether you're getting married soon, expecting, nearing a milestone birthday, or just feeling yourself, Emily can help you wow yourself with a stunning photoshoot.
You'll be hard-pressed to find a boudoir photographer in Denver who's more dedicated to the photography profession. Frances Kelley once shot a wedding in the middle of a blizzard, and has photographed everyone from Denver locals to Olympians in the winter games.
Her history of struggling with an eating disorder inspired her to start offering boudoir photography to help others feel beautiful in their bodies. She welcomes individuals, bachelorette parties, and brides-to-be to her studio or along for an adventurous, outdoor shoot. For inspiration, you can peruse the style ideas on her website.
Noir Doir Boudoir owner Kristina started offering boudoir photography in Denver after she discovered the delight of capturing the beauty of different people through portrait work. She's also a fan of stepping in front of the camera herself, so she knows what it's like to be in her clients' shoes. Her studio is elegant and furnished with couches, a bed, and a bathtub for different shots. Kristina knows all the best posing techniques for every body type. Her style ranges from dark and dramatic to angelic and airy.
Ashley Kidder is a master of the sultry shadowy shot. The way she plays with shadows and low levels of lighting is pure artistry. She's so good at her craft, she even mentors other boudoir photographers in Denver. If you're going for a moody look, she's your gal. For first timers, Ashley is more than happy to set up a coffee date to discuss details before popping the champagne and helping you get your sexy on.
Emily Elizabeth is the most unique boudoir photographer in Denver. Her style is eccentric, bright and playful. As a photographer and designer, props are Emily's secret weapon. She incorporates a lot of flowers and even the occasional joint in her boudoir shots.
Her work is also versatile– she nails cozy couple's shoots just as well as colorful solo shoots that capture each client's individuality.
Under the Garter Boudoir is a member of the Association of International Boudoir Photographers. Co-owner Ray has over two decades of photography and videography experience. He's one of the few boudoir photographers in Denver who caters to men with a separate men's portfolio on his website. Under the Garter is no stranger to working with couples, so if you're looking to do something special with your boo, get in touch with Ray. After your shoot, you can commemorate the occasion with canvases, an Italian leatherbound photo album, or a special slideshow app.
Honey Lark Boudoir is owned by the RV-dwelling husband and wife team Tori and Kyle. They're boudoir photographers in Denver, but they can also meet you anywhere. Both grew from conservative roots and a modesty culture to embrace the beauty of boudoir. Since they are always on the go, Tori and Kyle can find a studio for your session in Denver (or you can suggest one of ours, like this gorgeous Cherry Creek space). As travel lovers, this pair is also always down for an adventure, so you can pose radiantly out in the sunshine or take a skinny dip in a cool river.
Book a Boudoir Photographer in Denver
Now that you've found the perfect photo, it's time to let yourself be pampered. Boudoir shoots are all-inclusive with hair, makeup, and occasionally wardrobe options, props, and champagne packaged into the session, so all you may have to do is show up. If you do need to book a space to hold the shoot, check out our listings. We suggest this adorable penthouse with funky furnishings in nearby Aurora. Wherever you shoot, you're going to light up the room.