10 Awesome Emoji-Themed Party Ideas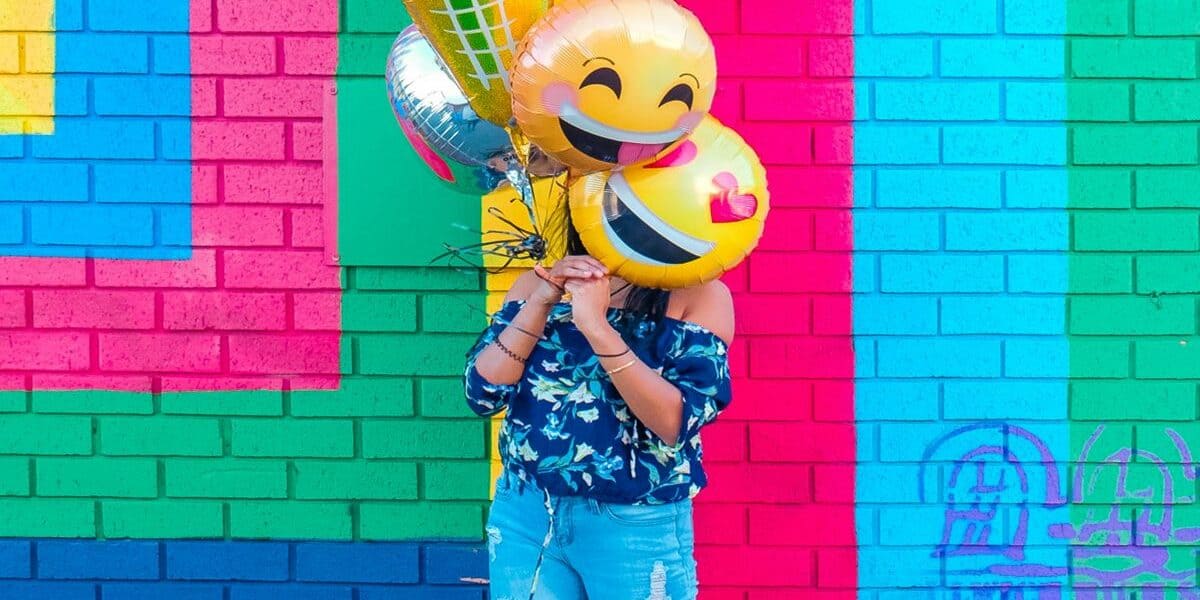 Emojis may seem like a 2010s phenomenon, but they've actually been around in Japan since 1997. Silly and simple, kids love 'em. And like anything loved by children, emojis have made their way to the world of birthday party themes. If they're among your little one's latest obsession, chances are their friends are in on it too. So lean into their interests, even if it's a little obnoxious. It'll make for wonderfully dated photos in some future shoebox or photo album. Here are 10 awesome emoji-themed party ideas your little one will love.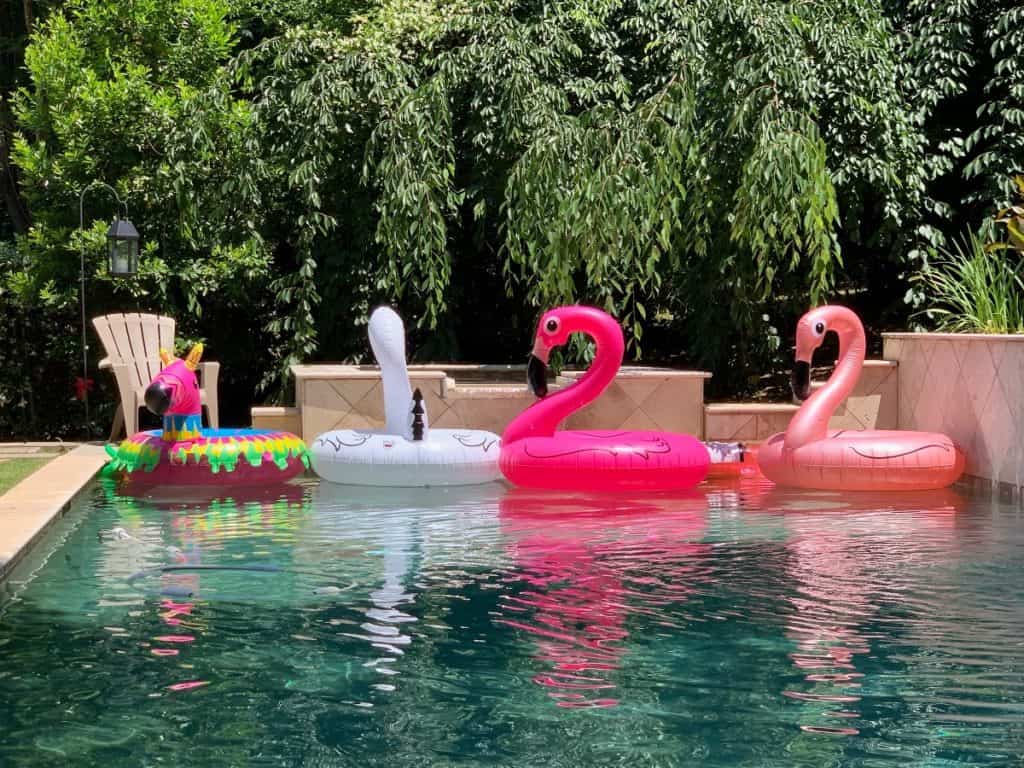 There's a good chance this is your first time hosting a gathering in quite some time. And if it is, maybe you're not quite ready to have guests in your home again. Worry not, because Peerspace has you covered. With spacious locations across the US and Canada, Peerspace offers homes and venues available to rent by the hour for parties just like this one. Whether you want to host the party in a perfectly manicured backyard with a pool or in a cozy home with plenty of seating, there are great options for you. Check out our outstanding birthday party venues here!
2. Load up on emoji decorations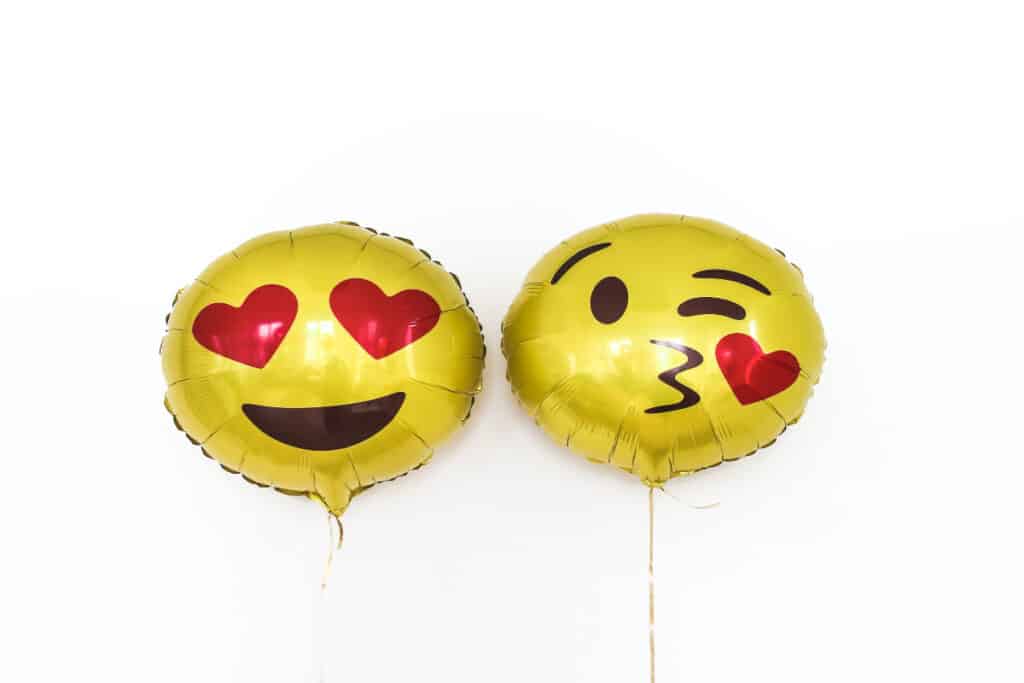 You can easily pick them up at party stores or online mega-retailers like Amazon. Balloons, noise-makers, stickers, banners, plates, napkins, the list goes on. They're fairly inexpensive, so you can go all out and plaster the house. For even greater cost-savings, if you have an efficient printer, you can make many decorations at home like those found here. Just be ready for a lot of yellow.
Hedbanz, for anyone unfamiliar, is a straightforward party game where one person puts on a headband with a card on it, and the other players have to help the person guess what's on the card. In the emoji variation, simply replace the cards with printouts of emojis. The faces are the easiest, so be sure to mix in some oddballs like the Easter Island head or the floppy disk to keep things challenging.
4. Dress up as your favorite emoji
This one is pretty straightforward. Invite the kids to dress up as their favorite emoji. It could be face painting, a mask, a custom-designed shirt, or even a full-body costume. Encourage their creativity as they think up the funniest or wackiest emojis to embrace. Once everyone has arrived, you can even hold a contest to see who's interpretation is the party favorite. Our vote is for the chef's kiss hand.
5. Emoji-themed desserts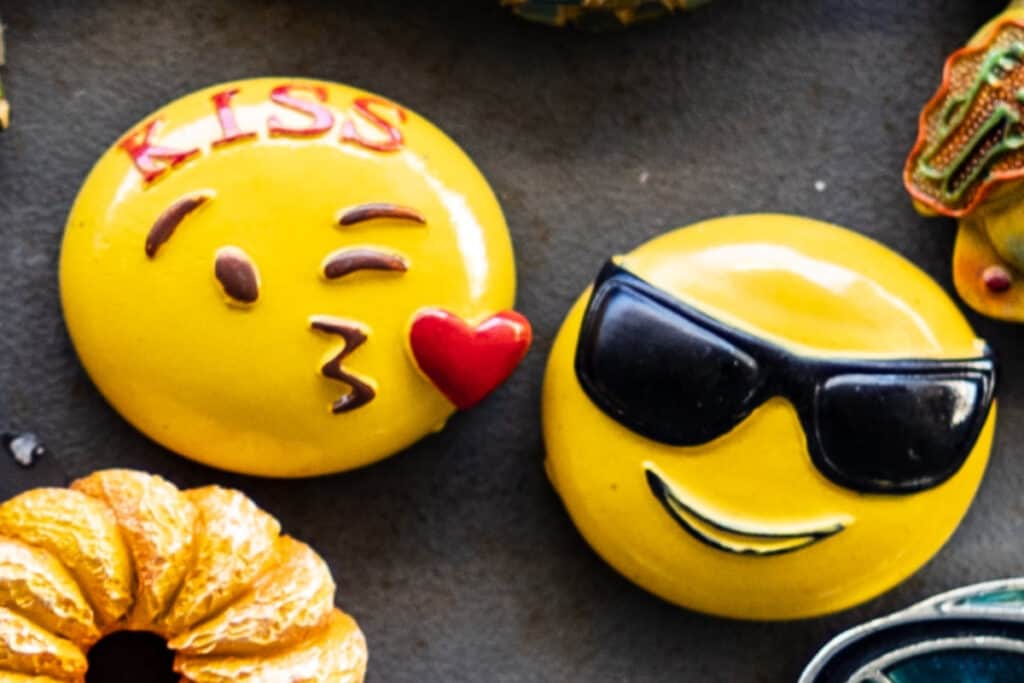 There are endless opportunities here. You could just order a sheet cake on the simple end of the spectrum and have them print an emoji picture on it. If you're feeling more ambitious, though, you could customize sugar cookies, like these or cake pops, like these. However, if you're low on time or energy, simple chocolate poop emoji cupcakes will be a hit too. This is one of the most crowd-pleasing emoji-themed party ideas we have to offer.
6. Give away emoji party favors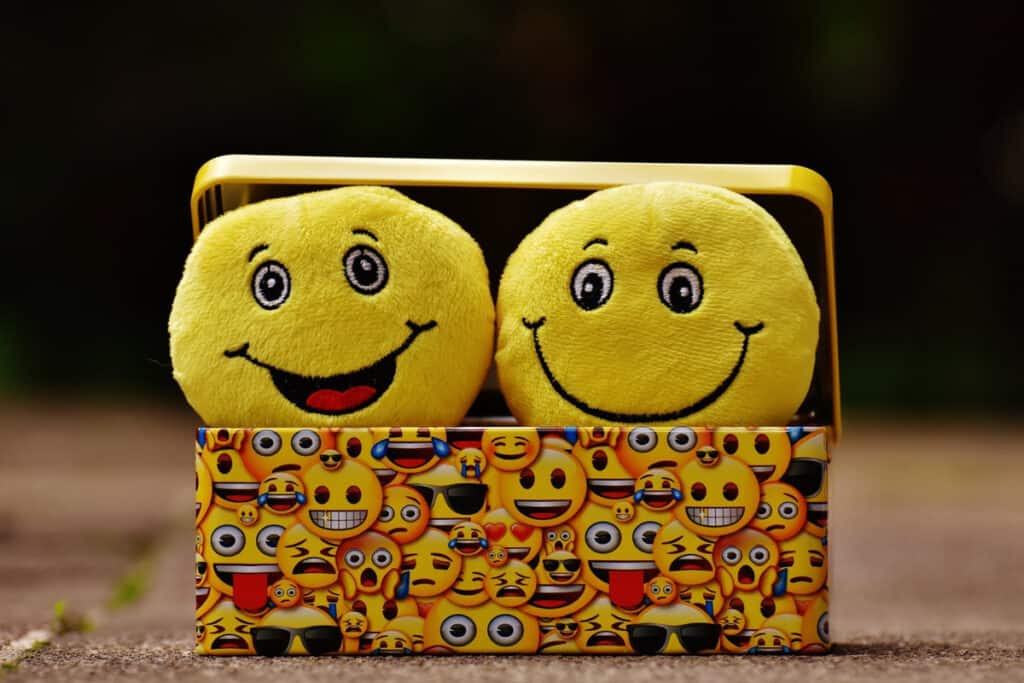 Depending on what's in stock, you can usually find a fair amount of small cheap emoji-themed trinkets at the dollar store. Things like sticker sheets, spinning tops, and snap bracelets are among the tiny things kids will lose their minds over. Tuck in a few small candies and wrap it all up in yellow party favor bags, and you're good to go.
7. Emoji Pictionary
Emoji Pictionary — which is more akin to a Rebus puzzle than actual Pictionary since you don't draw anything in this version — is a simple, fun game where you guess what word/phrase a string of emojis represents. Just do a quick Google search for "emoji Pictionary," and you'll find countless options with endless themes like classic movies or Christmas. Or you could create your own in a word processor at home.
8. Design your own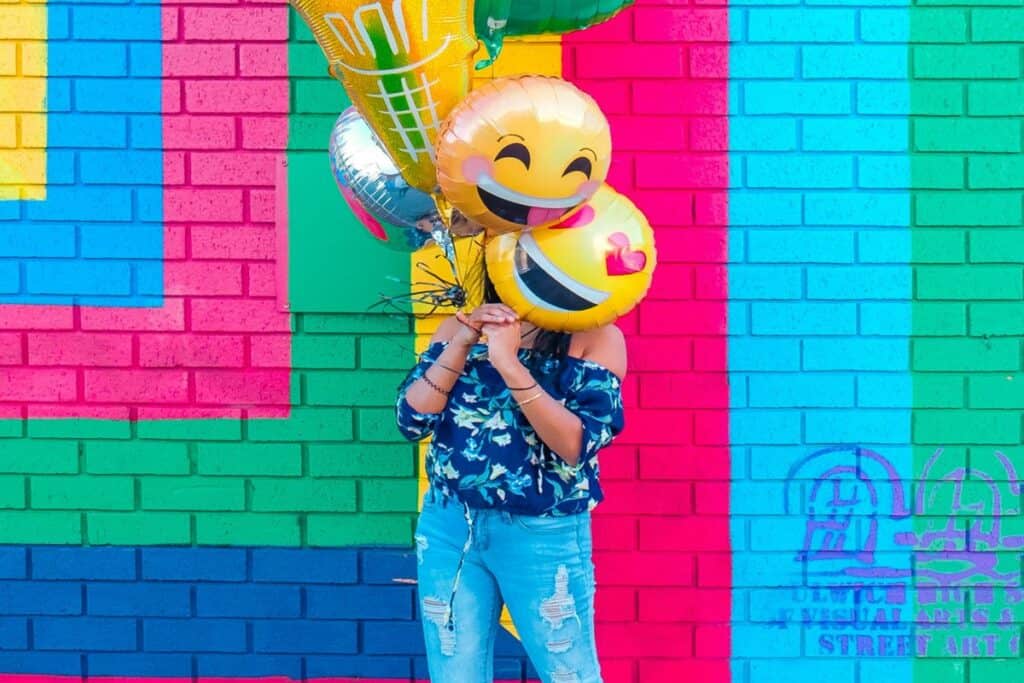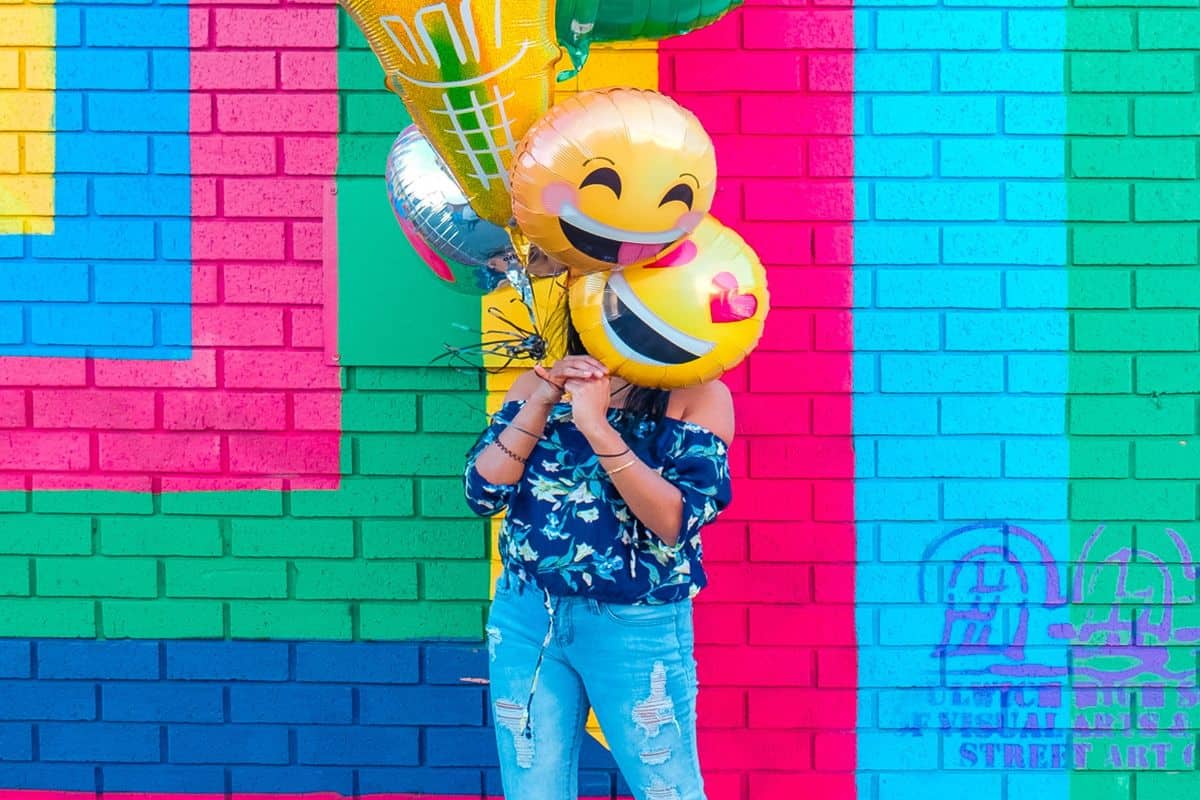 In addition to the costumes, another great way to tap into the kids' creativity is to invite them to invent their own emojis. With just plain yellow paper plates and opaque markers, you've got everything you need to create a new face. For something with more depth, you could bust out the Playdough or even Sculpey if you want to bake it and keep the creations.
9. Emoji piñata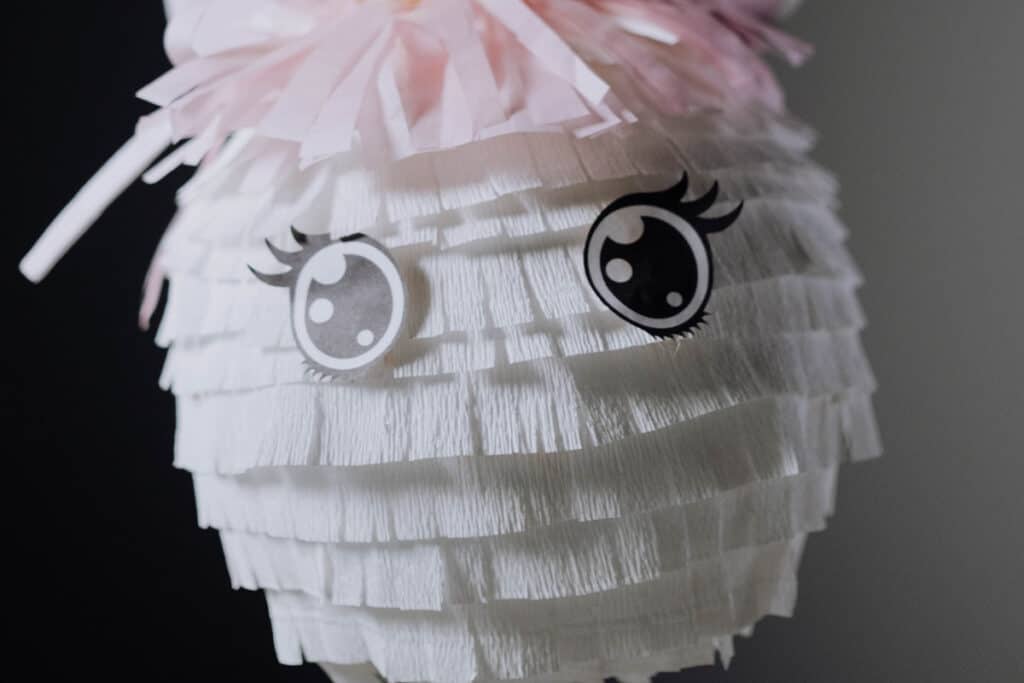 While there's always been something delightfully morbid about bashing your favorite cute little creature with all your childhood might, given that emojis aren't modeled after living creatures, it's a bit more inviting in this version. Emoji piñatas can be ordered online, from your local Hispanic grocery store, or made at home. To make a pinata at home, blow up a balloon, cover it in vaseline, papier-mâché over the balloon in a few layers, and paint it after it's dry. This is especially easy for the face emojis since you don't have to sculpt a complicated shape. This is one of our most fun emoji-themed party ideas because everyone loves the thrill of a piñata.
10. Watch the Emoji Movie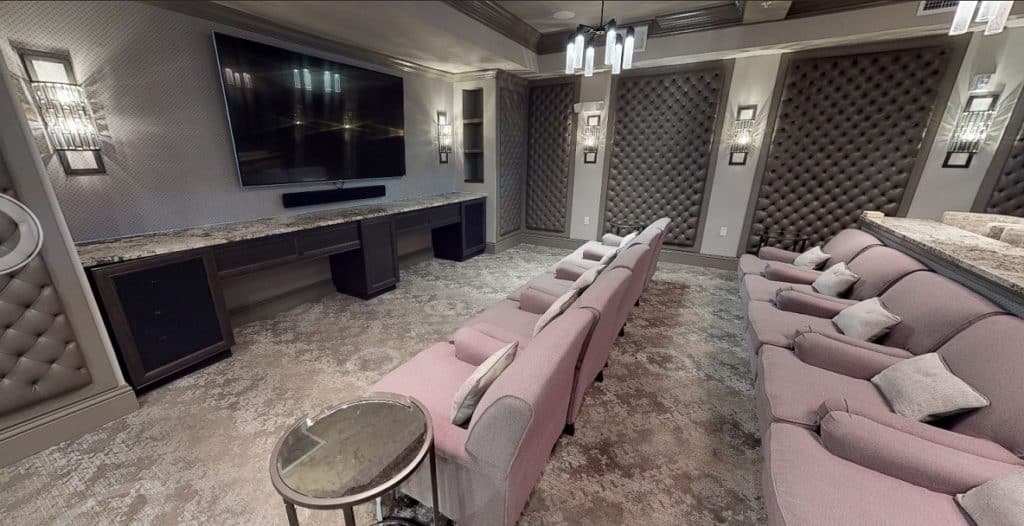 Okay, we've made it to the end of the article without mentioning the elephant in the room — the Emoji Movie. Widely ridiculed as an absurd concept and perhaps marking the beginning of the end of original thought in Hollywood, The Emoji Movie was peak 2017. If you're in the dismissive camp, you might be surprised to learn the movie was actually a box office success, grossing $217.8 million over its $50 million budget. So why not give it a shot? After all, it swept at the Razzies, and it gets a whopping 7% on Rotten Tomatoes. Make the event more panache by screening the movie at a special Peerspace theater venue!
Kids' interests can change by the hour, but emojis seem to have an enduring power in popular culture. Perhaps it's the near-ubiquity of seeing them on our screens every day, or maybe it's their charming simplicity. Whatever keeps us smiling when we see them, the little ones can't seem to get enough. So give your mini-me a party to remember with a fun, silly emoji theme. We've shown you DIY options as well as store-bought shortcuts to keep life simple. We hope you've been inspired to put together a great birthday with these 10 emoji-themed party ideas!

Get together somewhere better
Book thousands of unique spaces directly from local hosts.
Explore Spaces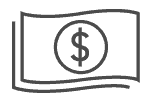 Share your space and start earning
Join thousands of hosts renting their space for meetings, events, and photo shoots.
List Your Space